Manchester United Transfer News: Why the Red Devils Do Not Need Wesley Sneijder
August 31, 2011
Giuseppe Bellini/Getty Images
As the transfer window comes to a close, it's looking more and more likely that Wesley Sneijder will stay at Inter Milan. The Dutch maestro recently said so himself, although I suppose anything is possible in the next few hours.
But this is a good thing for both teams, as Sneijder's acquisition would be both costly and detrimental to Manchester United as things stand right now.
Let's flashback to the end of last year's Champion's League final.
United, the best team in England, champions carrying the expectations of an entire country, ran headlong into the brick wall that was Barcelona—arguably the best team on the planet.
Outclassed and outgunned, United never looked capable of winning the game. The terror triumvirate of Xavi, Iniest, and Messi ran circles around the aged Ryan Giggs and Michael Carrick in central midfield, and despite Wayne Rooney's best effort, there was no inspiration to be found.
As the dust settled, United fans immediately began clamoring for Wesley Sneijder, who himself had hinted he would want the move. The reasoning being, Barcelona beat United because of Lionel Messi. Well, if United had their own Messi, surely they could beat Barcelona next year, right?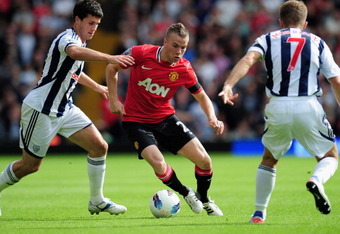 Shaun Botterill/Getty Images
There was merit to the idea. While Sneijder is no Messi, he is a creative genius in his own right—a spark plug of great vision and passing ability. And with Paul Scholes finally hanging up his boots, surely now is the time to strike.
But nothing happened.
Instead, Sir Alex Ferguson chose to spend his transfer kitty on youngsters Phil Jones, David de Gea and Ashley Young—a defender, a goalie and a winger. A good start, but surely a central midfielder, probably Sneijder, was on his way, right?
Apparently, as of this writing, not.
Instead, United began this season with the young Tom Cleverley and the previously much-maligned Anderson in the middle, with the likes of Carrick and Giggs consigned to the bench. Neither of these starters would be confused for Sneijder or Messi (or even Scholes and Roy Keane).
This raised some understandable concerns, including: Where would the defensive steel come from? Where would the creative spark ignite? Where is the central midfield galactico that will deliver us the abundance of trophies?
Within three games, it became clear that we were all asking the wrong questions, and Sir Alex did indeed know more than he let on.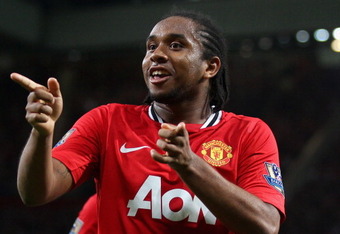 Alex Livesey/Getty Images
Sneijder is a star, there is no doubt about that, but had United acquired him, he would have thrown a perfectly balanced side out of whack.
United play a strict 4-4-2 system, and has pretty much always done so under Sir Alex (bar a few European matches). In this current system, the only way having a player like Sneijder would have worked is to also have a Roy Keane-like figure paired alongside him. This would allow Sneijder to rush forward and ply his offensive skills, leaving his defensive partner to protect the back four.
In the prime of their partnership, this is exactly how Paul Scholes and Roy Keane played, and it worked. Scholes solidified his reputation as a creative genius and Keane did the same for his defensive reputation.
But United no longer plays this way, and in Tom Cleverley and Anderson, they have a midfield pair that, together, constitutes an industrious and hard-working duo that have both creative spark and defensive steel. Neither is as good as Scholes or Keane were in that role individually, but neither of them have to be.
Cleverley and Anderson have proven themselves to be excellent box-to-box central midfielders in the classic English sense. They use their enormous reserves of energy to marshal the center of the park and leave the creative efforts to the wingers and to Wayne Rooney—who often likes to drop back and, ironically, play the "Sneijder" role.
In the past three games, United have played this system to perfection. With Nani and Young out wide, Patrice Evra and Chris Smalling overlapping from the back, and Wayne Rooney dropping back to lead the attack, Anderson and Cleverley were left to do the nuts and bolts hard work in the midfield.
They cut out passes, tracked back, tackled, and whenever they took possession of the ball, they slung it out wide or onto Rooney's path. Then, when the wingers sprang forward, they took up advanced positions to help out with the flowing attacking football, but never really taking point the way Sneijder would. That's not their job.
Individually, I think that neither Cleverley nor Anderson could ever be a Roy Keane to Wesley Sneijder. Had Owen Hargreaves stayed productive, that would be another story. But he didn't, and United were forced to adapt. 
If Sneijder was injected into this mix, then the system would have to be changed and someone would have to be sacrificed. United would either have to go into a 4-5-1 formation, with Anderson and Cleverley playing behind Sneijder, and a striker would have to be dropped (or go to a 4-3-3 formation in which a winger would have to be dropped).
Danny Welbeck has proven he deserves to be a starter, and so have Nani and Young. In fact, Ashley Young has proven to be a true creative force, worthy of Paul Scholes' No. 18 jersey, and scored two remarkable goals against Arsenal. Rooney is too good to be dropped, and is a better player than Sneijder anyway in my opinion. And neither Cleverley nor Anderson can partner Sneijder on their own.
So, what would you sacrifice?
Again, anything can happen, and the transfer window is not yet closed. But the system United employs is productive and efficient as is. It remains to be seen if they have the strength and vision to beat an even stronger Barcelona this time, but they certainly have a better chance this year than last—and that chance is greater without Wesley Sneijder.