Life After Luka: A Formation Solution for a Post-Modric Tottenham Hotspur
August 29, 2011
With Harry Redknapp revealing after today's 5-1 loss to Manchester City that want-away midfielder Luka Modric requested not to be a part of the squad before kickoff, Spurs fans were once again forced to consider the possibility of the Croatian maestro succeeding in his push to leave for Chelsea.
The question of whether or not chairman Daniel Levy should accept a substantial fee for his prized asset has been debated back and forth for months on end.  Regardless of which side of the fence you find yourself on, the possibility that the deal might still happen, either in the next few days or come January, is ever present.
Being forced to consider such a predicament, one cannot help but to assess what shape the squad would be in.  Who would Redknapp and Levy look to next?  How would the funds be reinvested?  How would the team's tactics change with the departure of its creative force?  There is a certain order in which these questions should be addressed.
First, the manager and the chairman must assess the remaining players on the squad and how they best fit together. Spurs have been continually linked with Scott Parker and Lassana Diarra throughout the transfer window, so let's assume at least one of the two—if not both—is brought into the squad. Even with Wilson Palacios' departure to Stoke, that leaves Spurs with three to four top-class holding midfielders in Tom Huddlestone, Sandro and Parker and/or Lass.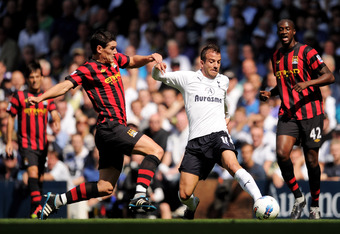 That kind of talent in the center of the park cannot be ignored, especially when you consider that all of those players are of the box-to-box variety, equally capable of making a stop on the defensive end and facilitating the offense at the other.  This lends itself to a formation with two holding midfielders, which is quite popular in the modern game.  It could greatly benefit Spurs' defense, which at times has seemed completely overwhelmed in this young season, in a way that Modric can't.
Redknapp and Levy must also recognize that they have a wealth of talent in their attacking players, especially between Gareth Bale and Rafael van der Vaart.  In addition, they have Aaron Lennon, Niko Kranjcar and Steven Pienaar.  Van der Vaart has most often been deployed in the hole behind the striker, but without having anyone parallel to him, he often ends up marooned in an attacking position with no one to play off of.  Having made this assessment of the midfield, two formations would seem a good fit: 4-2-3-1 and 4-2-2-2. 
The main difference between these two formations is, of course, the nature of the striker(s).  In the 4-2-3-1, a central striker is deployed—often a marksman of stature, not unlike Emmanuel Adebayor—with a forward playing in the hole behind him.  In the 4-2-2-2, a striking tandem is used up top with two wider midfielders, usually given license to cut inside, comprising the line behind them. 
Spurs could make use of either of these and, for the sake of keeping their opponents on their toes, would be wise to mix it up and use both.  In the 4-2-3-1, any combination of Bale, Van der Vaart, Lennon, Kranjcar and Pienaar could be used for the line of three.  Likewise, in the 4-2-2-2, any two of that set could be deployed.  Adebayor is the best fit for the lone striker role, but Jermain Defoe could make a perfect compliment to him in the 4-2-2-2.
Having now determined what the base formations should be and how the current crop of personnel fit into them, Redknapp and Levy would be tasked with reinvesting the money brought in by Modric.  Bryan Ruiz of FC Twente has been linked with the club in recent weeks, and a player of his style and caliber would add good competition to the attacking midfield line.  With the striking corps thinning, Fernando Llorente of Athletic Bilbao would be an ideal lone striker for the 4-2-3-1 to provide cover for Adebayor.  Redknapp and Levy do not necessarily need to bring in these specific players, but they represent the ideal options out of the names that have been linked with the club.
Lastly, even though the defense hasn't been mentioned yet, Spurs could use another center back.  Michael Dawson and William Gallas form a strong partnership, but Ledley King is chronically injured and Younes Kaboul doesn't seem up to the level that Spurs would hope for.  Bringing in Gary Cahill (Bolton) or Christopher Samba (Blackburn) for added depth would be an advisable move, especially with Gallas not getting any younger.
Losing the best player on the squad is never an optimistic move for a club.  With a change in tactics, though, and the injection of some new blood into the squad, Spurs could actually come out with a stronger team top to bottom following the departure of Luka Modric.  Or, at least we can dream that way.