Arsenal
Download App
Udinese vs. Arsenal: Why the Gunners Must Qualify for the UEFA Champions League
LONDON, ENGLAND - AUGUST 16: The Arsenal team line up ahead of the UEFA Champions League play-off first leg match between Arsenal and Udinese at the Emirates Stadium on August 16, 2011 in London, England. (Photo by Julian Finney/Getty Images)
December 9, 2016
Normally, a team of Arsenal's stature wouldn't have to go through the process of qualifying for the Champions League. The bigger teams tend to earn automatic qualification through their league standing.
However, after Arsenal's dreadful run of form towards the end of last season, which saw them win just two games after losing to Birmingham City in the Carling Cup final, they slipped to fourth in the Premier League. This means they have to overcome Italian side Udinese to reach the group stage of the competition.
Should they fail to do so, it would be for the first time ever during Arsene Wenger's reign at the club and they will likely suffer from a variety of consequences. Not only would the North Londoners suffer a drop in reputation, but they would also suffer financial difficulties as a consequence of their failure to qualify for Europe's most prestigious competition.
The club, whose supposed lack of ambition and decline over the past few seasons has made it difficult for them to attract some of the top talents in England and abroad, will certainly struggle to attract said players in the next year if they fail to bring Champions League football to the Emirates. 
Of course, the main reason that teams such as Manchester City and Chelsea can attract players that Arsenal can't is because of their financial muscle in the transfer market. Simply put, the billionaires at Eastlands and at Stamford Bridge can offer clubs and players the sort of money that can't be offered at the North London club.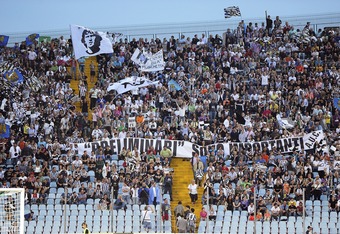 UDINE, ITALY - MAY 22: Udinese supporters display a banner which reads 'Preliminari Sono Importanti' during the Serie A match between Udinese Calcio and AC Milan at Stadio Friuli on May 22, 2011 in Udine, Italy. (Photo by Dino Panato/Getty Images)
This is in part due to the strict budget imposed by Arsenal as they try to remain financially stable following the cost of building the Emirates Stadium. 
Failure to qualify for the Champions League will make Arsenal even weaker in this area, as they will miss out on a share of the prize money, which last year totalled approximately €750 million, according to UEFA.com.
Considering that Arsenal earned approximately €30 million of this by reaching the second round, it is clear that the financial rewards can be lucrative for a team that operates on a strict budget.
As well as financial stability, the fans are also on the line at Arsenal. The Gunners' support appears to be more frustrated than ever after losing Samir Nasri in addition to Cesc Fabregas. Their preseason optimism was lower than ever and they will inevitably begin to lose faith in the club and manager Arsene Wenger if Arsenal fail to reach the group stage.
Arsenal fans have kept faith with their manager over the last few seasons, believing that Wenger's faith in youth will, eventually, lead to trophies.
However, like all football fans, Arsenal supporters want success now. The fact that the side has failed to win a trophy since 2005 is embarrassing, even if they are placing their faith in the future and staying far away from financial trouble.
We all know that to win trophies, Arsenal need players, young or old, who are world-class as of right now.
It will be difficult to attract such players to a club that can only offer Europa League football and who will struggle to finish in a Champions League spot at the end of the season.
The game itself won't be easy, despite the fact that Theo Walcott's goal at the Emirates last Tuesday has given the Gunners a 1-0 lead heading into the second leg. 
Arsenal have a terrible away record in Europe, having lost six of their last seven away games in the tournament. Getting a result at the Stadio Fruili will not be easy.
The Italian side have only lost twice at home since September and captain Antonio di Natale, who was a constant threat to the Gunners last week and who scored 28 league goals last season, will be difficult for the Arsenal defense to contain.
Udinese will push Arsenal all the way tonight, but Arsene Wenger's side simply cannot fail to qualify for the Champions League.
Like the new article format? Send us feedback!