Andrea Pirlo, Arturo Vidal and a Striker to Be Named Later: A Summer of Juventus
July 25, 2011
Richard Heathcote/Getty Images
The Calciopoli scandal—now celebrating its five year anniversary—rocked Italian football and thrust Juventus into perhaps the darkest period in the club's history, starting with its demotion to Serie B.
In spite of the embarrassment of having to play in the second division (for the first ever time in the club's history), Juventus was easily promoted. Of course, the demotion also started an exodus of the team's players (Zlatan Ibrahimovic, Fabio Cannavaro and Gianluca Zambrotta all come to mind). Said exodus left a talent gap that the team may finally be filling.
This is not to say that Juventus has been without talented players for the past five years. Alessandro Del Piero, Gianluigi Buffon, Giorgio Chiellini, Claudio Marchisio and many others are fine players who have excelled for Juventus over the past few years. But the overall quality of the team never returned to the level it was at pre-Calciopoli.
How has Juventus filled the gap? Well, mostly thanks to transfer boss Beppe Moratta. Last summer brought a slew of new additions that helped the team light up Serie A during the first half of the season. The second half was a different story, as Juventus collapsed in January and never really recovered, but that is beside the point. Players like Fabio Quagliarella (whose injury in January precipitated the free fall), Simone Pepe, Marco Storari and Milos Krasic all bring talent and depth to the Juventus squad.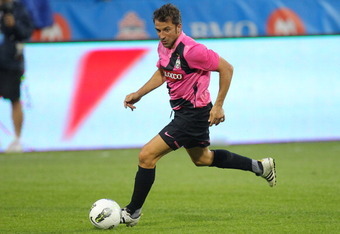 Tom Szczerbowski/Getty Images
Despite the 2010 summer's transfer successes, the team still finished in seventh place for the second year in a row. While the finish was disappointing, it was made even worse by the fact that Juventus will not be in the Europa League this season. But there is some good that can be taken from this, as Juventus will be able to focus more on their league play.
If the 2010 summer was supposed to start a new chapter in the history of Juventus, then it must have been the start of a Dan Brown chapter. The team's substandard play led to the firing of Luigi Delneri (even though the fault for the mid-season collapse lies mostly with the players, despite Delneri over reliance  on his 4-4-2 formation).
Antonio Conte, a member of the illustrious Juventus squads of the 90s, filled the vacant Juventus post. Conte had achieved success at his previous club, Siena, but it remains to be seen if he can repeat his Siena performance (where he won the league) with Juventus.
With the coaching situation handled, Marotta is now redecorating the squad. Midfielders Michelle Pazienza and Andrea Pirlo (who I was initially reluctant about, but am now cautiously optimistic about his influence on this year's Juventus squad) were brought in soon after the season ended.
Additionally, the team's fullback situation, which had been problematic for years, seems to be finally fixed via the free transfers of Reto Ziegler and Stephen Lichtsteiner. Just as Leonardo Bonucci and Giorgio Chiellini form a fantastic centerback partnership for club and country, so could Ziegler and Lichtsteiner (both play for the Swiss national team).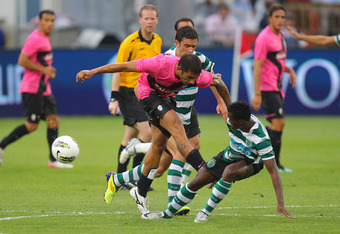 Tom Szczerbowski/Getty Images
But aside from Pirlo, these were not marquee transfers. Those were to come later. Of course the big news from last week was the purchase of Arturo Vidal. The Chilean (and former Bayer Leverkusen man) had impressed in the Bundesliga for several years and will now bring his talents to Turin.
But the Vidal purchase led to an excess supply of defensive midfielders. Andrea Pirlo, Felipe Melo, Mohammed Sissoko and Arturo Vidal all roam the field. Of course, this seems to have been fixed, as Felipe Melo was loaned out to Galatarsay (and most likely he will be purchased when his loan ends) and Sissoko seems to be on his way to Stoke City.
With the full backs and midfielders all being shuffled, this left only the striker corps for Marotta's Italian adaptation of Flip This House. The summer began with rumors that Sergio Aguero would become a Juventus man, but those gradually fizzled and Manchester City seems poised to pick him up. It seems Sergio Aguero will share the fate of another ex-Juventus target, Edin Dzeko.
The new striker target seems to be Giuseppe Rossi, but Villareal and Juventus can't seem to agree on the terms. Villareal are willing to sell Rossi, but they want more money than Juventus wants to give (30 million Euros seems to be what Villareal wants) and they also want to keep Rossi for the preliminary rounds of the Champions Leauge.
ESPN was reporting last week that Rossi will be staying with Villareal, but more rumors began to form this weekend about a transfer. This columnist is hoping Juventus can make the move, but he isn't so sure if it will happen.
If the Rossi deal falls apart, then Juventus is allegedly going to target Mirko Vucinic. Tottenham is also supposed to be going after him, but apparently they were also going after Rossi. With Bojan recently coming in to Roma, it makes sense that they would want to shed an attacker, but is Vucinic the man to be shed?
Regardless of the striker situation (which is in fine condition with Fabio Quagliarella and his future striking partner—the most handsome man in all of Italy—Alessandro Matri) this summer has brought several positive moves (Pirlo is very talented and a fine leader, so it's hard to argue against that move, though I did try). And with a new coach (who seems to be very popular with the players), perhaps Juventus can finally move on from Calciopoli and retain their rightful place as one of the top teams in Italy.
After all, Del Piero can only go (with collar popped) to so many Phillies' games as the captain of a seventh place team. Maybe they need to bring Ryan Howard in.