Everton: Arsenal's £10 Million for Phil Jagielka an Insult and a Waste of Time
July 21, 2011
Shaun Botterill/Getty Images
Arsenal FC finally revealed their hand today, as they made a bid of £10 million for Everton's Phil Jagielka, hastily rejected by the Toffees.
Many have suspected the Gunners would seek a defender this summer, with Chris Samba, Gary Cahill and Jagielka alleged targets. What began as a whisper on Twitter early in the morning steadily swelled out into a full-blown rumour, eventually permeating all sports media outlets. But seriously, Arsenal—£10 million? 
Last summer, Arsenal apparently tested Everton's resolve with a £12 million offer for Jagielka, quickly rebuffed by the Toffees. The defender has since signed an improved, extended contract and, if anything, has solidified his presence in the England squad. David Moyes recently revealed his vision of Jagielka going on to become Everton's next captain, such is his value at Goodison Park.
The more ammunition pieced together on this, the more this stingy, derisory offer becomes an insult to Everton supporters.
The current transfer window has seen £150 million wildly shelled out by Premier League clubs. Scott Dann (albeit, with Cameron Jerome) was reportedly bid for at £16 million by Stoke City, yet the deal was still turned down by Birmingham City. Phil Jones, based on potential alone (something that does not always pan out), fetched almost £20 million.
That considered, how can Jagielka, a current England international and integral part of Everton's ambitions, only be worth £10 million? Have Arsenal viewed Everton as a soft touch financially, willing to cash in on their best assets? If this is the case, then they are mistaken.
It is true Everton are financially stricken. The Toffees are continually up for sale and will be unable to buy unless they can generate funds from departures. However, the club remains confident of gaining sufficient income from the sales of Joseph Yobo and Yakubu Aiyegbeni, both of whom are currently absent from the club's preseason tour in America.
Regardless of any financial shortcomings, the club have always presented an image of a team unwilling to trade away any of their prized possessions. 
What Arsenal must remember is that, apart from Steven Pienaar, those players who David Moyes has truly cherished at Everton have rarely left. The very few that have gone have departed for vastly inflated figures after lengthy, rigorous exchanges.
Pienaar's contract situation left Everton with no choice, although they did still eventually wrangle out more than they started with for the diminutive South African. In terms of first-team players, in over nine years with Moyes at the helm, only Wayne Rooney, Joleon Lescott and, to an extent, Andy Johnson have departed against the Scotsman's wishes. That trio have given Everton over £60 million, and financed the majority of the current squad.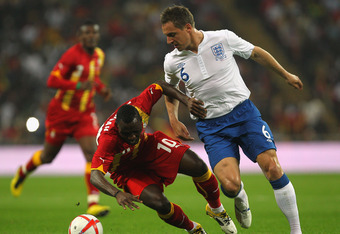 Clive Rose/Getty Images
Wayne Rooney set off to Manchester United for £25 million to £30 million after becoming embroiled in a bitter, elongated transfer saga. Everton negotiated doggedly and secured numerous add-on clauses to sweeten the deal. Seven years ago, that deal in today's current climate would surely reach £35 million to £40 million.
When Andy Johnson first voiced his desire to return to his roots in London, Moyes was unimpressed. Despite Yakubu's 20-goal season, Johnson was still viewed as a key element in Everton's fortunes. Begrudgingly, Everton began to haggle with Fulham, and eventually Johnson left for over £10 million, a transaction that has to be regarded as a real coup considering his fortunes since. 
Finally, and crucially to Arsenal, Everton wrestled £24 million off Manchester City for Joleon Lescott. That was two years ago, after a season that saw Lescott pipped for Everton's Player of the Season by Jagielka—again, after a long transfer battle that turned nasty in its conclusion.
Despite the increasing army of foes questioning Bill Kenwright due to the club's financial predicament, the Everton Chairman is a shrewd negotiator. He has stringently mustered up some impressive deals for Everton in the past, and a £10 million offer is hardly going to cause a murmur around the Everton boardroom, however cash-strapped Goodison Park is.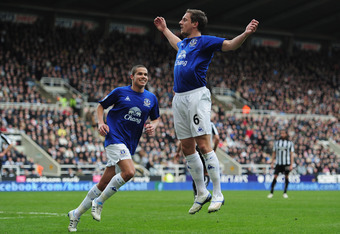 Jamie McDonald/Getty Images
At 28, Jagielka is indeed two years older than Lescott was when he moved to Manchester City, yet defenders experience their peak years between 26 and 32. A transfer now would see Jagielka performing at his maximum for a potential new club, hence he should only be sold at a maximum price. 
Over the past year, Jagielka has manoeuvred his way up the England pecking order, ahead of Lescott and various other impressive candidates. With nine caps, he has become the man Fabio Capello turns to when either John Terry or Rio Ferdinand succumbs to injury—surely a feat meriting a more inflated bid.
The vast majority of Everton supporters would be disheartened were Jagielka to go. Evertonians have generally valued him higher than Lescott. They appreciate his loyal attitude and professionalism after several transfer windows full of speculation that, refreshingly, have barely caused a mutter out of the player. Two years ago his shirt was sold more than any other player at Everton. 
Debate has become rife on football forums, with endless scenarios predicted. Talk of a possible cash-plus-Nicklas Bendtner deal has been muted and seems feasible. Yet a resounding feature consistently surfaces about how this offer at present is comical. 
Jagielka's dynamism in the tackle and general combative style could complement Thomas Vermaelen's composed all-around game superbly for Arsenal. A left-foot/right-foot combination, the pair could work well together.
However, if Arsenal think they are in for some smooth, fluid negotiations with Everton, they are a long way wide of the mark. Everton are no easy pickings in the transfer market regardless of financial difficulties. The Gunners will have to flex their financial muscles and double this paltry amount before Everton even consider picking up the phone to barter.
If you liked this article, follow me on Twitter:  @Matt_Cheetham for more chat