Women's World Cup 2011 Final Japan vs. USA: 5 Keys to a Team USA Victory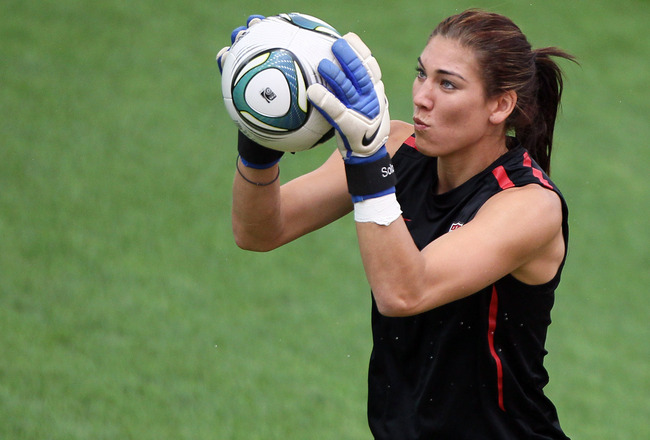 Christof Koepsel/Getty Images
After watching the United States Women's National Team (USWNT) record yet another sensational victory in Wednesday's semifinal victory over France, most of us in the United States are convinced that our team will triumph in Sunday's Women's World Cup Final against Japan.
However, I am more cautious with my assessment when considering that the United States still has some clear weaknesses which a very talented Japanese squad could exploit.
Hoping that the USWNT team once again vindicates their No. 1 ranking and returns the Women's World Cup trophy to the States, here are five keys to a Team USA Victory.
1. Score Early
Scott Heavey/Getty Images
Obviously easier said than done, an early goal can often prove decisive. The United States benefited from early goals against both France and Brazil and, in both cases, the early goal allowed the United States to survive poor periods of play later in the match.
In Japan, the USWNT will face an opponent which emulates Barcelona's possession-oriented game where players at every position are capable of stringing together a number of passes before slipping an incisive through-ball past their opponent's stressed back line.
Considering that Carli Lloyd and Shannon Boxx have struggled to maintain possession in the United States' central midfield throughout the past two games, the USWNT will likely need to defend for long stretches of the game.
However, in a group stage contest against England and in the semifinals against Sweden, Japan conceded within the first 15 minutes.
By once again scoring early, the USWNT would have the proper insurance to defend for much of the remainder of the match.
2. Defend Well for the First 60 Minutes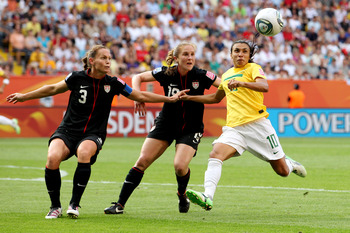 Scott Heavey/Getty Images
Against both France and Brazil, the United States demonstrated the capacity to overcome more technically-skilled opponents through superior conditioning and influential substitutions. If the United States can score early and hold a 1-0 lead until about the 1-0 mark, the introduction of super-subs Megan Rapinoe and Alex Morgan could provide the USWNT with the offensive spark to run away with a 3-0 win.
However, in order to reach that ideal match situation, the United States will need to endure a Japanese attack which scores regularly despite lacking a dominant offensive player. Unlike conventional sides which generate the majority of their scoring opportunities by feeding central offensive players, the Japanese use their slick passing to constantly shift the point of attack and create scoring opportunities from a variety of angles. Constantly pressuring the opposing team, Japanese playmakers such as Captain Homare Sawa punish even the smallest defensive mistakes with opportunistic goals.
In order to limit the number of Japanese scoring opportunities, the American players must vigorously challenge any entry pass into the U.S. third of the pitch and force the Japanese to possess in the midfield or in their own third.
3. Hope Solo's Dominance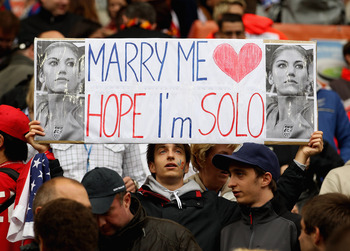 Scott Heavey/Getty Images
Sunday's contest will present a tantalizing matchup between Japanese midfielder Aya Miyama and American goalkeeper Hope Solo. Largely regarded as the world's premier dead-ball specialist, Miyama has scored three of her eight international goals from free kicks. Assuming that the United States will likely concede at least one or two free kicks from dangerous areas, Solo will need to not only stop the shots but prevent spilling costly rebounds.
With the Japanese continuously playing dangerous balls into the box, Solo will need to utilize every inch of her extensive range to keep them from hitting the back of the net. However, by simply not making some of the aggressive mistakes as Swedish keeper Hedvig Lindahl, Solo could limit Japanese scoring opportunities and cause them to become more impatient near goal.
4. Good Wing Play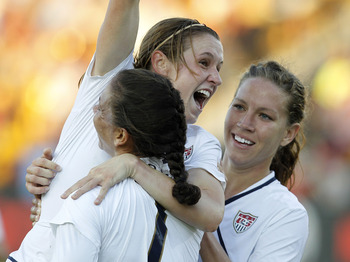 Mike Zarrilli/Getty Images
Despite combining for a crucial early goal against France in the semifinals, Lauren Cheney and Heather O'Reilly have been surprisingly anonymous throughout the elimination stages. Often isolated from the deep-lying central midfield and the aggressive strikers, Cheney and O'Reilly need to use their speed and deft touch to link the defense with the offense and thus provide a legitimate counterattacking threat.
If the pair once again struggles in the early stages of the match, Coach Pia Sundhage should drop Wambach into a central attacking midfield role where she could use her size and ball skills to form a dangerous combination with either of the wingers.
If the USWNT can succeed on the flanks and establish a consistent counterattack threat, they could potentially score multiple goals in the first half forcing Japan to take a more reckless and direct approach throughout the remainder of the contest.
5. Exploit Japanese Goalkeeper Ayumi Kaihori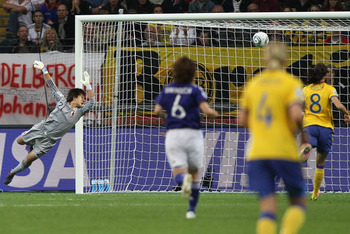 Christof Koepsel/Getty Images
About 5'5" and not particularly sure-handed, Japanese goalkeeper Ayumi Kaihori is a quite a peculiar sight in goal. Persistently vulnerable to shots in either corner and anything above her head, Kaihori is definitely the weak link in a very talented Japanese squad. While the USWNT should look to exploit this weakness by playing crosses onto Abby Wambach's dangerous forehead, they should also look to unload long range shots as well.
However, despite her obvious height disadvantage, Kaihori has only allowed a single goal in Japan's past two games against aerially talented German and Swedish teams. Realizing she's not particularly good at stopping shot on her line, she often aggressively charges off of her line and generally does well enough to pressure the shooter into a less than ideal shot.
Nevertheless, if O'Reilly, Cheney and Rapinoe can consistently play high, seeking balls toward Wambach, Kaihori and the Japanese squad will be in a world of trouble.
Prediction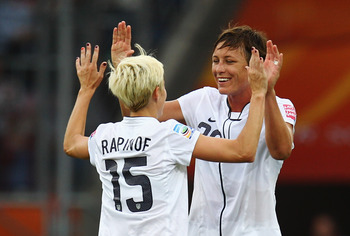 Alex Grimm/Getty Images
The USWNT score within the first five minutes for a dream start to the 2011 WWC Final. Japan settles into their passing rhythm but fails to score during the first half thanks to some remarkable defending from Christie Rampone and smart goalkeeping from Hope Solo. However, Japan scores right after halftime and continues pressing until they score again in the 70th minute.
Sundhage moves Lauren Cheney to central midfield and introduces Megan Rapinoe to play left wing and Alex Morgan to play alongside Abby Wambach.
Wambach scores through a header with around 10 minutes remaining to level the score, and Rapinoe scores the winner off of a corner kick deflection.
United States: 3 Japan: 2
Keep Reading