USA vs. Mexico: It's Not the World Cup, but It's the Gold Cup
June 24, 2011
Mitchell Layton/Getty Images
Few times in sports, fans get what they want. Saturday night at the Rose Bowl, soccer fans are in for a treat.
In the CONCACAF Gold Cup, the United States will play host to "El Tri Colores" the Mexican national team at the Rose Bowl.
Following last year's World Cup letdown for both countries, the importance of this match is accelerated to another level. This game is more than supremacy between bitter, border rivals. A spot in 2013 Confederation's Cup in Brazil is on the line.
Looking back on USA's trip to the Confederation's Cup in 2009, the experience—and more importantly, the victories—appeared to catapult the Yanks in the final stages of qualifying and invigorated confidence into the side on African soil.
Although that confidence playing in South Africa was short-lived and fizzed out by Ghana, yet again, the Americans brought a country together in hope of reaching uncharted territories.
Winning the Gold Cup wouldn't be anything new, but beating Mexico to do so would sweeten the pot. Since 2002, Mexico and the United States have been the only winners of the Gold Cup. 
The level of intensity between these two countries has increased over the last decade in direct relation to the U.S. team improving their quality of play tenfold. For years, Mexico was the dominant team in CONCACAF, and a win over their neighbors to the north was expected by Mexicans and fans across the world.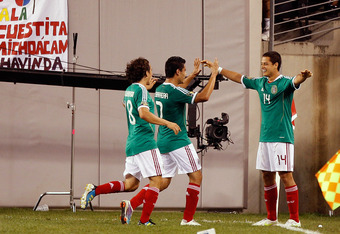 Mike Stobe/Getty Images
A rivalry on the field between the teams might carry over to the seats in the venue as well. The gamesmanship over the years has been as much of the rivalry as the action on the field. 
This game might be listed as a neutral-site game, but the venue is in Pasadena, California. There is no doubt the Rose Bowl crowd will be filled to the brim with fans from both sides.
Despite the major-market Los Angeles teams, both college and pro, the Gold Cup final match is the hottest ticket in town. After all, the Los Angeles Lakers failed to capture a three-peat victory in the NBA and the United States is looking to accomplish a similar feat in the CONCACAF Gold Cup after securing victories in 2005 and 2007. The US national team is looking to secure Gold Cup victories in three of the last four competitions. 
As if the rivalry between Mexico and the USA needed any more, it is only fitting that the most famous outdoor arena in the country hosts the biggest soccer event of the year.
It's not the World Cup, but for the supporters in the bleachers and the players on the pitch, it is just as important.