World Football: Ranking the Most Efficient Strikers in the World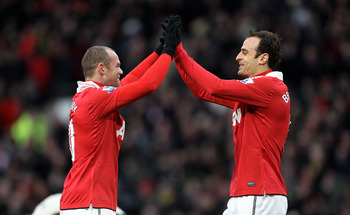 Ian Walton/Getty Images
Who is the best striker in the world?
It's a question that has been pondered over for years and has been heavily debated by fans, players and managers of the world football community alike.
Is it Wayne Rooney, Didier Drogba or Fernando Torres? Maybe it's Dimitar Berbatov, Leo Messi or Edinson Cavani? Hey, these guys are scoring goals by the bucket-load this season!
But something that has rarely been looked at to determine a striker's quality is his effectiveness.
Which player converts the most goals per shot? What is, in a word, his efficiency?
In this slideshow, I present to you the 10 most effective strikers in the Premier League, La Liga, Bundesliga and Italian Serie A.
To make the list a player has to have scored at least 10 league goals this season, and then I will compare the number of goals scored to shots taken to provide you with the most efficient strikers in the top tier of European football!
10. Dimitar Berbatov (Manchester United)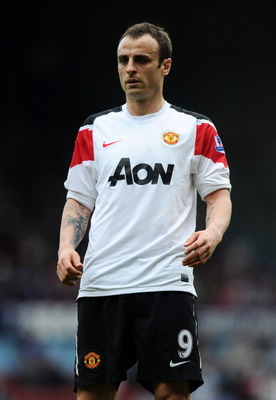 Mike Hewitt/Getty Images
Season Statistics: 28 appearances, 85 shots, 20 goals
Efficiency: 23.5 percent
Manchester United striker Dimitar Berbatov was subject to some heavy scrutiny early in his Old Trafford career, but he has really started to prove his worth at the club this season. The Bulgarian hit man has sprung to action with two crucial hat tricks as well as an astounding five-goal performance against Blackburn. He has an overall record of 20 goals in the Premier League, meaning he is currently the top scorer. However, he has fallen down in Sir Alex Ferguson's pecking order, and despite his brilliant record, he is now usually playing off the bench.
9. Alexandre Pato (AC Milan)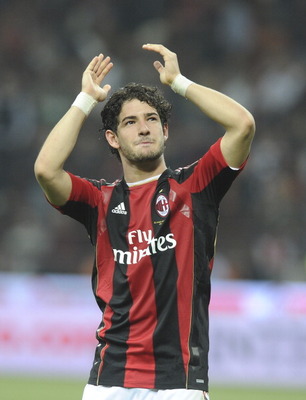 Dino Panato/Getty Images
Season Statistics: 20 appearances, 55 shots, 13 goals
Efficiency: 23.6 percent
Constantly regarded as one of the most promising youngsters in football, Alexandre Pato has finally proven he is one of the big boys and isn't a player to be reckoned with. After suffering an injury setback early in the season, Pato has still managed to find the net 13 times and has proved crucial in AC Milan's Scudetto chase. He's come up big with four braces this season, including an amazing performance against archrival Inter Milan.
8. Alessandro Matri (Juventus)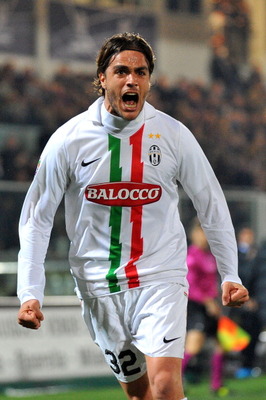 Roberto Serra/Getty Images
Season Statistics: 31 appearances, 71 shots, 17 goals
Efficiency: 23.9 percent
The 26-year-old Italian striker Alessandro Matri has finally had the big breakthrough of his career. After being noted as a promising striker for some time, Matri started the season brilliantly, scoring 11 goals in 22 matches for Cagliari. This earned him a January move to Italian giants Juventus, where he has began his career auspiciously, netting six times in just nine outings. His impressive form also earned him his Italian national call-up, where he has already netted once in as many games.
7. Pedro (FC Barcelona)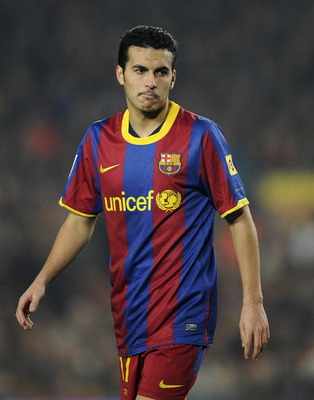 David Ramos/Getty Images
Season Statistics: 28 appearances, 54 shots, 13 goals
Efficiency: 24.1 percent
Given Barcelona's brilliant attack force, which includes players such as Messi and David Villa, Pedro Rodriguez may not have been the name you were expecting to see on this list. However, the Spanish international's ability to play as a striker or out on the wing and his knack for scoring have proven to be vital in Barcelona's recent successes. Just look at his numbers for proof. He has scored 21 goals and assisted 10 in all competitions this season! That's pretty impressive, but some say his best is yet to come!
6. Papiss Cisse (SC Freiburg)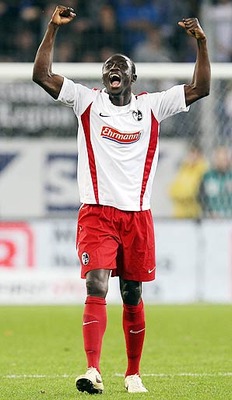 Season Statistics: 26 appearances, 78 shots, 19 goals
Efficiency: 24.4 percent
And here comes the first real shock of this list! I'm pretty sure you weren't expecting Papiss Demba Cisse, but the Senegalese striker is one of the fastest-rising strikers in the world, and is definitely a guy to look out for. He is currently tied as the Bundesliga's top scorer after netting an impressive 19 goals for Freiburg—enough to elevate the club to a somewhat surprising eighth place. Cisse has been linked with a number of clubs—among them Fulham, Liverpool and Arsenal.
5. Theofanis Gekas (Eintracht Frankfurt)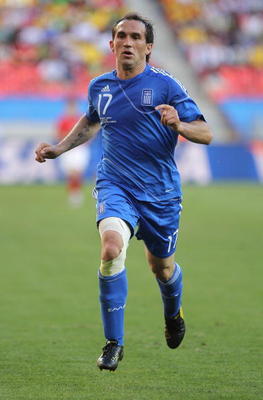 Doug Pensinger/Getty Images
Season Statistics: 28 appearances, 63 shots, 16 goals
Efficiency: 25.4 percent
He's another surprising Bundesliga striker to make the list, but over the years, Theofanis Gekas has really shown that he is a quality striker. Sure he's already 30 years old, but the Greek forward has continued to pump out the goals this season for Eintracht Frankfurt, scoring a hearty 16 in just 28 matches, meaning he has produced more than half of his team's season total of just 28 goals in the Bundesliga.
4. Mario Gomez (Bayern Munich)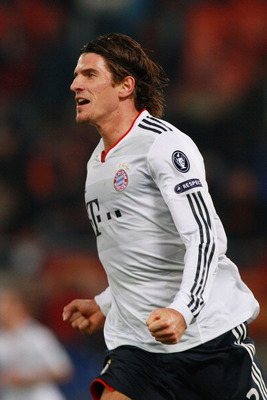 Paolo Bruno/Getty Images
Season Statistics: 26 appearances, 74 shots, 19 goals
Efficiency: 25.7 percent
He was the most expensive transfer in the history of the Bundesliga, and for quite some time, he looked like one of the worst, but German striker Mario Gomez has exploded into absolutely stellar form this season, scoring a total of 19 goals in 26 league appearances. The Bayern Munich striker has been having the season of a lifetime, and his tally is extended to a whopping 30 goals in 39 appearances in all competitions. He has three hat tricks this season and is currently tied as the top scorer in the Bundesliga.
3. Chicharito (Manchester United)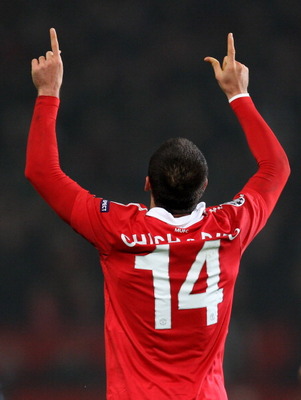 Alex Livesey/Getty Images
Season Statistics: 22 appearances, 41 shots, 11 goals
Efficiency: 26.8 percent
In just his first season in European football, Javier Hernandez has already shown signs that he can be one of the best strikers for years to come and that he has an extremely bright future in Europe's top level. The young Mexican has been an absolute revelation for Manchester United, scoring 11 goals, including some crucial game-winners. He has also scored three in the Champions League, excelling beyond the expectations anyone could have ever had for him in his first season.
2. Milivoje Novakovic (FC Köln)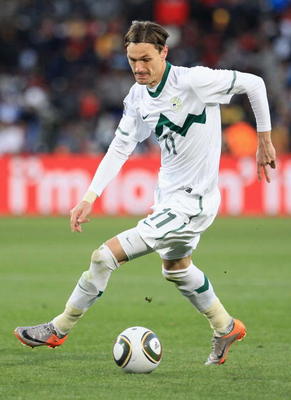 David Cannon/Getty Images
Season Statistics: 22 appearances, 38 shots, 12 goals
Efficiency: 31.6 percent
Another quite unexpected name on the list, Milivoje Novakovic has been a standout performer for Koln in the Bundesliga this season. Partnering the perhaps more familiar Lukas Podolski in attack, Novakovic has scored a nice tally of 12 goals in a mere 38 shots, meaning he has a rate of just less than one goal for every three shots.
1. Felipe Caicedo (Levante)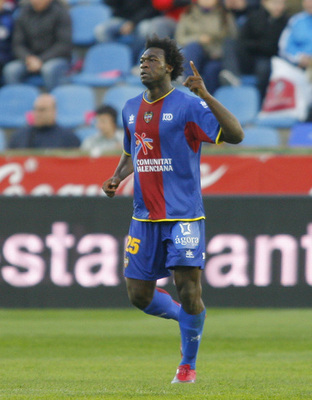 Season Statistics: 21 appearances, 33 shots, 11 goals
Efficiency: 33.3 percent
As if you haven't had enough surprises, I present to you the most "efficient" striker, Felipe Caicedo! A standout performer for newly promoted La Liga side Levante, he has converted precisely one-third of his shots, scoring a total of 11 goals. He is currently playing on loan from English side Manchester City, where he was deemed a "flop," but it's anyone's guess that City will be very keen to bring the young Ecuadorian striker back into their ranks after the great season he is having.
The Complete List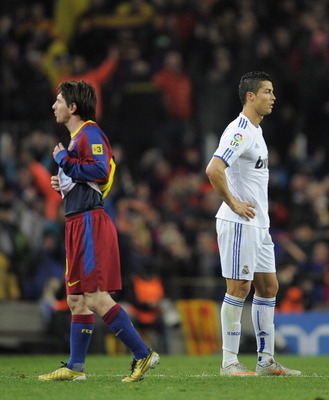 David Ramos/Getty Images
I have included the complete list of players below in case you want to see where your favorite players rank! If a player has played for two clubs, I take all shots and goals into consideration and the number of goals scored is used as a tie-breaker. I hope you enjoyed the article!
*The number beside a player's name is his efficiency, how many of his chances he converts in a percentage. In other words, it is how many goals a player would score in 100 shots.
1. Felipe Caicedo (Levante): 33.3
2. Milivoje Novakovic (Koln): 31.6
3. Javier Hernandez (Manchester United): 26.8
4. Mario Gomez (Bayern Munich): 25.7
5. Theofanis Gekas (Eintracht Frankfurt): 25.4
6. Papiss Cisse (SC Freiburg): 24.4
7. Pedro (FC Barcelona): 24.1
8. Alessandro Matri (Juventus): 23.9
9. Alexandre Pato (AC Milan): 23.6
10. Dimitar Berbatov (Manchester United): 23.5
11. Kevin Nolan (Newcastle United): 23.5
12. Didier Ya Konan (Hannover): 23.1
13. Edinson Cavani (Napoli): 22.9
14. Salomon Rondon (Malaga): 21.4
15. Mladen Petric (Hamburg): 21.2
16. Lionel Messi (FC Barcelona): 20.8
17. Alberto Gilardino (Fiorentina): 20.8
18. Robin Van Persie (Arsenal): 20.4
19. David Trezeguet (Hercules): 20.4
20. Antonio Di Natale (Udinese): 19.7
21. Alexis Sanchez (Udinese): 18.8
22. Raul (Schalke 04): 18.5
23. Andre Schurrle (Mainz): 18.2
24. Samuel Eto'o (Inter Milan): 18.1
25. Nilmar (Villarreal): 18
26. Marco Di Vaio (Bologna): 17.6
27. Giampaolo Pazinni (Inter Milan): 17.6
28. Carlos Tevez (Manchester City): 17.4
29. Roberto Soldado (Valencia): 16.9
30. Lukas Podolski (Koln): 16.4
31. Karim Benzema (Real Madrid): 15.6
32. Luis Fabiano (formerly Sevilla): 15.6
33. Darren Bent (Aston Villa): 15.5
34. Lucas Barrios (Borussia Dortmund): 14.9
35. Andy Carroll (Liverpool): 14.7
36. Fernando Llorente (Athletic Bilbao): 14.6
37. David Villa (FC Barcelona): 14.4
38. Sergio Pellissier (Chievo): 14.3
39. Srdjan Lakic (Kaiserslautern): 13.9
40. Sergio Aguero (Atletico Madrid): 13.5
41. Robinho (AC Milan): 13.2
42. Cristiano Ronaldo (Real Madrid): 13
43. Wayne Rooney (Manchester United): 13
44. Edin Dzeko (Manchester City): 13
45. Giuseppe Rossi (Villarreal): 12.9
46. Alvaro Negredo (Sevilla): 12.8
47. Marco Borriello (Roma): 12.8
48. Zlatan Ibrahimovic (AC Milan): 12.7
49. Rafael Van der Vaart (Tottenham): 11.9
50. Peter Odemwingie (West Brom): 11.9
51. Javier Pastore (Palermo): 11.2
52. Johan Elmander (Bolton): 10.5
53. Clint Dempsey (Fulham): 9.3
54. Didier Drogba (Chelsea): 8.3
Keep Reading