Seven Reasons: The Netherlands Will Win the 2010 FIFA World Cup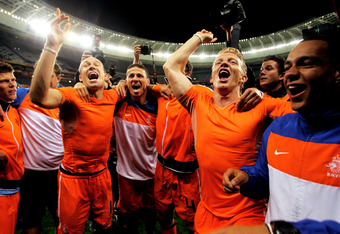 Lars Baron/Getty Images
After a fantastic World Cup run, the Netherlands now find themselves just one win away from becoming World Cup champions for the first time ever in their career as they face Spain on July 11 in the World Cup final.
With some incredible footballers in Arjen Robben, Wesley Sneijder, Dirk Kuyt, Robin Van Persie, and Maarten Stekelenburg (just to name a few) on their squad, this is one of the most talented and strongest sides in this World Cup.
Now, with the World Cup final Sundah here are some of the reasons why the Dutch will win the World Cup final.
Reason One: Wesley Sneijder
In this World Cup, the best player has been without question midfielder Wesley Sneijder.
Along with being an incredible midfield presence, Sneijder has demonstrated and ability to score. The Dutchman is tied for first in the Golden Boot with five goals, and has also scored game winning goals against Japan, Slovakia and Brazil.
With Sneijder on top of his game it will be difficult for the Dutch to lose.
Reason Two: A World Class Midfield
With Arjen Robben, Sneijder, Dirk Kuyt, Mark Van Bommel all starting at midfield, the Dutch have a center-core no one in the world can compete with.
These are four great players who will all take the field in the final, and will give Spain tremendous fits with their playing ability.
Also, with a player such as a Rafael Van der Vaart ready to come off their bench to replace one of these players, this midfield is has depth other countries have lacked.
Reason Three: Their defense has been spectacular
You cannot get to a World Cup final without a great defense, and what a defense the Dutch have.
With Joris Mathijsen, John Heitinga, captain Giovanni Van Bronckhorst and Khalid Boulahrouz all in the back, this Dutch defense is strong.
They know how to handle pressure in tight situations, and they certainly will have their best match of the entire World Cup in the final.
Reason Four: Maarten Stekelenburg's Brilliant Goalkeeping
Going into this World Cup, Maarten Stekelenburg had never played a major international tournament for the Dutch– but in his first World Cup, the Ajax keeper has been nothing short of spectacular.
From his two clean sheets in the group stage to an incredible save against Brazil to keep the score at 1-0 (for Brazil at the time), Skekelenburg has been great.
Now, as long as he keeps up this great form, he could become the first Dutch goalkeeper to win the World Cup.
Reason Five: The Dutch are actually working together
Every World Cup, the Dutch are always among the top contenders but never seem to win it as a problem escalates and causes the locker room to tear apart, causing the team to lose.
But this year, the locker room has remained a cohesive unit despite several incidents– such as the Robin Van Persie playing time debacle several days ago.
With a united side, the Dutch now appear ready to finally capture the World Cup title that has eluded them for so long.
Reason Six: They can win close matches
In this World Cup, the Dutch have set a record with five straight one goal victories.
And in the only other match the Dutch have played in, they won 2-0 over Denmark, and it became 2-0 on a late goal from Dirk Kuyt.
With this, the Dutch defense used to pressure and will be able to stop Spain should the Dutch have a one goal lead late.
Reason Seven: They are a Team of Destiny
Throughout the history of Dutch football, there always has been a disappointment somewhere that stops the Dutch locomotive right in its tracks.
But now, we are in the World Cup final and without question this is the Dutch's time to claim the World Cup title.
This squad has the talent, they have the momentum and all they will need now is to pick up the World Cup trophy from Nelson Mandela to finish the job.
On July 11, fans will get to see if the Netherlands will win this World Cup with their great side against the Spanish in what should be a fantastic World Cup final.
Of course, the winner of the final will deservedly be called World Cup champions for the first time in their nation's history.
This article is
What is the duplicate article?
Why is this article offensive?
Where is this article plagiarized from?
Why is this article poorly edited?