What The World Cup Means to Me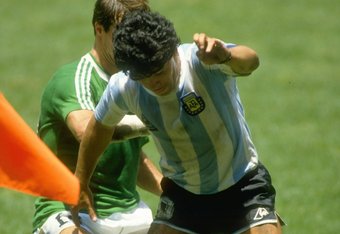 Getty Images/Getty Images
I grew up in Latvia, which was at the time part of the USSR. The first World Cup that I remember is the 1986 edition. I was 10 years old at the time, and my family used to spend summers at our dacha (summer house) in the Latvian resort town of Jurmala on the Baltic Sea (one of the most popular resorts in the old USSR). We did not have a TV there (we didn't have any modern conveniences, in fact), but some of my friends did have black & white TV sets with rabbit ears. One of them was my friend Daniel who lived about a 10-minute walking distance from me.
I remember it like yesterday. Walking over to his house every night with my grandpa to watch all the World Cup games. We would join his family, and all sit around their TV set which was probably about 19" in diameter. Often we had to fumble around with the antenna to get a clear reception (it would of course go out right when something really exciting was happening) and we would all be totally glued to the action, and react emotionally to each and every play. Because of the time difference with Mexico some of the games would end very late (past midnight) our time, but my family would let me stay up past my usual bedtime to watch the games at Daniel's dacha.
To this day, I clearly remember the USSR knockout round game vs. Belgium, which was probably the worst officiated match I've ever seen in terms of clear bias. The USSR had a great team at the time, and had every chance to win the entire tournament, but the Swedish referee and his linesmen (one from the United States and one from Spain) did everything they possibly could to throw the Soviets out of the competition in the most dramatic fashion.
The USSR eventually lost 4-3 in overtime in what many consider one of the greatest World Cup games ever. Aside from calling all the fouls one way, they also allowed Belgium two goals that were clearly offside (one by a good 5 meters!). I remember how distraught, and angry we all were about the result.
The next World Cup, in 1990, I also watched at our dacha. Once again we did not have a TV there so I would go over to friend's houses to watch the games. My friend Dima (Dmitriy) had a 19" black & white TV and my friend Oleg had a 13" color TV. Since this World Cup was in Italy the time difference with Latvia was much less, and we'd schedule our whole day around the games taking trips to the beach in between.
I remember it being a pretty boring World Cup overall with some good games being rather the exception to the rule. After that, FIFA changed some of the rules that were abused by the teams in this World Cup. For example, not allowing the goalkeeper to pick up the ball with his hands after a back pass from his teammate.
In 1991 my family moved to the United States (Boston area), and as luck would have it the 1994 World Cup was staged in the country that I was now living in. Unfortunately, at the time, we were only in the country for a few years, I was only 18 and didn't have the money to attend any games in person, but I did watch every single match on TV.
The 1994 World Cup got me back into following football (soccer) as I fell out of it due to it not being available on U.S. TV at the time (aside from the occasional U.S. national game interrupted by commercials).
Overall, since the 1986 World Cup, I have watched every single game, even foregoing a contract opportunity in 2002 so that I could watch all the games live (due to the time difference with South Korea, and Japan the games were on at night and early morning in the States).
While I am so passionate about football/soccer (and sports in general), there's just nothing that compares to the World Cup. I don't even know how to describe the feeling I get during the games. It's just an unbelievable natural high. I also love seeing completely different styles of play and discovering the talents of many players from around the world that I normally don't get to see play (because they might not be playing in top pro leagues).
Can't wait for it to start. I'm already living, and breathing with anticipation of this summer's World Cup.
This article is
What is the duplicate article?
Why is this article offensive?
Where is this article plagiarized from?
Why is this article poorly edited?