Sky Sports News HQ has issued an apology after a variety of incidents involving their reporters and members of the general public disturbed their coverage of Monday's transfer deadline day.
As has become traditional in recent years, Sky Sports sends reporters to a multitude of grounds across the UK on the final day of the transfer window to report on the latest developments.
An occupational hazard of such reporting is that fans tend to congregate behind each reporter and, on Monday, the channel inadvertently broadcast, amongst others, multiple profanities and a man wielding a sex-toy, per the Huffington Post's Samuel Luckhurst:
Round-up of the moments Sky Sports' deadline day circus was sent packing across the country http://t.co/gAKJ7DX32w

— Samuel Luckhurst (@samuelluckhurst) September 2, 2014
More troubling were the scenes outside Crystal Palace's stadium where Sky Sports News HQ's Kaveh Solhekol was forced to abandon his post due to the presence of protesters letting off fireworks, per the Daily Telegraph's Ben Rumsby.
A group of Palace fans—reportedly members of the supporters group Holmesdale Fanatics—were protesting against Sky's football coverage, setting of flares and fireworks, chanting obscenities and carrying a banner reading: "SKY SPORTS - KILLING OUR GAME SINCE 1992".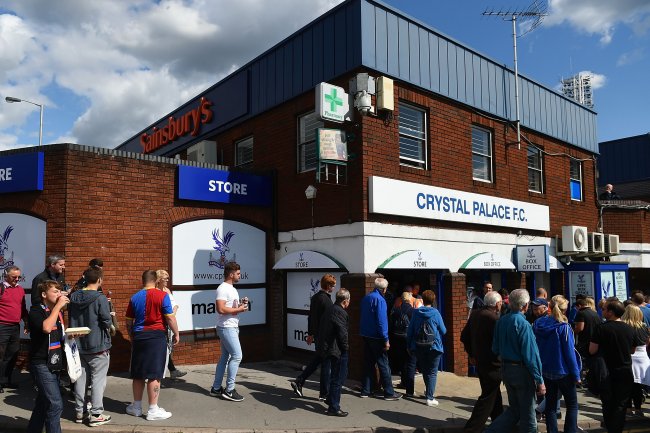 Tom Dulat/Getty Images
Geraint Hughes—the reporter outside Arsenal's Emirates Stadium where the big story was the signing of Danny Welbeck—was forced to move inside to the calm of the stands rather than report from the exterior of the ground.
A Sky Sports News HQ spokesman issued an apology in the wake of the deadline-day incidents, per Dugald Baird in the Guardian:
Millions of viewers followed our coverage of transfer deadline day, which included over 270 live reporter updates from outside football clubs over the final 24 hours. We apologise to those whose enjoyment was spoiled by a small number of incidents and we're looking into ways to avoid this happening again in the future whilst ensuring fans remain a key part our live coverage.
Liverpool legend Robbie Fowler predicted that this year's coverage may spell the end of the tradition of sending reporters to stand outside grounds on transfer deadline day:
Got a feeling this could be the last time we see reporter around supporters... To many tools shouting stuff etc

— Robbie Fowler (@Robbie9Fowler) September 1, 2014
Indeed, they do seem somewhat superfluous oftentimes considering they are rarely the first to find out any news, proximity to the grounds not being essential for being in the know.
Certainly, such as in cases like Solhekol's, it seems likely that Sky Sports News will think hard about their approach to their January transfer news coverage if there is any chance of their reporters' safety being compromised.