Updates from Saturday, July 26
Selecao Brasileira provides a look at Neymar's recovery:
Neymar in Ibiza, protecting his back, as he still endures treatment. pic.twitter.com/Bf6Hd9QdqF

— Seleção Brasileira (@BrazilStats) July 26, 2014
Updates from Friday, July 11
Tales Azzoni of the Associated Press has the latest on Neymar:
Neymar became emotional when talking Thursday about the injury that ruled him out of the World Cup, saying that if the knee to his back had been slightly more to one side he "could be in a wheelchair" right now.

The Brazil striker cried as he recalled the injury, saying "God blessed" him and prevented a more serious injury. Neymar had to stop talking for several seconds, lowering his head and putting a hand in front of his eyes.

"It's difficult to talk about a move that (happened) in such an important moment of my career," he said.

Neymar fractured his third vertebra when defender Juan Camilo Zuniga hit him from behind in a challenge late in the quarterfinal match against Colombia.

"If it had been 2 centimeters to the center...," he said, struggling to stay composed. "I could be in a wheelchair."
The striker also talked about the hit that injured him:
The 22-year-old striker complained about Zuniga's challenge, although he said the Colombian called to apologize.

"I don't know if he was trying to hurt me, but if you understand football you know that it was not a normal challenge," Neymar said. "I can't protect myself when I'm not facing the play. The only thing that can protect me from someone coming from behind are the rules. I couldn't protect myself and I ended getting hurt."
Updates from Thursday, July 10
Barcelona have released an update on Neymar's recovery from the back injury that ruled him out of the World Cup at the semi-final stage.
The Catalans stated the following on their official website:
FC Barcelona's Medical Services visited Neymar Jr at the player's home in Brazil this week. The Club's Medical Services confirmed the CBF's diagnosis that Neymar had fractured the L3 vertebrae in his back. The CBF and Barça's Medical Services are in agreement on the type of treatment the player will undergo in his recovery process.

The player is recovering well and he'll continue his recovery in Barcelona starting on August 5.
Updates from Tuesday, July 8
ESPN reports Neymar was spotted walking around his home:
In addition to sending messages of encouragement and thanks to the Brazilian team and his fans, injured star Neymar allowed fans a glimpse into his health status on Tuesday when he was captured by ESPN Brazil cameras walking and doing light movement at his home in Guaruja.
Updates from Monday, July 7
Paul Hirst of Press Association Sport reported on Neymar's potential attendance at the semi-final against Germany:
Spoke to #BRA press officer after the Scolari press conf and he said Neymar would not be coming to Belo Horizonte to watch the semi-final.

— Paul Hirst (@hirstclass) July 7, 2014
The Sun reports that FIFA will not punish Juan Zuniga for his challenge on Neymar:
FIFA will also be taking no action against Juan Zuniga over his challenge on Neymar #BRA #COL

— The Sun - Football (@TheSunFootball) July 7, 2014
Updates from Sunday, July 6
Paulo Freitas of Sky Sports reported the latest in Neymar's recovery:
Reg. #Neymar's chances of playing an eventual final, he would need to take painkillers, Globo Esporte reckons chances are small.

— Paulo Freitas (@Cynegeticus) July 6, 2014
Brazil FA not certain about having #Neymar play as his movements would not be complete. There are concerns it could slow down full recovery.

— Paulo Freitas (@Cynegeticus) July 6, 2014
Eurosport also relayed a report from Globoesporte on the chances of the Brazilian playing in a potential World Cup final:
It was initially reported that the striker was ruled out of the World Cup with a fractured vertebrae, but an article on Globoesporte suggested that he could make a shock return in the final if Brazil manage to beat Germany in the semi-final.

(...)

"The official version is that nobody is thinking about it now," Neymar's manager, Eduardo Musa was quoted as saying.
Earlier in the day, Luiz Felipe Scolari spoke about Neymar's injuries and the player's initial fears after sustaining it during the victory over Colombia, per Sky Sports (via Fox Sports):
"Marcelo ran up to Neymar (directly after the challenge) and asked him how he was feeling and he told him: 'I can't feel my legs'," the Brazil coach was quoted as saying by Marca.

Luckily for Neymar, he will not suffer any such long-term effects.

"He does not have any neurological injury that would compromise his life as an athlete or a human being," Brazil's team doctor Jose Luiz Runco said.

"He will be out for 40-45 days. Then he will be able to pass, to run."
Updates from Saturday, July 5
Reuters, via (Yahoo! Sports) provide comments from Neymar, who speaks about his injury, future and teammates:
My dream isn't over. It was interrupted by a play but it continues," Neymar, who has been ruled out of the rest of the tournament with a fractured vertebra, said in a video released by the Brazilian Soccer Federation on Saturday.

"I'm certain that my team mates will do everything possible so that my dream, which is to be a champion, comes true.

"My dream was also to play in a World Cup final but this time it didn't work out," the 22-year-old said, his voice cracking with emotion.

"But God willing, they're going to win this, they're going to be champions, and I'm going to be by their side, with them. And all us Brazilians are going to be celebrating.
Reuters has the latest on Juan Zuniga's statements regarding Brazilian star Neymar:
Colombia defender Juan Zuniga said he did not deliberately try to hurt Brazil forward Neymar when he kneed him in the back on Friday, fracturing his vertebra and ruling the marquee player out of the rest of the World Cup.

[...]

"We wanted to score, and it was a tough game. Brazil was marking strongly. I hope it's nothing serious, let's pray to God," Zuniga told reporters.

"On the pitch I'm defending my shirt, my country, but I didn't expect him to fracture a vertebrae. He is a great talent for Brazil and for the world."

[...]

"It's a normal action, I tried to shadow him," Zuniga said. "I was not thinking of hurting him. I was defending my countrys colours."

[...]

"Sadly it happened this way. I hope he gets well, God willing," the Colombia defender said.
Updates from Friday, July 4
BBC Sport reports Neymar has been ruled out of the World Cup:
Brazil's team doctor says Neymar ruled out of World Cup with fractured vertebrae

— BBC Sport (@BBCSport) July 4, 2014
CBS Sports' Alaa Abdelnaby posted a photo of the scene outside the hospital:
Crowds outside hospital where Neymar is being held! Brazilians take their futbol SERIOUSLY! W/o him,Brasil struggles! pic.twitter.com/zYcqrrujnW

— Alaa Abdelnaby (@alaatweets) July 5, 2014
ESPN Stats and Info highlight Neymar's impact on Brazil:
Neymar is out for the rest of the #WorldCup with a with fractured vertebra. Here's what he's meant to #BRA pic.twitter.com/SqUQML11sb

— ESPN Stats & Info (@ESPNStatsInfo) July 5, 2014
Darren Rovell of ESPN passes along Brazil's updated odds after Neymar's exit:
The @LVSuperBook has adjusted odds on Brazil winning w/Neymar out. Goes from 7/4 to 2/1. Germany goes from 9/4 to 2/1.

— darren rovell (@darrenrovell) July 5, 2014
Original Text
Brazil may have defeated Colombia 2-1 in its 2014 World Cup quarterfinal match, but the team and the nation that supports it suffered a blow when Neymar was carried off the field with an apparent back injury just minutes before the final whistle.

The Wall Street Journal first reported the news:
Neymar takes a knee to the back and is stretchered off for #BRA; Henrique in now for him. http://t.co/0CMB1sDmE1

— WSJ Sports (@WSJSports) July 4, 2014
Fox Soccer Trax provide a discouraging update on Neymar's status:
UPDATE: Brazilian media reporting Neymar taken to hospital and "it does not look good."

— FOX Soccer Trax (@FOXSoccerTrax) July 4, 2014
Daniel Taylor of The Guardian and Dan Roan of BBC News pass along more information from Brazil coach Luiz Felipe Scolari:
Scolari says Neymar was "crying in pain . . I can guarantee it won't be easy, from what the doctors are telling us, and the pain he was in"

— Daniel Taylor (@DTguardian) July 4, 2014
Scolari saying info coming out of hospital is that Neymar won't be fit for semi-final v Germany on Tuesday

— Dan Roan (@danroan) July 4, 2014
Duncan Castles of Sports Illustrated has more from Scolari, who speaks about Neymar's status for the remainder of the World Cup:
Scolari: 'I think that Germany will be very difficult for Neymar. If we can win it may be possible for him to play in the final.' #BRA #FCB

— Duncan Castles (@DuncanCastles) July 4, 2014
Neymar went down after what looked like a knee to his back. He appeared to be in immense pain, shielding his face with his hands while medical staff members attended to him. They eventually carried him off on a stretcher and through a tunnel to the back of the stadium.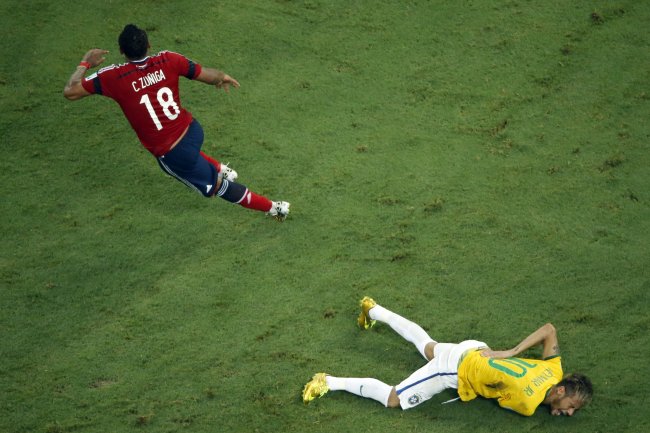 Fabrizio Bensch/Associated Press
Scolari brought in center back Henrique for his talismanic striker. Neymar's teammates were able to hold on for the remaining regular time plus five nervy minutes of extra time.
Neymar has been vital to Brazil's tournament run up to this point. Opta Johan highlights just how integral he's been to Brazil's attack:
5 - Neymar (4 goals, 1 assist) is the first Brazilian player to be involved in 5+ goals in one World Cup since 2002. Special.

— OptaJohan (@OptaJohan) July 4, 2014
Brazil hasn't been able to get consistent performances out of forwards Hulk, Jo and Fred throughout the tournament. Neymar carries the World Cup hopes for his country on his shoulders, and the team will need to be at its attacking best to keep pace with Germany in the semifinal on Tuesday.
If Neymar is out of the lineup, it will be up to Scolari to come up with an emergency game plan and coax a better performance from his players.