David Moyes and Ryan Giggs addressed the media prior to Manchester United's Champions League quarter-final first leg with Bayern Munich.
The duo's appearance—made all the more poignant after reports surfaced of an alleged clash between the pair, per John Richardson of the Express—was filled with optimism after the Red Devils' 4-1 win over Aston Villa.
Moyes kicked the presser off by saying United can challenge anyone when in full swing, as reported by the club's official Twitter account:
David Moyes tells media: "We go into the game knowing on our day we're as good a side as any. We must show it, we have belief." #MUFCBAYERN

— Manchester United (@ManUtd) March 31, 2014
German media appeared less enthusiastic about United's chances, as highlighted by Ian Herbert of The Independent:
German optimism abounds here at Old Trafford where Moyes and Giggs to talk. 'Will Bayern score 7,8 or 9?' German TV just asked me #mufc

— ian herbert (@ianherbs) March 31, 2014
Ryan Giggs is likely to make his final Old Trafford Champions League appearance during the match. As reported by Neil Johnston of BBC Sport, the Welshman doesn't buy into the suggestion United are underdogs against the rampant European title-holders:
"We don't see us as underdogs," said Giggs. "We're United playing at home in the Champions League. We're looking forward to it."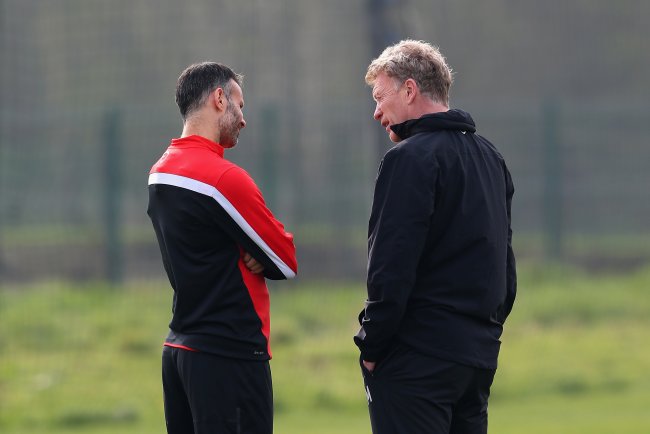 Alex Livesey/Getty Images
Many have touted Giggs as the next United manager, but United's press officer blocked any questions about the subject, per Dan Roan of BBC News:
Giggs was asked by American reporter if he planned to take over from Moyes. Question blocked by MUFC press officer before Giggs could answer

— Dan Roan (@danroan) March 31, 2014
The 40-year-old admitted he is yet to make a decision on his playing career, but insists his relationship with Moyes isn't stretched, noted by Johnston:
"At the end of the season I'll stock and see what I want to do," said Giggs. "The relationship (with David Moyes) is good. I know I'm not going to play every game. You can't sulk."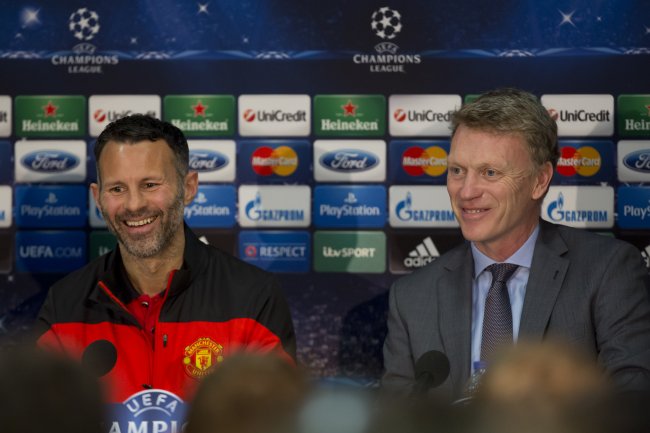 Jon Super
United are expected to field a heavily depleted side. Robin van Persie remains injured, Juan Mata is ineligible and Patrice Evra will serve a suspension. Rafael and Tom Cleverley missed training prior to the press conference, raising questions over their fitness, reported by Jamie Jackson of The Guardian.
Moyes will be forced to make changes, although he failed to specify exactly who, per Rob Dawson of the Manchester Evening News:
Moyes: "We have defensive issues. I won't be giving out my team but I'll have to make one or two changes."

— Rob Dawson (@RobDawsonMEN) March 31, 2014
Dawson also confirmed Moyes is looking forward to pitting himself against Pep Guardiola—one of the world's most tactically astute managers—giving the Scot an opportunity to prove himself against the best in the game:
Moyes: "I'm looking forward to coming up against Pep Guardiola. It's the first time. I'm sure there'll be many more times in the future."

— Rob Dawson (@RobDawsonMEN) March 31, 2014
Moyes claimed he will "seriously consider" starting Shinji Kagawa, who repeatedly put Bayern to the sword during his time with Borussia Dortmund, reported by United's official website.
The club unveiled plans to engulf Old Trafford with a three-sided crowd mosaic, as revealed on Twitter:
We've got big plans at OT tomorrow night. Find out how you can get involved: http://t.co/kor5yKgYUk #MUFCBAYERN pic.twitter.com/Aymjc6EgMn

— Manchester United (@ManUtd) March 31, 2014
Such an effort goes toward ensuring the Theatre of Dreams is ready to cheer on United in arguably their toughest test of the season. Teams including West Brom, Everton, Liverpool and Manchester City have all left the stadium with victories this campaign, a feat Bayern are more than expected to replicate with their wealth of talent.
Can Manchester United beat Bayern Munich across two legs?
United's most noticeable weaknesses are their slow defence and labouring midfield, two areas Bayern possess immense quality in. It seems the English side have little hope, particularly across two legs, and will need to play at the top of their ability to stay in the tie.
A loss will end United's hopes of silverware this campaign and is likely to condemn the side to no Champions League football for at least a season. The supporters deserve a performance to be proud of after watching their side struggle all year, but will it happen against the European favourites? Moyes better hope so.