Nicolas Anelka and the 10 Most Controversial Goal Celebrations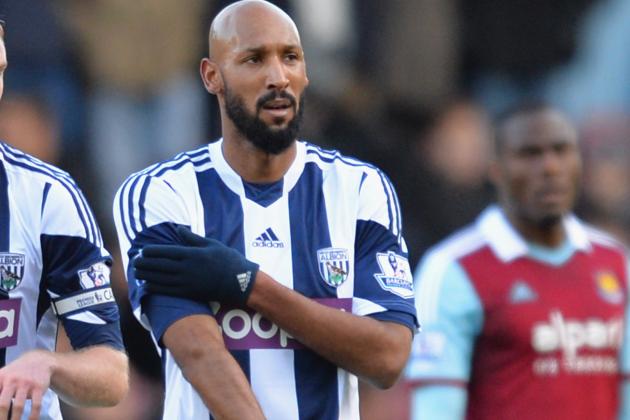 Christopher Lee/Getty Images

Nicolas Anelka has been charged by the Football Association, per BBC Sport, for his controversial goal celebration against West Ham United at the end of December.
The French striker will face a minimum five-match suspension, leaving West Brom a little short up front after selling Shane Long this month.
Here are the top 10 controversial goal celebrations and where Anelka's ranks among them.
Begin Slideshow

»
Judge for yourself whether this celebration is controversial, but the referee certainly thought it was.
Spartak Moscow forward Emmanuel Emenike was shown a straight red for slapping the inside of his arm in a fairly universally recognised gesture, but perhaps it didn't quite warrant the punishment.
Northern Ireland's David Healy suffered a similar fate in an international against Wales.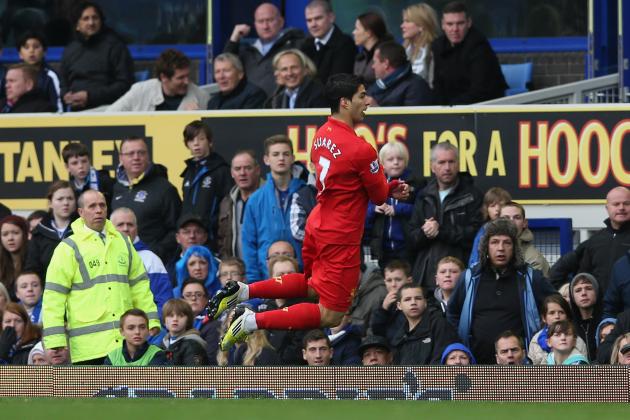 Clive Brunskill/Getty Images

Prior to a Merseyside derby clash, Liverpool forward Luis Suarez had come under fire from Everton manager David Moyes about his supposed diving.
Of course, when Suarez hit the back of the net in the match, he celebrated by diving through the air—right under the nose of Moyes.
Oh, and Everton's captain Phil Neville was booked for diving in the same game.
Sticking with the combustible fixture of the Merseyside derby but rolling back the years a bit, Kevin Sheedy came up with this thunderbolt free-kick at Anfield.
He then wheeled off to celebrate by sticking two fingers up at the Kop.
Ruud van Nistelrooy was playing against Andorra for Holland when he sent a penalty kick wide of the post, causing one of the opposition defenders to run up to him and laugh in his face.
Why on earth the Andorran thought that was a good idea is anybody's guess, and the obvious outcome occurred later in the game when Van Nistelrooy scored and went directly to his opponent to celebrate.
He was booked, but he probably accepted it as worthwhile.
Dean Mouhtaropoulos/Getty Images

The "handcuffs" celebration has been used in varying sports for varying reasons, but Ipswich midfielder David Norris caused rather a lot of upset when he performed it.
It was interpreted as showing support for his jailed team-mate, who had caused the deaths of two small boys by drunk driving.
Nicolas Anelka and Salomon Kalou have also indulged in a little post-goal handcuffery.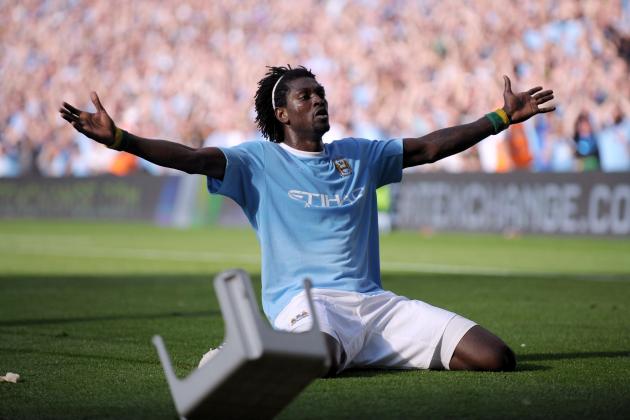 Shaun Botterill/Getty Images

Emmanuel Adebayor caused a bit of a ruckus by sprinting the full length of the pitch to vigorously celebrate in front of the opposing team's fans back in 2009.
As if that wasn't enough, he was playing for Manchester City against his former club, Arsenal, and he incited quite a lot of vicious screams and insults when he taunted those who had formerly adored him.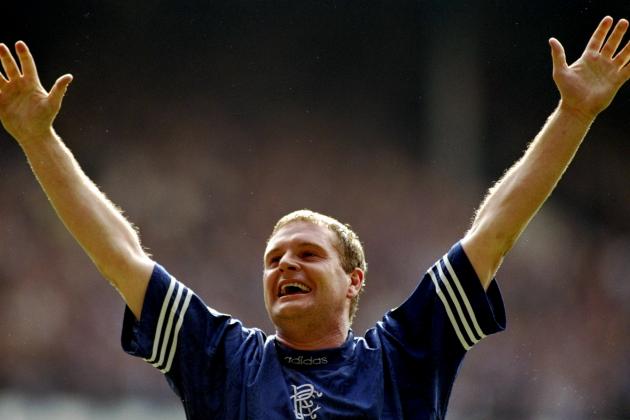 Ben Radford/Getty Images

Paul Gascoigne earned himself a few months of death threats after pretending to play the flute, a Loyalist symbol, right in front of Celtic fans in a Glasgow derby.
It was taken as an insult to the Catholic-supporting contingent of the Celtic fans, though Gazza claimed not to have known about the symbolism.
He was heavily fined and disciplined by his club for the incident.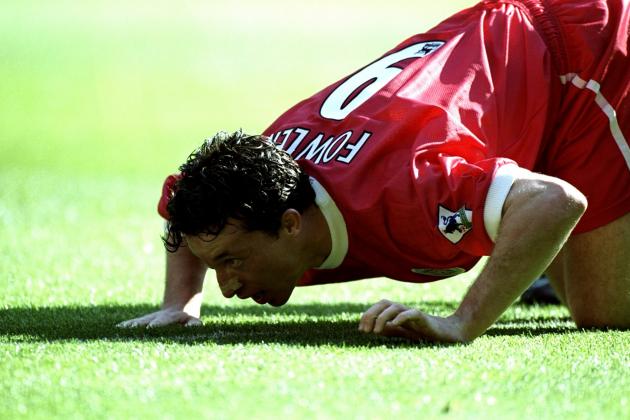 Ross Kinnaird/Getty Images

Back to the Merseyside derby. This time, it's Robbie Fowler responding to accusations from Everton fans that he used drugs—claims Fowler has always denied.
Against Everton, though, he decided to show the fans exactly what he thought of their claims by pretending to snort the whitened line of the pitch. The club and league officials were not impressed.
Nor were they fooled by Gerard Houllier's attempts to make viewers believe Fowler was eating the grass, a celebration from team-mate Rigobert Song's old club, Metz.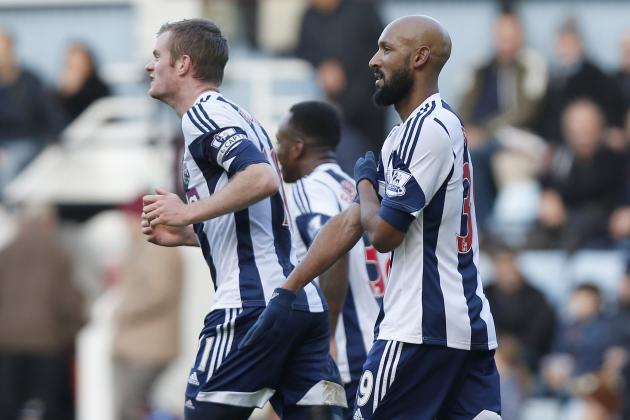 Sang Tan/Associated Press

Anelka's "quenelle" gesture is interpreted as an anti-Semitic one, per BBC Sport: "Jewish groups had complained to France president Francois Hollande, describing the gesture as a 'Nazi salute in reverse'. They linked it to increasing anti-Semitic remarks and acts in the country."
Anelka's use of it has caused outrage with many groups, including Kick It Out and the West Brom Official Supporters' Club. An impending ban awaits the striker, likely in excess of the five-game minimum term.
As if a reverse Nazi salute wasn't bad enough, here's Giorgos Katidis with the real thing.
The 20-year-old Greek midfielder scored in a game near the end of last season for AEK and performed the salute as a celebration. He missed the last four games of the campaign through suspension (by his club) as a result.
An under-21 international at the time, Katidis was immediately given a life ban from all levels of Greek national sides. Despite insisting he didn't know what the gesture meant, he was released from his AEK contract in the summer.
He has now joined Italian Serie B side Novara as he attempts to rebuild his career.