20 Under-20 Players to Watch in the Bundesliga This Season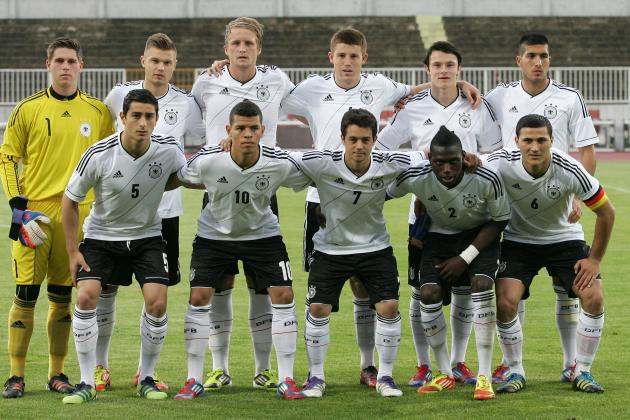 Srdjan Stevanovic/Getty Images

Looking around the Bundesliga and abroad, there are dozens of stars who have emerged from German academies in recent years.
Bayern's Thomas Muller preceded Mario Gotze at Dortmund, with Julian Draxler at Schalke turning up not long after.
All around the Bundesliga, there are young players raring to make an impression. Many at 20, 19, 18 and even 17 years of age have convinced in preseason training and made strong appeals for playing time.
Click "Begin Slideshow" for a list of 20 under-20 Bundesliga players worth watching this season.
Begin Slideshow

»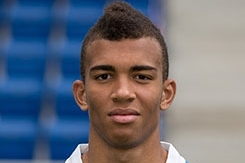 Credit: Achtzehn99.de
Winner of the 2013 Fritz Walter gold medal for under-18 level, Kevin Akpoguma is one of Germany's brightest and most versatile talents.
Along with Hakan Calhanoglu, he impressed at Karlsruhe last season to earn a place on this list. Akpoguma has now made the step up from the 3. Liga to the Bundesliga, having joined Hoffenheim.
At club level, the powerful Akpoguma has featured exclusively in defence, typically in the centre. But for the German under-18s, he played as a striker in five out of six games—in the exception he occupied a holding midfield role—and scored four goals.
Players as young as Akpoguma are rarely given many chances, but the player's ability to play virtually anywhere will bolster his odds of making a debut at some point this season.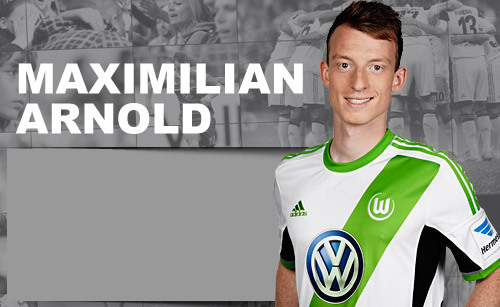 Credit: VfL-Wolfsburg.de
Wolfsburg won the 2013 under-19 championship and owed much of that success to Maximilian Arnold, who at the time was a cut above his peers.
The attacking midfielder had already made six Bundesliga appearances for his club's senior side, scoring three goals in the process.
It was no surprise that 6'1" Arnold, who has a lethal shooting technique and close control on the ball, was named in Dieter Hecking's starting lineup in Wolfsburg's Bundesliga opener.
He was sent off rather harshly in that match, but can be expected to play a major role when he returns from suspension in the season's fourth matchday.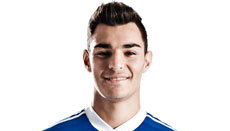 Credit: Schalke04.de
One of a growing number of highly-rated talents to come from Schalke's academy, Kaan Ayhan is the definition of a modern defender.
The 18-year-old trained with his club's senior side in January and made Jens Keller's matchday squad twice before season's end.
Ayhan has a broad variety of skills, although his proficiency in front of goal sets him apart.
Despite being deployed exclusively in central defence, he scored 15 goals and made five assists for Schalke's U19 team last season—in league play, only teammates Tammo Harder and Max Meyer directly contributed to more goals.
In addition to being one of Germany's highest-rated defensive talents, he has a great eye for a pass and a lethal free kick.
There may be plenty of competition at Schalke, but with the Champions League hopefuls having conceded seven goals in their first two matches, Ayhan may make his professional debut sooner than later. Capable of playing in the centre of defence, at right-back and in defensive midfield, he has a real chance to make an impression this season.
After a wasted first season at Dortmund, Leonardo Bittencourt has moved to Hannover on a full transfer that effectively serves as a loan, given that BVB have a buy-back clause.
Although he was forced to settle for minimal playing time with Jurgen Klopp's side last season, he has started both games for H96 thus far.
And despite failing to make an impact so far, it surely is only a matter of time before the 19-year-old settles.
A late-December birthday, Bittencourt was always very young for his age group and spent his youth under the radar of the German youth national team coaches. Still, he has exceptional dribbling technique and all the potential to become a star.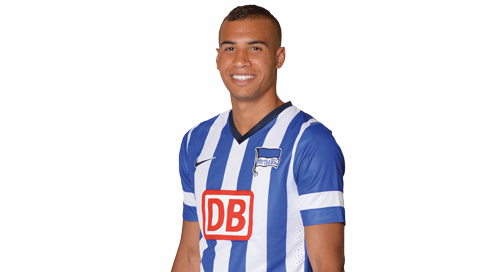 Credit: HerthaBSC.de
Born to an American father and German mother in Berlin, John Anthony Brooks has undergone impressive development in the last 12 months.
He was a regular starter for Hertha in the 2. Bundesliga throughout last season and his fine performances resulted in promotion for the Berlin club to the top tier.
Brooks has enjoyed a swimming start to his Bundesliga career: He scored against Frankfurt on his debut and days later earned his first cap for Jurgen Klinsmann's USA senior side.
At this point, the sky is the limit for the towering defender, who at 20 still has loads of time for development.
Like Akpoguma, Hakan Calhanoglu stood out at Karlsruhe last season and earned a transfer to the Bundesliga with Hamburg.
In the 3. Liga, the gifted 19-year-old featured on both wings and behind a main striker, and directly contributed to more goals (29) than all but two players.
Since joining HSV, Calhanoglu has been converted to a central striker. And although the Mannheim native and Turkey under-21 international is yet to assist or score, the season is young and he is sure to settle sooner rather than later.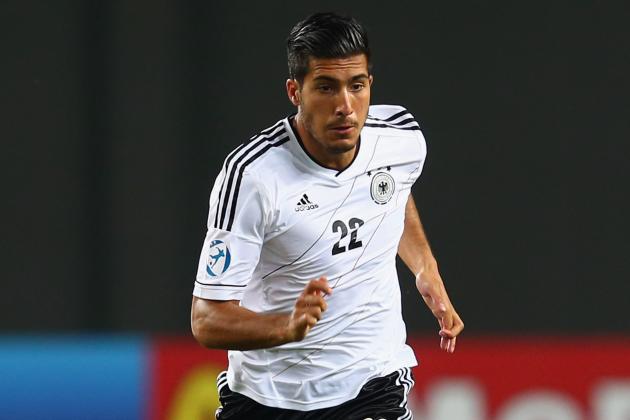 Alex Grimm/Getty Images

Largely ignored by coach Pep Guardiola during the preseason, Emre Can left a star-studded Bayern Munich for Bayer Leverkusen this August.
Now in a somewhat less competitive squad, the 19-year-old can expect to earn more regular playing time.
Can is by no means an automatic starter at Leverkusen, where the central midfield roles are typically occupied by three of Lars Bender, Stefan Reinartz, Gonzalo Castro and Simon Rolfes.
But the former Germany under-17 captain will surely have his chances, especially with his B04 teammates adjusting to the extra burden of playing in the Champions League
He already is a physically imposing presence in the centre of the park and, given some more time to mature, he could yet become the next great German holding midfielder.
Comfortably the best German talent born in 1993, Julian Draxler has been a star for more than a year now.
The fifth-youngest player to make his debut, the Gelsenkirchen native has a full year-and-a-half of professional experience under his belt. Now, with his 20th birthday still nearly a month away, he looks set to take his career to the next level.
Draxler ended last season in fine form and had a magnificent preseason at Schalke. He's grown over the summer and his newfound athleticism will be a huge asset to combine with his already-elite technical qualities.
Capable of playing on the wing or as a playmaker, Draxler is a great decision-maker on the ball, can dribble well and has a fierce shot.
And his confidence only continues to grow: His assist in Raul's testimonial match was a touch of pure brilliance and consummate guile.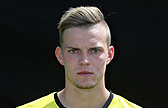 Credit: BVB.
Some 12 months ago, Marvin Ducksch was one of Germany's brightest attacking prospects.
After scoring 51 goals in all club and international competitions in 2010-11, he was fast-tracked to Dortmund's reserve team in the 3. Liga. There he made his debut before his 18th birthday and finished the season with a respectable seven goals in 18 appearances.
Things would soon turn sour for Ducksch, who suffered a terrible blow at the start of last season.
The gifted forward sustained a metatarsal fracture in August and never fully recovered until the final weeks of the season.
He now appears to be back on track and made a good account of himself in preseason. If he continues to develop, it won't be long before we see him play an increasing role in BVB's campaign.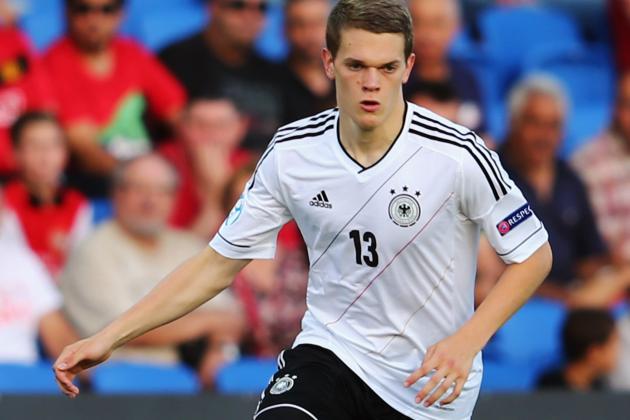 Alex Grimm/Getty Images

For even casual fans of the Bundesliga, Matthias Ginter is by no means an unknown character.
The defensive all-rounder made his Bundesliga debut two days after his 18th birthday, in January 2012, and has been a regular starter for Freiburg ever since.
The winner of Fritz Walter Gold medals for U18 and U19 levels, Ginter is a star in the making. Having played in the centre of defence, defensive midfield and even in attack, he is tremendously versatile.
Arsenal have been closely linked with the player, but assuming he stays at SCF, he is absolutely one of the most exciting young players in the Bundesliga to follow this season.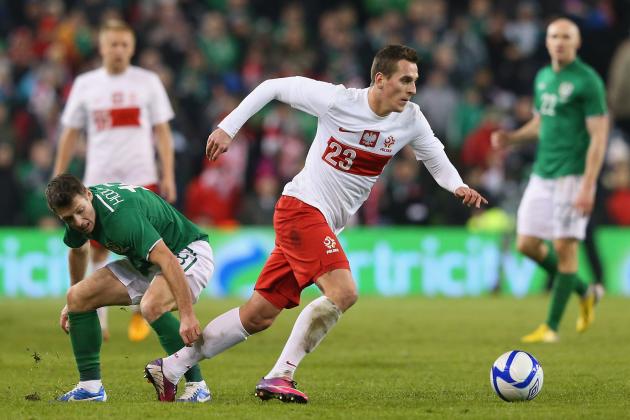 Alex Livesey/Getty Images

Like Ginter, former Germany under-17 captain Leon Goretzka is a player who looks certain to become a big star in the coming years—provided he avoids injury.
The 18-year-old played brilliantly for Bochum in the 2. Bundesliga last season and his fine performances earned him a transfer to Schalke.
Now in Gelsenkirchen, Goretzka faces competition from Jermaine Jones, Roman Neustadter and Marco Hoger for a starting role in defensive midfield.
He also could fill in as a playmaker, with one of Julian Draxler, Jefferson Farfan or Christian Clemens being relegated to the bench.
Whatever the scenario, Goretzka is already close to breaking into the starting lineup. Indomitable in the air, strong on the ball and boasting a good free kick, he could prove to be the signing of the season.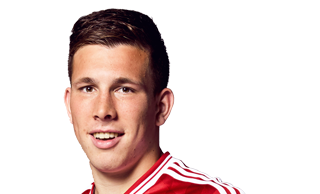 Credit: FCBayern.de
Bayern Munich's star-studded squad makes the treble winners a hard place for a young player to make his breakthrough, but if anyone is to make the jump from reserves to first team this season, it's Pierre-Emile Hojbjerg.
Although more than 18 months' younger, it was Hojbjerg who forced fellow central midfield prospect Emre Can out of Bayern.
The Denmark under-21 international featured prominently for the Bavarians during the preseason before sustaining a ligament strain and can expect to play when he returns.
Bayern have a full schedule this season and Hojbjerg will surely have his chances.

Credit: SCFreiburg.com
Freiburg talent Sebastian Kerk was given a baptism by fire in the spring when he was handed his Bundesliga debut against Bayern Munich.
The young attacker struggled to make an impact in that match, but it's only a matter of time before he begins to assert himself at senior level.
Kerk scored the only goal of the German under-19s' 1-0 win against Spain in March and has been prolific for the Freiburg reserves—he had a brace in the Regionalliga opener against Pfullendorf—and has since come off the bench twice for the first team.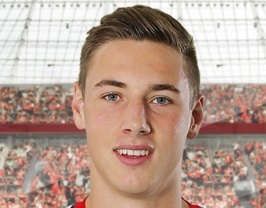 Dominik Kohr is among the most promising talents to come from an impressive Leverkusen academy in recent years.
The 19-year-old, who can play at right-back and in defensive midfield, has won the bronze Fritz Walter Medal for under-18 and under-19 levels.
Kohr made his Bundesliga debut for Leverkusen last November and made three more appearances before season's end.
He has missed the beginning of the 2013-14 season due to a knee injury, but should be back in training within the next few weeks and it won't be long before he gets his chance to shine.
Along with Goretzka, Max Meyer is perhaps the greatest prospect among 1995-born Bundesliga talents.
The attacking midfielder follows Mesut Ozil and Julian Draxler in emerging from the Schalke academy as an outstanding talent behind a main striker.
The agile and creative Meyer scored 17 goals and made nine assists in 21 appearances for Schalke's under-19s last season, figures that surpassed Ozil and Draxler at the same age. And for his fine performances, the Oberhausen native earned six appearances with the Schalke senior team.
Great things are expected of Meyer: It's no coincidence that he inherited Raul's No. 7 shirt when promoted to the first team this season.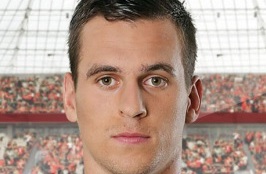 Credit: Bayer04.de
Dubbed the "next Lewandowski" in some circles, Leverkusen starlet Arkadiusz Milik is Poland's top striking prospect.
Much like his compatriot at Dortmund, Milik is a towering and daunting physical presence in attack, and even at 19 can shrug off even some of the Bundesliga's more robust defenders.
Milik is already a fully-capped Poland international and has found the net once in his six appearances.
Muscular problems have kept him out of the B04 squad thus far this season, but coach Sami Hyypia certainly rates him highly—right now he is Leverkusen's only true target man behind Stefan Kiessling.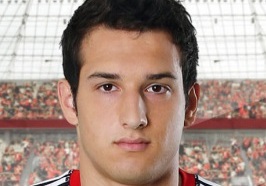 Credit: Bayer04.de
On August 10, aged 17 years, four months and 26 days, Levin Oztunali became the 12th-youngest player to make his Bundesliga debut.
It should come as no surprise that the German under-17 captain has matured so fast: His grandfather is the great Uwe Seeler.
A holding midfielder with great ball-playing ability, Oztunali is mature enough to play professionally even at 17.
And although he will have a great deal of competition for playing time at Leverkusen, there's a chance he may even surpass Emre Can—despite being two years younger—in the pecking order at some point this season.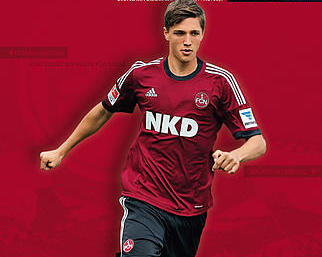 Credit: FCN.de
Although largely ignored at under-17 and under-18 levels, Niklas Stark has undergone rapid development over the course of the 2013 calendar year and is now captain of the German under-19 team.
In his first match wearing the armband, the holding midfielder scored to put the DFB team 1-0 ahead of Hungary. It was only after he was substituted that Germany lost their lead, conceding twice in a 3-2 loss.
Stark's use in the German national setup comes after the 18-year-old usurped Timmy Simon's starting role at Nurnberg.
With the veteran approaching his 37th birthday, Stark has taken his chances. He earned his first three professional appearances as a substitute at the end of last season and has started both of 1.FCN's Bundesliga matches in 2013-14. So long as he continues to convince, the starting role is his to keep.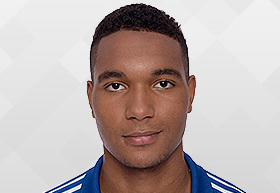 Credit: HSV.de
Due to the physical demands that come with the position, it's rare that a young centre-back is trusted to play regularly before his 20th birthday.
But Jonathan Tah is no ordinary defensive prospect. Although just 17 years of age, the Hamburg man stands as an imposing figure at 6'3".
Hamburg have conceded a league-worst eight goals in their first two matches and their defence is quite undeniably in shambles. With Heiko Westermann and Lasse Sobiech having utterly failed thus far, it may not be long before Tah is called upon to shore up the HSV back line.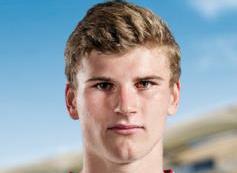 Credit: VfB.de
It's almost a decade since Germany produced its last great striking talent, but following in the footsteps of Mario Gomez at Stuttgart is Timo Werner.
Although he only turned 17 towards the end of last season, Werner led all divisions of the German under-19 leagues in scoring with 24 goals. And he started for the German under-19 national team at the European Championship this summer.
Werner recently made his Bundesliga debut and looked dangerous on more than one occasion. Although he has room to grow, he still is a bit small for a professional centre-forward and has been used on the wing, where he can be expected to play this season.
Sooner or later, though, he will move back into the centre.