Arsenal vs. Manchester City: 6 Things We Learned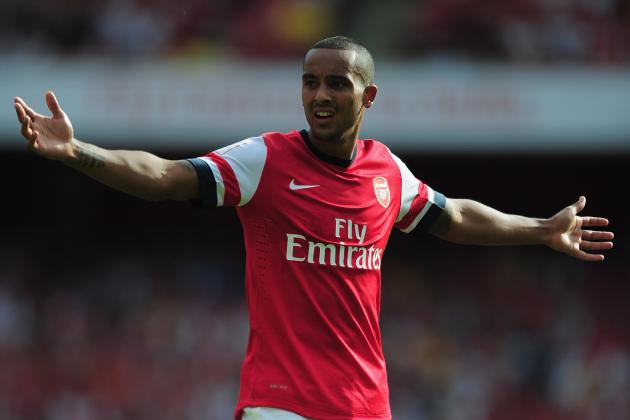 Jamie McDonald/Getty Images

Arsenal boosted their confidence tremendously after comfortably beating Manchester City 3-1 in Helsinki.
Aaron Ramsey scored one goal and assisted another, while Theo Walcott found the back of the net once and assisted two more. Manchester City were far from poor, but the Gunners' overall combination of aggressiveness and quality was simply too potent for a side that is certainly one of Europe's best.
Ultimately, both sides received a very valuable tune-up exactly one week before the commencement of the new Premier League season. Let's look at what we learned.
Begin Slideshow

»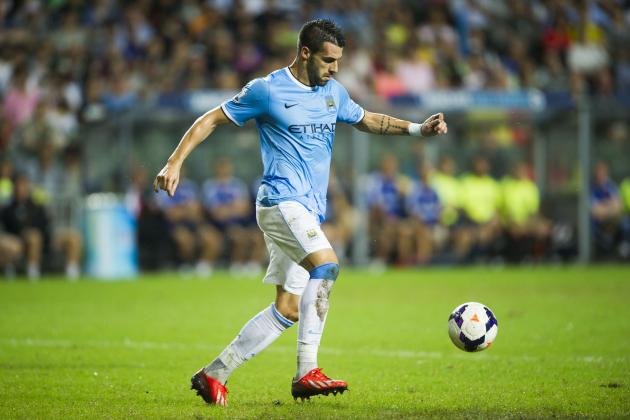 Victor Fraile/Getty Images

Manuel Pellegrini tried out several of his new signings against an opponent they will face in the future, but none were better than Alvaro Negredo.
The former Sevilla striker, who was inked for a fee of £20 million according to Fox Sports, was a constant thorn in the side of Arsenal's defense. He turned Laurent Koscielny and Per Mertesacker around on several occasions and pierces the back line more than once.
His just reward came in the form of a practically meaningless but nevertheless important consolation goal that was very well-taken under typically intense pressure.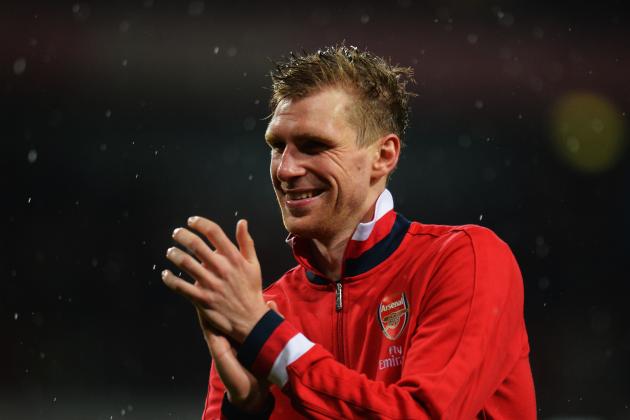 Shaun Botterill/Getty Images

Not much of the Gunners defense is healthy and in playing shape, but those defenders who are active are doing a hell of a job.
One recalls Arsenal's sterling run at the end of last season, which was largely orchestrated by an unyielding defense composed primarily, and most crucially, of Per Mertesacker and Laurent Koscielny in the middle.
They, along with Kieran Gibbs and Bacary Sagna to a certain extent, were fierce defenders of their penalty box, fiercely and aggressively repelling Manchester City's many assaults with aplomb.
Arsene Wenger's problem is that every one of those players, bar Sagna, does not have a fit backup at the moment.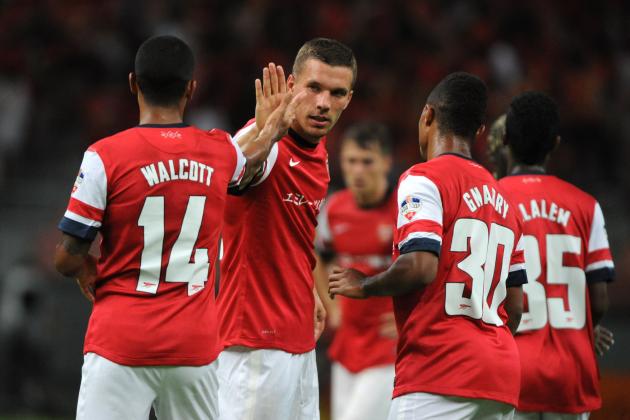 Masashi Hara/Getty Images

Starting Theo Walcott at striker for a significant stretch of last season might have been a largely placatory measure that achieved the end of getting the English speedster to sign a new contract.
If he continues to put away chances like he has recently, Wenger might consider him a more immediate and realistic option, especially if Arsenal bungle their pursuit of Luis Suarez.
Walcott's completely composed finish past Joe Hart exemplifies his zen in situations that require split-second decision-making. A perfect first touch allowed him to make one of the best goalkeepers in the world appear helpless with a simple ship over his head.
That is the sign of a striker who is awash in confidence and obvious ability.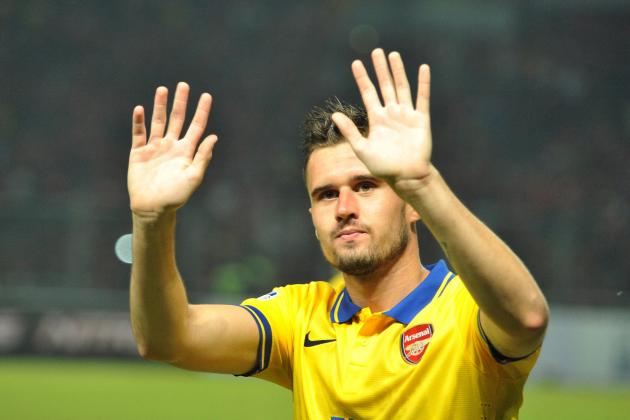 Robertus Pudyanto/Getty Images

Arsenal obviously require an additional striker before the transfer window closes on September 2. There are simply not enough players who can fill the position while ensuring that the manager has the requisite options and tactical flexibility in other areas.
Yet Olivier Giroud, who was Arsene Wenger's default option for much of last season, continues to develop nicely and display exactly those qualities which are expected in a starting frontman.
He possesses the strength to push his way past defenders and the technique to do something with the ball when he receives it.
His first touch and looping finish over Joe Hart might have seemed simple tasks to the viewer, but Giroud's ease belies the tremendous amount of coordination and technical skill that was necessary to perform his task.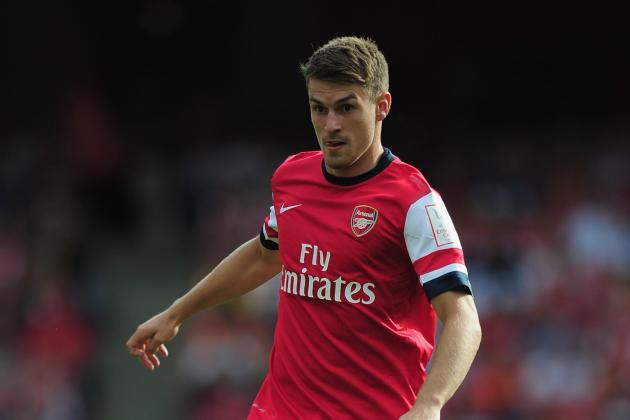 Jamie McDonald/Getty Images

Two seasons ago, Aaron Ramsey was deployed as a creative, attacking midfielder. He consistently failed in this role. Last year, he found much greater, if subtle, success as a permanently mobile holding midfielder.
Arsene Wenger might have him earmarked for both roles during this campaign.
If Ramsey can finally marry his tremendously impressive work rate—which was again on display against Manchester City—with the vision and creativity that he was originally signed to provide, Arsenal will have one of the most dynamic midfielders in England.
The close control that Ramsey used to make Joe Hart look like a schoolboy before slipping the ball into an empty net was impressive enough. But the spectacular awareness that allowed him to play an inch-perfect through ball to set up Theo Walcott's opener was the most encouraging piece of play of the entire game from an Arsenal perspective.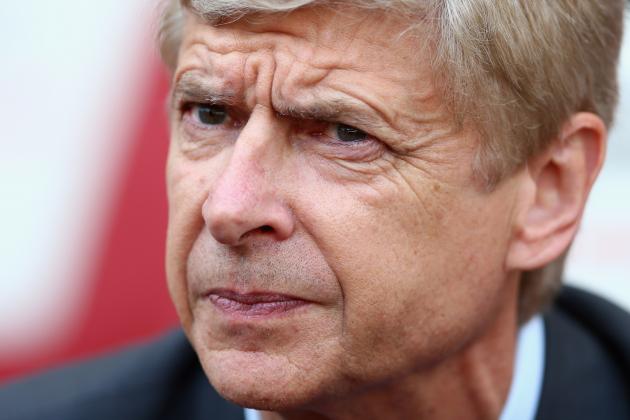 Paul Gilham/Getty Images

All the team needs is a little loving investment.
Irrespective of the ostensibly noncompetitive nature of the match, a team that can handle Manchester City's fierce footballing machine with the efficiency that Arsenal did should be mentioned as one of the best in the country.
But the manager cannot use the same small core group of players in every match during a 50- to 60-game season. The Gunners' first coat of paint is disarmingly dazzling, but it cloaks the erosive rust immediately beneath.
Essentially, Arsenal clearly possess the foundation of a squad that can at least contend for the Barclays Premier League title. The success of their season is dependent upon Wenger recognizing the rust.