The 2013 FIFA Confederations Cup resumed on Saturday, with Group A's foursome all in action to finalize how the table would look at the end of the day's two matches.
Brazil and Italy already earned berths into the next stage after both taking down Japan and Mexico in the days prior, and both were paired against each other to decide which side would take the higher seed into the knockout round.
In the other match of the day, formerly winless Japan and Mexico squared off in a match where pride and gathering squad experience for the 2014 World Cup next summer were the only two things to gain.
Group A is officially done with round robin play, and all that's left to decide at the Confederations Cup is the opponents for Brazil and Italy in the next stage.
Take a look below for a recap of both of Saturday's matches and what's next in Brazil as we prepare for the final stretch of the Confederations Cup.
Brazil 4, Italy 2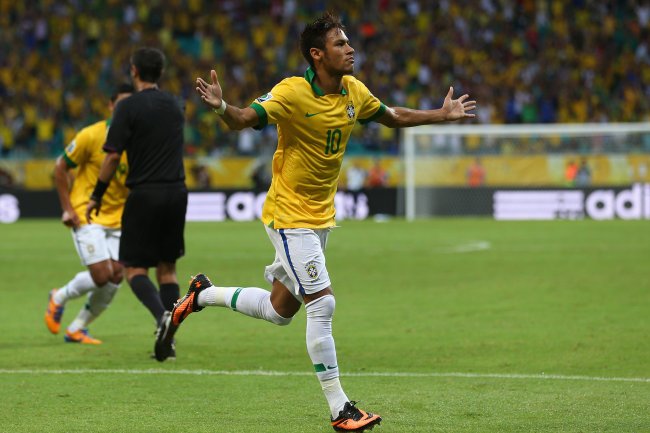 Clive Rose/Getty Images
Although Brazil and Italy both new beforehand that they were moving on to the next stage, this match was anything but a play-in game for the best two sides in Group A.
There were four yellow cards alone in the first half, including three from Brazil (Neymar, Luiz Gustavo and David Luiz) and another from Italy's Claudio Marchisio.
Despite the intensity in the midfield on both sides, it was Brazil who would take a 1-0 lead to the half when Dante scored his first international goal for the home side in added time. Coming on for the injured Luiz in the 34th minute, Dante made sure he made the most of his chance given by manager Luiz Felipe Scolari.
101 Great Goals had the post on Twitter:
GOAL!!!!!!!!! His 1st international goal: Dante (Brazil) v Italy http://t.co/fUycoaSo43

— 101 Great Goals (@101greatgoals) June 22, 2013
It wasn't without controversy, though, as many felt the young (by international standards) defender was offsides in the process. Goal.com's Carlo Garganese had this tweet to share his view on Dante's first career goal for Brazil:
And yes, having seen replay, Dante was actually offside and goal shouldn't have counted. Refereeing at this Confeds has been disaster

— Carlo Garganese (@carlogarganese) June 22, 2013
Fox Sports had the post as the two sides made it to halftime:
HT: Brazil 1, Italy 0. Dante scores his first international goal minutes after coming on for an injured David Luiz #Confeds

— FOX Soccer (@FOXSoccer) June 22, 2013
The Azzurri haven't gotten to this point by playing scared, though, and came right out in the second half to get a quick score on Scolari's boys. Mario Balotelli showed us all again why he's won of the world's top emerging talents, flipping the ball off his heel with a defender draped all over him to the streaking Emanuele Giaccherini.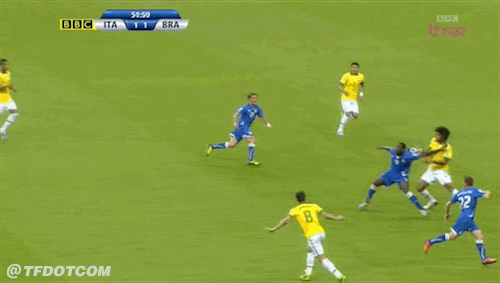 He completed the run and beat goalie Julio Cesar to tie the score at one.
The Confederations Cup had a tweet for those who might have missed the action live:
Missed Giaccherini's goal for Italy? Watch it here http://t.co/qPUuFGNCJz

— Confederations Cup (@ConfedCup2013) June 22, 2013
Brazil wouldn't be outdone, and it was Neymar who came through just four minutes later for the home side. As he did against Japan in the opening match of the Confederations Cup, Neymar found the top right corner of the net to beat Italian keeper Gianluigi Buffon.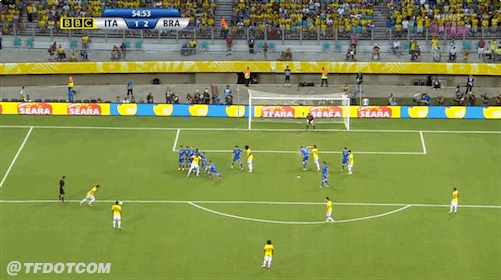 His goal against Japan might have been at a faster pace, but this time, in free-kick fashion and his side in need of a spark, Neymar reminded us all that he too is a promising young star in the making.
Fred added a third goal for Brazil off a nice assist from Marcelo, giving Brazil a 3-1 lead and firm control of the match at the 66-minute mark.
But Italy wasn't done.
If the controversy of the Dante offsides made you unhappy as an Italian fan, then the equally disappointing call to allow Giorgio Chiellini to cut the deficit to one in the 71st minute likely did the same if you were rooting for Brazil.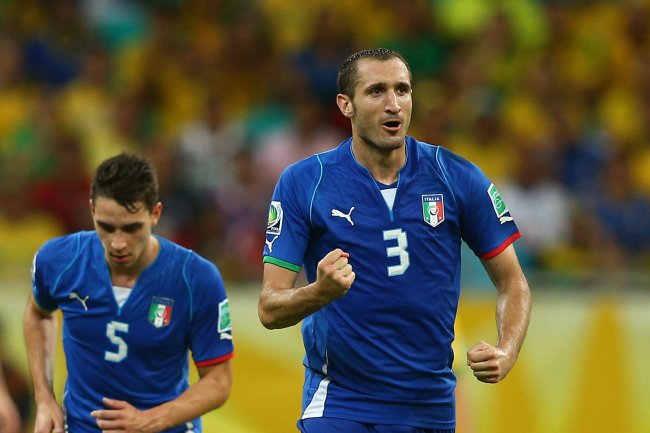 Clive Mason/Getty Images
Chiellini found the net from the center of the box, but it appeared that the referee had blown his whistle to give the Azzurri a penalty before the goal was off the foot of the Italian player.
You be the judge, courtesy 101 Great Goals:
GOAL!!!!!!!! 2-3 But did the ref blow his whistle? Giorgio Chiellini (Italy) v Brazil http://t.co/hQff4ZsTQu

— 101 Great Goals (@101greatgoals) June 22, 2013
Fox Soccer Trax certainly thought Italy caught a nice break:
Finally seen a clean replay: Ref had whistled for a penalty just as Chiellini's goal went in. He changed his mind to let the advantage stand

— FOX Soccer Trax (@FOXSoccerTrax) June 22, 2013
With the score within reach for Italy, the Azzurri mounted several late chances to win Group A outright. Christian Maggio hit the top of the bar with a header in the 80th minute, and Balotelli also blasted a shot wide of the net after a set piece from Antonio Candreva.
Fred's brace would instead give Brazil a cushion goal in the 88th minute, and Italy would have to settle for second place in Group A and a match against the first-place finisher from Group B, which will be decided on Sunday.
If the next round is anything like the action we saw in this match on Saturday, we're in for a treat in the final four matches of the Confederations Cup.
Mexico 2, Japan 1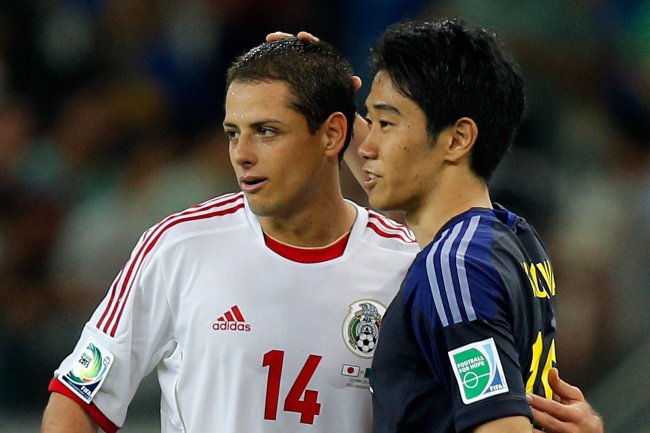 Dean Mouhtaropoulos/Getty Images
Mexico and Japan didn't have the same level of intrigue as the other match on the afternoon, but that didn't stop El Tri and the Blue Samurai from putting on a good show in front of the Brazil faithful.
Two goals from Javier "Chicharito" Hernandez and a late strike from Shinji Okazaki completed the scoring for both sides in the Confederations Cup, and Mexico escaped with a 2-1 win in their final appearance in the tournament.
Fox Soccer had the tweet with the final:
FT: Mexico 2, Japan 1. El Tri grab morale-boosting win. Chicharito with both goals but was denied a hat-trick, missing a late penalty.

— FOX Soccer (@FOXSoccer) June 22, 2013
A scoreless draw in the first half certainly didn't appease either fanbase, who expected more in this match, but it was Mexico who would strike first within 10 minutes of the second half starting.
Chicharito gave El Tri the 1-0 lead, and Mexican fans everywhere likely let out a sigh of relief for a side that has struggled to score goals in international play so far during qualifying for the 2014 World Cup.
Fox Soccer Trax had a tweet with the updated score:
54 Japan 0 MEXICO 1 as Chicharito beats keeper to a Guardado cross to near post and makes no mistake - his second goal of this Cup

— FOX Soccer Trax (@FOXSoccerTrax) June 22, 2013
101FootballFacts also had a highlight of El Tri taking the early lead:
#VIDEO GOAL! CHICHARITO Japan 0 - 1 Mexico. #Confeds http://t.co/iHQnZkzVIB

— FootballFacts101 (@FootballFact101) June 22, 2013
Chicharito would add another goal to give the Mexican side a 2-0 lead—which would end up being all they needed to close this one out at full time. As noted by Tom Marshall, this looked like a different El Tri squad in the second half than we've seen in quite some time:
A different Mexico team this second half. Attitude much better, a greater sense of urgency, capped off by Chicharito's goal. #Confeds

— Tom Marshall (@mexicoworldcup) June 22, 2013
Okazaki was the late hero for Japan against Italy, scoring a late equalizer against the Azzurri before the Blue Samurai would lose by one, and he tried to do the same with a late goal against Mexico.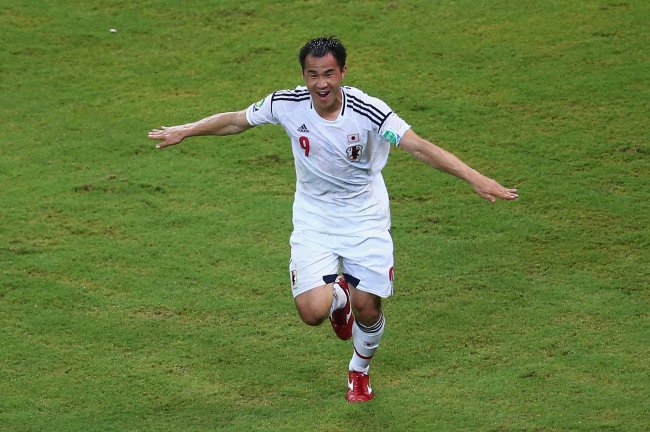 Ronald Martinez/Getty Images
101 Great Goals had the post as Okazaki cut the deficit in half:
GOAL!!!!!! 1-2: Shinji Okazaki (Japan) v Mexico http://t.co/sDlJtZ4jY8

— 101 Great Goals (@101greatgoals) June 22, 2013
It proved to be the final score on the afternoon, but Chicharito had two more chances to add goals to the total before full time. He missed one on a penalty chance and another on a set piece, and Mexico's goal-scoring problems can really be traced to sequences like that one against Japan.
As it is, both sides have some positives and negatives to take away from their Confederations Cup experiences. For El Tri, some momentum is a good thing heading into the final stretch of CONCACAF hexagonal qualifying, while Japan proved yet again their attacking players are not to be messed with in international play.
Final Group A Standings
| | | | | | | |
| --- | --- | --- | --- | --- | --- | --- |
| Team | MP | W | L | D | GD | Points |
| Brazil | 3 | 3 | 0 | 0 | +7 | 9 |
| Italy | 3 | 2 | 1 | 0 | 0 | 6 |
| Mexico | 3 | 1 | 2 | 0 | -2 | 3 |
| Japan | 3 | 0 | 3 | 0 | -5 | 0 |
*via FIFA.com
What's Next?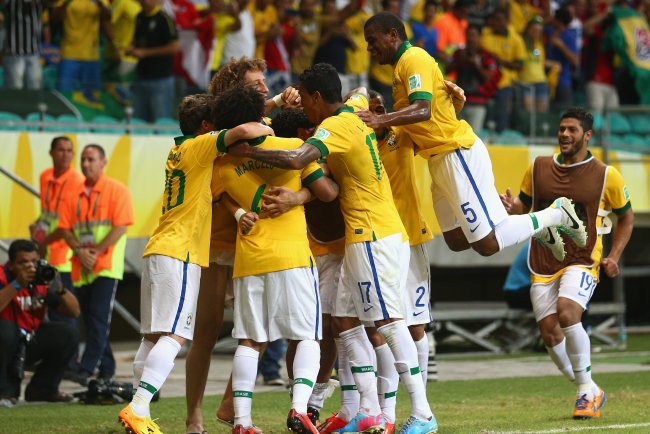 Clive Mason/Getty Images
Brazil will take on the second-place finisher in Group B in the next stage of the Confederations Cup, while Italy will take on the first-place one.
Who will win the 2013 Confederations Cup?
Wednesday will mark the first of those two affairs, as Brazil will not get the added benefit of extra rest despite winning the table. The Azzurri will by playing on Thursday, but will also have to take on the top spot from the Group B table—everything evens out in a draw like this.
All of the matches will be decided following Sunday's tilts in Brazil, as Spain has the best chance to lock up the top spot in Group B with a win over Nigeria, but both Uruguay and the Super Eagles are alive and have chances to reach the semifinals depending on how the table shakes out.
*Check FIFA.com for the remaining schedule.
Follow Bleacher Report FC Ethan Grant (@DowntownEG) on Twitter.