English Premier League: Looking at Clubs with Crucial Run-Ins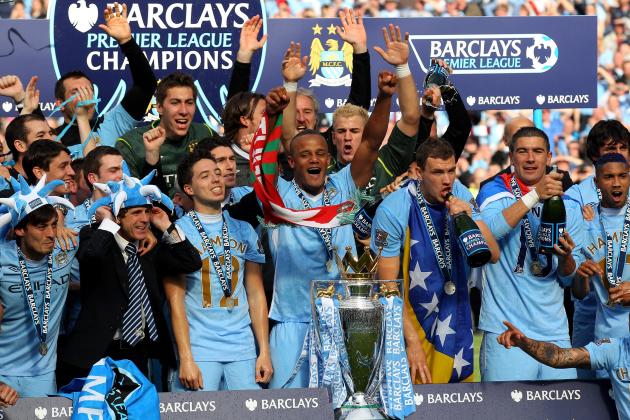 Alex Livesey/Getty Images
The title race is all but over, but what about the rest of the league?
With weekend No. 30 out of the way and the league heading into the crucial months of April and May, it is time to look at who can make the most of their final eight or nine games.
The two Manchester clubs are both unlikely to be caught in their respective positions, as are the majority of the mid-table. There is no need to pore over the details of teams who are more-or-less comfortable, so instead we will be focusing on the battle for the European places, and the less glamorous scrap to avoid relegation.
Each team gets their own slide, in which we will look at their run-in and assess their chances of either booking a trip to the continent, or sliding down into the Championship.
Begin Slideshow

»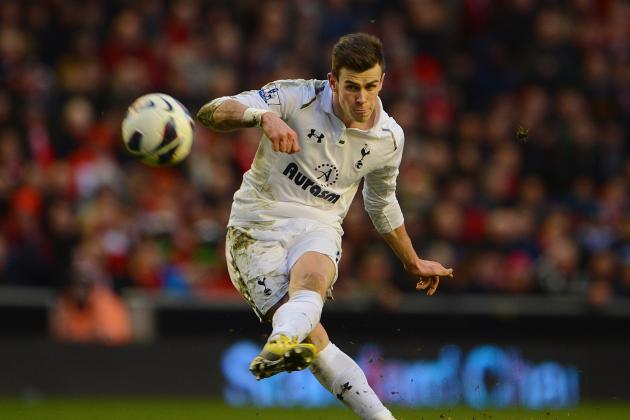 Michael Regan/Getty Images
Gareth Bale's stellar performances are the driving force behind Spurs' campaign
Currently sitting in third place, having leapfrogged Chelsea—who have a game in hand—Spurs are looking good to fulfil their ambition of a second foray into the Champions League, be it from automatic qualification or the fourth-place qualifier.
The critical game of the run-in is a meeting with Chelsea at Stamford Bridge, in which Tottenham must secure at least a draw to ensure that they are not relying on their pursuers dropping points in the final weeks.
There is a potential banana skin when they host Manchester City a week later, which could prove troublesome considering the lack of pressure on City's players and the performance they exhibited against Newcastle on Saturday as a result. Everton, who are challenging for a Europa League place, will be a tall order, though is made considerably less intimidating by the fact it is at White Hart Lane.
Other than those fixtures, Andre Villas Boas will be expecting wins in their remaining four against Wigan, Southampton, Stoke and Sunderland. However, with Wigan and Sunderland both struggling to keep their heads above the waterline, these games will likely prove tougher than anticipated.
If Gareth Bale continues his staggering form, with there being no evidence to suggest that he won't, and Chelsea continue to play in patches, Spurs finishing third is a solid bet.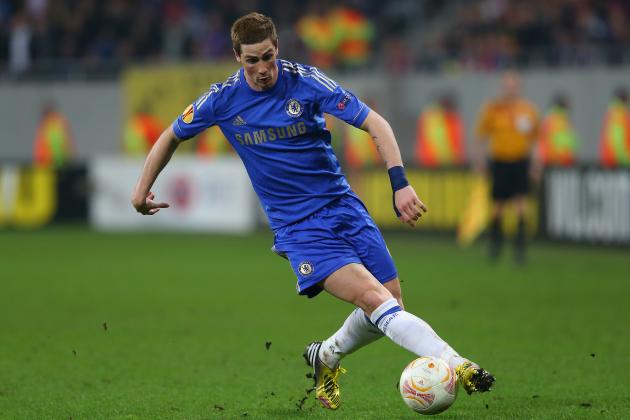 Julian Finney/Getty Images
Fernando Torres' struggle for consistent form has summed up his club's season
For all the stars and flowing football they produce, Chelsea haven't been anywhere near the heights of last season. Their form has been stuttering, and it is mainly through grit and a slice of good fortune that they held onto third place until as recently as Saturday.
Reality has hit. Arsenal are right on Chelsea's coat-tails, while outsiders Everton still hold onto hopes of someone above them having a couple of bad games.
A lacklustre performance against Southampton at the weekend was typical of too many of Chelsea's games this season. Whatever it is that's going on behind the scenes, the players must have eyes and ears only for the upcoming playing schedule, which is unenviable at best.
Inconvenient trips across the continent in the Europa League will tire the players further after their hectic winter, while the league fixtures aren't any less daunting. However, an F.A. Cup quarter-final victory over Manchester United earlier today will provide a timely rise in confidence.
Playing Tottenham is the battle for third place, while away games at Manchester United and Liverpool could sap more precious points from those still available. As mentioned earlier, Sunderland and Aston Villa will not be easy, with both teams trying to stay out of the bottom three, and Everton have a European bid of their own for motivation.
Of the big London clubs, going by form and psyche, Chelsea seem most likely to fail to qualify for the Champions League. If that happens, it will be a result of the mismanagement and chaos coming from upstairs, which, when you think about, really derailed their campaign in November with the sacking of Roberto Di Matteo.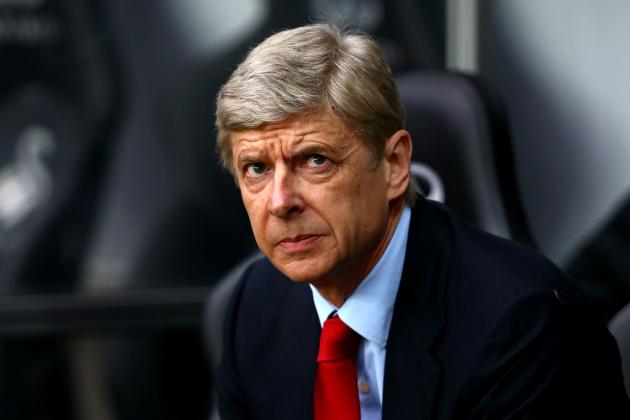 Jan Kruger/Getty Images
Can Arsene Wenger mastermind a repeat of last season?
Arsenal are attempting to recreate the dramatic second half of last season, when they shrugged off indifferent form and a gap of 13 points in January 2012 to usurp Tottenham in third place, which ultimately cost their rivals a Champions League place, to the delight of Gooners worldwide.
While the north London club are not the inimitable force they were 10 years ago, they still possess the quality to fight their way out of apparently hopeless positions. However, it is beset by a tendency to spend the first half of most games shaking sleep out of their eyes.
Teams like Everton and Newcastle are easily capable of exploiting this weakness, while the Manchester United game, despite being at the Emirates, does not seem likely to yield three points.
The Everton match is the big one; both teams will see this as an open fixture, and it may be decisive for Arsenal's Champions League bid. Should the Gunners lose to Everton and Chelsea win at Fulham, Arsenal may find themselves playing in Europe's second-tier competition next season.
The game at St James' Park can go either way, as evidenced by some of the ridiculous scorelines served up at recent meetings. Away at QPR and hosting Wigan will be edgy affairs, with both clubs fighting to avoid relegation, but Arsenal have the quality to pull through. That, and the memories of last year's stunning comeback.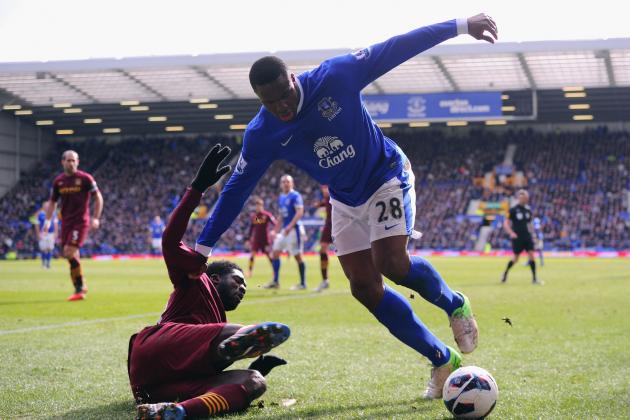 Michael Regan/Getty Images
Everton are hoping to brush aside Arsenal, Tottenham or Chelsea for a Champions League spot
Everton are the perennial "almost there" team. With more money in the bank it is likely that David Moyes would have fared much better than his average finishing position of seventh. Everton have never tasted the Champions League; the closest they came was a qualifier defeat to Villareal in 2005, and with David Moyes saying on Saturday that qualifying or not will influence his decision on whether to renew his contract, qualification is now more important than ever.
However, their next eight games do not offer much optimism for the Toffees.
Travelling to Tottenham for a hazardous and potentially crucial matchup is only the start. Another pivotal game is away at Arsenal; with Everton currently two-points behind the Gunners and Tottenham playing Manchester City the same weekend, both teams will sense the importance of coming out on top.
Matches with relegation-battlers QPR and Sunderland will undoubtedly be harder than they look, while away games at Liverpool and Chelsea in the last three weeks could make or break their season.
If they are to have any chance of placing in the top four, Everton must beat all the teams below them and steal at least four points from the games against Tottenham, Arsenal and Tottenham, but still may have to rely on other results.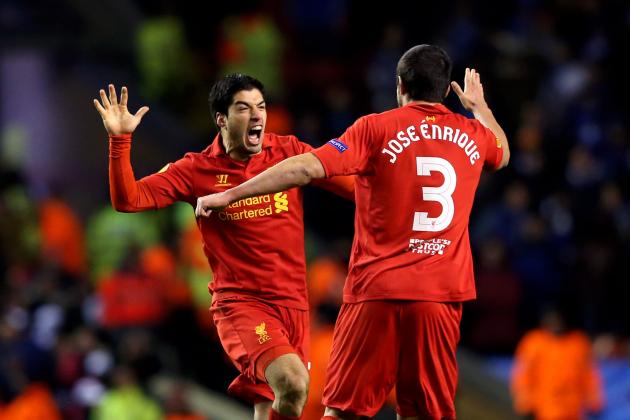 Alex Livesey/Getty Images
The form of Suarez has been instrumental for Liverpool this season
Liverpool have undergone a startling transformation since August. Evolving into a composed passing outfit by Brendan Rodgers, and boosted by the brilliance of the controversial Luis Suarez, the Anfield club appear to be climbing out of the trench they have been in for the past few seasons.
Qualification for Europa League appears their best bet, but competition from those around them will be fierce. The Liverpool derby may or may not be decisive, depending on results between now and then, but meetings with relegation battlers QPR and Reading, as well as a trip to Newcastle, will be uneasy affairs. Liverpool's chances would be improved by beating Chelsea, and would render a win against Everton much more significant.
Like Everton's plight, it is a case of winning all the games versus lower opposition and hoping that other results go their way.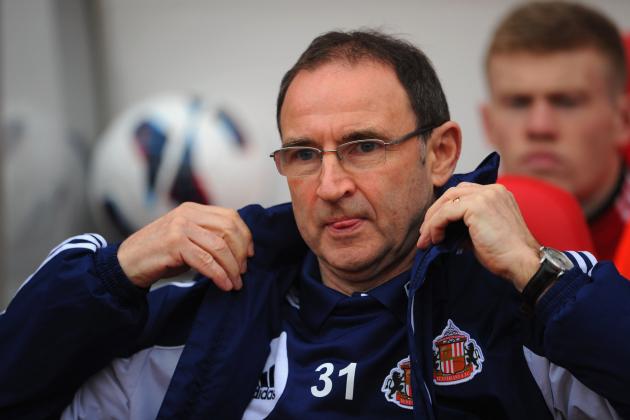 Michael Regan/Getty Images
The end of the season will show if the decision to sack Martin O' Neill was well advised
Having bid farewell to Martin O' Neill at exactly the wrong time, Sunderland's days in the top flight are numbered. The lack of creativity; the bad decisions; the indiscipline when shooting; just a few of the faults with Sunderland at the moment.
Being without a manager going into the final weeks is suicidal for any team; for a team as flawed as Sunderland the sheer silliness of it is beyond comprehension. Out of the past 27 points available, they have claimed just six. Wigan hold a game in hand over them, as well as some sort of form, and they are the team that Sunderland need to outperform to stay up.
While games against Chelsea and Tottenham look all but hopeless, the Tyne-and-Wear derby match in Newcastle offers a light at the end of the tunnel, as these games are famous for being incredibly open. Mid-table Stoke and Southampton could be more relaxed, which presents opportunities for points, but the Black Cats have been so poor this season that trying to get enough points to stay above Wigan appears almost futile.
An abominable season looks set to get a whole lot worse.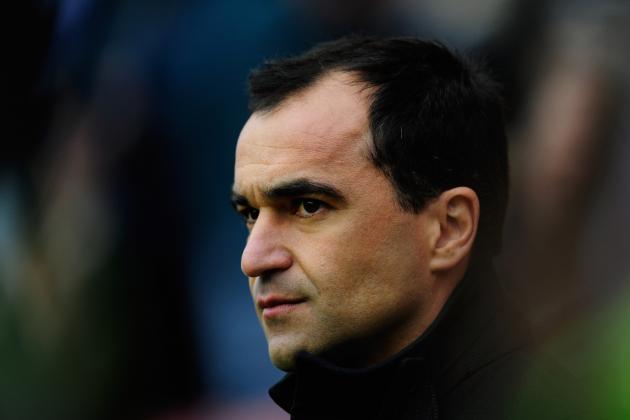 Stu Forster/Getty Images
Roberto Martinez has a knack for pulling his team through sticky situations
Wigan are the masters of the late rush. Finding themselves out of the relegation zone after Liverpool beat Aston Villa will only serve to enhance the steely confidence that Roberto Martinez instils in his players around this time every year. Their survival bid has gone well so far, with them winning three of their last five games, and recent history shows that they will pull themselves out somehow.
They do not have an easy run-in though, with games away at City and Arsenal, and also welcoming Tottenham. An advantage is that they have a game in hand over the next five teams above them, and with only four points separating 17th and 12th, this is a situation they must fully exploit.
Not to be overlooked is the fixture with QPR, which is open for anyone to take, while their fate could be decided in that mouth-watering final-day clash with Aston Villa.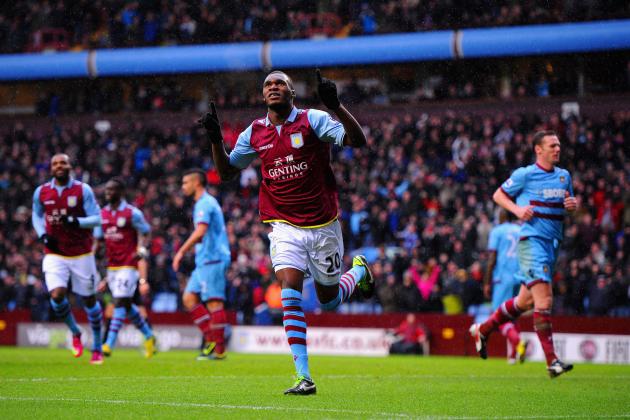 Michael Regan/Getty Images
Benteke's 13 league goals this season have staved off Villa's demise
Aston Villa are rarely in this kind of trouble, and there are fears that they could be relegated from the Premier League for the first time in its history. After losing to Liverpool yesterday dropped them below Wigan, who they face on the last day of the season, and into the relegation zone, the situation is worsening.
Games against Manchester United and Chelsea seldom produce points, so the Villans will look to mid-table Fulham and Norwich for some generosity.
Victory against 17th-placed Wigan is essential, while the fact that 16th-placed Sunderland have a game in hand in means that winning that encounter is equally important.
Christian Benteke offers hope, as does goalkeeper Brad Guzan who have both surpassed themselves this season. If Villa can scrape a win at Stoke, a notoriously difficult tie, the confidence it will bring might lift them through the remaining fixtures, most importantly when facing the teams around them in the table.
It would be surprising to see Villa go down as you would expect them to beat Wigan or Sunderland. However, dependency on other results is not a healthy prospect, and it may be the only thing they have left come May.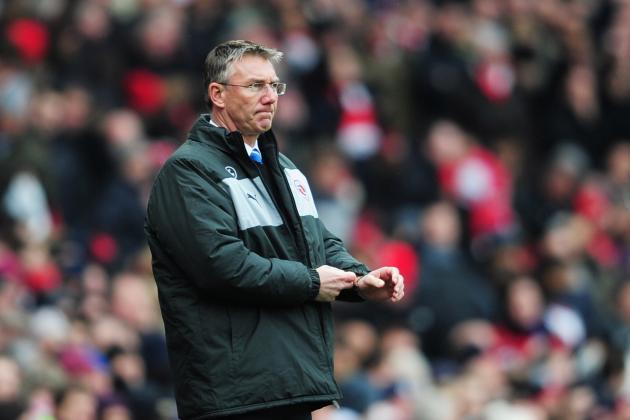 Jamie McDonald/Getty Images
Nigel Adkins has the almost impossible task of rescuing his new club from relegation
Going by the weekend's result, the sacking of Brian McDermott and the appointment of Nigel Adkins hasn't benefited Reading all that much.
Under McDermott the Royals were forging an ability to save themselves in the dying minutes of games; no disrespect to Adkins, but that sort of spirit comes to the aid of very few managers.
It seems that, barring a miracle, Reading are simply fighting with QPR over who finishes bottom of the league. With a schedule in which the easiest game on paper is a relegation scrap with QPR, it appears that Reading will be lucky to get four points from their final seven games.
Manchester City and Liverpool do not look promising, while tricky away games at Norwich, West Ham and Fulham will require heroics in order to procure any points. Reading's one saving grace is that they are playing four mid-table teams, who might not feel the need to give 100 percent considering that they have already secured their safety.
A win against Southampton at home is the minimum they can get, and even then, they are pretty much done for.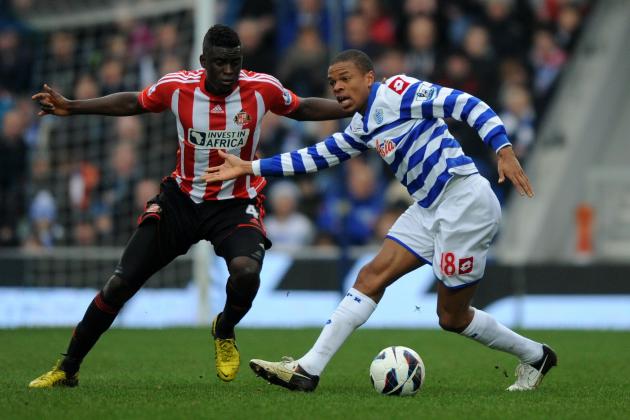 Steve Bardens/Getty Images
The arrival of Loic Remy in January gave Hoops fans some hope
Like Reading, it appears that QPR's stint at the top of English football is also nearing its death-knell. In spite of having a plethora of high-earning "stars" on the books and a manager who is not lacking in experience or drive, QPR have failed to get it together from the start.
A possible casualty of having too many egos, the Rs first need to see in a victory over neighbours Fulham tonight.
They do not have too imposing a run-in, but their form has been dire, and even a noticeable improvement in defence is unlikely to save them. Even if they get some points over the coming games against Fulham, Wigan and Reading, it can easily be undone by a final three weeks in which they host Arsenal and Newcastle, and head to Anfield.
Their main advantage is having a game in hand over Reading, Aston Villa and Sunderland, any of whom could end up dropping in May. For QPR though, the probability is slightly higher.