Bayern Munich vs. Arsenal: 2nd-Leg Predictions Post Jack Wilshere's Injury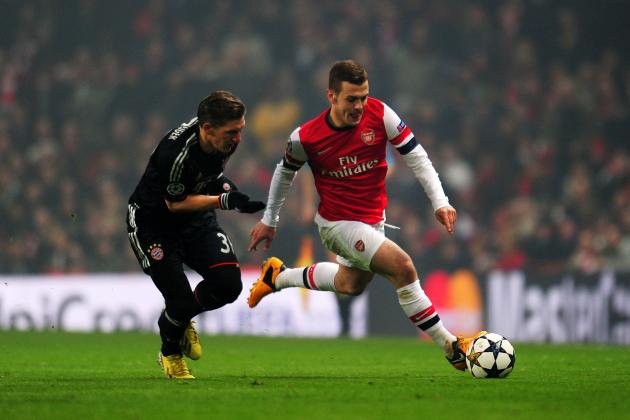 Shaun Botterill/Getty Images

Yesterday's preview of Arsenal's second-leg clash with Bayern Munich involved two predictions concerning Jack Wilshere. Later in the day, the youngster was ruled out with an ankle injury, news that has since been officially confirmed by Arsenal.com.
That news robs Arsenal of some energy and craft in their midfield. It also eliminates at least one of yesterday's predictions.
With that in mind, here's a revised list of predictions for Wednesday's encounter at the Allianz Arena. It examines the potential negatives and positives of Wilshere's absence.
The list begins with three predictions that will stay the same.
Begin Slideshow

»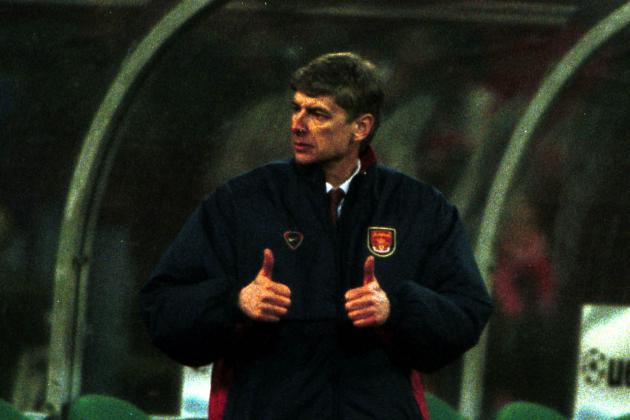 Ben Radford/Getty Images

It actually took a little longer than expected yesterday for the first attack on the idea of Arsene Wenger doing something tactical. The argument that Wenger is tactically weak is as predictable as clockwork, only nowhere near as accurate.
As mentioned yesterday, Wenger has tweaked the structure of his teams in the past. It's yielded positive results, particularly in Europe.
However, the Gunners chief faces a dangerous balancing act in Munich. It's not simply a case of combining a firm defensive base with the right amount of attacking intent needed to snatch three goals.
Wenger's dilemma actually goes beyond Wednesday's game. It's not a question of Arsenal not doing everything they can to overturn their 3-1 deficit.
However, even the most optimistic supporter has to have grave reservations about Arsenal's chances. What Wenger can at least ensure is that he settles on a formula to fix some of the current problems. A new structure that will serve the team well for the rest of the season.
The context of Wednesday's game provides the ideal opportunity to try something new. Something aimed at creating a more stable, balanced team that can finish with a strong push for fourth place.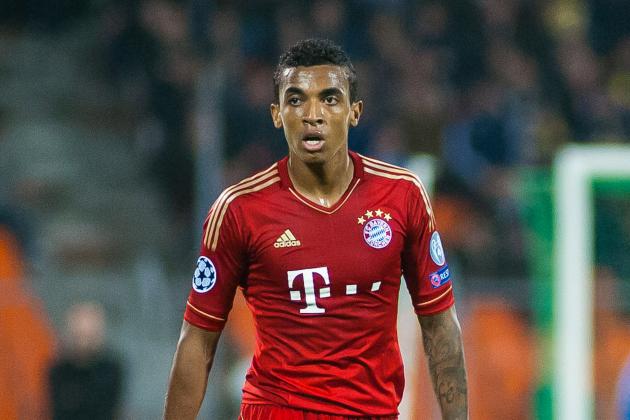 EuroFootball/Getty Images

Saying Wenger will leave Munich determined to sign Luiz Gustavo isn't guaranteeing the transfer. It's simply a way of stating that Wenger will see in Gustavo the kind of player he needs for next season.
The Brazilian is sure to again act as the stabilising force in a well-balanced Bayern midfield. He will ensure the Munich defence stays protected and disrupts the flow of Arsenal's intricate passing through the middle.
Wenger will be left suitably impressed and determined to revisit the idea of bringing Gustavo to North London.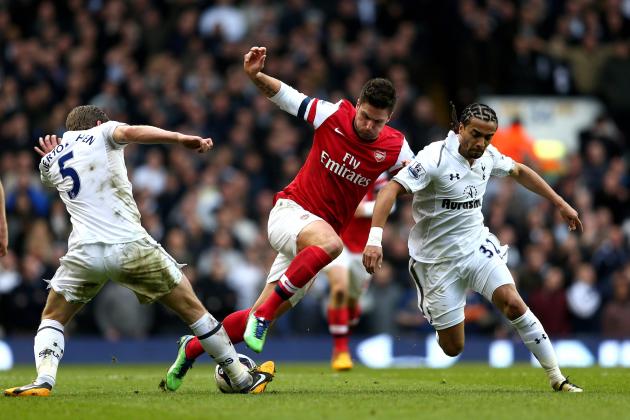 Paul Gilham/Getty Images

This was a tough prediction to make, because at times Olivier Giroud can barely be trusted to control a ball. Of course, at others, the Frenchman can justify his place as Arsenal's one true central striker.
It will be in keeping with his enigmatic start to life at the club for Giroud to find the net against Bayern. He very nearly—and indeed should have—scored not long after entering the first leg as a substitute.
At times this season, Wenger has been guilty of trying to be too clever. When Arsenal hosted Chelsea in September, he dropped Per Mertesacker because of the opposition's quick attackers.
Similarly, he tried to catch out lumbering veteran Bayern defender Daniel Van Buyten in the first leg. Wenger played Theo Walcott through the middle, thinking his pace would terrify Van Buyten and Dante.
However, all it did was allow Bayern to comfortably repel any goal kick and quickly win back possession. With Giroud on the pitch from the start, Arsenal have a better chance of winning some inevitable aerial duels.
The ex-Montpellier man will cause some problems and eventually net a goal. Whether that strike will just be another false dawn from Giroud is another matter.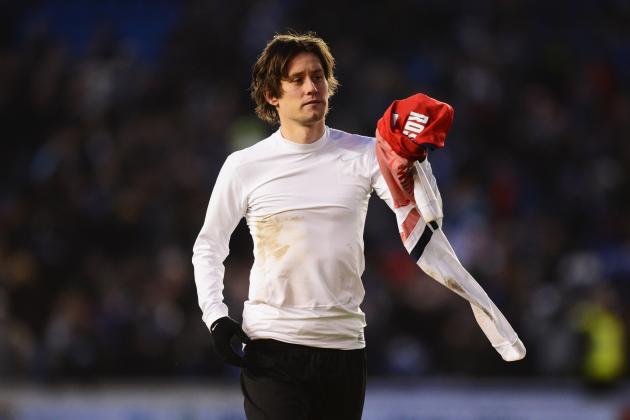 Mike Hewitt/Getty Images

The next three slides may be contentious, particularly for those whose delicate sensibilities won't allow even the hint of criticism towards Wilshere.
However, there is a good chance that Arsenal may play quicker in his absence. That's because Wilshere hasn't yet mastered the subtle and sudden delivery that Cesc Fabregas and, to a lesser extent, Santi Cazorla can manage.
It's part of Wilshere's personality as a player to be neat and tidy in possession. Sadly, this can often lead to him taking the simple, short pass, when something different is needed.
This can often make Arsenal easy to defend, as too much of their passing is played in front of a defense, not aimed for in behind it. This author particularly remembers being at the Britannia Stadium when Arsenal were beaten 3-1 by Stoke City in May, 2011.
Wilshere and Aaron Ramsey were the midfield two that day. They both persisted in slowly working the ball from side to side and Stoke stayed comfortable. You know it's bad when Stoke fans chant "boring."
Of course, whether Arsenal plays quicker in Wilshere's absence could largely be determined by who replaces him. One man who could play a key role in some form is Tomas Rosicky.
Moving the ball quickly and always going forward defines Rosicky's game. The aging playmaker has impressed in brief cameos lately, and it would be a bold move from Wenger to start him.
However, Wilshere's replacement perhaps won't be as important to the pace of Arsenal's game,as the balance of the team.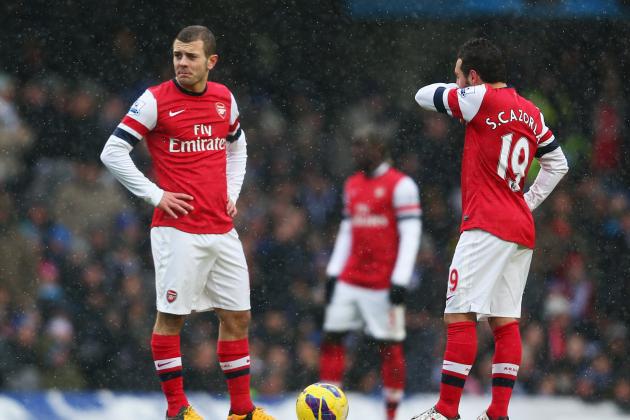 Clive Rose/Getty Images

Arsenal have lacked the right balance in midfield for some time now. That's not at all the fault of Wilshere, although it stems from a dilemma he poses.
Wilshere's efficiency, energy and willingness to put in challenges are the ideal attributes of a halfway-line player. He seems perfect to dominate the halfway line and the areas slightly in front of and behind it.
Yet Wilshere's superb control and skill when running at defenders offers a teasing glimpse of his potential for goals. It's clearly had an effect on Wenger, who has pushed him further forwards.
Unfortunately, he's pushed him right into the area Cazorla patrols. As a result, Wilshere and Cazorla have often gotten in each other's way as they try to dominate the same attacking areas of the pitch.
At the start of the season, Arsenal had the perfect balance in midfield. They had two deep-lying players behind Cazorla.
The Spaniard was the advanced schemer, responsible for controlling Arsenal's passing between the lines. That's the essence of Wenger's style of play.
Arsenal have the chance to reintroduce this more stable, complementary dynamic in Munich. It would certainly help one man in particular.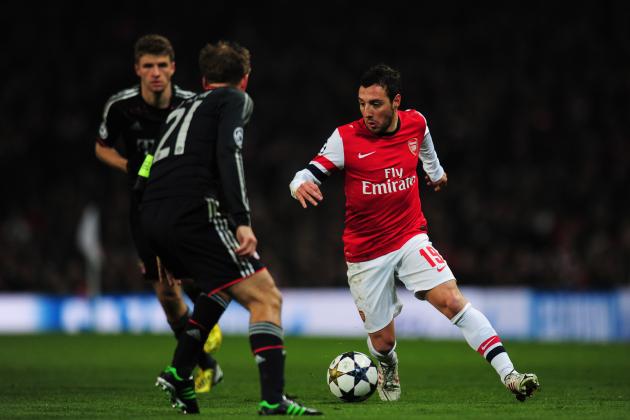 Shaun Botterill/Getty Images

It's easy to see why Wenger moved Cazorla out to the left for recent matches. It was a nice way to solve the problem of having Cazorla and Wilshere in the same areas too often.
Indeed, this author has thought Cazorla might offer more on the left and allow Arsenal to move back to a version of 4-4-2. While still undecided, the fact is that Cazorla is Arsenal's best option in the middle.
He offers the through passes and scoring threat this scribe often chides Wilshere for struggling to produce. A free and advanced central role will help Cazorla flourish in Munich.
Hie clever reverse passes and ability to glide past tacklers and shoot with either foot will torment the Bayern defense. His performance will only make Wenger's decision of how best to deploy Wilshere and Cazorla tougher.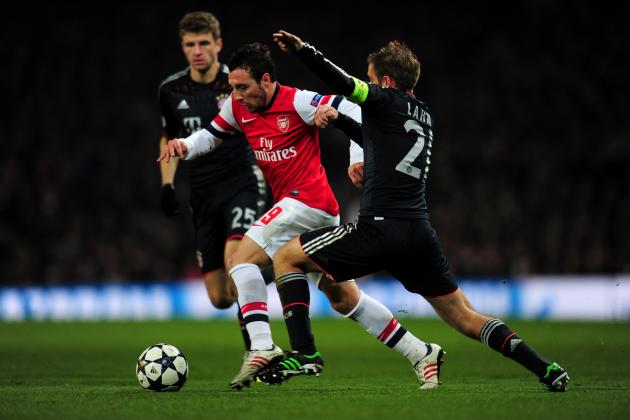 Shaun Botterill/Getty Images

Cazorla's fine performance will yield a goal and preserve the original prediction of a 2-2 draw. Despite being Arsenal's best player this season, Cazorla has yet to score in the UEFA Champions League.
Expect a typically accurate and powerful shot to arrow its way into the Munich net. Similar to his great strike at Old Trafford in November, Cazorla's goal will provide no consolation.
Hopefully, though, Arsenal's chief creator will leave the Allianz Arena confident enough to inspire the push for fourth. That inspiration is something the whole team must show once the English Premier League fixtures resume.