Rafa Benitez's Rant: Rounding Up All the Best Reactions on Twitter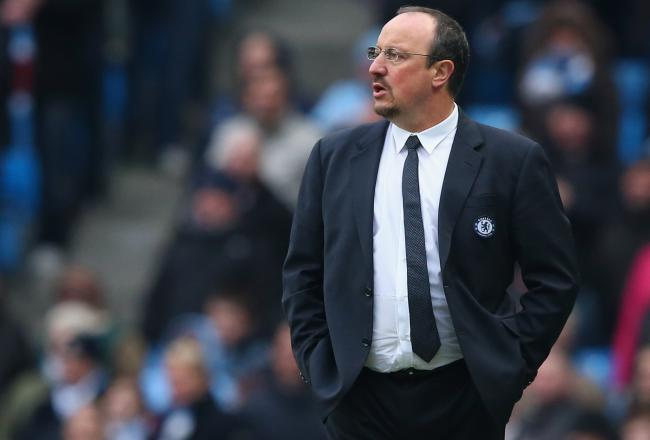 Alex Livesey/Getty Images
Chelsea interim manager Rafael Benitez caused something of a stir on Wednesday when he criticised the club's supporters after another game in which he had to sit through sections of the crowd making their feelings about him clear.
The Blues won 2-0 against Middlesbrough in the FA Cup, but that wasn't enough to satisfy the animosity of some supporters who have been dead set against the appointment of Benitez since he arrived at the club.
Throughout his time at Stamford Bridge, Benitez has stated that he would merely be professional and try to get the right results for the team, but his comments after the game suggest that he has had enough of the chants and flags displaying the lack of support for him.
Chelsea as a club was not spared in his press interview, as he criticised the decision to give him the title of interim manager (as per BBC).
Chelsea gave me the title of interim manager, which is a massive mistake. I'm the manager. The fans are not helping us. At the end of the season I will leave. They don't have to worry about me. I have been in charge in football for 26 years, I won the Champions League, I won the Fifa Club World Cup, the FA Cup, the Italian Super Cup, the Spanish league twice, nine trophies - all the trophies you can win at club level.

So this group of fans are not making any favourites with the team and they are singing and wasting time preparing banners. They have to concentrate on supporting the team, that's what they have to do.

I have a title. Someone decided the title would be interim. Why? Just in case? Fine, that is your decision. I don't agree, but that is your decision and now everybody has to take responsibility.

Everybody is interim because after you there is another one. In this case they didn't have anyone, so why did they put interim? It's just to say to everyone: 'Because he was in Liverpool and just in case, we will put interim and then we will wash our hands'. Was the title a mistake from the start? Yes, 100%.
Needless to say, the comments caused quite a reaction, both within the printed media and the social media circles.
Here's a round-up of all the most pertinent responses from the world of Twitter.
Chelsea boss Rafa Benitez: "They are wasting time with banners & songs. They don't need to worry about me. I leave at the end of the season"

— BBC Sport (@BBCSport) February 27, 2013
At The Bridge on Sat. for next episode in Benitez story. Wonder will any dissenting Chelsea fans think: "You know - maybe he's got a point."

— Phil

McNulty

(@philmcnulty) February 28, 2013
Rafa says relationship with Abramovich is 'excellent' and he WILL be at #CFC until the end of the season #Benitez

— Dan Walker (@mrdanwalker) February 28, 2013
Benitez gets appointed, says will win fans over & they don't play a part in results. Does hopeless job, then blames the fans. Agenda indeed.

— Grant James (@GrantJames_CFC) February 28, 2013
All of these "Benitez says he'll leave Chelsea at end of season" headlines are leaving out the important "when his contract expires" part.

—

dirtytackle

(@BrooksDT) February 28, 2013
MON: Benitez dismisses player who reminds him Chelsea team won Champions League last year. WED: Mentions winning Champions League in 2005..

— John

Brewin

(@JohnBrewinESPN) February 28, 2013
The anti-Benitez banner that will have embarrassed all serious Chelsea fans was the "fat Spanish waiter" one. That was just nasty.

— Paul Hayward (@_PaulHayward) February 27, 2013
Unfair to call Benitez's comments a 'rant'. Thought he was quite reasoned and made sense.

— Dan Walker (@mrdanwalker) February 27, 2013
Roman Abramovich is currently sweeping everything on Rafa Benitez's desk into a large cardboard box.

— Iain Macintosh (@iainmacintosh) February 27, 2013
Rafa Benitez don't forget to take Fernando Torres with you. Scousers OUT of our club now ! #CFC #TorresOUT #RafaOUT

—

ChelsTransferGossip

(@ChelsTransfer) February 27, 2013
Once they get rid of Rafa on Saturday night, Chelsea will have sacked four of the last seven managers to win the Champions League

— Steve

Anglesey

(@sanglesey) February 28, 2013
On a serious note re Rafa. He may not have been a good fit for Chelsea but he has a point. At least he cares and wasn't scared to speak out.

— Gary

Lineker

(@GaryLineker) February 28, 2013
Business as usual at Chelsea as it stands; Rafa currently taking training at Cobham. No plans for any news, at the moment anyway

— Dan Roan (@danroan) February 28, 2013
For all the sniping & negativity. I was impressed with what #Rafa came out with last night. Not only was he completely right, but passionate

— Jake Humphrey (@mrjakehumphrey) February 28, 2013
Rafa is spot on.he deserves a lot more respect than he's been shown by the supporters.he is a top manager who has not been given afairchance

— Didi

Hamann

(@DietmarHamann) February 27, 2013
It wasn't a rant by any means,he was well controlled and probably bit his tongue for months for the sake of the football club

— Didi

Hamann

(@DietmarHamann) February 27, 2013
He has shown respect and dignity towards Chelsea FC even though very little came back his way.Never doubt his professionalism.

— Didi

Hamann

(@DietmarHamann) February 27, 2013
You can criticize Rafa for results but for the majority of the fans to ask for his head before they even played a game is a disgrace

— Didi

Hamann

(@DietmarHamann) February 27, 2013
Where is the rivalry between LFC and CFC? He beat Chelsea in important games with inferior teams,he should have been welcomed with open arms

— Didi

Hamann

(@DietmarHamann) February 27, 2013
Benitez will be quickly forgotten if Chelsea can secure Mourinho's return, writes @willtidey bleacherreport.com/articles/15476… #cfc

— B/R Soccer (@BR_Soccer) February 28, 2013
This article is
What is the duplicate article?
Why is this article offensive?
Where is this article plagiarized from?
Why is this article poorly edited?

Chelsea: Like this team?