Predicting Every Major Premier League, Serie A and La Liga Match This Weekend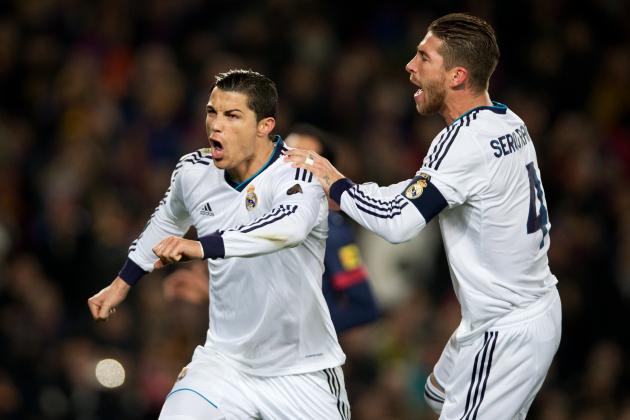 Jasper Juinen/Getty Images

Right across Europe this week—from the Premier League to La Liga—several great matches are set to take place, with some of the biggest stars involved.
Barcelona and Real Madrid will square off in another El Clasico; Arsenal and Tottenham Hotspur will do the same in another North London derby. Throw in a whole host of other great matchups and fascinating fixtures, and you've got another brilliant weekend of world football action.
Read on for previews of some of the biggest matches across Europe this weekend, as well as predictions on which teams will emerge victorious.
Begin Slideshow

»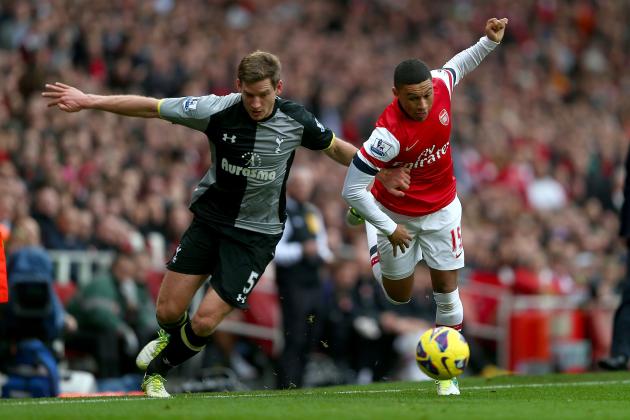 Clive Rose/Getty Images

Sunday, March 3, 11:00 a.m. ET
The North London derby has become even more significant over the past few seasons due to the emergence of Tottenham Hotspur as a real player in the league, with Spurs having a great chance to finish above their rivals heading into the final stages of the 2013 season.
The Gunners have been inconsistent in attack and midfield creativity this season—an area in which their opponents have excelled of late—with Gareth Bale proving to be the savior for Andre Villas-Boas' side time and time again.
Arsenal won the first encounter between these two 5-2, but now, away from home and against a Spurs side that is much more focused and prepared for this one, don't expect it to be as one-sided for the away side. Villas-Boas will have drilled into his players the significance of not dropping this match—especially with the top-four race so close—and they'll be much more disciplined as a result.
Tottenham have lost just once since mid-November heading into this one and have suffered just two home defeats all season. Arsenal, by comparison, have scored just 17 goals in 13 away games this year and will be hard-pressed to get anything in this one as a result.
Prediction: Tottenham Hotspur 2, Arsenal 1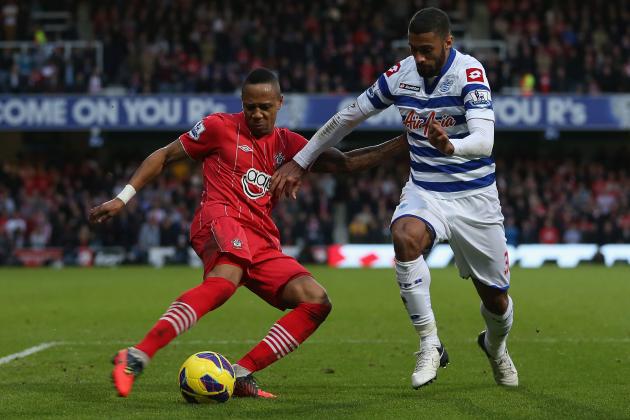 Julian Finney/Getty Images

Saturday, March 2, 10:00 a.m. ET
This might sound like the kind of match you'd watch when there's nothing else happening in the league, but this is a fixture that's certainly not to be missed this weekend.
With the 16th-placed Saints welcoming the 20th-placed Rangers, the potential relegation implications from this match are plentiful—especially for Harry Redknapp's side, who may very well bid their survival chances goodbye if they cannot get a result here.
Saints have been solid of late, losing just twice since Christmas, and they have incredibly only suffered one home defeat since October 29. By comparison, the London club have won just twice all season, haven't scored more than twice on the road all year and are averaging just 0.70 goals per game.
Having said that, QPR have performed well against fellow league battlers away from home—drawing against West Ham, Sunderland and Wigan this year away from home, whilst picking up points against both Aston Villa and Reading also. In fact, Southampton are only one of three bottom-half teams to have beaten the London club all season with their 3-1 victory in November.
QPR are improving under Redknapp, but so too are Southampton. Expect them to continue their impressive home dominance with another win this weekend.
Prediction: Southampton 2, Queens Park Rangers 0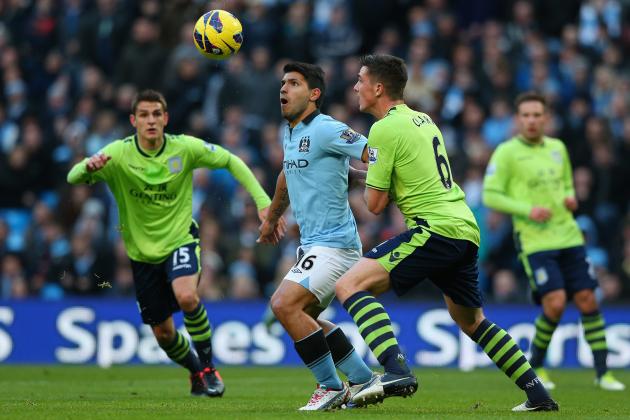 Alex Livesey/Getty Images

Monday, March 4, 3:00 p.m. ET
Call me crazy, but Aston Villa at home to Manchester City has the potential to be one of the Premier League's top matches this round, and it rightly gets its selection into this list.
City, of course, are flying high in the Premier League and bounced back on the weekend with a comfortable 2-0 victory over Chelsea at home, but they could find some troubles traveling away from home this weekend—much like they have throughout the season so far.
Villa have pushed all of their opponents in the past few weeks (Arsenal, West Ham, Everton, Newcastle, West Brom, Southampton and Swansea), and they certainly won't be pushed over here at home by the defending champions, who, in reality, have very little to play for here.
The Villans desperately need a point or three here to keep their survival hopes alive, and as we saw against City last year, relegation-striken teams can sometimes pull off the incredible. I'm not completely sold that Aston Villa will be able to do that here, with another agonizingly close result pending for the Villans, but they'll certainly make this one incredible football game to watch.
Prediction: Aston Villa 1, Manchester City 1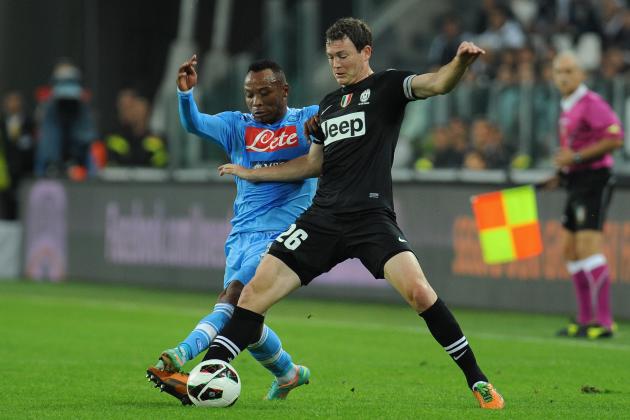 Valerio Pennicino/Getty Images

Friday, March 1, 2:45 p.m. ET
The first of two real blockbuster matches takes place in Serie A here when second-placed Napoli welcome the table-toppling Juventus to town.
Juve have led the Italian competition for most of the year, but they did slip up two weeks back against Roma away from home and have been far from dominant on the road all season. However, their gap on top of the table has not dropped in the process, with Napoli drawing four of their last six matches and allowing the Old Lady to gain further momentum on top of the ladder.
Napoli have been much stronger at home than their record probably suggests this year, conceding just 11 goals and scoring 30 from their 13 matches so far. They have suffered just one defeat (against Bologna in December) and haven't lost a domestic match since that game—perhaps giving the home side some extra belief that they can get a result in this one.
Juve have looked vulnerable away from home of late, but it's hard to get behind a home team that haven't won in their past three matches. They might be undefeated since Christmas, but Napoli have been far from impressive, and it will be that inconsistency at the top of their attack that once again allows their opponent to steal a result in this one.
Is the Italian league over with a win here for Juventus?
Prediction: Napoli 0, Juventus 1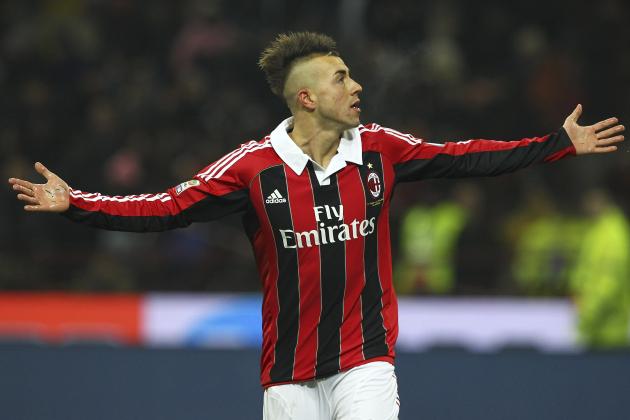 Marco Luzzani/Getty Images

Saturday, March 2, 2:45 p.m. ET
If first playing second wasn't enough for you this weekend in Italy, the third-placed AC Milan will welcome the fourth-placed Lazio to the San Siro this weekend in another blockbuster clash for your enjoyment.
Milan have been simply superb since the arrival of Mario Balotelli (undefeated in Serie A), and with a huge win in the Champions League over Barcelona still no doubt inspiring the Italian powerhouse, they appear very tough to break down at home here.
Especially given Lazio's current form slump, which has seen them win just one of their last six domestic matches and just two of their past 10 road games.
Against a Milan side riding a full wave of confidence with a dominant attack on hand, Lazio don't seem like they'll be putting up much of a fight in this one.
Prediction: AC Milan 3, Lazio 0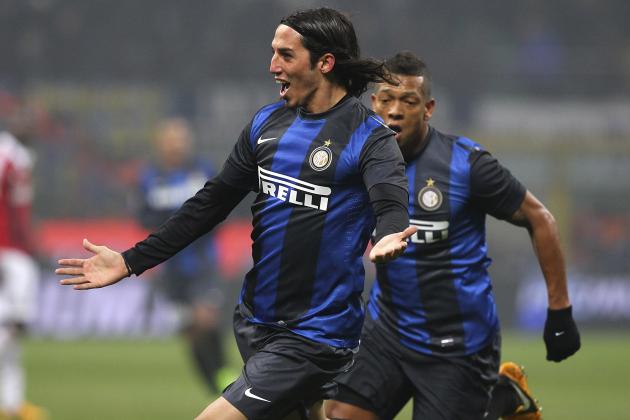 Marco Luzzani/Getty Images

Sunday, March 3, 9:00 a.m. ET
Inter Milan picked up a huge 1-1 draw in their Milan derby last week and now face a very difficult fixture this week in order to keep pace with the top teams in Serie A—away to seventh-placed Catania.
Catania have been beaten just twice at home all season, but not once since December, and with home wins over Roma, Fiorentina and Lazio already this year, they'll certainly provide a great threat to the chances of Inter Milan staying with the top four.
Inter have won just two of their past 10 games all season and haven't scored a road win since their stunning victory over Juventus back in November. Moreover, they have kept just two clean sheets on the road all year, and neither of those have come in the last five months of football.
The giants of Italian football might have played well last week, but that was last week, and their opponents this week are just as tough as that match was.
If they're not completely switched on—which they probably won't be away from home, in comparison to their display in the the Milan derby—expect them to struggle to hold off the home side here. They should be good to hang on for a point once more, but it certainly won't come easy for Inter in this one.
Prediction: Catania 1, Inter Milan 1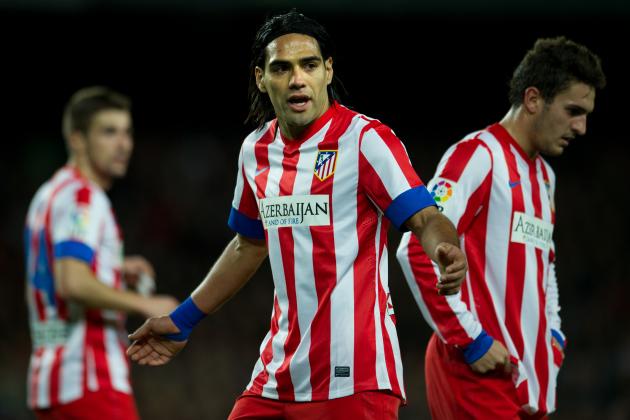 Jasper Juinen/Getty Images

Sunday, March 3, 1:00 p.m. ET
With a Clasico taking place again this week, both Malaga and Atletico Madrid will know that they have a real chance to gain points on the other top teams in La Liga with a win this weekend.
The visitors may be somewhat tired after their thrilling Copa del Rey victory over Sevilla on Wednesday, but the five-day turnaround should be enough to see them field a completely strong and consistent lineup here to take on Malaga, who have been particularly solid of late.
They did suffer a surprise 3-0 loss away from home to Betis, but Malaga have only lost one fixture at home since November—and that came at the hands of a rampant Barcelona team. Atletico Madrid, on the other hand, have won just two of their past eight matches away from home.
And that record should be the difference here, with Malaga simply having too much for a side that just wants to be back home after a big week on the road. The up-and-coming Spanish side have been a real handful for the top three teams all season long, and they will get another win against the top three this weekend—sneaking by Atletico Madrid in the waning minutes of the match.
Prediction: Malaga 2, Atletico Madrid 1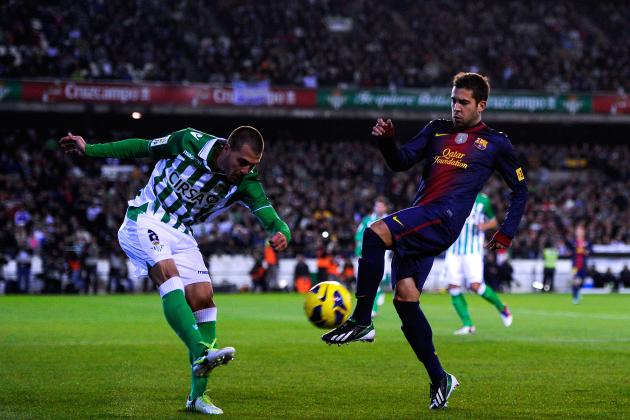 David Ramos/Getty Images

Sunday, March 3, 3:00 p.m. ET
The top three teams in the league are well clear, but with Malaga facing a difficult match this week against Atletico Madrid, both Real Sociedad and Betis will see their fixture this week as a huge chance to break into, or close to, the top four of the competition.
Both are within three points of that European berth next season, and they'll both be desperate to win here—no doubt making this a must-watch fixture.
Betis appeared to be in all sorts of trouble heading into last weekend, without a win from their previous five league matches, but they scored a huge 3-0 win over Malaga at home to suggest that perhaps they aren't as "done and dusted" as they seem this year. They'll need to bring that form here, away from home, when they take on Real Sociedad, for the home side will run out comfortable winners otherwise.
Socieded have lost just one match since early November—a thrilling 4-3 affair at the Bernabeu Stadium—and have dropped just two games at home this year. Moreover, they have conceded just nine goals through their 13 home games this year, and with Betis failing to score in nearly half of their away games so far this year, they should be good to keep another clean sheet in this one.
It will be very hard for Betis to stay alive in this one.
Prediction: Real Sociedad 2, Real Betis 0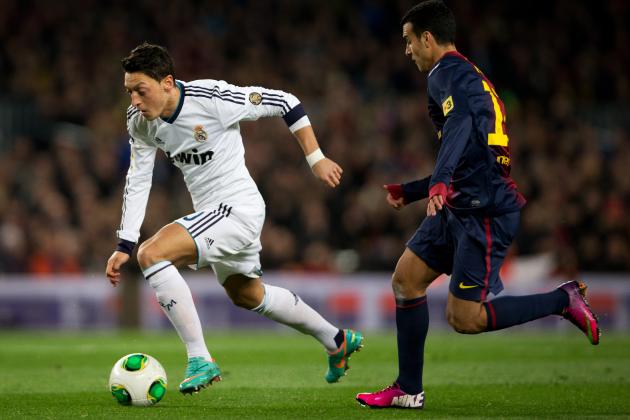 Jasper Juinen/Getty Images

Saturday, March 2, 10:00 a.m. ET
Yet there is no other match in world football this weekend more fascinating and compelling than that of Real Madrid and Barcelona—especially given all that's taken place of late.
Barca had dominated the entire domestic and international season up until three weeks ago, whilst Madrid struggled for inconsistency and clinical finishing. Yet, in the past three weeks, the roles have seemingly switched, with Los Blancos the clear team to catch in this match.
The Catalan club were stunned 2-0 at the San Siro by AC Milan in the Champions League and were then embarrassed 3-1 at home by Madrid in the Copa del Rey on Tuesday. Lionel Messi went scoreless and without a shot on goal in both of those matches—somewhat incredibly—and the Blaugrana now travel to the Bernabeu under a mountain of pressure and expectation to perform.
Madrid will be flying for this fixture, but given all that Barca have achieved this year, it's hard to rule them out completely. I think they might stun the visitors with an early goal, but given the current form, self-belief and dynamic counterattack that Jose Mourinho's side have at the moment, they'll end up being too good for their visitors here.
Another El Clasico victory will fall the way of Madrid, who will have ultimate bragging rights over their rivals in 2013 despite the current domestic standings.
Prediction: Real Madrid 2, Barcelona 1
What are your predictions for the EPL, Serie A and La Liga this weekend?
Comment below or hit me up on Twitter: Follow @dantalintyre