Rafa Benitez and the Top 5 Premier League Managerial Rants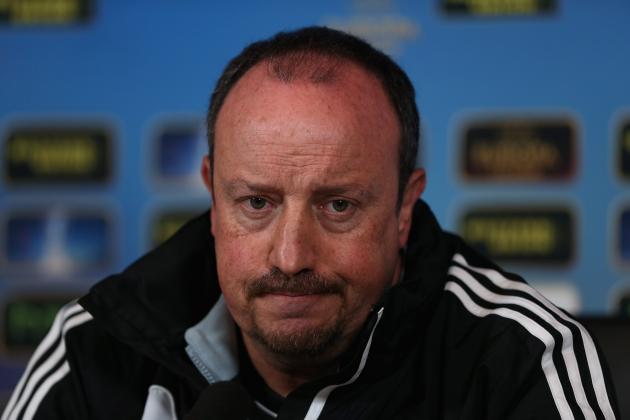 Warren Little/Getty Images

From the moment he was appointed as Chelsea's "interim first-team manager" in the wake of Roberto Di Matteo's dismissal, Rafa Benitez has been subjected to near-constant vitriol from fans unhappy with his appointment.
Despite negative chants and banners, rumors of disharmony in the squad and questionable results, the Spaniard maintained his composure—with the possible exception of his Marco Materazzi "liar" outburst.
A press conference following Wednesday's FA Cup victory over Middlesbrough, however, was the straw that broke the unpopular camel's back. After facing some reasonably mundane question from assorted journalists, Benitez went into meltdown, criticising the fans and the board.
This isn't the first time a manager has ranted on camera. In fact, it's not even the first time Rafa Benitez has ranted on camera, as his Alex Ferguson "facts" tirade ably demonstrates.
Señor Benitez' latest outburst inspires B/R's Top 5 Premier League managerial rants...
Begin Slideshow

»
Ian Holloway seldom opens his mouth without providing an abundance of entertainment. Most of the time, the Crystal Palace manager is in a jovial mood, but certain subjects immediately throw him into a fit of pique.
In particular, he hates the transfer window and he hates the Bosman ruling. While in charge of the Blackpool side he guided to the Premier League, Holloway set the world to rights on the latter subject, criticising the disrespect Wayne Rooney had apparently shown during contract negotiations.

Unlike many managerial rants, Holloway's comments have sound logic and represent a view many agree with. He also earns brownie points for refraining from profanity, using hilariously restrained insults like "Some complete... person."
WARNING: Clip contains NSFW language
Thanks to his propensity to buy and sell lots and lots of players in transfer windows, Harry Redknapp has earned a reputation as a "wheeler dealer" in the British press.
Sky Sports News' most familiar face on transfer deadline day, however, is not a fan of the term.

After his Tottenham side were defeated at home by Wigan in 2010, Sky's Rob Palmer dropped the intolerable nickname, resulting in profanity and an instant termination of the interview.
"I didn't mean it like that!" pleads Palmer, despite the fact that there's only really one way he could have meant it.
Ah, where to begin with Arsene Wenger's barmy press conference ahead of Bayern Munich's recent visit to the Emirates.
The Frenchman was clearly vexed from the outset, and made little sense with his virulent answers.
In possibly the greatest exchange in press conference history, Wenger asks "Why do you look at me?" The baffled journalist replies, "Because it's your press conference."
Wenger then angrily requests no more questions about Arsenal's FA Cup loss to Blackburn a few days before, as this is a Champions League press conference. He then immediately shuts down any questions about Champions League opponents Bayern Munich!
After defiantly asking who has won the FA Cup more than him (Alex Ferguson and Aston Vill's George Ramsay both have), he said: "I want to lose it and I want to lose the game tomorrow so you can all be happy."
The next day, Arsenal apparently granted the schadenfreude-seeking journalists their wish.
Playing their unique brand of "we don't mind how many we concede as long as we score more than you" football, Newcastle sat atop the 1995/96 Premiership for much of the season, holding a 12-point lead up until February.
The pressure of staying at the top—combined with the influence of Alex Ferguson's famous mind games—led manager Kevin Keegan to an emotional outburst on Sky Sports after a match with Leeds.
With his voice cracking under the weight of "squeaky bum time", Keegan's exasperated cry of "I will love it if we beat them! Love it!" is probably one of the most famous quotes in Premier League history.
The breakdown showed a clear psychological victory from Mr. Ferguson, followed by a physical Manchester Utd. from victory when they eventually won the league by four points.
When Kevin Keegan departed Newcastle for the third time in 2008, he was replaced by Joe Kinnear, a man who had spent the bulk of his managerial career in the no-nonsense unrefined environment of Wimbledon's Crazy Gang.
Just four days into his role as interim manager, Kinnear used a press conference to publicly take exception to a story written by Daily Mirror journalist Simon Bird.
Using the kind of vocabulary that usually belongs to the least erudite character in a Guy Ritchie movie, Kinnear dropped the "C-bomb" on Bird and swore 52 times in five minutes.

The Newcastle press officer made the hilariously futile request that journalists in attendance not publish the contents of the former Tottenham defender's rant. Kinnear, meanwhile, insisted he would not speak to the media again during his tenure.
Kinnear won just four of his twenty games in charge at St James' Park, stepping down with health problems and paving the way for Alan Shearer to complete the job of relegating the team.