Who Would Make Your Favourite XI of All Time?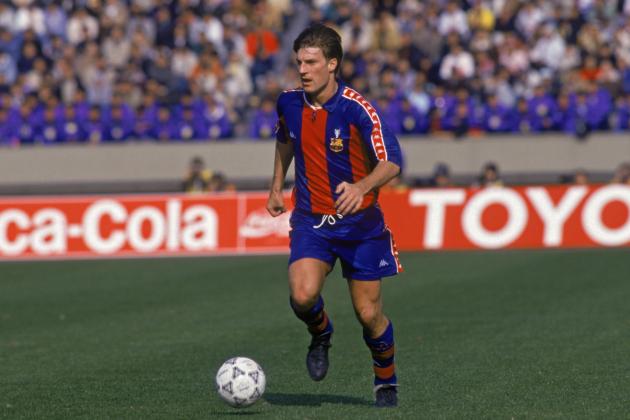 Shaun Botterill/Getty Images
The brilliant Michael Laudrup
If you've made it this far, I know what you're thinking.
But hang on a minute, this isn't another one of those futile debates about who are the best X1 players of all time, this is YOUR favourite X1—so allow me to explain the difference.
I hate those "Greatest X1" evers as much as you do. They're pointless, there's no right or wrong opinion and quite often people simply put in people they've never seen on the basis of status and legend.
I was born in 1983, and my earliest real recollections of football were from the Italia '90 World Cup onwards, so how could I pass judgement on the likes of Pele, Eusebio, Cruyff, Beckenbauer and the rest without ever having seen anything other than highlights of them?
So instead, I want to hear who makes your favourite collection of players. I want to know who you loved watching, which players you'd pay to see and if there was some way you could construct a fantasy side for your own pleasure, who'd make the cut?
For example, I floated this idea with a Stockport County friend of mine and he had Luis Figo and Lionel Messi flanking Kevin Francis––a 6'9" journeyman striker who was a cult hero for County in the mid 90s.
So that's what we're on about. Your side can contain whoever you want, regardless of talent, standing or reputation. This is your chance to stick your personal dream team together.
I'll go first, then let's hear yours.
Begin Slideshow

»
If you were a bit confused as to what I was on about in the introduction, you've probably got a better idea now.
Jose Luis Chilavert was never the greatest goalkeeper, but who needs to be that good at saving shots and catching crosses when you can march down the other end and bend free-kicks in past your opposite number?
The colourful Paraguayan scored 62 times in a goal-laden career––including eight for Paraguay and a hat-trick in one game for Velez Sarsfield.
In total, Chilavert notched 43 times for Velez in 266 appearances at a strike rate plenty of outfield players would be proud of.
In fairness to Chilavert, he wasn't a bad keeper either. He won a Copa Libertadores in 1994 and was named South American Player of the Year in 1996, but my abiding memories of Chilavert revolve around staying up past my bedtime to watch Argentinian football on Channel 5 in the hope Velez Sarsfield won a free-kick 30 yards from goal.
He also gains brownie points after being sent off for decking Faustino Asprilla in a feisty international between Paraguay and Colombia in 1997.
In my opinion Philipp Lahm has been the best full-back of his generation––better than Ashley Cole––and I've always had a soft spot for him since he tore Chelsea apart for Stuttgart in the 2003-04 Champions League.
He was just a pup back then, and I prided myself on telling everyone he was going to be a class act.
Even though Lahm was only 20 in those ties against Chelsea, his undoubted ability shone through as he and Aleksandr Hleb linked beautifully down Stuttgart's left.
Lahm back then was everything he is now. Armed with an amazing technique and sharp footballing brain, he bounded forward in that quick and elusive manner, slaloming between tackles, causing all sorts of danger.
A decade later, Lahm is still at it and has gone on to become one of the most revered and complete full-backs in world football, now skippering both Bayern Munich and the German national side.
A truly great player and one full-back I'd pay to watch.
If Laurent Blanc hadn't made it as a footballer, I could easily imagine him whiling away his evenings in some quaint village pub in Burgundy, casually working his way through a bottle of malbec, reading some Remy de Gourmont and enjoying a cigarette in between verses.
In many ways that's how "Larry White" played the game. He was a balmy summers eve of a defender, never unduly rushed or panicked, and his unkempt stubble, untucked shirt and rolled down socks all contributed to a genial air.
Blanc never needed to be combative. Instead he read play as if it was a thesis on Renaissance art, proactively intervening on attacks before influencing proceedings the other way with his cerebral ball playing ability.
The former France skipper was well past his best by the time Sir Alex Ferguson introduced him to the Premier League, and Blanc probably never had the legs for English football anyway.
But even that rocky spell couldn't tarnish my memories of Blanc playing for Auxerre, Barcelona, Marseille and France, lazily and languidly bringing the ball out from the back and raking balls to all corners with a sophisticated style you never saw from British centre halves.
Blanc was never the greatest defender, but he was a fine footballer and another I very much enjoyed watching in his pomp.
For me, defenders are far too pretty these days. Most of them could grace the cover of a style magazine, and I can't be the only one who longs for the time when real centre halves looked like the photofits off Crimewatch?
Exhibit A was Colin Hendry. The Scotland international had a face that blocked a thousand shots, and he didn't look the least bit concerned about it.
Defending was his game, and pain was the consequence of it. Alan Shearer got all the plaudits for Blackburn's 1994-95 Premier League triumph, but Hendry's idiotically brave rearguard action was undoubtedly just as important.
As a kid, I always used to think he was Roy of the Rovers––a mop of golden hair surrounding a face chiseled from granite and watching Hendry hurling himself in the way of goal bound efforts like a war hero selflessly smothering a grenade was often better than seeing a goal.
He'll never gain many plaudits for artistic merit or aesthetics, but I've got enough fancy Dans in this lineup to warrant a spot for somebody who will literally give blood for the cause.
There's a strong case for putting Andreas Brehme at left-back in any "World's Greatest" list.
The German picked up one Serie A and two Bundesliga titles, scored the winning goal as Germany won the 1990 World Cup and was also a beaten finalist in the 1986 World Cup and 1992 European Championships.
He was an omnipotent presence for Die Mannschaft for over a decade and a player I became obsessed with as I had never previously––or haven't since––seen a player so two footed.
I can recall seeing Brehme take free-kicks, corners and penalties with opposing feet depending on what was required, and to this day, I'm still not totally sure whether he was a right footed left-back or a left-footer with an equally good right peg.
Aside from his extraordinary ambidexterity, Brehme was a fearsome competitor, a key cog in a well-oiled German machine and a fine all-round footballer that in his heyday would have got into any side in the world.
Defensively, he was watertight and combined that with aggressive attacking intent, regularly bombing on from his station to contribute further upfield.
Brehme wasn't exactly a pin-up poster boy, and as such, plenty of other full-backs will gain more limelight than him, but his efficiency was remarkable, his quality on the ball vastly underrated and for my money, he is one of the most complete defenders to have ever played the game.
As a young and impressionable fan, I couldn't really grasp how and why Johan Cruyff's Barcelona "Dream Team" made the game look so easy.
At the start of the 90s, I was brought up on a staple diet of blood and thunder English football, where substance largely overruled style, and time on the ball was a rarity.
So it was always a breath of fresh air seeing how the Europeans did it, and as far as I was concerned, that Barca side may as well have come from Mars.
Even amongst the many stars, there was something which transfixed me about the way their young Catalan pivot ran things with minimum effort and maximum grace––popping passes to all parts with with precision and panache.
It was through watching Guardiola at work that I began to realise that football was more to do with technique than tenacity. He was another player whose brain nullified opposition brawn by always being one step and a couple of passes ahead of the rest.
There was something therapeutic about watching Guardiola play and seeing the thought process behind each measured pass, no matter how long or short, incisive or inconsequential.
As a player, Xavi may have won more and acquired greater acclaim, but by the time he ascended to the throne, I'd already been enchanted by Pep Guardiola.
When you lay his honours on the table, there are few more decorated players in the modern game than Clarence Clyde Seedorf.
The Dutchman has won five league titles in three different countries and can add four Champions League winners medals to that collection, but that's not the reason I've stuck him in my side.
Seedorf is one of my favourite players of all time. I love his style, his swagger, his bravado and brilliance. I adored the way he toyed with the opposition, all slights of foot and quick, slick movements to ghost past his man to initiate play in any area of the field.
He struck me as one of those nervelessness players who would have been equally as comfortable on the ball in a packed San Siro as on the streets of Amsterdam.
The former Ajax, Sampdoria, Real Madrid, Inter and AC Milan man was a scorer of great goals rather than a great goal scorer, but he was so easy on the eye and clever in possession that he made the game simpler for those he played with.
The attached video has me smugly grinning with him from start to finish. Enjoy.
Some of you may remember the time when the BBC's "Match of the Day" was actually worth watching.
Long before my Saturday nights involved alcohol and women, MOTD was a necessity to see some action, and every week for a period of about five years, you were guaranteed to be rewarded with a Matt Le Tissier spectacular solo goal.
The Southampton playmaker monopolised the "Goal of the Month" feature for most of the 90s, and even if he wasn't on the score sheet, Le Tissier's lethargic brilliance was well worth a watch on its own.
Le Tiss was criminally underused by a succession of England managers who appeared oblivious to the unique talent virtually singlehandedly keeping the Saints afloat.
His French monicker probably added to the mystique, and certainly the way he sauntered around the pitch, causing chaos with lazy swishes of the boot, was very continental.
Nowadays we may be overloaded with flair-filled funsters, but back then, they had a Haley's comet rarity about them, and Le Tissier was a once-in-a-generation talent.
Any Premier League aficionados from his era will already be well versed with plenty of his most graceful goals, but they're always worth another look, so enjoy the video.
Michael Laudrup was a gorgeous footballer, criminally under-recognised as one of the greatest players in the history of the game––but not by his peers.
Both Romario and Raul say Laudrup was the best they ever played with, Andres Iniesta reckons he was the greatest footballer of all time, Luis Figo claimed he was the best he ever played against and yet the most glittering appraisal came from a journeyman Italian defender called Roberto Galia, who said, "I have played against Maradona, Platini and Baggio, but the player I saw do the most indescribable things was Michael Laudrup."
The Dane was a tall, lean and languid figure who ghosted across the turf like an apparition. His touch and technique were exemplary, and as a playmaker, he had the lot––conducting, creating and scoring in equal measure.
However, the one trait that set him apart from his peers was his ability to play a killer pass. If certain players are blessed with a football brain, then Laudrup must have possessed artificial intelligence; such was the precision, weight and timing of some of his through balls.
If you care to watch the attached video, some of the passes Laudrup pulls off are once-in-a-career-type passes for mere mortals. You rarely see the likes of Xavi, Iniesta, Pirlo and the rest play balls like he did, yet Laudrup pulls them off time and time again with apparent ease and efficiency.
Watch the video, and you will never have seen anything like it. A truly beautiful footballer.
In my opinion, Lionel Messi is the greatest of all time.
Everyone knows the honours and statistics stacked in his favour, but the real reason Lionel Messi is the best player to have ever played the game is because of the pace of football today.
Quite simply, Messi has to do things quicker than everybody else over previous eras.
Professional footballers are fitter and faster than they have ever been, meaning by default, Messi has to do what he does at a greater speed than anybody has previously.
There have been plenty of players similar to Messi, but the opposition through the ages have never been as mobile as they are now. That doesn't mean that the defenders are better now, and of course, other candidates for the honour can only be as dominant in the game as they were given their circumstances.
I think it's akin to Usain Bolt in the 100-metres. Technology and training methods over time have improved, meaning he's at an advantage to run quicker, but no man has ever ran as fast as him in the history of athletics.
It's the same with Messi. He has to go past defenders––often numerous defenders––at a greater speed than anybody in the past, and therefore, that requires much more skill.
Regardless, I really only watch Barcelona because of him. The rest are sublime, but he's on a different planet, and the way he regularly scores goals week in, week out, that only he could score, is only a further testament to the greatest of all time.
Nobody, ever, will be the New Messi. End of story.
It is both a testament and a tragedy that Ronaldo Luis Nazario de Lima achieved what he did in the game, despite being hindered by a spate of serious injuries from such a young age.
The post-double-knee-operation Ronaldo still managed remarkable things in the game, but he was always a pale imitation of the player who astounded audiences, before being so cruelly cut down.
After arriving in Europe from Brazil, Ronaldo was unstoppable for a couple of years at PSV Eindhoven and Barcelona.
"Il Fenomeno" was exactly that––a phenomenon. His pace, close control, dynamic dribbling and clinical finishing broke the mould of the penalty box predator, and in his prime, there was no more scintillating sight than seeing the brilliant Brazilian in full flow.
When I think back about Ronaldo now, I try to envisage the lean and muscular teenage terror who could have been the most complete forward the world has ever seen, rather than the top heavy forward who still plundered plenty of goals despite physical deterioration.
I've attached a video from Ronaldo's Barcelona prime, and if there's a player from any era I wish I could have seen live, it was he, then.