Serie A's Top 5 Central Midfielders so Far This Season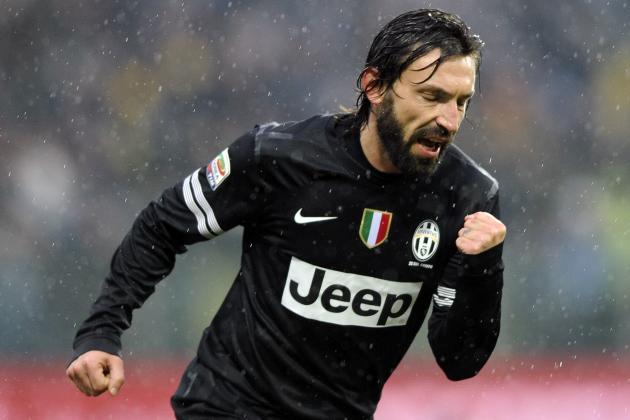 Claudio Villa/Getty Images

When a journalist ranks the top five anything in football, there's always debate. There's often name calling. The likelihood is that the guy doing the writing wasn't even sure if he agreed. But still, we carry on.
Trying to rate Serie A's top central midfielders so far in 2012/13 is an unenviable task. There's a case to be made for including three if not four players from Juventus alone based on form, even if only one of them would make this hack's "dream" midfield from the Italian topflight.
On its website, the league itself uses something called the "Indice di Valutazione Giocatore", or Player Rating Index, to rank players.
It's described as a mark out of 30 that indicates the "quantitative contribution that the player brings to his team"...their words, not mine.
And the winner is? Zdravko Kuzmanović, who's played once for Inter since coming to Italy in January. In second? The mighty Alejandro Faurlín, of course, followed closely by Marco Benassi, Wesley Sneijder and Daniele Conti, who is the only one of the IVG's top five to have played more than five games.
For Bleacher Report, the values are a little clearer. I've picked five central midfielders who I think have performed the most consistently well throughout the season. I've chosen players whose teams look worse without them and who have all put in game-winning performances.
For the exercise, we're taking central midfielders. Those who play high up the pitch or back deep were considered, but for the purposes of being able to compare the jobs done, out-and-out defensive and attacking midfielders have been excluded (apologies to Marek Hamsik).
The number of sub-category titles for midfielders these days confuses things. That's a natural consequence of having so many different tactical systems. Need proof? Just ask Luis Enrique, Zdenek Zeman and Cesare Prandelli to describe Daniele De Rossi. Then go see what Luciano Spalletti thinks.
This is taking "central" in the broad sense. It's not solely for the box-to-boy dynamo, or the deep-lying playmaker. It's for any player who isn't solely defensive and who isn't playing the No. 10 role, or whatever they're calling it these days.
This version of the IVG isn't going to please everyone. I'll probably disagree with it myself next week. But for now, here it is.
Begin Slideshow

»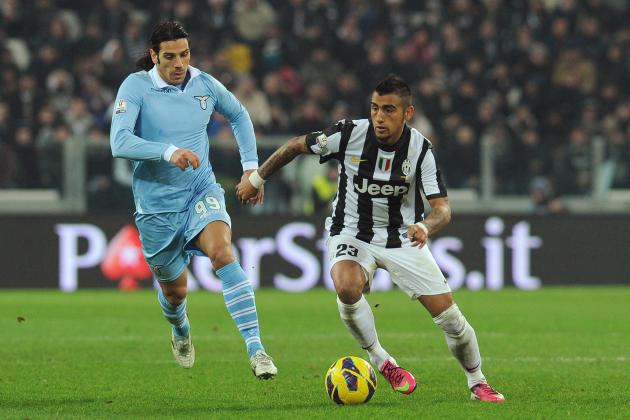 Valerio Pennicino/Getty Images

In fifth, Chile's old-fashioned midfield battler who has excelled for Juventus. Vidal has plenty to offer defensively and going forward, and most games he can be seen hustling and bustling from box to box.
His tireless efforts allow the more creative members of the Bianconeri squad to shine, and his grit and commitment are a constant reminder to his teammates of what it takes to win.
The 25-year-old has done plenty worth mentioning this season, but one highlight was surely the 3-0 Champions League win over Chelsea. Vidal was central to all the action, constantly disrupting Chelsea play and even getting on the score sheet himself.
Could be higher up this list if Juventus didn't rely on another central player more (no prizes for guessing who, unfortunately).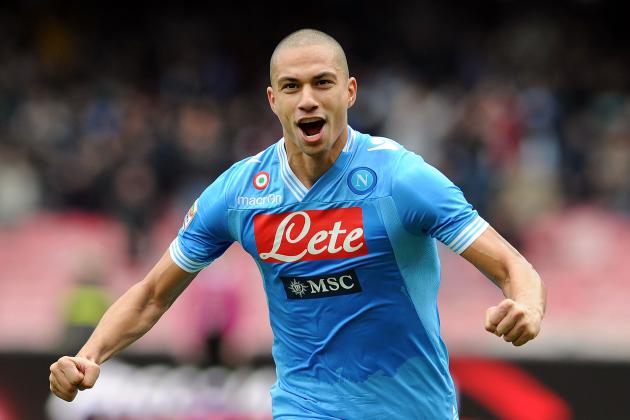 Giuseppe Bellini/Getty Images

Marek Hamsik and Edinson Cavani tend to get most of the admiring glances thrown Napoli's way, but they wouldn't be nearly as effective without Gokhan Inler in midfield.
The Swiss is a constant presence in the middle of the park for the Azzurri, and he rarely produces anything other than a fine display. Inler is talented and confident on the ball, physical and not shy of pace and since making a name for himself at Udinese, he has developed into one of European football's finest central midfielders.
Like Vidal, he's not short of champagne performances this season, but the way in which he opened and closed the scoring in Napoli's 5-1 rout of Pescara in December is as good as any.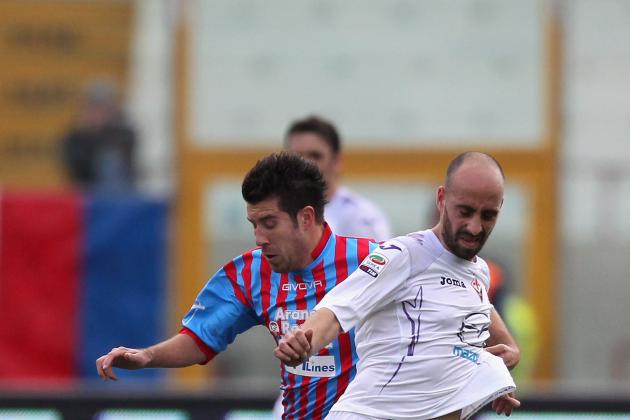 Maurizio Lagana/Getty Images

Borja Valero was a late bloomer by football standards. Having started out at Real Madrid, the Spaniard shuffled around between clubs for much of his 20s before finding a home at Villareal, earning a call-up to the national side and then securing a switch to Vincenzo Montella's Fiorentina when El Submarino Amarillo was shockingly relegated from La Liga.
Though perhaps not as well known as the others in this list, Valero has been absolutely crucial to the silky style that Montella's men have been playing all season, featuring in every single league game and currently joint second in Serie A's assists table, alongside Francesco Totti and just behind Napoli's Hamsik. Good company, I'm sure you'll agree.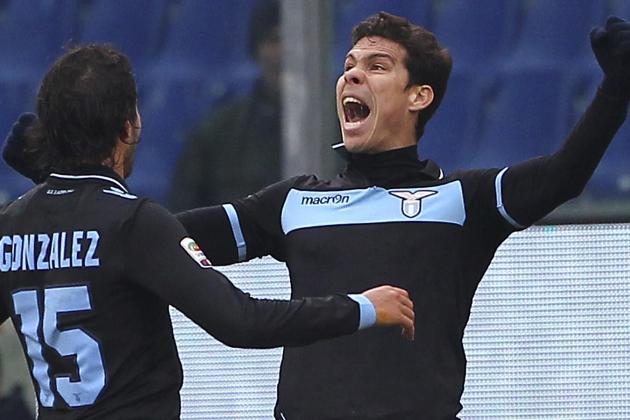 Marco Luzzani/Getty Images

Last season, Hernanes was disappointing, looking out of sorts and out of his depth attempting to play a trequartista role for Lazio. The Brazilian was vocal about the fact that he was better utilised in a deeper role, dictating the play from midfield, but his pleas fell of deaf ears. If Edy Reja had listened, he might still be in a job.
Vladimir Petkovic didn't make the same mistake. Since the Bosnian took over on the bench for the Biancocelesti, Hernanes has been scintillating. The change between this season and last is as stark as night and day, but he deserves his place on this list not only for that, but also for the fact that there's no way Lazio would be challenging for the Scudetto without him.
Right from the moment he bagged the winner on opening day, Hernanes has been Lazio's most eye-catching and inspirational player. His early performances in particular carried his side from being also-rans to title contenders, and Petkovic & Co. will all be hoping he can recover from his current injuries as soon as possible.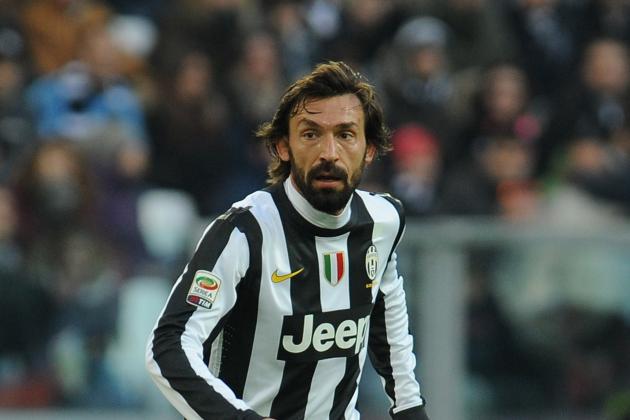 Valerio Pennicino/Getty Images

Who else could it be at No. 1? Antonio Conte has built an incredible side in Turin, but even with their strength across the pitch, Juventus looks like a weakened unit when Andrea Pirlo's not in the middle.
For his superb passing, his set pieces and his goals. For his ability to read the game and to instill a sense of calm and control in midfield, and for the fact that at 33, he's still showing the rest of them how it's done. For these reasons and plenty more, Andrea Pirlo is top of the list.