Every season sees new trends, and as 2012 comes to a close we can say with some certainty that the 4-2-3-1 formation was the "in" thing this year.
But why did so many teams gravitate toward this setup? Bleacher Report takes a look at its strengths along with the current footballing climate to assess why.
The formation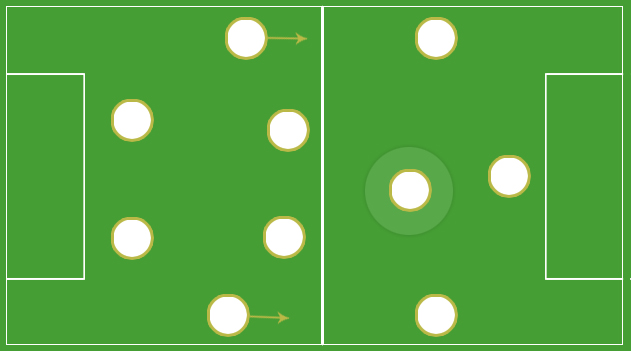 Possession, possession, possession.
Modern domestic and international football is all about keeping hold of the ball.
The 4-2-3-1 is generally recognised as the optimised method of attacking potency, defensive stability and ball retention, and that's why head coaches drift toward it.
For strikers and central defenders, this formation does nothing more for them than a 4-5-1 or even a 4-4-2 would. The front man needs be a predator in the 18-yard box, while the centre-backs play short passes into their midfielders to initiate attacks.
While these players adapted with ease, almost every other position saw player roles revamped.
Inverse wingers
The traditional wide man is all but dead. Players like Antonio Valencia and Matthew Etherington are a rare breed and the vast majority now play an "inverted game."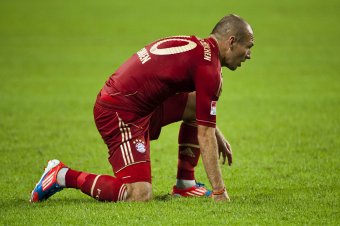 Victor Fraile/Getty Images
This suits the likes of Arjen Robben down on the ground. The Dutchman is regularly deployed on the right side of both Bayern Munich and the Netherlands' 4-2-3-1 formation, allowing him to cut inside and either shoot or lay it off with his natural left foot.
As much as many miss the good old No. 7s who hit the byline, beat their man and fire in a cross, it's a pretty cheap way to give the ball away 80 percent of the time.
Full-backs
With the wingers going inward, the full-backs are seeing a lot of space to run into.
The entire lane on the outside is open and players like Fabio Coentrao are absolutely thriving in this system. It's pivotal that the left- and right-backs come forward for two reasons.
First, they need to stretch the pitch to make sure that when the wingers go inside, it doesn't become a narrow 4-2-2-1-1 (of sorts). Second, they have to provide a passing outlet on the touchline to enable the team to retain possession.
If you're Bastian Schewinsteiger; and Mesut Ozil, Thomas Mueller and Marco Reus are all marked, where do you pass it? Over to Philipp Lahm is usually a good idea, and thankfully he's providing an option.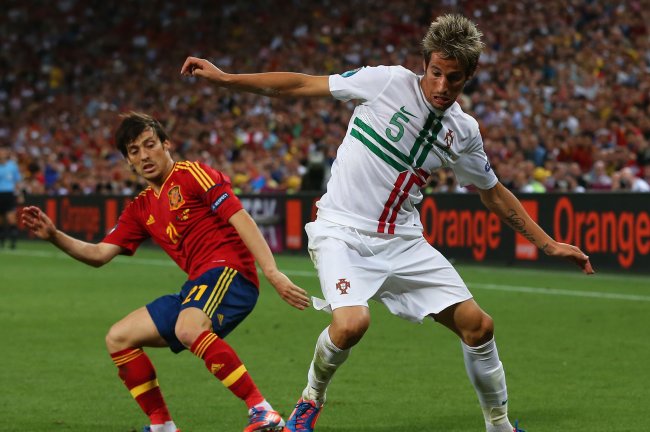 Martin Rose/Getty Images
Holding pivot
Both the defensive stability and ball retention abilities live and die with your holding midfield pivot.
Real Madrid employ one of the finest the world has ever seen, as Sami Khedira and Xabi Alonso combine perfectly as the "2" in the formation, passing it with ease to dominate the opposition but also defending and tackling in tandem.
Their performance against Barcelona in the 2-2 draw this season was unprecedented in terms of greatness.
The holding pivot provides the foil in front of the back four, cover when a full-back rushes forward and at times is a late option in the penalty area.
No. 10
Finally, we come to the playmaker.
The trequartista has been reborn thanks to many team's adaption to the 4-2-3-1, and in some ways, it's a similar role to the one we saw Juan Roman Riquelme master.
Almost no defensive responsibility is bestowed upon the No. 10 and he is solely required to concentrate on finding pockets of space, drift between the opposition's lines and provide a long-range goal threat.
The fast, modern game has established a prerequisite for this position, however, and if you're not agile enough to flummox midfielders and robust enough to keep your balance under pressure, you won't succeed.
When a superb holding pivot nullifies a No. 10 at each end of the pitch, you get a pretty boring game. If one fails to shackle the other, you've got an enticing encounter. The struggle for space remains the most important aspect of football, as it has been since its inception.