World Soccer: 36 Most Embarrassing Soccer Goals Ever Scored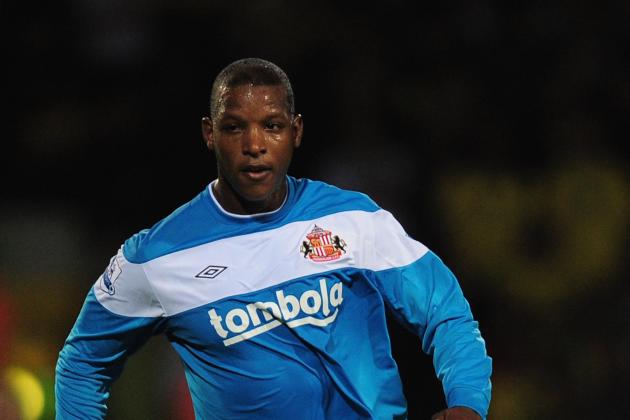 Jamie McDonald/Getty Images

As the Thanksgiving period draws to a close this weekend, I thought what better way to round it off other than by being thankful on behalf of players who were responsible for conceding some pretty embarrassing goals.
We can be thankful for all the laughs they are about to give all of us, and they can be thankful that their teammates and fans may have just abused them a little and left it at that.
The majority of these goals include own goals because they almost always attract the adjective of worst to embarrassing situations in soccer. Some of the others are also unique goals that I hope will give everyone a chuckle or two.
Thus, let us move ahead and view 36 of the most embarrassing goals that have been ever registered in the record books at various levels of soccer.
Begin Slideshow

»
As this goalkeeper found out, what goes around comes around. It would have taken a lot of time for him to recover to get back to throwing the ball out again. Kicking is the best option for goalkeepers, isn't it?
Or is it? This goalkeeper realizes that kicking the ball out may not give him total security from being embarrassed either.
And when neither throwing out nor kicking the football works, you try to play safe by setting it on the ground before weighing your options. Oops, too late...
Franck Queudrue's tip number 122: When you decide to chip the ball over the goalkeeper, kindly ensure it is not the goalkeeper of your own team.
That moment when you try to get your foot on the ball and it looks like a superhuman effort for scoring the goal, which unfortunately was through your own net.
I am sorry I could not find a video that showed this only once or even twice. This just tests the patience. I am sure even Everton fans would not be watching this video till the end.
God save them if they do.
Defender with a cool finish.
When you head it back as a defender, make sure it is not an overeager Jussi Jaaskelainen who you have as your goalkeeper.
This own goal is almost scored like the player meant it.
There have been a few instances of such goals: Epitomes of misjudgment.
This is one of the most embarrassing goals on a few levels.
Firstly, for Liverpool who conceded it, secondly for the one who scored it, thirdly for the referees, who in England just don't seem to know the rules and fourthly for the FA for not issuing any statement after knowing that the goal was wrong according to the rules.
Steven Gerrard has misplaced his back-pass on quite a few occasions. Other than this one, there was one against France at Euro 2004 and one against Chelsea too from what I can remember from the top of my head.
Round the defender and classy header over the goalkeeper into the back of the net. Oh, wait a minute....he was defending that goal.
This goalkeeper thought it would be less of an embarrassment if he scored the goal himself rather than let a striker get credit for pouncing on his mistake of spilling the ball.
John Arne Riise finds his weight too much to handle and gifts a goal.
If you did not know already, I will be glad to inform you that there is a word that has been added to the Oxford dictionary after Peter Enckelman's blunder for Aston Villa against Birmingham.
Enckelman-ed: The offense of making you look stupid when your throw-in goes under the feet of the offender, and you wonder whether you should shoot yourself or the offender.
Marco Materazzi shows his manager what a classic touch he possesses and executes this finish with absolute nonchalance.
I really feel for Mr.David Seaman and England. We could have seen a bigger and better game were it not for this incident.
Robert Green's expression after conceding this goal is very hilarious indeed. It is almost as if he is consoling others for their mistake rather than admitting his own fault.
What do I say? I am speechless...
This is not exactly a goal, but if somehow the ball would have ended in the back of the net, it would have been hard not to die laughing.
If you survived the previous video, try hard not to die laughing to this one.
John Arne Riise gives Chelsea a lifeline in the Champions League tie against Liverpool.
The expressions of the goalkeeper are just priceless.
This mischievous ball refused to stick and the magnetic force of the goal was just too much for the keeper to save the goal.
Have to agree, the keeper could not have done anything about it.
Paul Robinson had a nightmare when the ball wobbled and went over his aimed swipe for a clearance.
That moment when you try to give it back to the opposition and you hit it so well that the ball inadvertently lands in the net.
Soccer Lesson Number 234: Never let the opposition start play unless all your players have taken their positions in your half of the pitch.
Sometimes you just cannot clear with the ball not going back into your own net.
Arsenal decided that they were too good for Coventry and would like to play with a one-goal handicap, so they gave the ball to Lee Dixon and scored an own goal no one would suspect.
Nice dummy, but you are a goalkeeper for the goal behind you.
This is how you use the dummy.
And this is why you do not use the back heel in your own box.
I don't think this goalkeeper understood the lessons given to him by the coach.
I know I scored an own goal, but I do not remember whether I scored it by my head or my foot.