English Premier League: Power Ranking the EPL's Top 20 Strike Partnerships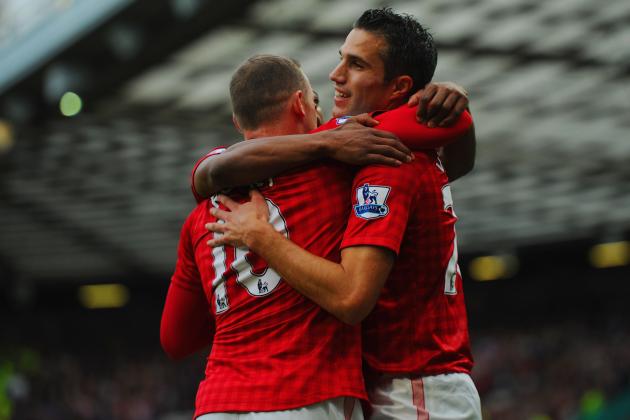 Michael Regan/Getty Images

The formula for winning football matches is simple: Score more goals than the opposition.
And in the Premier League, the best league in the world, that is especially important.
With world-class stars such as Sergio Aguero, Wayne Rooney, Luis Suarez, Fernando Torres, and Robin Van Persie putting their trades on display every week, the English top-flight has some of the best strike partnerships in the world.
For the purpose of this article, a strike partnership will be defined as the two or three players that generally lead a team's attacking prospects. This can include the two strikers in a 4-4-2, the three in a 4-3-3, or the lone striker and the attacking midfielder in a 4-2-3-1.
And this is a power ranking of the Premier League's top 20.
Begin Slideshow

»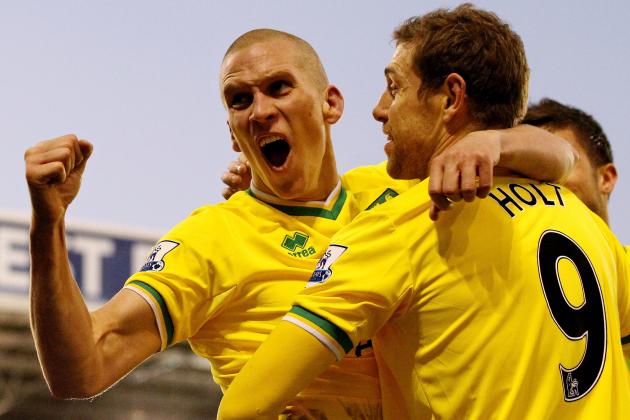 Scott Heavey/Getty Images

Norwich City
£3.4 million
Norwich City have managed only seven goals through nine games this season, with two of those coming in a 5-2 loss to Liverpool, and when you concede 19, that becomes a problem.
After scoring 15 goals in his debut top-flight season a year ago, the 31-year-old Grant Holt has mostly been firing blanks so far this year. He is the key to a Norwich attack that scored 52 goals last year. When he struggles, Norwich struggles.
His partner, Steve Morison, scored nine times last season, but only has one goal through seven games. The 29-year-old Welsh international is a heart-and-soul player who works himself into the ground for his team, but that might not matter should Norwich find themselves wrapped up in a relegation battle this spring.
The depth isn't great, with only Canadian Simeon Jackson a viable option. Chris Hughton might be well advised to sign some younger, more prolific talent come January.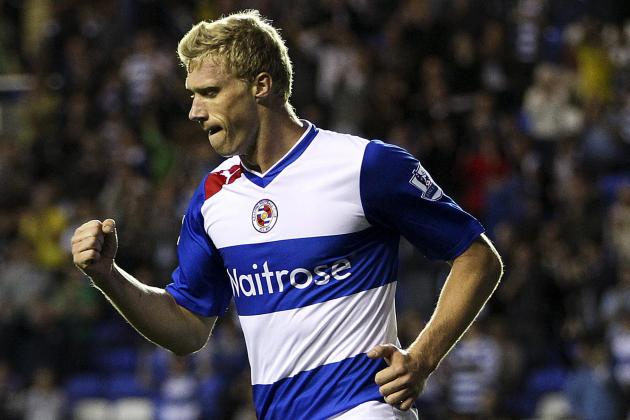 Ben Hoskins/Getty Images

Reading
£350,000
Inexperience is the name of the game for Reading's attack. Neither Adam Le Fondre nor Pavel Pogrebnyak were with the club prior to last summer. The two have just 24 games of top-flight experience between them.
Le Fondre joined Reading in 2011, and scored 12 goals for the club in their promotion campaign. Known for being very prolific in the lower leagues, the 25-year-old has looked somewhat out of his depth in the Premier League, managing just one goal through eight games for Brian McDermott's men.
Pogrebnyak joined the Royals on a bosman transfer from Fulham, having scored six times for the Cottagers since signing from Stuttgart in January. The 28-year-old Russian has been a good complementary striker for a long time, but is not overly prolific (he has two goals in six games for the Royals), and might not be a solution for his club on the goalscoring front.
As it stands, Reading have taken four points from eight games. Improvement will rely heavily upon the team's average partnership.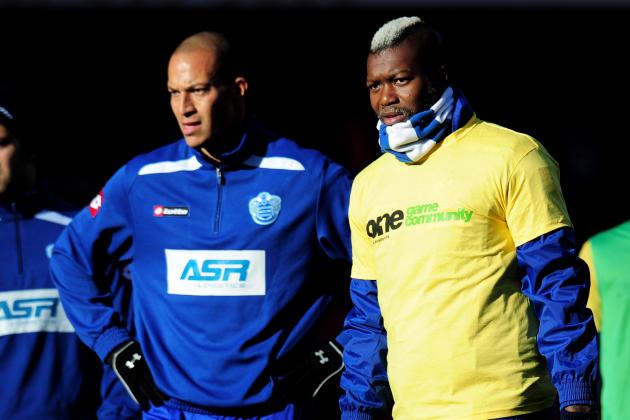 Shaun Botterill/Getty Images

Queens Park Rangers
£11 million
There are few teams who have been as underwhelming this season as heavy-spending QPR. The team's inability to score has been a major reason.
Djibril Cisse joined as a big-name signing in January last year, going on to score six goals in his first eight games with the club. The 31-year-old Frenchman, formerly of Liverpool, has not scored any goals through the first six games of his second season with the Rangers.
Bobby Zamora is very much on the opposite end of the spectrum. The experienced Englishman struggled last season, but has scored almost half his team's goals so far with three in seven. The one-time 11-goal scorer is clearly slowing down, and won't be much good for QPR for too much longer.
After a Saturday defeat at Arsenal, the pressure is very much on Mark Hughes, and his job might be at stake. QPR need to find a new manager willing to invest more in the strike department.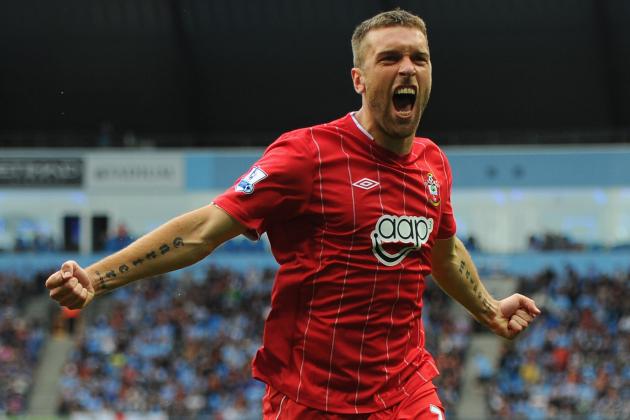 Michael Regan/Getty Images

Southampton
£8 million

Considering Southampton have just been promoted, their two-man attack is impressive.
Liverpudlian 30-year-old Ricky Lambert has spent four years at Southampton, scoring 92 goals in 165 games spanning three divisions for the club. He has four in seven so far this season. The big striker is strong, technically sound, and lethal in the box.
Meanwhile, Jay Rodriguez has quietly established himself as one of England's more promising young strikers. The 23-year-old former Burnley target man joined the Saints for £7 million after scoring 36 goals over the past two seasons. He only has one so far in the top-flight, but there is little doubt the youngster will score more than one or two goals in his Premier League career.
And having a star like Gaston Ramirez supporting in midfielder certainly doesn't hurt.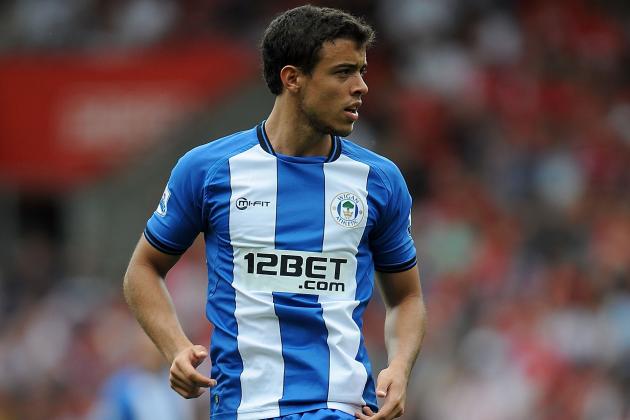 Christopher Lee/Getty Images

Wigan Athletic
£4.8 million
This year will be Wigan's eighth in the Premier League. In those seven years, the team has never scored more than 45 goals in a season, and while they are both solid Premier League players, that is unlikely to change with Franco Di Santo and Arouna Koné up front.
Di Santo joined Wigan from Chelsea in 2010, and has since established himself as Roberto Martinez's go-to target man. The 23-year-old Argentinean scored seven goals in 32 games last season for the Latics. He is off to a decent start in 2012-13 with three from eight.
Koné is the newest recruit for the Wigan attack, having been brought in this summer from Sevilla for £2.8 million to replace Hugo Rodallega. The experienced Ivorian joins after having scored once in 40 games for his old club, but has also kicked off his Premier League career with three goals in his first eight games.
Wigan are perennially relegation battlers, but always manage to stay up. If he wants his club to take a step up in the league, Martinez would be well advised to invest in a new striker.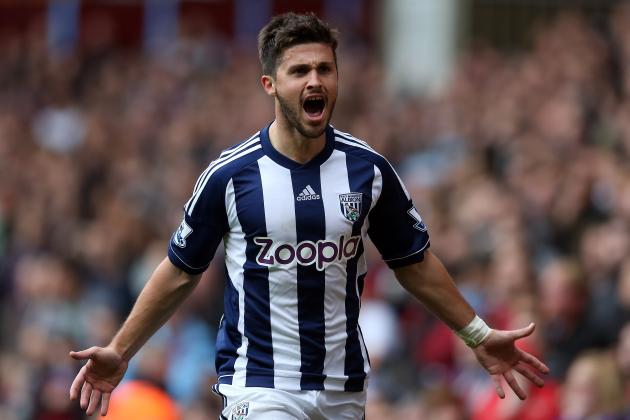 Julian Finney/Getty Images

West Bromwich Albion
£6.5 million
Steve Clarke has inherited a pretty good strike pairing as he steps into his new job with West Brom.
Long joined the Baggies last summer after a 25 goal 2010-11 with Reading, and has since gone on to tally 11 goals in 40 Premier League games for Clarke's men. The Irishman is known for his tenacity and his love-him-on-your-team-hate-to-play-against-him nature, and, at just 25, should have plenty more Premier League goals left in him.
Odemwingie signed for West Brom the summer before, and has over the past two-and-a-bit seasons established himself as one of top-flight's more underrated players. The Nigerian has 26 goals in 67 games for his club, and, though he hasn't played much this year due to injuries and a suspension, he could be in line for another big season.
West Brom have impressed in the league so far, sitting in ninth through nine games. Having such a strong strike pairing is the key to their success.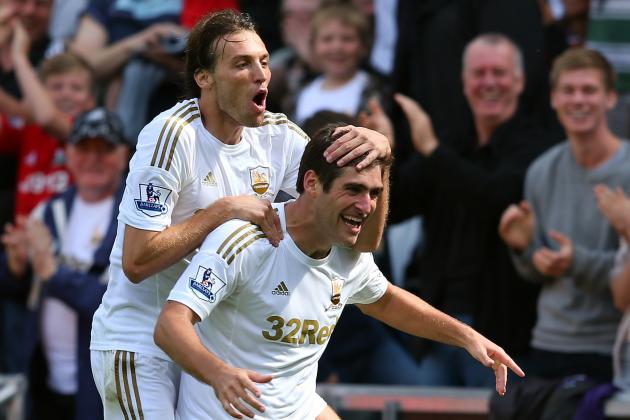 Richard Heathcote/Getty Images

Swansea City
£5.5 million
They may not be Welsh, but Danny Graham and Michu are still very popular in Swansea.
Graham joined Swansea last summer for £3.5 million after scoring 41 times in 98 games for Watford, and has become one of the club's key players. With 15 goals in 48 appearances so far in his Swans career, Graham has been a central reason for his club's success in the Premier League.
Few players were as impressive in the early going of the Premier League season as Miguel Pérez Cuesta. One of new manager Michael Laudrup's marquee signings, the 26-year-old Spaniard scored four times in his first three games for the club. Seemingly a pure goalscoring talent, Michu, who has seven in 10 total games for his new club, has excited everyone early in his British career.
And, alongside a solid partner like Danny Graham, he likely will continue to do so. The duo are key for Swansea.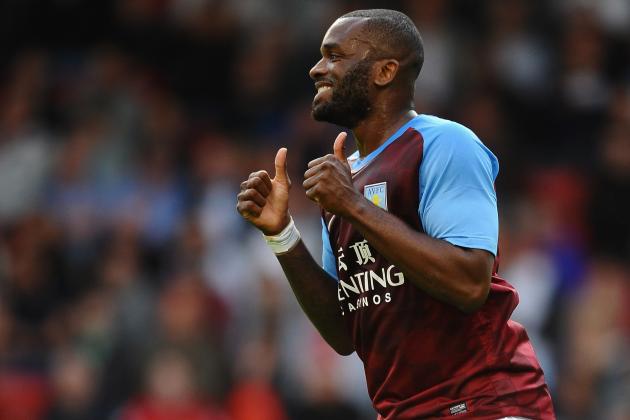 Laurence Griffiths/Getty Images

Aston Villa
£25 million
The 37 goals scored by Aston Villa last season bested only Stoke City. It really was no surprise when Paul Lambert shelled out £7 million to land Belgian Christian Benteke to bolster his attacking options.
Benteke joins the already-established Darren Bent up front. A former England international, Bent has scored 22 goals in 51 games in his time with Aston Villa, and continues to be one of the league's more prolific attacking players.
Benteke scored 19 times for Genk last season, and adds good goalscoring potential to the Claret and Blue. The Belgian 21-year-old has a bright future, and with his size, strength, and technique, should be an important player for his side moving on.
Even without Bent and Benteke, Villa have solid depth, highlighted by the likes of Gabriel Agbonlahor and Andreas Weimann. The team's attacking options should be a big contributor in helping the club ensure they stay in the top-flight.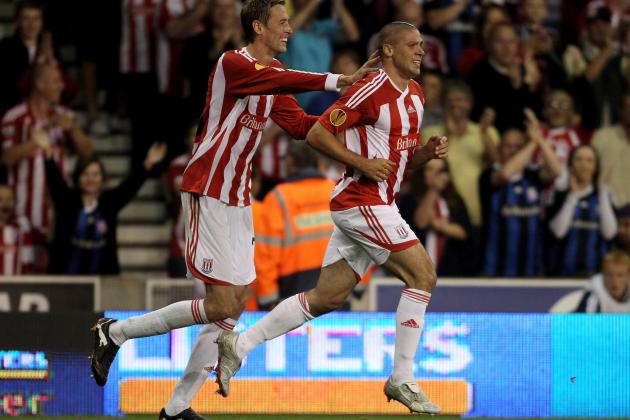 Scott Heavey/Getty Images

Stoke City
£12.75 million

For a team as defensive-minded as Stoke, having a strong front line is crucial. Peter Crouch and Jon Walters fill the role admirably.
Crouch joined Stoke for £10 million last summer, and has since established himself as one of the club's very best players. The ex-QPR, Aston Villa, Norwich, Southampton, Liverpool, and Tottenham striker, who stands tall at 6'7", scored 14 goals in 40 games for the club last season, over one fourth of his club's total.
Walters, who joined Stoke when they were promoted in 2010, has appeared in all but two of his team's top-flight games since then. In that time, he has scored 14 goals, and though he is very much the more physical complement to Peter Crouch up front, he does chip in with important goals for his club.
For now, Crouch and Walters will do just fine for Stoke. But with the club's striker corps, including Cameron Jerome, Kenwyne Jones, Michael Owen, and Mamady Sidibe, averaging 30 years of age, Tony Pulis might look to find younger options to add to his forward group.
Jamie McDonald/Getty Images

West Ham United
£46 million

Anytime you have a £35 million striker in your front line, it's bound to be pretty strong. Newly promoted West Ham's 4-3-3 formation is very much built around that man, Andy Carroll.
He is only on loan at West Ham, but after disappointing with Liverpool after his big-money move to Anfield last January, Carroll has impressed with the Hammers. Though he has yet to score, has made himself a nuisance in the face of opposing defenders.
Matt Jarvis, brought in as the club's record signing this summer at £10 million, brings speed and skill to the Hammers' wing. He has already scored his first for the club, and looks to have a bright future in the claret shirt.
The longest serving of the three, Ricardo Vaz Te, who joined in January, played a big role in ensuring West Ham's promotion with 12 goals in 18 appearances last season. The tricky Portuguese 26-year-old is back for his second spell in the Premier League after a disappointing run with Bolton Wanderers (no goals in 25 games in 2006-07 comes to mind), and will be hoping his performance will be better this time around.
There is no guarantee Sam Allardyce will lead his side to a successful campaign, but if he does manage to keep West Ham in the top-flight, the trio of Andy Carroll, Matt Jarvis, and Ricardo Vaz Te will be a major reason why.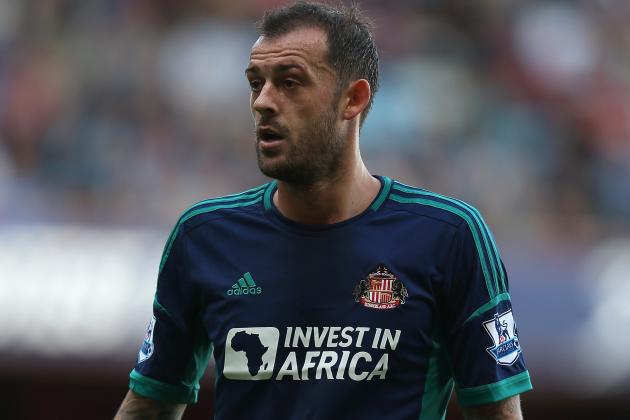 Julian Finney/Getty Images

Sunderland
£23 million

Though none of the three were first-team players at Sunderland at the beginning of last season, Steven Fletcher, Adam Johnson, and James McClean have formed a very good partnership at the beginning of 2012-13.
Fletcher joined Sunderland from the relegated Wolves for £12 million this summer, and has immediately reasserted himself as an elite striker through seven games for his new club. The 25-year-old Scot already has five goals.
Johnson was a sought-after player this summer after Manchester City made the winger available, but sealed a £10 million move to his hometown before the likes of Liverpool could pick him up. He's struggled with a thigh injury early on, but should prove to be an important signing moving forward.
James McClean rounds out the trio. The 23-year-old Irish winger was brought in cheaply from Derry City last season as one for the future, but in the latter parts of the season emerged into the first-team. He already has three goals in 10 games for Martin O'Neill this season.
With three players 25 or under, the future of the attack force is bright in the Northeast.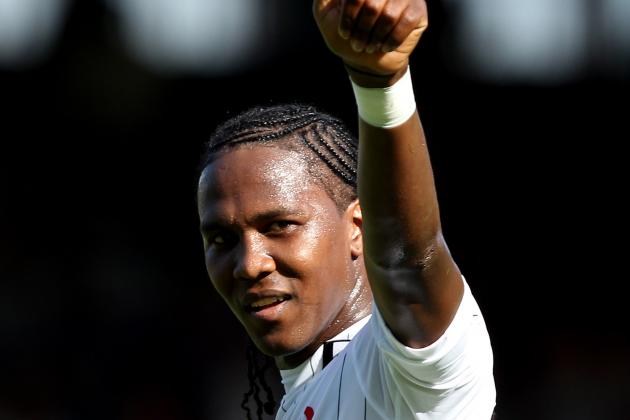 Jan Kruger/Getty Images

Fulham
£5 million

They may be new to the club, but that takes nothing away from the strength Dimitar Berbatov and Hugo Rodallega bring to Craven Cottage.
After being so prolific at Manchester United, it was a surprise to see Berbatov fall out of favour with his club. But Fulham won't complain. They managed to snap up United's former £30 million man for only £5 million. Berbatov has already scored three times in five Premier League games for Fulham, and he should get plenty more.
Another marquee summer signing, Rodallega arrives on a free after a tough season with Wigan. The Colombian, never overly prolific but always solid, scored 24 times in 117 appearances for his old club. However, with a new team that isn't perennially fighting to avoid relegation, he should improve his numbers.
Anytime the likes of Mladen Petric and Bryan Ruiz are stuck on the bench, the front line is bound be pretty good. Berbatov and Rodallega are a solid pairing, and should help Martin Jol pull out a top-half finish.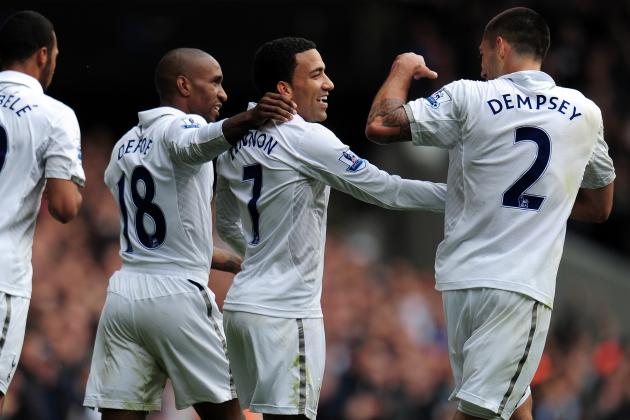 Shaun Botterill/Getty Images

Tottenham Hotspur
£22 million
Despite signing Emmanuel Adebayor for £5 million this summer, Tottenham manager Andre Villas-Boas has preferred the strike duo of Jermain Defoe and Clint Dempsey to start this year.
Defoe has been a Spurs stalwart for a very long time. In two separate spells with the club, Defoe has scored 123 goals in 309 games. His role diminished in recent seasons under Harry Redknapp. But he's been a new man under Villas-Boas, with five goals in eight Premier League games.
Dempsey, chased all summer by Liverpool, ended up joining Spurs on deadline day, and has been playing in a supporting role to Defoe. The 23 goal scorer from a season ago has only scored twice so far for Tottenham, though his form should pick up soon.
Defoe and Dempsey form a very solid partnership up front, and should play a major role in any success the team has this season.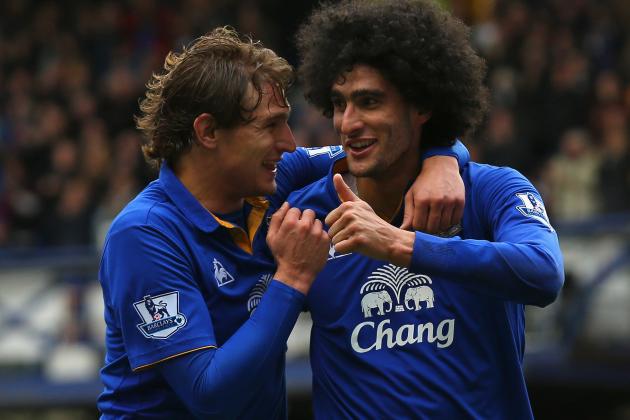 Alex Livesey/Getty Images

Everton
£20 million
For a club as frugal with their money as Everton, the relatively cheap pairing of Marouane Fellaini and Nikica Jelavic is like a dream.
Fellaini has grown to become one of the club's most important attacking stars.The 24-year-old Belgian has stepped up this season behind Jelavic as an attacking midfielder, and has already scored three goals in eight games to add to his Everton tally of 23 in 145.
Jelavic was picked up by Everton from Rangers for a lowly £5 million last January, and has since become one of the top-flight's very best strikers. In 24 games for David Moyes' men, Jelavic has scored an impressive 15 goals, including 13 in his last 15 Premier League matches. A phenomenal striker with pace, size, and skill, Jelavic could be one of the league's very best within a few years.
So far, Everton have taken 16 points from their first nine games, largely due to seven goals from Marouane Fellaini and Nikica Jelavic, and sit at fourth in the league.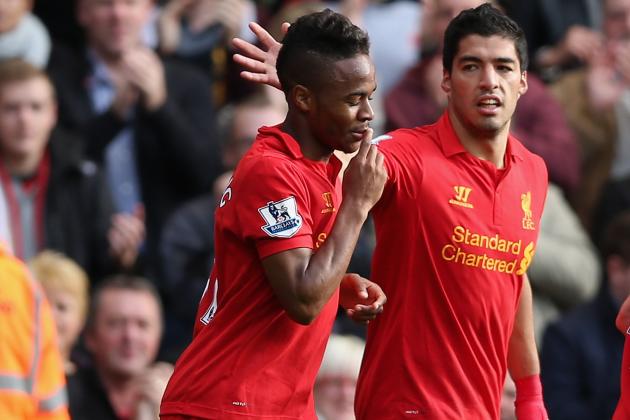 Clive Brunskill/Getty Images

Liverpool
£38 million
Brendan Rodgers has only been in charge at Anfield for a matter of months, but he has been very steadfast in the implementation of his philosophies. Despite a brutal lack of attacking options, that includes an offensive-minded 4-3-3 formation.
Fabio Borini came in as Rodgers' first signing, after starring for the Northern Irish manager in the Chelsea youth setup and at Swansea. Though he has only scored once in 11 games, the reception of the 21-year-old on Merseyside has generally been very good. Borini suffered a broken foot on international duty and will miss the next three months, crippling the Reds' attack.
Borini's wing partner Raheem Sterling has possibly been the Premier League's most impressive player in 2012-13. The outrageously talented 17-year-old scored his first goal for the Reds against Reading last weekend, and has already been called up to the full England team. His promise is frightening.
But despite the potential of his two young teammates, the Liverpool front line revolves around 25-year-old Uruguayan superstar Luis Suarez. In spite of constant criticism, Suarez has scored nine goals and four assists in 13 games. A sensational talent, Suarez has kept the Reds in the league with crucial goals at critical moments.
With his team struggling to score, Rodgers is all but certain to invest in new options in January.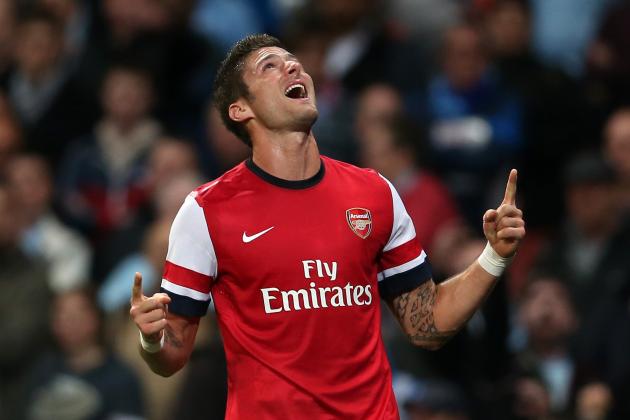 Julian Finney/Getty Images

Arsenal
£28 million
Arsene Wenger is certainly not one to spend to sign new forces, but he splashed the cash this summer to bring in dynamic attacking talents Santi Cazorla, Olivier Giroud, and Lukas Podolski for around £38 million.
And Cazorla, arguably the biggest name of them all, has taken the Premier League by storm since his move. Phenomenally talented, clever, and quick, the 5'6" 27-year-old Spaniard has played in a supporting role to the striker, unlocking defenses with apparent ease.
Given Cazorla's impact, it is somewhat disappointing that Frenchman Ollie Giroud has not been able to do more. The 26-year-old is coming off a prolific Ligue 1 career, but has seemed under pressure as he looks to live up to his £12 million price tag. Giroud has only managed two goals in 13 games with Arsenal, but with the likes of Mikel Arteta, Gervinho, Alex Oxlade-Chamberlain, Podolski, Aaron Ramsey, Theo Walcott, and Jack Wilshere in support, he should soon turn it around.
It seems that Wenger has finally realized that it takes more than teenagers to win a Premier League title, and if his top attacking stars perform well, they could fire the Gunners back to the top.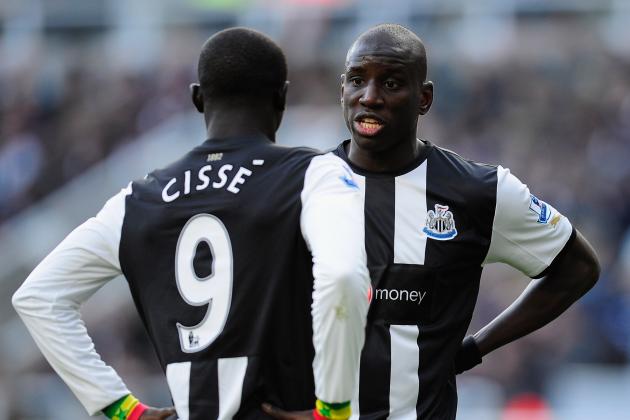 Stu Forster/Getty Images

Newcastle United
£8 million
Few expected Newcastle United to finish fifth in the Premier League last season, and what Alan Pardew has done at Newcastle is incredible. His purchases of Demba Ba and Papiss Cisse are a major reason.
Ba joined the Magpies last summer, and has become one of the Premier League's best strikers. He has scored 23 goals in 43 appearances for the club, including seven in nine this season. He will undoubtedly be a hot commodity for top-flight clubs in January—Newcastle's ability to hold onto him could determine their season.
Few players were more prolific last season than Ba. Papiss Cisse was one of them. An £8 million pick-up for Pardew in January, Cisse would go on to score 13 goals in 14 games, and though he only has one goal in 2012-13, he remains one of the league's most feared strikers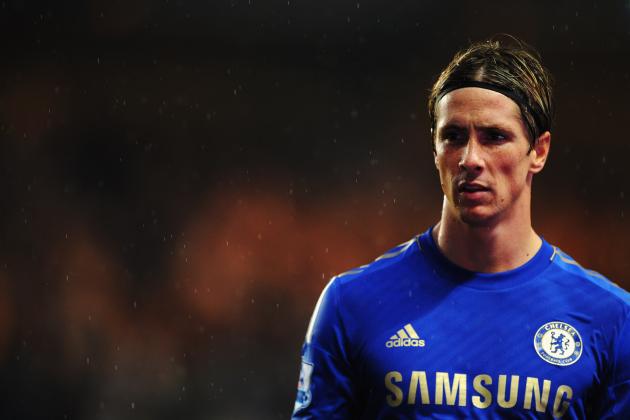 Michael Regan/Getty Images

Chelsea
£75 million
People may say that money can't buy success—Chelsea have consistently proved them wrong.
Oscar was brought in for around £25 million this summer, and has been nothing short of a revelation since. Playing in the attacking midfield role of Chelsea's 4-2-3-1 formation, the baby-faced 21-year-old Brazilian scored twice in his club's 2-2 Champions League draw with Juventus, and has already racked up four assists in 10 games for his club.
And as if Chelsea's capture of Oscar wasn't painful enough for the club's rivals, Fernando Torres's form rubs salt in everybody's wounds. The £50 million man had been dreadful since joining the Blues from Liverpool in January 2011, scoring 12 goals in 67 games, but has since bagged four in nine Premier League games. On form, the Spaniard is one of the very best strikers in the world, and right now, he is on form.
Chelsea top the Premier League through nine games after scoring 21 goals. The strike duo, boosted by the presence of the ever-dynamic Eden Hazard and Juan Mata on the wings, is a major reason.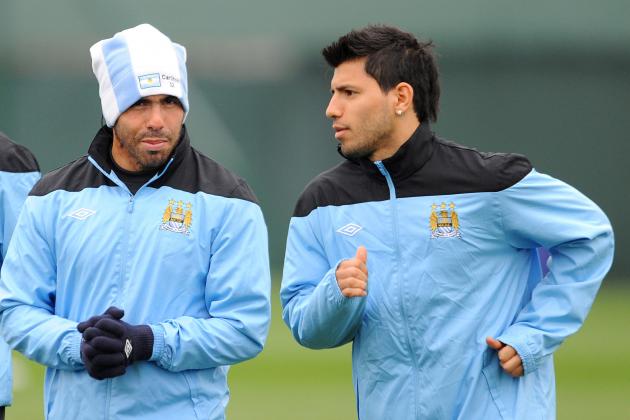 Clint Hughes/Getty Images

Manchester City
£81 million
They are the Premier League's most expensive striker pairing, and for good reason.
Sergio Aguero had been a top-class player for a long time before joining Manchester City last summer, but recorded his best season ever in his first season with the Sky Blues. In 48 games, Aguero scored 30 goals and added 12 assists. The highlight came on the last day of the season, when the Argentinean 24-year-old scored the last-gasp goal to complete a comeback against QPR and win Roberto Mancini's men the Premier League title.
After overcoming wild controversy last season after refusing to come off the bench for City against Bayern Munich, Carlos Tevez has come roaring back into the champions' first-team this year. Aguero's experienced compatriot has already scored four goals in nine games, and appears to have reasserted himself in Roberto Mancini's matchday plans.
Aguero and Tevez certainly appear to be the first choice pairing at City, but having Mario Balotelli and Edin Dzeko as options off the bench gives the club depth.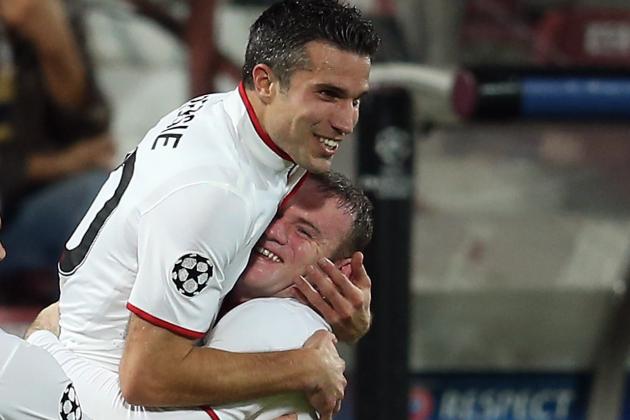 Julian Finney/Getty Images

Manchester United
£50 million
When Sir Alex Ferguson signed Robin Van Persie for £24 million this summer, he united the Premier League's two top scorers from a season ago.
Between them, Wayne Rooney and Van Persie scored 57 goals in the league last season, and the duo already have nine through nine league games this year.
Rooney is entering his ninth season with the Red Devils since joining from Everton in 2004. His next goal for the club will be his 184th, and he has played just 372 games for the club. Already a club great, the heavily-capped international may become one of the all-time England greats.
And then there's Robin Van Persie, who, after an injury-plagued first seven years at Arsenal, tore his way back onto the world stage last season with 37 goals in 48 appearances. The Dutch striker joins United for £24 million, and has already opened his account with the club with nine goals through 12 games.
The potential that Rooney and Van Persie possess together is immense. It is frightening to think how many goals the duo might score together. They are the Premier League's best strike partnership.