Arsenal vs. Sunderland Review: 9 Things We Learned About the Gunners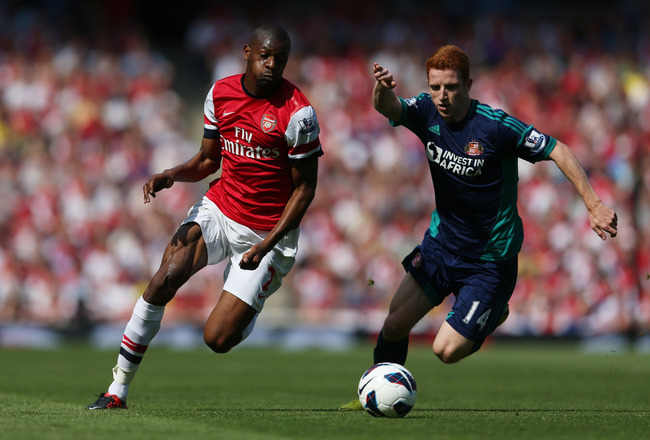 Julian Finney/Getty Images
"Keep calm and carry on," had been the phrase of the summer in London. Given the action-packed week Arsenal endured leading up to their season opener against Sunderland, you could see why the mantra might have appealed.
With Robin van Persie shipped off to Manchester United and Alex Song's move to Barcelona imminent, all eyes turned to the new signings Arsene Wenger made this summer.
One of them was fantastic; the other two, much less so, and it was that lack of extra quality—so often provided by van Persie last season and so glaringly missing on Saturday—that was perhaps the biggest reason behind the 0-0 draw.
Santi Cazorla showed just what all the fuss had been about with a performance that will surely merit Man of the Match accolades. Meanwhile, Lukas Podolski—who started at centre-forward and was replaced by Olivier Giroud—didn't show as much.
But like the French No. 12, the German No. 9 showed flashes of what surely will be an improved return in the coming weeks. The two men simply need to get settled. This was, after all, just their second appearance in Arsenal colors.
Sunderland did just as they'd hoped, impeccably defending—they must have set a record for blocked shots—and earning their point on the day.
Arsenal will have to show more, particularly in the attack, but promise is budding in the ranks of the Emirates; it merely will take a few more weeks to flower.
In the meantime, here are nine things we learned from Saturday's match.
Santi Cazorla Is Every Bit as Good as Advertised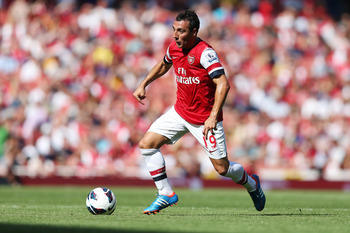 Julian Finney/Getty Images
Cazorla only misplaced two passes throughout the first half, when he was far and away the most influential player on the pitch.
And while he visibly tired during the course of the second half—that mid-week friendly with Spain in Puerto Rico (I know, I know, it makes little to no sense) took its toll—Cazorla still managed to present his new fellow teammate Olivier Giroud with a golden opportunity to fire Arsenal to a 1-0 lead.
Unfortunately, as proved the case for most of the encounter, the Spaniard's teammates weren't at the same level. Giroud fired terribly wide of Simon Mignolet's goal, wasting what had been a divine piece of inspiration from his midfielder.
Graced with the No. 19 Jack Wilshere (who will assume van Persie's No. 10) wore so well during the 2010-11 season when the English teenager was the toast of Premiership football, Cazorla looks likely to become the next revelation in the middle of the park.
Whether driving forward and unleashing fearsome drives on goal, picking out teammates with terrific distribution or turning defenders into a tizzy with his mesmerizing bag of feints and tricks, Cazorla looks likely to repay Wenger's transfer fee and more.
Gervinho Looks Lively
Victor Fraile/Getty Images
Gervinho's dedicated pressing allowed him to snap up several misplaced Sunderland passes throughout the match, and he also was far more effective than Theo Walcott on the wings.
The Englishman was carrying a slight knock, granted, but he could not rival Gervinho's running, which frequently took the Ivorian past the Sunderland defense.
Gervinho's final product still lacks consistency, but it was a very good display from last season's signing.
Thomas Vermaelen Looks Assured in His Role as Team Captain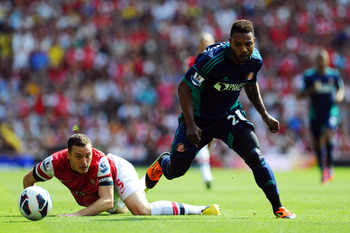 Er, not so much here, though.
Mike Hewitt/Getty Images
Named to the position a day ahead of Saturday's match,—Mikel Arteta became vice-captain—Vermaelen did well in his first game.
Looking composed in central defense, the Belgian made some important saving tackles, showing the sort of individual prowess that's been on display since he moved from Ajax in 2009. (Obviously, his injury-ravaged 2010-11 campaign is a bit of an outlier.)
Vermaelen recently had spoken of newly appointed assistant manager Steve Bould's influence on the team's shape,—particularly from a defensive standpoint—but in the opening minutes, it was same old, same old, as Arsenal were picked apart on the counter.
Both James McClain and Jack Colback came close for the Black Cats after incisive movements, but thankfully Wojciech Szczesny was more than up to the challenge.
Podolski and Giroud Lively, but Robin van Persie Was Sorely Missed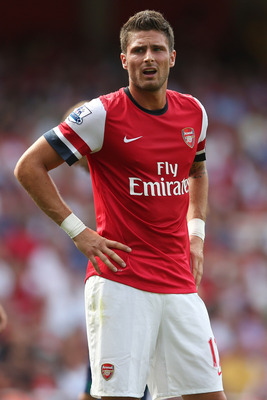 Julian Finney/Getty Images
Podolski and Giroud both showed the physical qualities requisite of a modern-day Premiership striker, and both showed immense determination in closing down Simon Mignolet at pace.
Their intent was obvious, and it was terrific to see.
But in the end, Arsenal missed the decisive contribution of former talismanic striker Robin van Persie, who could so often pull them from the clutches of despair.
Given that van Persie had scored twice in a 2-1 victory over Sunderland at the Emirates in October 2011 simply amplified the resounding nature of the misfire.
Giroud's terrible miss in the 82nd minute, where the striker woefully fired wide with his right foot after some positively brilliant work from Cazorla, will be etched in fans' memories for at least the coming week. For a man who scored 25 goals in all competitions for Montpellier last season, it was hardly the auspicious debut he'd looked for.
And given Cazorla's masterful first appearance, the deficit in contribution was made all the more glaring.
But the great thing about football is that it gives you plenty of opportunities to make amends for mistakes. Against Stoke Sunday, Aug. 25, Giroud will want to do just that.
Carl Jenkinson Will Need to Be Better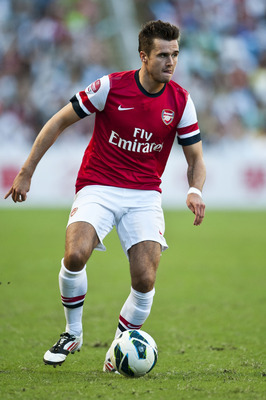 Victor Fraile/Getty Images
Bacary Sagna, Arsene Wenger's first choice at right-back since the 2007-08 season, is scheduled to be fit by the end of September.
That means Carl Jenkinson will need to be at his best in defense for Arsenal the first month of the season.
After a torpid debut last year, the former Charlton man showed promise in this past preseason. He looked like an improved threat getting forward, and his defensive capacities appeared sharper.
Against Sunderland on Saturday, Jenkinson rarely was called into action on the defensive end,—Sunderland's "battening down the hatches" approach precluded that responsibility—but the lack of quality he showed getting forward was glaring.
That missed cross toward the end of the match, flying over goal and out of touch at a time when Arsenal could ill-afford such wastefulness, was the most glaring incident.
But to be perfectly honest, Jenkinson looked underwhelming.
Wenger is unlikely to turn to Nico Yennaris for a tricky trip away to Stoke Aug. 25, but one wonders if he'll give Francis Coquelin an opportunity to test his mettle.
The young Frenchman was bright in the rare instances he played at the position last season, but is a definite upgrade over Jenkinson at the moment. Plus, he has the added experience of time spent at the EPL level to entice Wenger.
Abou Diaby Good, Not Great, in Alex Song's Former Role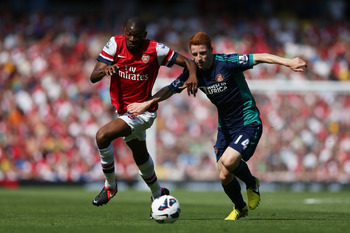 Julian Finney/Getty Images
Song will be difficult to replace, but if Abou Diaby can remain fit—and given his injury-riddled history at Arsenal, rivaled perhaps only by that of the departed van Persie's, that is a big "if"—he could become the sort of key component fans saw during the 2009-10 season, during which he was fantastic.
Of course, Diaby was playing alongside Song in central midfield then, occupying the role now filled by Mikel Arteta.
While comparisons abounded between Diaby and former Arsenal captain Patrick Vieira when the former Auxerre midfielder joined the club in the winter of 2006, those were unimaginative attempts to describe him.
At his best, Diaby is one of the most unique attacking talents in world football. Impeccable in his ability to retain possession (even among the most harrying of pressing), Diaby also possesses a terrific eye for goal and an ability to play in neat passes behind the defense.
That last quality was seen in abundance this preseason, but perhaps less so against Sunderland. That had much to do with the Black Cats' defensive prowess (which was significant) on Saturday, but Diaby will need to be at his best should Arsenal hope to improve upon results such as we saw today.
Speaking of Arteta, Where Was He?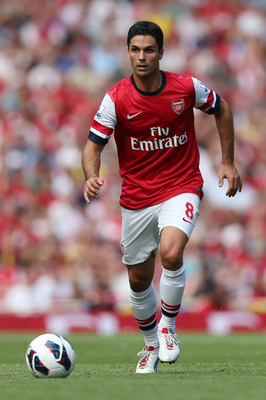 Julian Finney/Getty Images
So often the metronome in midfield for Arsenal last season, Mikel Arteta was strangely silent on Saturday.
That has to do in part with the ubiquitous display from Cazorla, who ran this way and that—particularly during the first half, when the former Malaga man was positively sublime.
Whether or not that affected Arteta's own contribution to the game is difficult to say, but like Diaby, Arteta will need to rediscover his ability to impact games in the coming weeks.
Stoke—Arsenal's next opponent—are likely to adopt the defensive approach employed by Sunderland. Should the Gunners hope to crack those hardy opponents, they'll need far better play from their other two central midfielders.
Aaron Ramsey and Andrey Arshavin Were Decent Substitutes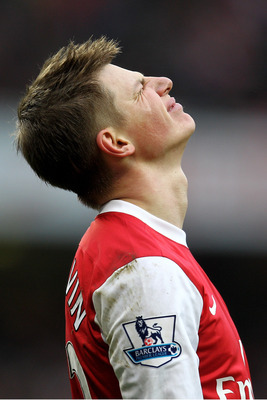 Paul Gilham/Getty Images
Few players in world football have the gifts that were granted Arshavin, but few footballers show the propensity to waste them in so maddening a fashion as the Russian.
Coming on in the second half, Arshavin received a far different reception from the Arsenal faithful (general applause) than had been seen in one of his final appearances at the Emirates before going out on loan to Zenit St. Petersburg in February.
When Arshavin came on for Alex Oxlade-Chamberlain in the late stages of Arsenal's match against Manchester United, then deadlocked at 1-1, he was met by resounding boos—directed more so toward Wenger than the Russian, it must be noted, since Oxlade-Chamberlain had been positively superb in that match.
Still, it was good to see the No. 23 get that sort of welcome, given that his time at Arsenal may be drawing to a close.
When he did get on the ball, Arshavin showed some of the old ingenuity—clever turns, good movement and passing prowess—that have been such rare occurrences since the winter of the 2009-10 season.
The lapses in concentration—a cheap foul committed on Louis Saha when five Arsenal players surrounded him, plus giveaways in possession—were still there, but it was a better display from Arshavin, to be sure.
Ramsey also failed to make a key impact, although it was not for lack of trying.
The Welshman's first-team spot has become somewhat compromised with the addition of Cazorla, and Jack Wilshere's return from injury will only make it more tenuous.
But Ramsey looked good in certain spells, showing an eye for goal as well as some of the neat play in midfield he'd displayed for England during the Olympics.
Arsenal Were OK, but They Will Need to Be Much Better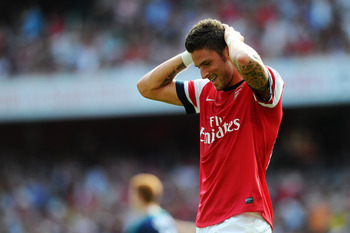 Mike Hewitt/Getty Images
Arsene Wenger, ever a keen observer of matches—although loyalty tends to blind him, as it does any manager—summed up Saturday perfectly when he said, "We played with a good spirit, but we lack sharpness at the moment and couldn't convert our chances."
Succinct, to be sure, when it came to his appraisal—but fans couldn't entirely disagree with that assessment.
Arsenal will need to be far more decisive in front of goal in the coming weeks, and while Giroud's miss will rankle, there are many positives to be taken from the game.
Both Podolski and Giroud looked lively, Gervinho was markedly better than he was for much of last season and the defense, despite some nervy moments toward the start of the match, held its own.
Draws to mid-level sides such as Sunderland—at home, to boot—will be quite costly going forward, as the two Manchester sides will unlikely show the same wastefulness.
But given the high turnover seen this past week, it wasn't nearly as bad as it could have been.
The quality is there, and with the likes of Alex Oxlade-Chamberlain and Laurent Koscielny—both injured for Saturday's match—likely to be back soon, there is much reason to remain optimistic.
Keep Reading

Arsenal: Like this team?