Brazil vs South Korea Olympic Soccer Semifinal: Grades, Twitter Reaction & More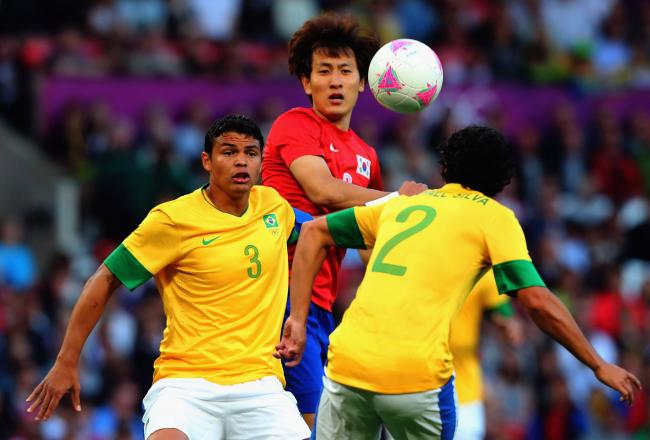 Stanley Chou/Getty Images
With a 3-0 win over South Korea, Brazil advanced to the gold medal match to take on Mexico.
Despite the scoreline, this wasn't always easy for the Brazilians.
Who was Brazil's most impressive player?
For the first 20 minutes, South Korea dominated over 60 percent possession, as it created chances and looked like the far more dangerous side.
Eventually, however, Brazil finally woke up. Romulo got the scoring started in the 38th minute before Leandro added two more in the second half.
In the end, South Korea still won the possession battle (52 percent) and got off as many shots as Brazil (10), but the favorites advanced nonetheless.
Let's take a closer look at this unbalanced-but-not-really-that-unbalanced semifinal matchup.
Twitter Reaction
The Telegraph's Henry Winter pointed out how much better South Korea looked than Brazil in the opening minutes:
Brazil have to be very careful. South Korea the better team so far. Brazil gk Gabriel getting exposed

— Henry Winter (@henrywinter) August 7, 2012
Freelance writer FourFourTom had an idea as to why Brazil wasn't exactly clicking:
South Korea really impressive so far. Excuse the cliche, but Brazil look like a collection of individuals.

— FourFourTom (@FourFourTom) August 7, 2012
Of course, South Korea's early dominance didn't exactly last, as Brazil grabbed the opening goal in the 38th minute (via soccer writer Iain Macintosh):
Brazil finally decide to press South Korea, Sandro wins the ball, Neymar links with Oscar and Romulo pokes past keeper's near post. 1-0.

— Iain Macintosh (@iainmacintosh) August 7, 2012
After Brazil tacked on two more goals, Brazilian soccer commentator Jon Cotterill pointed out a very impressive stat:
Brazil have now scored three times in all of their games in the Olympics

— jon cotterill (@Pitacodogringo) August 7, 2012
Still, with players such as Neymar, Oscar and Leandro, with Hulk and Pato coming off the bench, that stat shouldn't surprise anyone.
The Brazilians may have had a great night, but as soccer writer Keir Kadnedge reminds us, the referees did not:
Brazil 3-0 up and cruising against South Korea but the referee had better not ever take a holiday in Seoul . . .

— Keir Radnedge (@KeirRadnedge) August 7, 2012
There were plenty of no-calls on both sides, but Brazil avoided a few potentially devastating calls on what appeared to be ugly tackles.
After yet another two goals, Leandro Damiao is going to draw a lot of interest on the club level. This Manchester United fan highlights that:
We all agree Sir Alex,save £10m and sign the beast that is Damiao...6 goals for Brazil now in the Olympics! Moura's not getting a sniff...

— Everything Man Utd (@Every_ThingMUFC) August 7, 2012
Damiao is now the top scorer in the tournament, passing Konate of Senegal.
Grades
Neymar, Brazil: A-
Neymar has been the best player of this tournament, which is far from a surprise, and while he wasn't at his best in this one, he did have a part in all three goals for the Brazilians.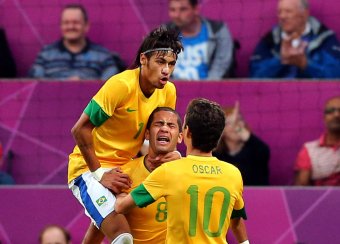 Stanley Chou/Getty Images
During the first goal, he started the break, finding Oscar, who ended up getting the assist. It was a hockey assist for the talented forward, if you will.
On the second goal, he served an absolutely beautiful grounded ball across the middle of the box that found Leandro for the easy finish.
Of course, there were also negatives. While he displayed his incredibly ability on the ball, Neymar didn't work very hard off of it, often leaving his teammates out to dry. He was also uncharacteristically dispossessed in his own half a couple of times.
Still, he continues to establish himself as one of the best players in the world.
Bumyoung Lee, South Korea: C-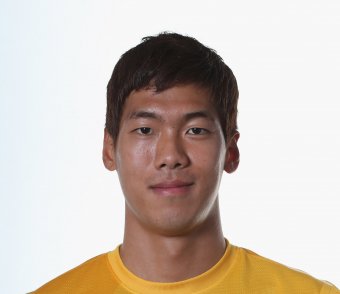 David Rogers/Getty Images
The goalkeeper wasn't the main reason for South Korea's collapse, but he certainly didn't help it.
On Brazil's first goal, Lee made, um, an effort at the ball, but he flew over it and let it stroll through his legs for the goal.
He didn't stand much of chance on the other two goals, but he didn't get very close to either of them, jumping the opposite way on one and failing to get to a weakly struck ball on the other.
Again, this loss isn't Lee's fault, but he should have been much better.
Key of the Game: South Korea's Inability to Take Advantage Early
For the first 20 minutes, Brazil looked asleep. South Korea held over 60 percent of the possession and had plenty of very good opportunities to score.
When they failed to find the back of the net during that period, however, it was all but over. Once the Brazilians finally got in the flow of the game, they dominated possession, turned the second half into more of a training match and eventually proved why they were the clear favorite coming in.
If South Korea would have grabbed an early goal on one of its glorious chances, things would have played out differently.
What's Next?
After the loss, South Korea will take on Japan for the bronze medal on Friday, August 10 at 2:45 p.m. EDT.
Brazil advances to the final where they face Mexico for gold. The championship takes place on Saturday, August 11 at 10:00 a.m. EDT.
This article is
What is the duplicate article?
Why is this article offensive?
Where is this article plagiarized from?
Why is this article poorly edited?