Arsenal FC: 5 Reasons Olivier Giroud Will Fare Well in His First Year in London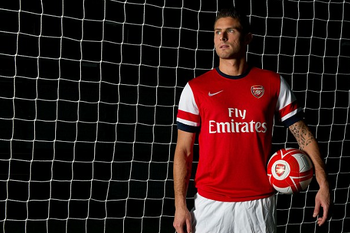 http://www.dailymail.co.uk/sport/football/article-2164824/Olivier-Giroud-joins-Arsenal.html
Olivier Giroud's move to Arsenal was confirmed over a month ago, with the Frenchman leaving Montpellier of France in order to arrive at the Emirates Stadium. The transfer fee agreed upon was £13 million, which is a good deal for the Gunners considering Giroud was arguably Montpellier's most valuable player last season.
The Marouane Chamakh deal to Arsenal was met with lots of hope from Arsenal fans, who believed that Wenger could capture a trophy for the first time since 2005.
But fast-forward to now—Robin van Persie is leaving, the Gunners have yet to win a non-preseason trophy, and Marouane Chamakh spends his days on the bench.
And now that Olivier Giroud has been signed, I've come across many Gooners who sighed when they heard about it, afraid that he would follow in the footsteps of the Moroccan.
They may be similar in a few ways: both are Ligue 1 champions, both are very tall, and both are finishers.
But Giroud will fare better in North London than Chamakh did.
Here are five reasons why.
He Is a World-Class Finisher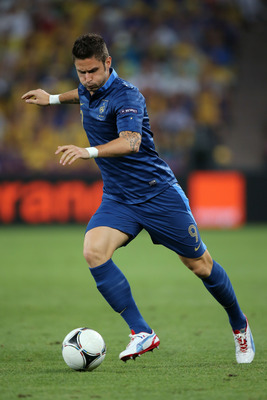 Ian Walton/Getty Images
Winning the Golden Boot in the French league speaks for itself.
Here's more.
For Montpellier, the Frenchman scored 33 goals in 71 appearances, which is almost a goal every two games. When Giroud was at another French club, Tours FC, he scored 24 goals in 44 appearances.
Giroud can finish with both feet, as well as with his head. He can't strike the ball with his right as hard as he can with his left, but he can find the net with both. The new Arsenal No. 9 is known for finesse and accurate finishing.
He might not be able to live up to the 30 Premier League goals scored by Robin van Persie in the 2011-12 season, but he will definitely get a few to his name.
Service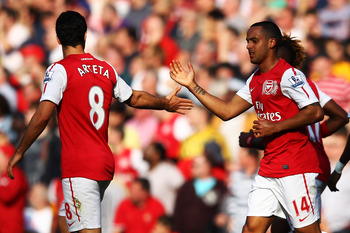 Julian Finney/Getty Images
Chamakh's service may have been better than Giroud's, but the Moroccan relied on chemistry, and the lack thereof was major. Giroud is more opportunistic and a more clinical finisher when given a chance.
Four players will play key roles in Giroud's scoring: Arteta, Walcott, Song and Podolski.
Arteta has been recognized for his Fabregas-esque impact on the Arsenal squad since his arrival last August. The Gunners won only one game without the Spaniard, and that was the slightly undeserved win against West Brom in the last game. He may not get that many assists (statistically), but he definitely has a calming effect which helps create space for strikers.
Theo Walcott hasn't been given enough credit for what he did last season. He is often criticized for not having many moves in his repertoire, and while that may be true, his pace is invaluable for Wenger's side. He had eight goals and eight assists last EPL season, and he was a huge reason that van Persie won the Golden Boot.
Alex Song's newfound vision and passing ability also contributed to van Persie's 30 goals in the EPL. He picked up the most assists of the whole squad last Premier League season with 11, which was tied for fourth-most in the whole league.
New signing Podolski can help Giroud with his experience. At 27, the German international has picked up one or two things about passing. Especially if Podolski plays centrally, expect him to put the Frenchman through on goal many times.
A New Dimension in the Arsenal Attack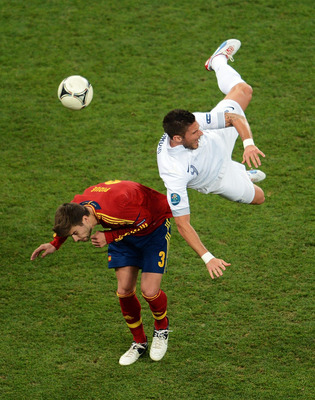 Jasper Juinen/Getty Images
How many times have we heard discontented Arsenal fans moan about the lack of an aerial threat in the attack?
On the rare moment when a winger could land the ball onto van Persie's head, the Dutchman wasn't bad, but how many times did RVP actually win a header over players?
Not many.
Of course, the fearless Vermaelen will sometimes fight to get his head onto a ball off of a set piece, but from open play it's not common.
At 6'4", Giroud will tower over some defenders and be able to win a ball played in by Walcott or Arteta.
This will not only be beneficial to him, as having defenders focus on the aerial threat he poses will open up lanes for other players.
Style of Play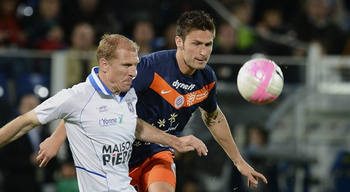 http://www.fifa.com/worldfootball/photo/163/455/5/picture.html#1634555
Montpellier are a passing team.
They don't strive to play the ball around as much as Arsene Wenger aims to, but Giroud is no stranger to a quick-passing atmosphere.
You can just imagine him playing with his back to the goal just outside the box, fitting in with the passing midfield, and rolling off his marker to go through on goal.
Plus, as a great target man (meaning he can hold up long balls played to him), Giroud could be able to hold it up long enough for Walcott, Gervinho, or Oxlade-Chamberlain to break on the counter-attack. Just like what van Persie did for Walcott's first goal against Tottenham in the 5-2 win.
The way he often checks back to the ball in midfield can be useful, giving the Arsenal passer another option.
He seems to fit the bill in terms of playing style.
One of the Only Hopes Up Top?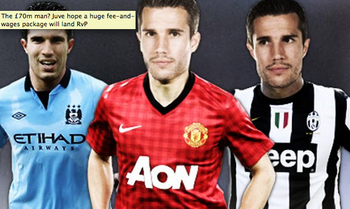 http://www.mirror.co.uk/sport/football/transfer-news/robin-van-persie-transfer-juventus-1190295
With van Persie very likely to leave the Emirates, Giroud seems to be a replacement for the Flying Dutchman, even though he said that he wants to play alongside van Persie.
Assuming that van Persie leaves, the Gunners have nobody else to turn to.
Marouane Chamakh almost never plays, so he isn't really a viable option for a team trying to contend for the title.
Nicklas Bendtner is "being courted" by Milan, according to the Guardian Rumour Mill.
Park Chu Young being on the first team isn't even realistic.
It looks like Giroud is going to have to carry the load for the Gunners next year, so he can't afford to be a huge failure because they don't really have a plan B.
Conclusion
Victor Fraile/Getty Images
So with that, I think that Giroud will be successful at Arsenal.
He won't win the Golden Boot, or even come close, but I think that the Frenchman will probably score 10 to 15 goals with the Gunners.
My prediction is that Wenger will lead the red-and-whites to a fourth-place finish.
What do you think?
Please leave comments and feedback.
Keep Reading

Arsenal: Like this team?