The 7 Most Aesthetically Pleasing Players to Have Donned the Gunners' Shirt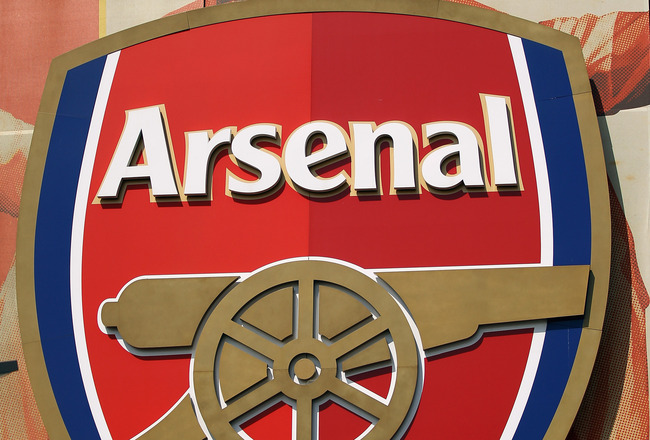 Oli Scarff/Getty Images
It seems odd now to think that for a long period of time Arsenal Football Club were considered about as stylish as Englebert Humperdink's Christian name.
The most enduring chant in the history of the club, undoubtedly, is the cry that echoed out from the Highbury terraces for many a generation: "Booooring, booooring Arsenal".
Since the advent of the Wenger era, Arsenal has produced football which can be described without hyperbole as some of the most technically pure, aesthetically beautiful, and effective football ever played.
I would go so far as to say that the Invincibles team of 2003-04 played the most stylish football of any team, certainly in the Premier League, and probably of any league ever.
But stylish players are not unique to this new era of Arsenal. Throughout the years, the club has produced some players of outstanding technical ability and grace, players who waltzed through opposition players with the poise and elegance of ballet dancers.
While they may be more prevalent in the Premier League era, these men have popped up all over the place in the club's illustrious history, and—as Arsenal football club appreciates class and sophistication above almost all else—their legacy is both indelible and unforgettable.
Here is a selection of players who I believe are among the most aesthetically pleasing Arsenal has ever produced. It's very easy to stick to attacking players when one is compiling such a list, so I tried to interpret "aesthetically pleasing" in the broadest context possible.
Enjoy, and if you think someone's been left out, do comment below and have your say! I command you to do so, as Bleacher Report is a democracy, and you must have your say.
...Wow, that was slightly contradictory. Anyway...
7: Patrick Vieira
I confess, Patrick Vieira is one of my three favourite Arsenal players ever.
To be fair, I would say the exact same thing of about nine other players. But the principle remains the same.
Vieira was a beast on the ground. His tackles were bone-crunching, his commitment unquestioned, his leadership tenacious, and his physical presence could not be done justice by a thesaurus. He was a brutal enforcer in the midfield, and it is no surprise that his presence in the Arsenal team heralded the most successful period in the club's modern history.
But what I loved most about Vieira was how beautiful and graceful he was with the ball at his feet, or as he ran around the field. He seemed to lope with the easy strides of a champion horse; completely at ease, and ready to burst into a gallop at any time, but strikingly confident. He commanded the field with the unquestionable authority of a true general, and this was reflected in the aura of aesthetic confidence that seemed to emanate from his long, graceful strides across the pitch.
And then there are the goals. He didn't score many, but when he did...oh boy. They were gorgeous. The sorts of goals that would add another item to your laundry basket.
He struck the ball with a kind of genial delicacy that you wouldn't expect from a man of his intimidating stature, and his fondness for the subtle cucchiao, or chip shot, seemed to be at once contrasting to his brutal on-field demeanour, and complementary to the array of skills that were somewhat masked by his physical presence.
Defensive midfielders are a pretty graceful breed—think Pirlo, think Busquets—and that's probably because they are so integral in commanding a game.
But few were as wonderfully pleasing to watch as the Invincibles' captain.
6: Jack Wilshere
Now this is a bit of a funny one because Jack Wilshere has only really seen one season of Premier League football. But in that season he showed just how efficiently he could control a game, with a maturity that belies his years.
There's something beautiful about watching a player completely dictate a game. It's kind of like watching an immensely skilled chess player at work, except a game of football only takes 90 minutes, and unlike a championship chess match, a game of football is more exciting than watching paint dry. But this is a moot point.
Wilshere has a gorgeous left boot, and he dribbles and touches the ball in a way that makes you think he is more...caressing it. It seems as though the ball wants to be nudged around by his foot, because he does it in a way which gives the impression that he understands how to control a ball with such clarity and insight.
His technique is superb, and his passing is both accurate and devastatingly creative. There are few sights more appealing to me in a football match than an expert midfielder taking the ball in midfield, touching it past his marker to create space for himself, and then delicately sending a through ball into the path of a striker steaming in from a defender's blind spot, at an angle which, as a viewer, I had no idea existed.
Additionally—and argue with this if you will—left-footed players are simply more aesthetically pleasing full stop.
Wilshere's diminutive stature and nuggety strength—and the juxtaposition it has with his bursts of acceleration, dribbling prowess and loving touch—secure him sixth place on this list.
5: Cesc Fabregas
Now, the only surprise this will have in store is that the Spanish master is placed so low, but hopefully subsequent reading with vindicate this call.
Fabregas is similar to Wilshere in how effectively he can control a game, and the vast array of impossible passes he is capable of producing is superior to just about everybody except perhaps Pirlo and Barcelona.
The difference with Fabregas is in how seemingly fragile the Spaniard was.
He almost seemed to be like a man who was once a sickly child, and had never really grown up. He wasn't particularly short, or thin, or weak-looking; he just had no physical presence.
But he conducted the Arsenal attack like it was a symphony orchestra.
The beautiful thing about Fabregas's game was how it seemed as though all the players on the field were simply traffic, and Fabregas was standing in the middle with white gloves on, directing the traffic wherever he wanted it to go.
His long passing is among the best ever seen by an Arsenal player, and the delicacy and nuance of his short game gave off an aura of a footballing engineer—one who understands with perfect clarity the various components, affects and implications of a game at any point, and one who can adjust their own personal gameplay to complement the needs of the team at any point.
He couldn't bend it like Beckham, nor did he have the slow, measured grace of Vieira. But he had something beautiful—something Spanish—about him.
It's probably the passing. Damn Spaniards.
4: Thierry Henry
One of the most enduring images of my career as an Arsenal fan—one which I can replay at will in my head, which gives me strength in times of trial, if you want to get all footballing-philosopher on me—is Thierry Henry's goal against Leeds in the FA Cup last year, when Titi was back at the Emirates on loan.
It wasn't the goal, necessarily, though the goal was beautiful—a perfectly timed run, a fabulous through ball met with a beautiful touch, a cut inside and a calm, side footed finish into the far corner, foot wrapping the ball with just enough curl to take it inside the far post.
No, it was the fact that we had seen that beautiful goal in its various manifestations so many times in the past.
Henry did have it all, stylistically. He had the breathtaking pace of Overmars, the long, graceful lope of Vieira, the incredible close control of...well, of Henry! And he meshed them all together to the point where he was like a seductive, sexy greyhound who worked undercover for the French Secret Service.
You could imagine Henry spent his evenings off playing jazz drums in a dark suit at a New York bar, cigar smoke wafting through the air and a tumbler of whiskey at his side. He was a class act.
And this class is reflected in his goals. Henry's highlight videos come with an irrevocable guarantee of astonishment: the one against Manchester United, where he took a pass 30 yards out on the left hand side of the field, back to goal, and flicked it up and to his left, spun around, and launched an incredible shot which dipped over the hapless keeper into the corner of the net? My God. I cried tears of joy, and I only heard it over the radio.
But his signature goal was the one that one he scored against Leeds. Dropping deep on the left wing, maneuvering out of his defender's field of vision, waiting for his midfield to spot him, timing his run to perfection, outpacing or out-muscling his defender, one-on-one with the keeper...and calmly side-placing the ball just inside the post? Mwah. I kiss it. I kiss the air at the very mention of it.
For almost ten years, there were few more comforting and exciting sights for Gunners fans than Thierry Henry with the ball at his feet on the edge of the penalty box, one-on-one with his man. Anything could happen, and if something happened, the odds were it would be beautiful.
Four times out of five, it did. Five times out of five, it was.
Come back anytime, Titi. Anytime.
3: Liam Brady
If this name doesn't ring a bell to you...urgh. You are a dirty Arsenal fan. But you are an Arsenal fan and therefore obviously a fabulous person, so I forgive you. But I ask you to go and take a shower, and after you are done, to watch the video at the head of the page.
Liam Brady was an Irishman who is considered one of Arsenal's all-time greatest midfielders. He is known for his close control, his sublime passing, and for—in a nod to Jack Wilshere—his astonishingly elegant left boot.
Brady effectively won Arsenal the 1979 FA Cup Final (this was back when the FA Cup actually meant something). Despite not scoring a goal, Brady assisted Frank Stapleton's first and began the move which led to the last-minute goal by Alan Sunderland, clinching the match, 3-2.
He also scored a sublime goal during a 5-0 romping of Spurs (ohhh boy, that was a fun sentence to write) which is also in the highlight video, and was made doubly famous by the commentator's stunned reaction to the goal: "LOOK AT THAT!! OH WOULD YOU LOOK AT THAT!!?!"
Bizarrely, as the most talented player in a young Arsenal team full of promise and skill, Brady was sold to Juventus at the tender age of 23, after just six years in the Arsenal first-team.
One wonders what might have been, had Brady been around to help quell the Liverpudlian domination of the First Division in the 1980s...
Oh well. At least we had him for a while. And while we had him he played with a class, style, and grace that would make grown men cry.
*...tear...*
2: Robert Pires
Ahhh. Now we're into the big guns. Well, technically we've always been in the big guns, but...yeah. You get the message.
I think Robert Pires looks like someone who would be seriously considered for the title role in a French James Bond remake—minus that ill-advised beard which stuck around like a cockroach infestation, only barely tolerated because of his exceptional footballing skill.
See, I think Robert Pires is one of the most sublimely attractive proponents of this wonderful art of attacking football that the world has ever seen. Arjen Robben reminds me of him somewhat, in the transcendent way they both strike the ball, but Robben always seems to be in a hurry.
Pires played the game with such a casual, almost arrogant skill. His nonchalant brilliance must have been infuriating to every fan of every other team, but to us Gunners, it was simply magical.
Watching Pires play a game with full confidence, with Titi and Bergkamp and Vieira and Ljungberg in the team alongside him, was like watching footballing poetry unfold in front of your very eyes.
It was as though the ghost of W.B. Yeats had risen from the dead and bestowed some kind of magical power on the Arsenal attack, and one of the main beneficiaries was Arsenal's left inside forward.
He played so slowly, too. You know? His feet seemed to caress the ball with a careless ease. His play had an aura of laziness about it, as though he was unwilling to showcase his full ability all the time because he'd just gotten out of bed and simply couldn't be bothered.
My favourite goal from Pires is one against Man United. A long cross-field ball finds Pires on the edge of the 18-yard box. He's being rushed by his defender, so he lightly knocks the ball over the defender's head and regathers it on the other side, taking him out of the game. He advances into the penalty box with the bouncing ball, and in a moment of supremely arrogant audacity, chips Schmeichel from about 15 yards out.
It was beautiful. HE was beautiful. And I miss him.
But I don't miss that damned beard.
1: Ray Parlour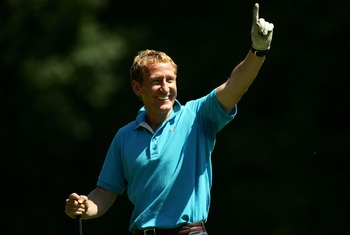 Ian Walton/Getty Images
Haha! Gotcha! Read on...but it won't be much of a surprise.
1: Dennis Bergkamp
I'm not going to say much here, because I'm not really worthy to wax lyrical on Dennis Bergkamp's aesthetic glory.
He is the only player in history to have scored all of the top three Goals of the Month in the English Premier League.
He is regarded as being without a doubt the finest foreign player to grace the Premier League.
Most tellingly, he is World Football Lead Blogger Michael Cummings' favourite player of all time.
Sometimes, a video says everything that words can't.
So watch, admire, and mourn that we may never see a more beautiful player in an Arsenal shirt than this Non-Flying Dutchman.
Keep Reading

Arsenal: Like this team?