Southampton: 10 Things to Look for in Saints' Premier League Return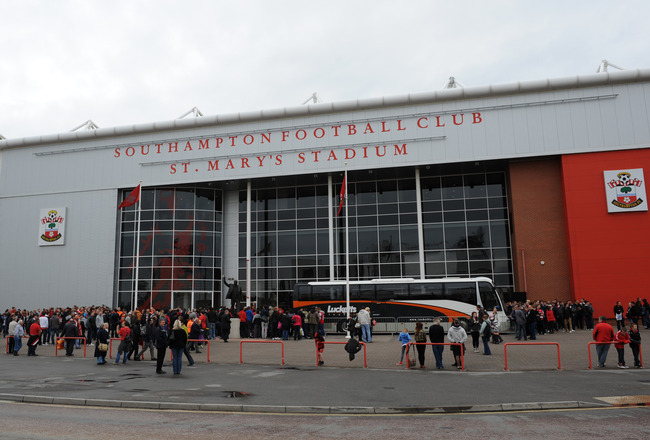 St. Mary's Stadium will be hosting Premier League football for the first time since 2005.
Steve Bardens/Getty Images
Southampton has had a long odyssey since they were relegated from the Premier League in 2005. A bid at promotion foiled in a penalty shootout. Administration and relegation to League One. Now back-to-back promotions have landed them back in the Premiership.
If you haven't been keeping track of the Saints in the past seven seasons, a lot has changed on the South Coast. Here are 10 things to look for in the upcoming season.
Will the Olympic Experience Help or Hurt Jack Cork?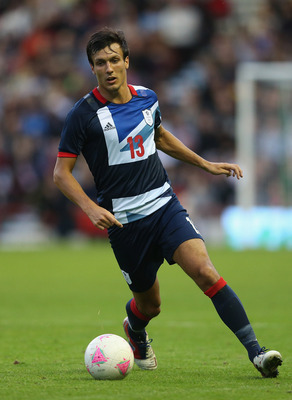 Jack Cork will play for Team GB at the upcoming Olympics.
Julian Finney/Getty Images
Jack Cork was fortunate enough to be one of just 18 players from England, Wales, Scotland and Northern Island to be selected for Team Great Britain at the Olympics. Since a Great Britain football team has not competed in the Olympics since 1960, it's a tremendous opportunity for Cork.
The short-term and long-term effects are to be seen. Three weeks of training with the Olympic team, plus two weeks of competition in the Olympics, means Cork will spend over a month away from Southampton as the team gets ready for the season. The Olympics end just one week before the start of the Premier League season, and Cork is a likely starter for the Saints.
Yes, the young Cork may benefit from the experience of competing against some of the best young players in the world and help his career. But the specter of injury or just being exhausted from the experience looms. Cork missing any time upon returning to Southampton would further hurt the Saints who already face a grueling opening stretch of Manchester City, Wigan, Manchester United and Arsenal in the first four games.
Will the Latest Crop of Southampton Academy Players Make an Impact in the Squad?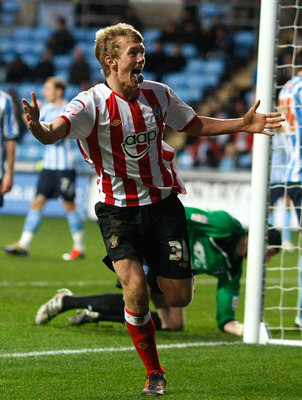 Will James Ward-Prowse be the latest Southampton Academy player to have an impact on the Premier League?
Tom Dulat/Getty Images
Southampton's youth academy has been one of the most productive in England over the years. Some of the players to pass through the Saints youth system include Gareth Bale, Theo Walcott, Chris Baird, Wayne Bridge, Leon Best, Andrew Surman and Alex Oxlade-Chamberlain.
Four players have been promoted this season from the academy to the senior team: James Ward-Prowse, Calum Chambers, Jack Stephens and Luke Shaw. All four players have seen action in various preseason friendlies with the first team.
Ward-Prowse, a 17-year-old central midfielder, already has made two first-team appearances, including scoring a goal against Coventry City in the FA Cup last season. Ward-Prowse was the only player to play the full 90 minutes against Etoile Carouge and tallied an assist in the 4-1 victory.
The 17-year-old Shaw, a defender in the academy system, has been used in an attacking role in the preseason. Shaw scored a goal in Saints' recent friendly against Etoile Carouge of Switzerland.
Stephens, who played in a handful of league games with Plymouth Argyle before coming to Southampton, is primarily a wing fullback, but can play in the center if needed.
Chambers is a 17-year-old midfielder that can play either centrally or out on the wing. Chambers also had an assist in Southampton's friendly against Etoile Carouge.
Although none of them are expected to start the season in the first 11, each of them will likely make appearances with the first team this season.
Can the Southampton Back Four Hold Up Against Premier League Attacks?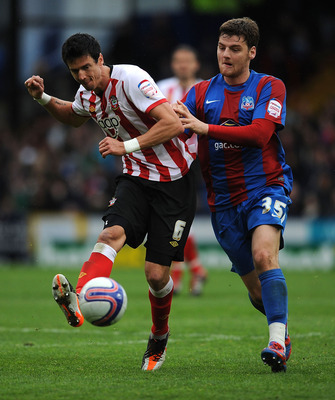 Jose Fonte lead the Saints back four with 43 appearances last season.
Christopher Lee/Getty Images
While Southampton earned promotion with a Championship-best +39 goal differential last season, that was based more on their league-best 85 goals, not the strength of their defense. The back four was especially leaky on the road, conceding 28 goals in their 23 road fixtures.
Southampton so far has only added Nathaniel Clyne to strengthen the defense. So the back four of Jose Fonte, Jos Hooiveld, Danny Fox and Clyne or Frazer Richardson will need to tighten things up a bit to withstand the barrage of offense from teams like Manchester City, Manchester United and Arsenal. Southampton can't count on outscoring everyone to survive in the Premier League.
Is Kelvin Davis Still a Premier League Quality Keeper?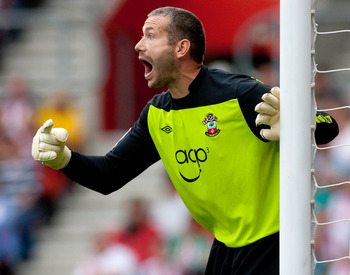 35-year-old Kelvin Davis will once again be counted on to man the goal for Southampton.
Ben Hoskins/Getty Images
Kelvin Davis is one of the few Southampton players to have played previously in the Premier League, having played 33 matches for Sunderland in 2005-06. Davis signed with Southampton in 2006, and to his credit, went through the fall and rise of the squad even when presented the opportunity to play elsewhere.
The soon-to-be 36-year-old keeper will be counted on to stay consistent and stay healthy in goal, as Southampton does not have a lot of depth at keeper. Recently signed Argentinian youngster Paulo Gazzaniga, who came from League Two Gillingham, is the current backup, with Tommy Forecast, the Saints only other senior team goalkeeper, loaned out to Gillingham as part of the Gazzaniga deal.
If Davis falters or becomes injured, don't be surprised to see Southampton make a move to bring in another goalkeeper as short-term cover.
How Deep Are Southampton's Pockets Exactly?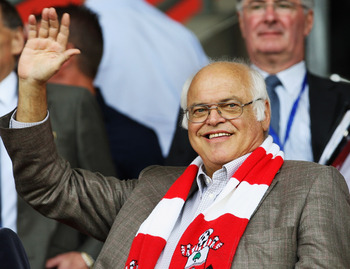 The late Markus Liebherr's trustees and estate still own Southampton.
Bryn Lennon/Getty Images
There was no question about the wealth of Markus Liebherr when he rescued Southampton from possible liquidation in 2009. Liebherr purchased Southampton for the now-seemingly bargain price of 13 million pounds, pocket change for someone who was reportedly worth three billion Euros.
Nicola Cortese continues in his role of chairman running the club, as he had before Liebherr's death in 2010. Liebherr had laid out a business plan for the club before his passing, so everything seems to be right with the club. But there is still a bit of a question about how much Cortese and Southampton are able to dig into the wealth of the estate to run the club.
According to Goal.com, Southampton Manager Nigel Adkins has set the next goal of getting the Saints into European football, and ultimately, winning the Premier League. Obviously, that will take far more investment than the club has made so far.
Will Jay Rodriguez Live Up to His Pricetag?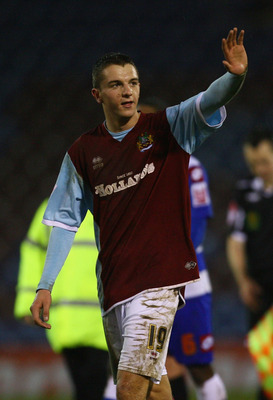 At 6 million pounds, Jay Rodriguez is Southampton's most expensive player ever brought to the club.
Alex Livesey/Getty Images
Jay Rodriguez was brought to Southampton from Burnley this summer for a Saints' club record six million pound transfer fee. Rodriguez scored 21 goals in 42 appearances with Burnley last season and was named to the PFA Championship Team of the Year.
Rodriguez breaks the record of Rory Delap, who was brought to the South Coast in 2001 for for million pounds. While Delap is quite a serviceable player, no club would want to admit that Delap was their record signing.
Rodriguez is no shoo-in to start for Southampton though. The Saints already have a formidable strike force with Rickie Lambert, Billy Sharp and Guly Do Prado, who tallied 51 goals between them last season. Southampton also has Tadanari Lee who joined the club last January after scoring 15 goals in 32 J-League games in 2011, but had his season cut short due to injury.
Will Steven Davis Bring Needed Leadership to the South Coast?
Steven Davis was finally able to join Southampton officially on Saturday.
Ian Walton/Getty Images
After a long off-season where Steven Davis thought he would be allowed to become a free agent after refusing to have his contract transferred from the old Rangers to the new Sevco Rangers, Davis was finally allowed to move to the Saints after Southampton and Rangers reached a deal on transfer compensation.
Rangers believed that Davis' contract was still valid and that he should not be allowed to become a free agent, and they appealed to the Scottish FA to hold up Davis' transfer to Southampton.
The former Rangers captain is one of the few Southampton players to have played in the Premier League before, having played with Aston Villa and Fulham before moving to Rangers. Davis also brings experience playing in Europe, something only Danny Fox and Jos Hooiveld, who both played for Celtic previously, and Jose Fonte, who playing the UEFA Cup with Vitoria Setubal of Portugal, have done.
Davis was able to join Southampton's training camp in France near Lake Geneva, but has yet to play in any of Southampton's friendlies. So Davis may be a bit behind in blending into the squad.
Can Nigel Adkins Keep His Managerial Magic Going?
Nigel Adkins has guided Southampton to back-to-back promotions since taking over in 2010.
Steve Bardens/Getty Images
It seems like all Nigel Adkins does is win. Since being promoted himself from Physio at Scunthorpe to caretaker Manager to full-time Manager in 2006-07, Adkins has guided Scunthorpe and Southampton to promotion four times in six years.
Adkins guided Scunthorpe from League One to the Championship in 2007. Then after a 40-year absence for Scunthorpe from the second tier of English football, Scunthorpe were relegated back to League One in 2008, but bounced right back in 2009 and held their position in 2010.
Southampton swooped in and hired Adkins after the Saints fired Alan Pardew when Southampton got off to a slow start in 2010-11. Adkins righted the ship and guided the Saints to a second-place finish in League One by the end of the year, then finished second again last season in the Championship to clinch promotion again. His current record with Southampton is a sparkling 60-20-18.
While it's doubtful Adkins will win 61 percent of his matches again this season, Southampton fans hope his magic will carry Saints to a respectable league finish this year.
Will the Premier League Finally Stop Rickie Lambert's Goal Tear?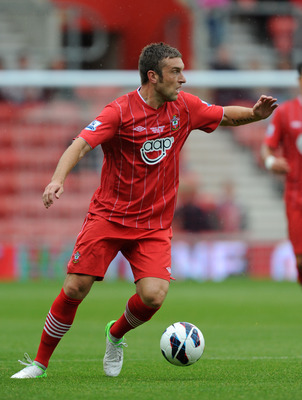 Rickie Lambert has been a goal machine in the lower leagues.
Steve Bardens/Getty Images
Rickie Lambert has terrorized every division of the Football League with his goal-scoring ability. Starting in League Two with Rochdale, Lambert scored 22 goals for Rochdale in 2005-06. After a move to Bristol Rovers in 2006-07, Lambert continued to show his goal-scoring prowess in League One, scoring 19 goals in 2007-08 and 29 goals in 2008-09.
After a 2009 switch to Southampton, Lambert still hasn't slowed down. In his three seasons on the South Coast, Lambert has tallied 36, 21, and 31 goals for the Saints.
Scoring at will against the likes of Huddersfield Town, Peterborough and Millwall is one thing. Breaking down the defenses of Manchester United, Manchester City, Liverpool, Everton and Tottenham is another. Is this the year Rickie Lambert has finally met his match?
Can Southampton Avoid Relegation?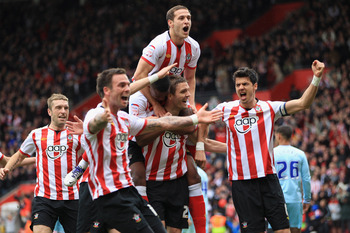 Finishing 17th may be cause to celebrate for Southampton this season.
Michael Steele/Getty Images
The big question this season—and the only question that really matters this season—is: Can Southampton avoid the drop back down to the Championship like all three promoted sides, Swansea, Norwich City and Queens Park Rangers did last season?
Certainly it seems like Southampton have the resources to survive this season. But with so many players that have never played in the Premier League, it remains to be seen if a group of young and hungry players can withstand the pressure of the Premier League.
One thing Southampton does have on their side is a history of great escapes. Prior to their relegation in 2005, Southampton had survived 27 straight years in the top flight. A number of those survivals were secured only on the last day of the season. The Saints may want to keep Marian Pahars' number on speed dial, just in case.
Keep Reading