3 Arsenal Players Who Must Improve to Capitalise on Champions League Reprieve
May 6, 2012

Julian Finney/Getty Images
Today's results have handed Arsenal a reprieve in their quest to qualify automatically for next season's UEFA Champions League. However, three players in particular must improve if Arsenal are going to capitalise.
Yesterday's calamitous 3-3 home draw against Norwich City left the Gunners' Champions League hopes hanging by a thread. However, Manchester City's comprehensive 2-0 defeat of Newcastle United and Aston Villa's 1-1 home draw with Tottenham Hotspur still somehow leaves Arsenal as prime candidates to finish third.
Yet in order to do that, Arsenal must win away to West Bromwich Albion on the final day of the EPL season. Given that they have managed only three points from a possible 12, any victory is going to require a dramatic turnaround in form.
Here are the three players who must do better if the Gunners are going to secure that coveted third place.
It may seem harsh to call on Tomas Rosicky to do more, particularly after he played the pass of the season for the equaliser against Stoke City. However, the Czech playmaker needs to deliver more goals and assists from the advanced midfield position.
As the main schemer in Arsene Wenger's current formation, Rosicky has to become more productive. He has the ability and gets into the positions to score goals, but composed finishing has eluded Rosicky for a while.
He must also become a more consistent source of through passes.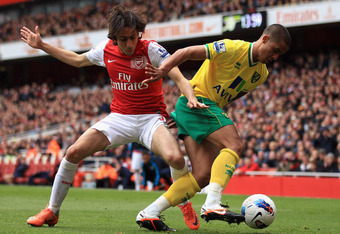 Bryn Lennon/Getty Images
Alex Song
Alex Song endured one of his erratic displays yesterday. He took too many chances in possession, was weak in the challenge and didn't have the execution to realise his creative ideas.
Aside from his precise chipped pass for Arsenal's second goal—which is fast becoming his stock contribution—Song was a liability. In fairness to the Cameroon star, this author still believes that many of his problems are due to being played out of position.
Song is not a box-to-box midfielder and he is certainly not a defensive midfield anchor. He is purely an attacking midfielder and needs to be featured in a position where he can affect the game the most.
However, as he will probably remain in a deeper-lying position for the season's last game, Song needs to be more disciplined and maintain his position in front of the back four. Arsenal are being caught on the counter far too often and sound positioning and sure tackling are needed from the designated ball winner in midfield. 
Thomas Vermaelen
Thomas Vermaelen's performance against Norwich vindicated this author's long-held belief that the Belgian stopper relies more on enthusiasm and determination than natural talent. Vermaelen was frequently guilty of creating big gaps in the defense, due to his eagerness to step out and chase the ball.
Granted, he probably felt the need to take decisive action because the back four was routinely exposed by a midfield that played without, unity, awareness or purpose. Yet there can be no doubt that Vermaelen's rash decision-making often leads to problems.
He needs to be more measured and rely on his ability in one on one challenges, to win the ball and break up attacks.  
Conclusion
Rosicky, Song and Vermaelen are three key players for Arsenal and it is the established members of the team who must do more in important matches. More telling contributions from the likes of Aaron Ramsey and Gervinho will only do so much.
However, when the spine of the team is weak and mistake-prone, Arsenal are prone to dropping crucial points. Third-place would be a remarkable achievement given the setbacks the team has endured this season. However, only more assured performances from Arsenal's established players can deliver it.