Summer Transfers: 20 Shocking Deals That Would Spice Up the Summer Window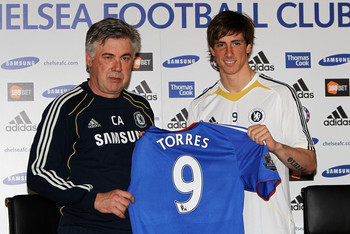 With domestic leagues fast approaching their conclusions, the Wild West of the summer transfer window will be upon us before we know it. It's the time for the real marquis deals come in. True stars changing teams in the winter transfer window—Fernando Torres going from Liverpool to Chelsea, for example—are rare. Just look at the unconcluded Carlos Tevez saga.
But the summer—that's when the big deals come in. Cristiano Ronaldo to Madrid, Javier Pastore to PSG, Cesc Fabregas to Barcelona, Samuel Eto'o to Anzhi—those are some just some of the players to change addresses the last few years during the summer transfer window. This summer's window looks to be a momentous one, as there are several high-profile players expected to be on the move.
Here are twenty moves—some definite-looking, and some not—that may spice up the summer window and change the face of the 2012-13 season.
Robin van Persie to Juventus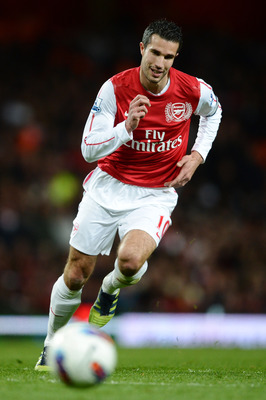 Laurence Griffiths/Getty Images
Robin van Persie has been linked to a move away from the Emirates Stadium ever since the Gunners started scuffling at the beginning of the year following Cesc Fabregas' move to Barcelona. He has been linked consistently with following his former teammate to Barça, but new reports allege that a new suitor has entered the ring—Italian giants Juventus.
With their first trip to the Champions League since 2009 assured, the Old Lady of Italian soccer will be looking to add extra firepower in their attack to close the gap between them and teams like Manchester United and Barça.
They are closely monitoring Iker Muniain of Athletic Bilbao, among others, but van Persie would be a jewel in the bianconeri's crown that, when combined with a the prolific midfield of Andrea Pirlo, Arturo Vidal, and Claudio Marchisio and one of the best defenses in Europe, would turn them into a dangerous contender upon their return to Europe's most prestigious club competition.
van Persie may be deterred by Juve's absence from the Champions League the past two seasons, but they are one of the up-and-coming teams in Europe and could be a serious continental threat in the next few years. van Persie could hasten that process.
Juventus Buys Back Sebastian Giovinco's Rights...
Claudio Villa/Getty Images
Once hailed as the successor to Alessandro Del Piero, Giovinco lost playing time at Juventus two seasons ago and went to Parma on a co-ownership deal. He has played incredibly well in his two season there, and has caught the eyes of many of Europe's big teams.
But with most signs pointing to Del Piero's Juve career coming to an end this year, Juve will have their #10 shirt available for the first time in nearly 20 years.
Giovinco has stated that he would not rule out a return to Juve, and mentioned that the prospect of being Juve's #10 is enticing. The bianconeri would likely be able to buy his rights from Parma easily, and he could easily integrate back into the Juve attack.
...and Swaps Him with Barça for David Villa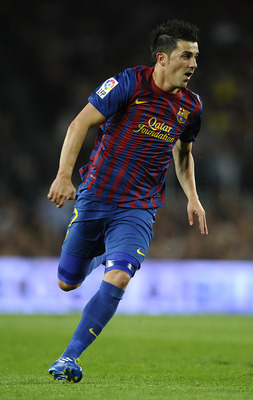 David Ramos/Getty Images
Should they be unable to get van Persie, Juve may be able to use Giovinco as a bargaining chip to lure out a world-class scorer to go with Fabio Quagliarella, Alessandro Matri, and Mirko Vucinic.
The Atomic Ant's agent has mentioned in recent weeks that Barcelona has been following in his client "for some time."
Any move from Parma would necessitate the co-ownership with Juve to be resolved, which would most likely go in Juve's favor.
Juve could then dangle Giovinco as a carrot for Barça in exchange for one of their high-powered forwards, like the currently-shelved Villa.
Former Udinese winger Alexis Sanchez is also mentioned as a possibility for such a deal.
Modric to Real Madrid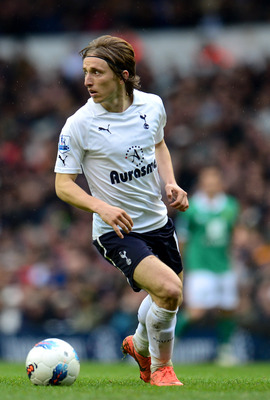 Shaun Botterill/Getty Images
Despite Saturday's 2-1 El Classico win over Barcelona, Real Madrid manager Jose Mourinho is likely well aware of the fact that they were unable to control the match by any stretch of the imagination.
While shots were even at 14 and Madrid actually put more shots on target (six to three) than their bitter rivals, Barça controlled the match with 72% possession.
Madrid's midfielders have looked like they're fading in recent weeks, including in their loss to Bayern Munich in the Champions League last week, and Mourinho's first priority this offseason may be to augment the depth of his midfield.
Enter Luka Modric. Having already gone through one transfer saga this past summer, most believe that the Croatian international will finally leave White Hart Lane this summer.
Last year's transfer drama dealt mainly with Chelsea, but a team like Madrid will be difficult for Modric to say no to if they match his price, and he's a definite upgrade to a midfield that already possessed Xabi Alonso. His passing evokes an Andrea Pirlo "lite," and he is a fairly consistent threat at goal as well.
Should he lead the Croats through a difficult group and into the knockout stages at the European Championships this summer, his value would skyrocket, leaving Spurs no real option but to entertain the highest bidder. Only teams like Real and Chelsea would be able to afford the price.
Montolivo to A.C. Milan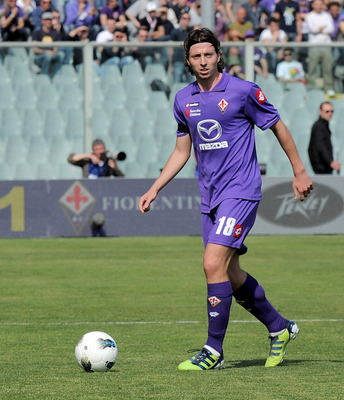 Dino Panato/Getty Images
Long considered an heir apparent to Andrea Pirlo on the Italian national team, Riccardo Montolivo's move to Milan is all but a foregone conclusion, as reports say he has made a pre-contract agreement with the rossoneri.
The 27 year-old had refused to sign a contract extension with Fiorentina this summer, causing him to be stripped of the team's captaincy and setting up a bidding war between Milan and Arsenal for his services as a free agent at the end of the year, one that Milan seems to have won.
Having made the mistake of allowing Pirlo to leave for Juventus as a free agent this past summer, Milan will likely be expecting Montolivo to fill a similar role to the one l'architetto used to have at the San Siro.
The lack of a true playmaking midfielder to create chances has caused Milan to lean too heavily on Zlatan Ibrahimovic this season, and with Juventus now rejoining the elite of Italy, they must have a major midfield upgrade next year for their title challenge.
Kuyt to Roma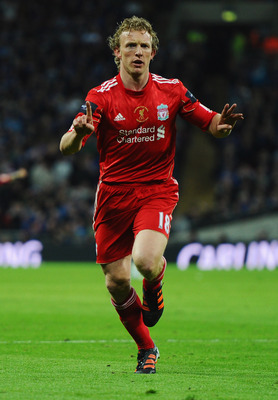 Mike Hewitt/Getty Images
Despite his solid play and heroics in the Carling Cup Final—where he scored in extra time and buried Liverpool's third penalty in the shootout after two straight misses—Dirk Kuyt has not had a serious place in Kenny Dalglish's plans this year, and he has made it clear that he wants more playing time, and that he will go elsewhere to get it.
The Reds will lose out on the Dutchman on the cheap, too, as it has been revealed that he can be had for a little as 1 million pounds.
Bundesliga side Hamburg have publicly identified themselves as contenders for Kuyt's services, and he has also been linked with Turkish side Galatasaray, but so far the most attractive option seems to be Roma.
He would be a good fit for the giallorossi, as he would bring veteran leadership and discipline to a young team that sorely lacks it outside of club legend Francesco Totti—who can have his own petulant streaks himself.
Among the current known suiters, Roma also gives Kuyt his best chance at top-level play. Hamburg is five points clear of the Bundesliga relegation playoff in 14th with two games to go in the German season, and Galatasaray, like their Turkish brethren, don't often make it beyond the group stage of the Champions League.
Roma are a point off the final Europa League spot in Italy, and may be able to make it through as the sixth place team should Coppa Italia finalists Napoli—assured of Europa League play thanks to making it to the Coppa Italia final against Champions League qualifier Juventus—finish in one of the Europa League spots. They even have an outside chance of overtaking rivals Lazio to make the Champions League themselves.
Unless another option comes up as the summer progresses Roma is likely Kuyt's best option, and Kuyt would be a significant addition to Roma as well.
Özil to Manchester United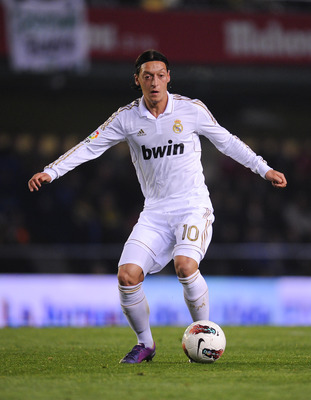 David Ramos/Getty Images
Manchester United's biggest problem this year has been its midfield. So strapped at the position were the Red Devils that Sir Alex Ferguson was forced to beg Paul Scholes back from retirement less than half a season after his testimonial at Old Trafford.
Wesley Sneijder has been rumored to be going to Manchester from Inter for the better part of a year, but a deal for the Dutch maestro has repeatedly failed to materialize, and now rumor has it that Sir Alex has shifted his focus to another Mediterranean nation to fill his midfield hole.
Mesut Özil has been the face of the new German national team. The Turkish-born German international burst onto the scene during the 2010 World Cup, and Real Madrid beat out Man U, Arsenal, and Barcelona to sign him from Werder Bremen.
Özil has not been one of those big-tournament mistake signings, but he has been prone to inconsistency and to underperformance in big matches like El Classico. Reports also say that he is somewhat unsettled by life in Madrid and would welcome a change.
Özil will likely cost United more than double the roughly 12.5 million pounds it took Real to sign him, and his wage demands will likely be in the neighborhood of £140,000 a week, but if any club is able to afford such a move, it's United.
Higuain to Chelsea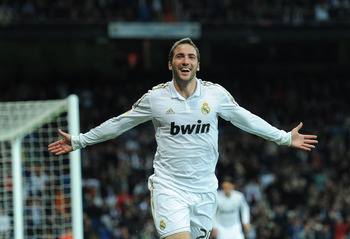 Jasper Juinen/Getty Images
Real Madrid's 24 year-old Argentinian striker has frequently shown up on the rumor mill since the end of the winter window.
For a while it looked like his losing battle for playing time in Jose Mourinho's front line would make it certain that he would be moving away from the Bernabeu. Recent comments from his father have muddied the waters as to whether or not he will leave, but he is a key bargaining chip for Real to improve next season.
Reports have Juventus and Manchester City among Higuain's suitors, but the team he'd make the biggest impact for is Chelsea.
The Blues' forward line is a combination of the old (Didier Drogba) and the ineffective (Fernando Torres) right now. The Argentinian international would be a major shot of youth in an aging team.
The need for forward help would be even bigger should Drogba spurn Chelsea's one year contract offers in favor of longer and more lucrative opportunities in China with former teammate Nicolas Anelka.
Reports have Chelsea putting together a bid between 30 and 40 million pounds alone, or part of an 80+ million pound offer to pry both Higuain and Cristiano Ronaldo away from Madrid.
Huntelaar to Arsenal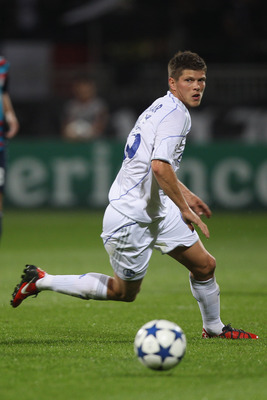 Michael Steele/Getty Images
Should Arsenal lose Robin van Persie this summer, his replacement could well be fellow Dutch international Huntelaar.
Huntelaar, who has found excellent form over the last two seasons for Schalke 04 in Germany, also led Euro 2012 qualifying with 12 goals for the Oranje.
His stellar international form combined with 57 total goals in all competitions for Schalke has once again made him a hot commodity, and the former Real Madrid and A.C. Milan man will likely move to another top side this summer.
Manchester United has shown interest in having him replace the departing Michael Owen and Dimitar Berbatov, but Arsenal will likely have much more incentive to acquire a prolific scorer like Huntelaar, and Huntelaar would likely be slotted directly in as Arsene Wenger's top striker, rather than having to compete with Wayne Rooney, Danny Welbeck, and Javier Hernandez for playing time with Man U.
Cavani to Manchester City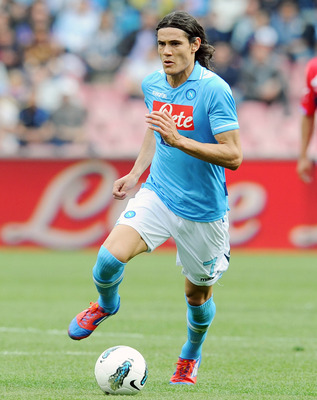 Giuseppe Bellini/Getty Images
With Napoli four points back of Lazio for the final Italian Champions League spot with five matches left, the partenopei may be forced to cash in on one of their attacking triumvirate of Edinson Cavani, Ezequiel Lavezzi, and Marek Hamsik.
Cavani is worth more than the others, and is very much in demand. With Mario Balotelli as unpredictable as ever and Edin Dzeko likely headed out to look for more playing time, Roberto Mancini could use a reinforcement on his front line.
Team president Aurelio De Laurentiis has repeatedly said that he intends to keep his terrific trio, but Cavani has been noncommittal about staying, saying that such decisions are something that "the club will deal with."
Cavani will become even more tantalizing for Sheikh Mansour should they lose out on Higuain—a possibility thanks to their unwillingness to include Sergio Agüero in any deal.
Juventus and Manchester United Swap Midfielders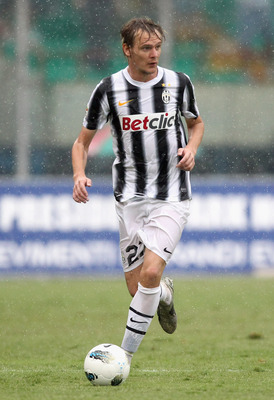 Maurizio Lagana/Getty Images
Manchester United and Juventus both have wantaway midfielders collecting dust on the shelf. What's the solution? Swap them!
United's teenage sensation Paul Pogba has been linked with the bianconeri for the better part of a year now, as the Red Devils don't want to give in to Pogba's high wage demands. The creative, skillful midfielder would be a fantastic addition to a Juve midfield that already boasts Andrea Pirlo, Claudio Marchisio, and Arturo Vidal. His contract expires this season, and Juve can have him for a nominal fee.
In order to sweeten the deal, however, Juve could ship disgruntled midfielder Milos Krasic to Old Trafford. The Serbian international had the opportunity to leave Juve on loan to Tottenham at the eleventh hour of the winter transfer window, but decided to stay and see if he could get back into coach Antonio Conte's good graces. He now considers that decision a mistake, and wants out of Turin.
It seems that Man U will be competing with half the Premier League for Krasic's services, as Chelsea, Tottenham, and Liverpool have all been linked to the wide midfielder. Man U may have the leg up if sending Krasic to Manchester will ensure Juve gets Pogba after such a long courtship.
Podolski to Arsenal
Clive Mason/Getty Images
If Arsene Wenger has any hope to keep his captain and star striker, he absolutely has to bring in some top-flight talent to persuade him that Arsenal can end their seven-year trophy drought.
Lukas Podolski isn't a shocker, but he's definitely a good place to start. Media in England say that the Gunners have agreed to a 10.9 million pound offer with Bundesliga side Cologne for the 26 year-old German forward.
Podolski rejected a move to Arsenal in January over concerns a move could affect his form and place in the German side at Euro 2012.
The question is now whether or not he'll be teaming with van Persie or if he'll be the focus of a rebuilt Arsenal attack.
Dempsey to Arsenal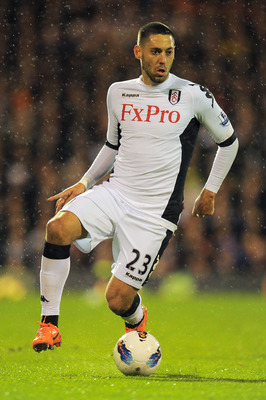 Mike Hewitt/Getty Images
Fulham is desperate to keep American forward Clint Dempsey in the fold, but Dempsey has made it plain that he wants to play in the Champions League, and sooner rather than later. The Cottagers may finish in the top half of the table this season, but they are far, far from the Champions League—and will be for the foreseeable future.
While Everton and Spanish side Sevilla have expressed interest, Dempsey's insistence on playing Champions League soccer likely narrows his possible destinations down to two or three teams: Tottenham, Arsenal, and Roma.
The Italian giants have tossed their hats into the ring recently, but their immediate Champions League prospects aren't exactly sparkling—they're all but out of it after this week's thrashing against Juventus, and in the future they'll be in dogfights with the lights Juve, Milan, Napoli, Udinese, and Eternal City rivals Lazio for Italy's three Champions League places.
If the biggest motivator for Dempsey is Champions League play, Arsenal would likely beat out Spurs for his services. The Gunners have a six point cushion between them and Spurs in fifth, and could have need for a second forward to partner with Podolski if they can't retain the services of van Persie.
Robben to Juventus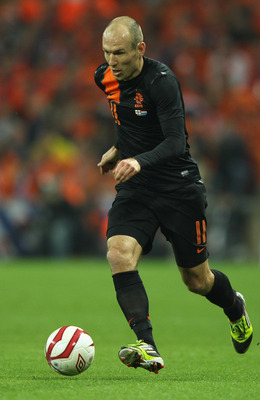 David Rogers/Getty Images
Another possible move for Juventus to rebuild their side for the forthcoming Champions League season, Bayern Munich winger Arjen Robben reportedly turned down an offer from the bianconeri earlier this month, saying it was a "great honor" to be thought of, but that he was not interested.
However, reports this week say that last week's locker room dustup between Robben and teammate Franck Ribéry has made Bayern open to selling the Dutch international, and that Juve are ready to pounce.
Robben would add a huge element to the attack of the Turin giants, who searched in vain for a left wing throughout last summer's transfer window before finally deciding on Robben's fellow Dutch international Eljero Elia, who has been little used this season.
Robben would fit comfortably on the left side of Antonio Conte's 4-3-3 formation, instantly making strikers Fabio Quagliarella and Alessandro Matri more dangerous, to say nothing of goal-scoring midfielders Claudio Marchisio and Arturo Vidal. The move would also be a marked upgrade over the inconsistent Mirko Vucinic, who could be sold off to fund the purchase.
Piqué to Manchester United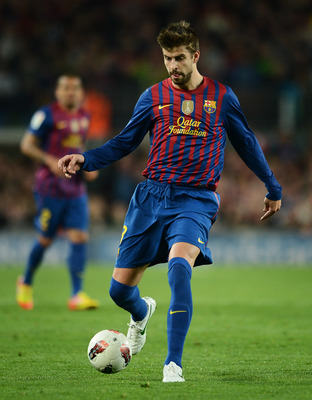 Jasper Juinen/Getty Images
Barcelona center-back Gerard Piqué is reportedly on the outs with manager Pep Guardiola, having been dropped from the lineup for the first leg of the Champions League semi-final against Chelsea and for El Classico last week. Pique has refuted these claims in press conferences, but should the issues continue Pique's old team may come calling.
Piqué left Manchester United in 2008 in search of more playing time after being blocked for several years at Old Trafford, a move Sir Alex Ferguson admits he regrets. But now with Rio Ferdinand entering the soccer equivalent of old age and injuries sapping their depth at central defense, bringing Piqué back would inject a needed boost of youth and quality into their back line.
Leaks in the Red Devils' depleted central defense were the chief culprits in their shock early exit in the Champions League this year and their even more unexpected fall to Athletic Bilbao in the Europa League's round of 16.
Unexpected defensive lapses like this weekend's 4-4 draw against Everton have put Man U into a position where should they lose Monday's Manchester Derby they will no longer control their destiny, as Manchester City would have a superior goal difference. Piqué would go a long way towards plugging those defensive holes.
It's also a plus that Piqué still has many friends in Manchester—particularly superstar Wayne Rooney.
Hazard to Tottenham Hotspur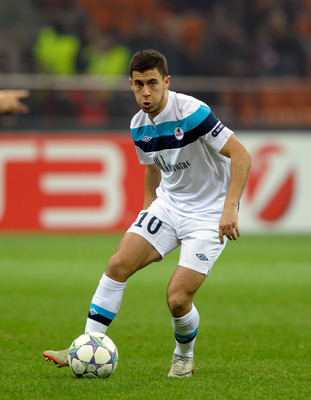 Claudio Villa/Getty Images
The battle for Eden Hazard looks to come down to Manchester United and Tottenham Hotspur.
One would think that Man U would have the edge in such a confrontation, but for the sake of argument and assuming that my prior scenario of Man U acquiring Mesut Özil from Real Madrid comes to pass, they will likely be too far extended for a move for the Belgian playmaker.
This is where Tottenham comes in.
Spurs will likely need to replace a departing Modric, as well as make up for the departure of Emanuel Adebayor after his loan expires. Adebayor's wage demands—more than 200,000 pounds a week, currently being paid by his parent club Manchester City—are far outside Tottenham's financial scope, but Hazard's will undoubtedly be more manageable, and his acquisition would solidify Tottenham's desire to be a consistent participant in the Champions League.
With Arsenal, Chelsea, Liverpool, and both Manchester teams looking to make big changes this offseason, Spurs must make moves along with them in order to keep up and maintain their top-of-the-table dreams.
Hulk to Chelsea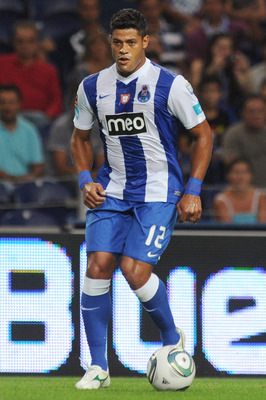 EuroFootball/Getty Images
When Chelsea was in crisis in January, Brazilian international Hulk was considered a prime target. Portuguese club Porto put the kibosh on that deal when they placed a ridiculous 85 million pound price tag on the striker.
With Didier Drogba possibly moving away from Stamford Bridge at the end of the season and fellow forward Daniel Sturridge reportedly desirous of a more central role rather than his current wing position with the Blues, Chelsea could be seeing a major overhaul of their forward line.
A transfer at Hulk's listed price would easily break the English transfer record set by Chelsea last year in their misguided acquisition of Fernando Torres.
Last month Chelsea reportedly reopened talks with Porto regarding the striker, and for roughly half of that hefty price tag.
Either way, Hulk has voiced his interest in playing for a bigger team. If he doesn't get to, he might get angry. And Porto wouldn't like him when he's angry...
Llorente to Liverpool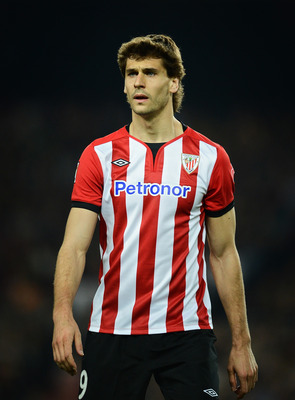 Jasper Juinen/Getty Images
Fernando Llorente has benefited from Fernando Torres' absence from the Spanish national team, scoring three times during Euro 2012 qualifying, and his good form this season has made him a prime candidate to replace David Villa on Spain's front line in the tournament. He's scored 28 goals in all competitions for Athletic Bilbao this season and has led his team to the semifinals of the Europa League.
His form for Bilbao has caught the eye of Liverpool brass.
With last year's big signing Andy Carroll still in a terrible rut form-wise and Kuyt likely leaving, Llorente is one of the Reds' top choices to partner Luis Suarez up top at Anfield.
Liverpool will hope that Llorente will be able to do what Carroll has not—provide an effective aerial target.
With most of the other teams in the Premier League looking at larger fish, Llorente could be a cheaper alternative that would still be a significant upgrade for an attack that has set the Premier League record for hitting the woodwork this season.
M'Vila to Inter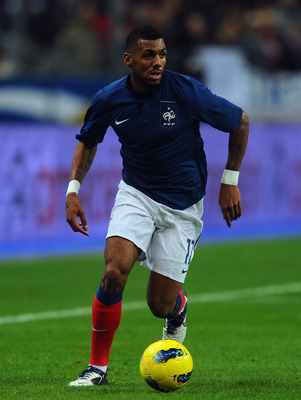 Mike Hewitt/Getty Images
Arsenal have long been considered the favorite to land Rennes midfielder Yann M'Vila. However, Arsene Wenger would almost certainly have to break his own transfer record of 18 million pounds in order to land the 21 year-old, and Wenger is likely to pass on if competition from other suitors—namely Real Madrid and Inter Milan—spark a bidding war that drives the price much higher than 20 million.
Such a bidding war is entirely possible, especially with Inter owner and president Massimo Moratti smarting over a nightmare season that will likely see the nerazzuri missing out on European soccer entirely in 2012-13.
Inter sees M'Vila not only as a much-needed injection of youth in an aging team but as a lure for their top choice to occupy their manager's office next season—French national team coach and former Inter defender Laurent Blanc—away from les bleus and to the San Siro.
M'Vila has stated outright that he prefers to play for a French manager, but it is unclear who would win out between Wenger and Blanc.
Madrid's interest complicates matters more, but for them to seriously contend for such a move Lassana Diarra and Fernando Gago would have to be off-loaded first. Moratti is much like George Steinbrenner, the late owner of the New York Yankees baseball team in that he is quick to throw money on impulse at a perceived need. He will be more willing to overpay Rennes for M'Vila than Wenger, and should be able to bring his man to Milan.
Dzeko to Paris Saint-Germain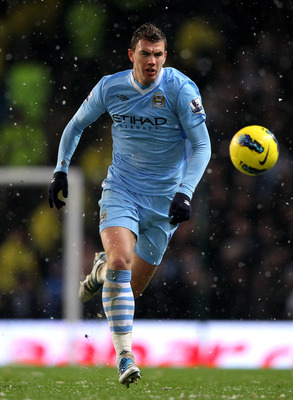 Alex Livesey/Getty Images
Fifteen months ago Roberto Mancini and Sheikh Mansour paid Wolfsburg 27 million pounds for Bosnian international Edin Dzeko. The move has not worked out as planned.
Dzeko has been given limited time on the field despite the drama that has kept Carlos Tevez and Mario Balotelli on the sidelines for long stretches of the season. The striker is understandably vexed, and is set to look elsewhere for playing time.
Paris Saint-Germain and their new Qatari owners have been splashing some cash around since the sale of the team went through, picking up highly rated players like Javier Pastore and Thiago Motta. Dzeko would likely be a fine piece to their puzzle as they look to make themselves a Champions League fixture in the years to come.
While swap deals have been rumored with Real Madrid (for Gonzalo Higuain) and Borussia Dortmund (for Robert Lewandowski), Roberto Mancini's dream target this summer would be Robin van Persie, and PSG is likely to offer the money necessary to fund an offer for him and/or Napoli's Ezequiel Lavezzi from the sale of Dzeko.
Keep Reading