4 Reasons Jordan Henderson Should Not Be Labelled a Flop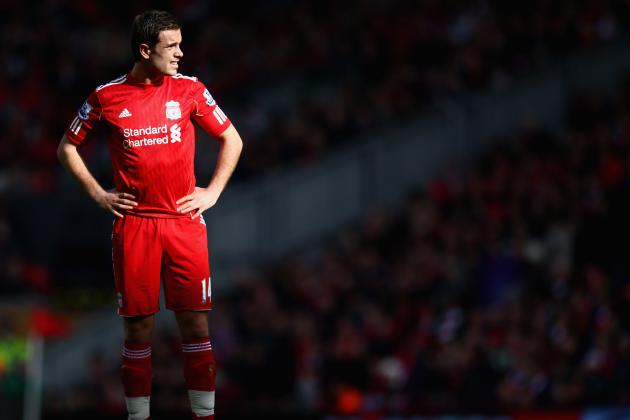 Clive Mason/Getty Images

Jordan Henderson, despite his struggles, is far from a flop at Liverpool.
The axe has fallen for Damien Comolli as the director of football for the Reds. He left the club by mutual consent on Wednesday.
With his departure, many have begun to grade the transfers that were made since he was named to the post in November 2010.
It's a bit of a mixed bag. The arrivals of Luis Suarez, Jose Enrique and Craig Bellamy have been successful. However, it's the high-priced transfers of Stewart Downing, Andy Carroll and Jordan Henderson have drawn the most criticism.
They are a part of Liverpool's strategy to buy British players, which itself has not been popular among supporters.
Few could argue that for a combined £75 million in transfer fees Liverpool has been able to get production equal to the financial outlay.
It's fair to criticize, but the opinions have been a bit overboard, especially in regard to Jordan Henderson.
Begin Slideshow

»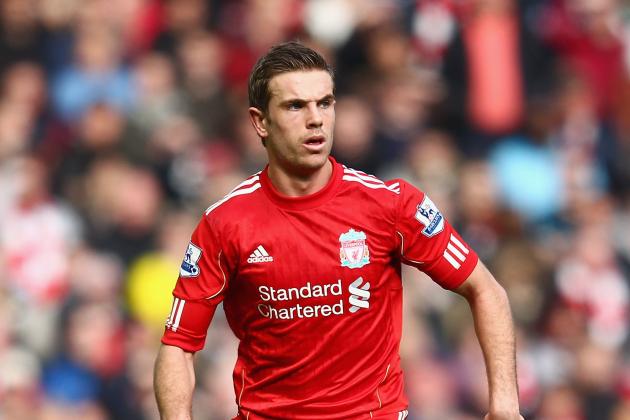 Clive Mason/Getty Images

Kenny Dalglish has shuffled his midfielders in general quite a bit this year. You could probably ask five different supporters who the best combination is in the middle of the pitch and you'll get five different answers.
Henderson has played just about every midfield position this year.
On one hand, that can be a good thing because it can increase his versatility, but at a certain point, it just becomes too much.
This was more of a problem earlier in the season.
Dalglish even acknowledged that this constant changing was not beneficial to his players. He was more referring to Stewart Downing in this case, but a young player like Henderson can struggle even more so.
Some, like Phil Jones, can play everywhere on the pitch. He is an exception, though, and any kind of comparisons aren't fair.
The team in general has looked at many times this year as if it had no tactical plan whatsoever. Even when Henderson plays in the same positions, his duties seem to change every match.
This hasn't done him any favors.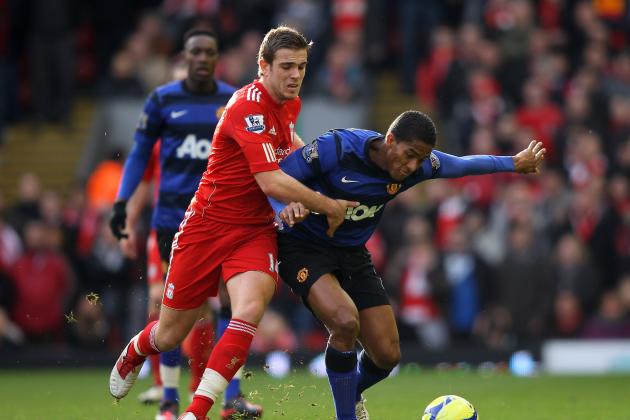 Alex Livesey/Getty Images

People seem to forget that Henderson is only 21 years old. He's still a good five or six years away from his prime.
When giving him a grade on how his move to Liverpool has been, it should be incomplete. He wasn't purchased with this year in mind but rather the future.
Some players can flourish very early into their careers, while some need a little more time.
Supporters might not be in a mood to wait, with Liverpool failing again to reach Champions League qualification.
The expectations on Henderson this year were great, with his £20 million price tag. Unfortunately for him and much like Andy Carroll, the inflated fee has been an albatross around his neck.
At points in the season, he has shown what he can do and what supporters can expect in the the years to come.
He put in a very good performance against Blackburn which, although it was against Blackburn, should not simply be dismissed.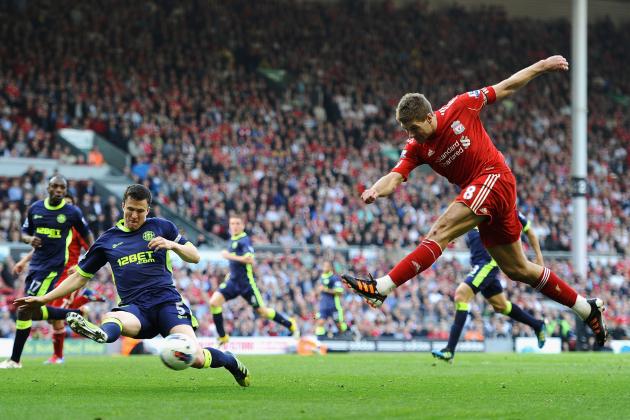 Laurence Griffiths/Getty Images

Jonathan Wilson wrote a very interesting article in The Guardian this past Tuesday.
In it, he makes the point that Liverpool might be a better squad without Steven Gerrard. When he's started, the club has only won nine percent of its games, compared to 48 percent when he doesn't start.
Henderson's tackle success rate drops from 92.59 percent to 63.64 percent when Gerrard is in the starting 11.
For years he has been the talisman for Liverpool. When things aren't going right, supporters could also look to him to provide some inspiration.
That hasn't happened this year, though.
The club has been criticized in the past for an over-reliance on Gerrard, and that criticism is completely warranted now.
At 31 years old, he can't provide the same kind of magic like he did in the 2005 Champions League and 2006 F.A. Cup finals.
He's had some good performances this year, with Everton and Newcastle in particular, but the more he struggles, the more it brings down the entire midfield.
With players like Henderson who are low on confidence, they're going to let Gerrard take an even more active role, which is something that isn't helping Henderson or the club at all.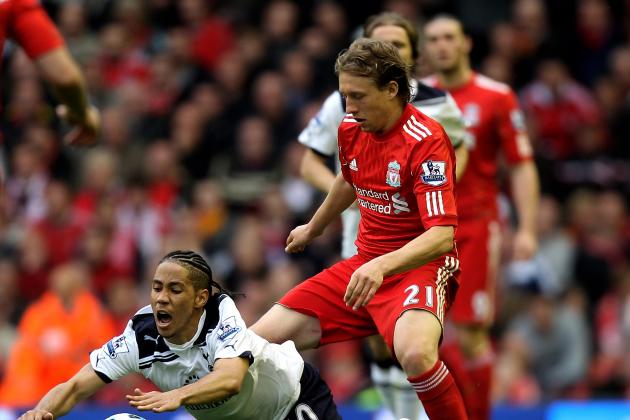 Michael Steele/Getty Images

The loss of Lucas Leiva has hurt everyone, especially those in midfield. Without him, there isn't another capable ball-winner as good as he is.
Even though he's been out since November, the Brazilian still leads the squad in tackles.
More importantly, Lucas has illustrated that it can be a bad thing to jump to conclusions and judge a player too quickly.
A few years ago, he was the most criticized player in the Liverpool squad. Now, he's one of the best.
Some of his early problems could be down to simply his youth as he turned just 25 this past January. But a lot of the problem can be contributed to Rafa Benitez's insistence that he be paired up with Javier Mascherano.
That's a good defensive midfield pairing, but it left the squad without any creativity in the center of the pitch. Lucas was then left in the role as the creative impetus in midfield, and it didn't work at all.
To be fair to be Benitez, he continued to play Lucas despite the criticism. Mascherano left and Lucas has really excelled ever since.
Maybe supporters will look back and say the same thing about Kenny Dalglish in regards to Jordan Henderson.