Tottenham vs. Manchester United: 6 Tactical Moves That Defined the Match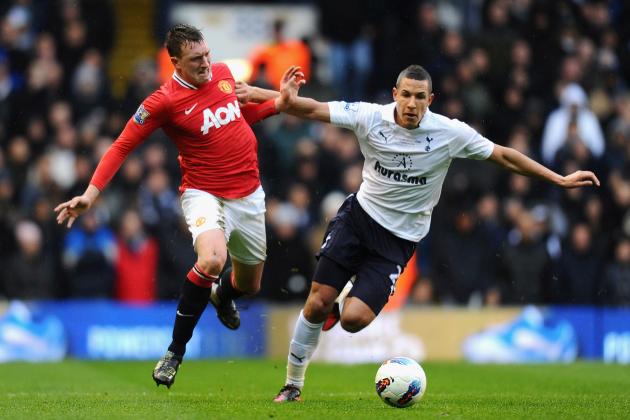 Mike Hewitt/Getty Images
Manchester United's Phil Jones (L) battles with Tottenham Hotspur's Jake Livermore (R).
It was a topsy-turvy weekend for the London clubs in the Premier League.
While Arsenal defied all the odds to come out on top at Anfield against Liverpool—via two goals from the talismanic Robin van Persie—after clearly being the second-best side on the pitch, Russian oil magnate and Chelsea owner Roman Abramovich said ta-da to his eighth manager in as many years. The West Londoners' neighbours Fulham, meanwhile, put five goals past a sorry Wolves.
So when second-placed Manchester United turned up at White Hart Lane to play third-placed Tottenham Hotspur on Sunday evening, the 36,000-plus capacity crowd was expecting nothing less than a page-turner.
Manchester United (on 61 points) knew that anything less than three points would put them dangerously behind neighbours and table-toppers Manchester City (on 66 points) with just over 10 games to go. The Spurs (on 53 points), too, were well aware of the fact that their North London rivals Arsenal (on 49 points) were reaching for their ankles after their victory over Liverpool.
This fixture had always thrown up a belter over the last decade or so, but annoyingly so for Spurs supporters, the result had never flattered them. Their side had never beaten Manchester United since 2001. Their overall Premier League record against the Red Devils was even more dismal: P39 W3 D8 L28 Pts 17.
What's worse, they were without their match-winning trio of Gareth Bale (hamstring), Rafael van der Vaart (ankle) and new England captain Scott Parker (suspended).
Manchester United, who are on a terrific away-run this season (having won nine and lost only one out of their twelve away games prior to this fixture), started positively and dominated possession for about five minutes.
But slowly and steadily, the Spurs got into the game and pushed United on the back foot. United never looked like recovering in the opening 45.
Thus, not a single person in White Hart Lane could believe it when Wayne Rooney, in stoppage time of the first half, headed a curling Ashley Young cross past Brad Friedel from six yards.
United boss Alex Ferguson later described it as "a miracle" that his side were ahead at the break.
The Spurs were determined to set things right in the second half—especially after Emmanuel Adebayor's back-heel goal had been disallowed earlier for handball—and continued to press United.
However, at the stroke of the hour, the Reds made the most of a defensive lapse as Ashley Young scissor-volleyed past the traffic from a tight angle just outside the six-yard box.
Young, who had scored twice in United's 8-2 mauling of Arsenal earlier this season, carried on his love affair with the North London clubs as he curled one past a helpless Friedel from 20 yards nine minutes later.
It was nothing less than a scandal, as the Spurs might have felt after dominating the majority of the game. Substitute Jermain Defoe got a consolation goal three minutes from time, but it was too late for Harry Redknapp's side, who saw their title dreams take a cruel, crushing blow.
After witnessing such a baffling game, it's hard to point out the tactics that won or lost the match. However, here are a bunch of tactics that I thought were relevant.
Begin Slideshow

»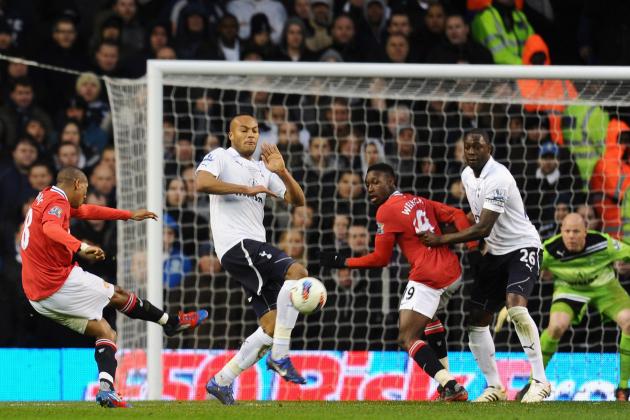 Mike Hewitt/Getty Images
Ashley Young lets loose a scorcher from 20 yards to score Manchester United's third goal in the 3-1 victory over Tottenham Hotspur.
When I saw Manchester United's teamsheet for the match, I was surprised with Ryan Giggs' exclusion at the cost of Ashley Young.
Giggs had rescued three points for United last weekend against Norwich City with a stoppage-time effort and looked certain to start on Sunday. However, Sir Alex chose to go with the 26-year-old Young, who was hot from scoring on international duty for England against the Netherlands midweek.
Young initially struggled to find his feet after Tottenham's dominant spell of possession in the first half, but set free after assisting United's first goal against the run of play.
Sir Alex's move to play the Englishman proved to be a masterstroke after Young grabbed a brace later to seal three valuable points for the Red Devils to keep up the pace with Manchester City.
Both goals were exceptionally well taken and are sure to give Young a lot of confidence for the remainder of the season. With the prolific Antonio Valencia out with injury, there couldn't be a better time for Young to prove his worth for United.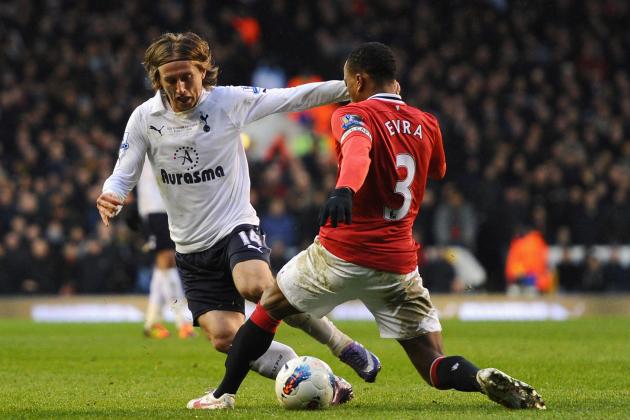 Mike Hewitt/Getty Images
Tottenham Hotspur's Luka Modric (L) vies for the ball with Manchester United captain Patrice Evra (R).
With Gareth Bale out with a tight hamstring, Harry Redknapp chose to play Luka Modric on the left flank ahead of Benoit Assou-Ekotto.
Modric, although quite an adaptable and versatile player, is best positioned in the centre of the park where he orchestrates play. By pushing the Croat to the left, Redknapp entrusted the centre-midfield to the inexperienced duo of Jake Livermore and Sandro.
Don't get me wrong, the duo astonishingly dictated play in the middle—they even managed to boss over the experienced Manchester United pairing of Paul Scholes and Michael Carrick—but in such a vital game, you have to play the right man in the right position. Would Ferguson have played Scholes on the left supposing he had a shortage of wingers to choose from?
Livermore and Sandro were perhaps lucky by catching Scholes on a rare off-day, but began to get exposed later when Ryan Giggs replaced his veteran teammate in the final third.
In hindsight, Redknapp should have stuck with Modric in the centre in place of Sandro. Niko Kranjcar, who eventually replaced the Brazilian, could have covered up on the left.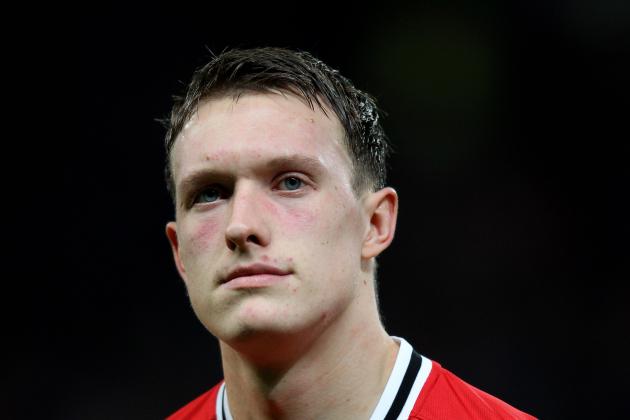 Alex Livesey/Getty Images
Manchester United defender Phil Jones
It is a common perception that Manchester United's defence, sans Nemanja Vidic, can be bullied. Tottenham Hotspur showed us exactly how in the first half of the game.
While Rio Ferdinand and Jonny Evans were at the top of their game (that's not very intimidating), 20-year-old Phil Jones was stuck to cover Nani on the right flank.
The Englishman looked out of place for most of the game and was taken apart by Luka Modric and Aaron Lennon, who regularly switched flanks. A small compensation for Jones can be the fact that he wasn't as bad as United captain Patrice Evra, who looked comical against the Spurs duo.
In my opinion, Phil Jones is best at centre-back and should be played there, and there alone. Sir Alex does like to mix it up with his players (remember John O'Shea?), but Jones has tremendous potential at centre-back and is being wasted on the flank.
Jones may have a had a few of good games at right-back, but against a team like Tottenham which thrives on attacking and only attacking, he is left exposed more often than you'd like.
Chris Smalling, who literally clashed heads with Klaas-Jan Huntelaar on international duty, would have been the ideal choice as full-back. But in his absence, against a team like Spurs, playing one of the Da Silva twins would have made more sense.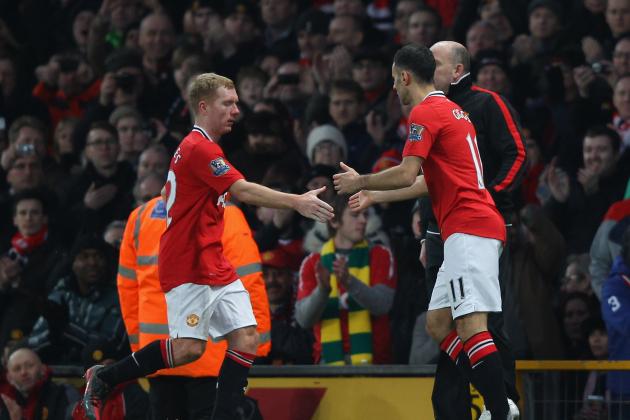 Alex Livesey/Getty Images
Manchester United's Ryan Giggs (R) comes on for Paul Scholes (L).
Ever since Paul Scholes made a comeback from premature retirement (Yeah, that's right, premature) in January this year, Manchester United's centre-midfield has looked less vulnerable than before.
Scholes' quality as the puppet master of the Manchester United attack has come in handy for the Red Devils and has been instrumental in their struggle to keep up pace with Manchester City.
However, in the 11 games he's played so far, Sunday's match was the first instance of Scholes looking even remotely off the pace. His outrageously accurate radar was faltering and he was being bossed around by the inexperienced Livermore and Sandro—both 15 years his junior.
Sir Alex persisted with his ginger ninja until United were in a comfortable 2-0 lead, before swapping him for Ryan Giggs. With still a half-hour of the match to go, Ferguson obviously expected Tottenham to launch an all-out attack, and Scholes' inefficiency would have been highlighted even more.
Giggs came on, took over the reins and ensured that United's midfield wasn't exposed as the Red Devils glided home to a 3-1 victory.
The point I want to stress is that the substitution was timely, unlike...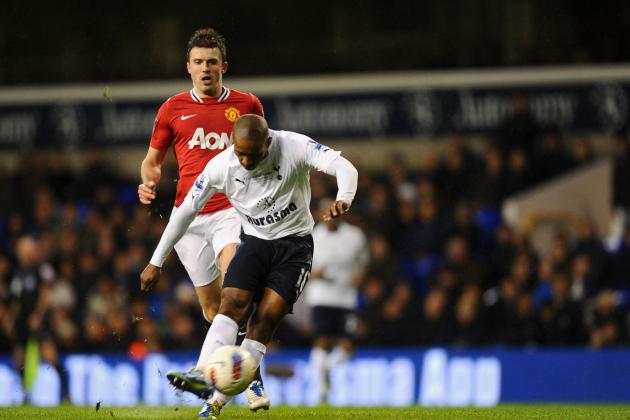 Mike Hewitt/Getty Images
Tottenham Hotspur's Jermain Defoe shapes up to strike the ball as Manchester United's Michael Carrick looks on.
Jermain Defoe is a natural goal scorer. True, he's had issues with injury and consistency, but eight goals in 17 Premier League games is not a bad effort at all.
I was quite surprised when Harry did not bring on the Englishman immediately after United's second goal on the hour mark. One would have expected the Spurs to go on an all-out attack after being two goals down—undeservedly so, on top of it.
Amazingly, Harry watched on as United grabbed a third a few minutes later. He sunk into his seat, unwilling to accept what was transpiring in front of him and refusing to act on it.
Finally, with 10 minutes of normal time to go, Harry brought on Defoe for an ineffective Luis Saha and Niko Kranjcar for Sandro.
Redknapp was then left to rue what could have been as Defoe thundered home a consolation goal for Spurs. If he had been brought on even 15 minutes earlier, you never know, this could have been a completely different story.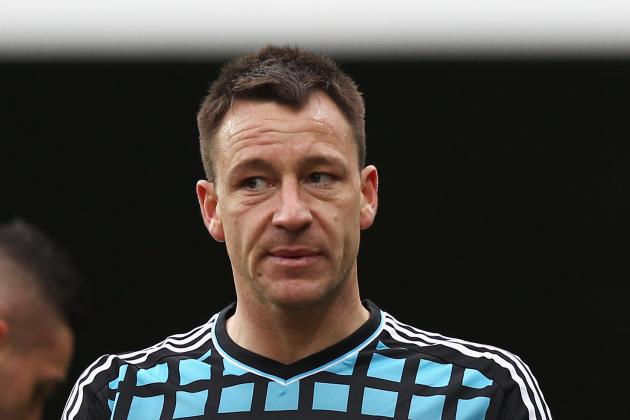 Ian Walton/Getty Images
Chelsea captain John Terry.
Totally unrelated to this game, or maybe not?
In October last year, John Terry allegedly said something nasty on the pitch to an opponent, for which the Chelsea and England captain was ostracized by the media. Fabio Capello, then England manager, refused to comply with the Football Association's (FA) order to strip Terry off captaincy until the court case was done with, and subsequently quit over the issue.
Enter Harry Redknapp as the next best option and No. 1 choice according to the English media. He is English, he is experienced and he has previously expressed desire to manage the national team.
Harry was glorified and god-ified by the English media, as #HarryForEngland became one of the most popular hashtags on Twitter.
Redknapp reiterated his focus on Spurs and the title race, as the North Londoners thrashed Newcastle, 5-0. But soon after, the media pressure finally got to Harry as Tottenham slumped to a draw against League One side Stevenage FC in the FA Cup. Then they suffered heavy defeats to Arsenal (5-2) and, now, United.
As always, it's all John Terry's fault.
P.S.: It was a joke!
When your defence switches off and defends two dead-ball situations like a bunch of 12-year-olds to concede goals, you can't really blame the manager, or John Terry for that matter.
If you liked this piece of crap, follow me on Twitter for more: @jaideepvaidya