England vs. Holland: Scott Parker Named England Captain, but Who Cares?
February 29, 2012

Dave J Hogan/Getty Images
So, after much speculation, it appears that Scott Parker has been appointed England captain for today's friendly against the Netherlands.
There has been a fair deal of discussion about this move.
Some have praised the decision, pointing to Parker's all-action, inspiring style of play. He leads the Premier League in tackles and interceptions this season, and is supposedly just the type of combative player necessary for a leadership role.
Others have expressed their unease, pointing to the fact that Parker's starting position is far from assured in the long run, given Jack Wilshere's relatively imminent return from injury, Michael Carrick's sparkling season, and the old guard of Steven Gerrard and Frank Lampard, who still stubbornly refuse to go into that good night.
Might it not be better to give the armband to someone who is a guaranteed starter? Or, is giving Parker the captaincy tonight a nice, one-off reward for a good season and a good chance to test his leadership skills?
Personally, my take on the matter is simple.
Who cares?
If the point of playing a football match is to win it, then the England captaincy is a non-issue.
That it has become such an all-engulfing problem, one which played a fairly substantial role in the resignation of Fabio Capello, points to a wider malaise within many parts of English society: We simply can't accept that England aren't very good at football, nor can many be bothered to understand the real reasons why England aren't good at football.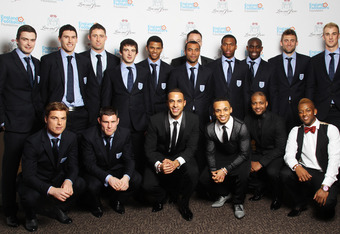 Dave J Hogan/Getty Images
Yes, England should qualify for every World Cup and European Championships. Yes, England have a fair few decent players. And, yes, perhaps England should hope to get further than the quarterfinals more than once every 20 years. 
But England's consistent and completely understandable failure to win trophies has meant that many within the country, and particularly those working in the tabloid media, have basically lost their grip on reality.
The root causes of why England don't win trophies aren't hard to find. They relate to a total lack of investment in youth football. Tiny youngsters are told to play on full-sized pitches from an early age, and attributes such as strength, desire and determination are favoured over learning basic technical skills. As such, when faced with countries like Germany and Spain who have invested in their youth facilities, England predictably get battered. These countries not only have better players, they have lots more better players, because they actually took the time and effort to produce them.
But this is a complex issue which requires years of investment and patience before the dividends can be reaped.
This is too much for the press to tolerate, and so they fixate on mind-bogglingly trivial issues instead.
In 2002, the English nation collectively lost its grip with reality when David Beckham fractured a bone in his foot. Rather than focus on the fact that players like Danny Mills, Trevor Sinclair and Emile Heskey could get regular games for the team, England's entire national hopes were held to rest on whether Beckham's foot would heal or not. When the overall mediocrity of the team was finally exposed, Sven Goran Eriksson's inability to give rousing team talks was held as the cause of England's defeat against Brazil, rather than the fact that the latter were a much better side than England.
And so it will be again this year. We will be told to believe that having an inspiring captain is the difference between victory and defeat, and between another quarterfinal exit and a trophy.
It won't be. In other, more successful countries, the captain is just the most senior person on the field, measured in terms of caps. In places like Italy, German and Spain, they realise that who holds the armband has virtually no effect whatsoever on whether their team wins.
In England, we still have strong memories of Bobby Moore—the supposed archetype for all future captains. But the fact is, Moore was very good at football. He played in a 1966 team full of other great footballers. That's why England won the World Cup in 1966—they had a good team. Their victory had nothing to do with who held the armband.
A final point to consider is this: Being captain or not shouldn't affect a player's performance. If it does, and if a player is such a raving egomaniac that they need the armband to perform, a manager should question whether they should be included in what is ultimately a team sport.
Ultimately, until England awake from their infantile obsession with trivial matters such as the captaincy, and focus on the true, underlying causes of the national team's weakness, no trophies will be won.
That's why I don't care about the captaincy.