Philadelphia Eagles: 6 Players Who Are Better Options Than DeSean Jackson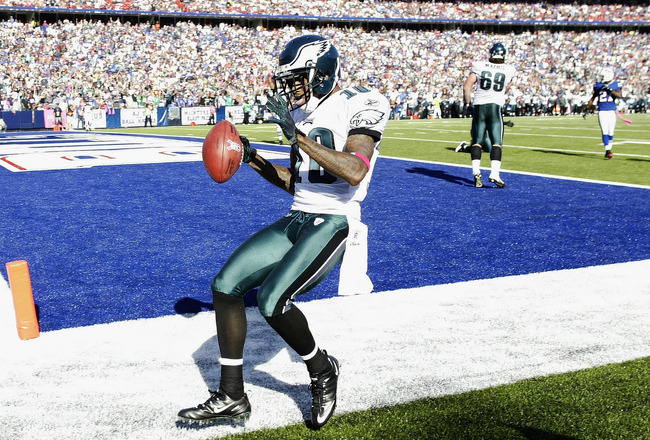 Rick Stewart/Getty Images
The Philadelphia Eagles may or may not decide to not re-sign wide receiver DeSean Jackson, who can be a highlight reel and a headache at the same time. In the event that the two part ways, there are plenty of receivers out there who can not only replace Jackson, but may be better options than him in the first place.
The Eagles can either draft Jackson's replacement and take a risk on an unproven kid with a bright future, or they can fill the hole through free agency, as they did last offseason with their defense.
Trading is also a possibility, but high-profile players are rarely dealt in the NFL. And in order to keep the fanbase happy, Philly would need a high-profile player to take Jackson's place.
Here are a handful of receivers that could not only replace Jackson, but would be better options for the Eagles anyway.
Michael Floyd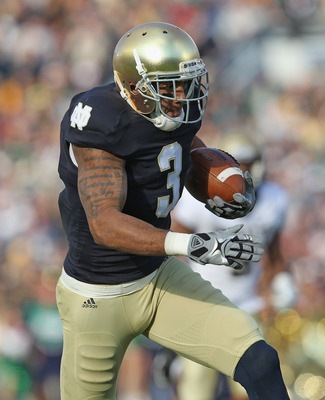 Jonathan Daniel/Getty Images
Notre Dame's Michael Floyd is the second-best receiver available in the draft behind Justin Blackmon of Oklahoma State. If the Eagles drafted him, it would no doubt be in the first round.
Floyd had 100 receptions in his senior year at South Bend and at 6'3" would be a better red-zone target than DeSean Jackson. The only problem is that in order to get him, the Eagles would have to give up using their first-round pick on a linebacker like Luke Kuechly or Vontaze Burfict.
But the Eagles have yet to draft a linebacker in the first round under Andy Reid and history may repeat itself. Floyd is the best receiving option for Philly because of his size, but Kendall Wright out of Baylor would be a good Plan B if Floyd is already off the board.
Alshon Jeffery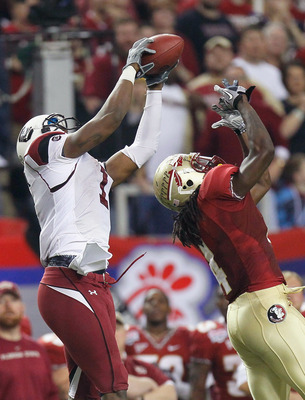 Kevin C. Cox/Getty Images
South Carolina wide receiver Alshon Jeffery would be a great addition to the Philadelphia Eagles' receiving corps because of his size, but he could be in a tricky spot come draft day.
Jeffery is currently projected as a late first-rounder in Mel Kiper's Mock Draft 1.0, which puts him right between picks for the Eagles. It may be too much of a reach if they go for him in the first round and he likely won't be around by the second.
But if Jeffery's stock rises or falls into a draftable zone for the Eagles, he would be a great pickup. He doesn't have the same speed as DeSean Jackson, but at 6'4" he is a big target that could help improve Philly's 51 percent red-zone scoring offense.
As seen in the picture, he can go up and get the ball over cornerbacks and would be useful on fade routes in the end zone.
There are concerns about his character, however, as he was ejected from the Capital One Bowl for throwing punches at Nebraska's Alfonzo Dennard. It's up to the Eagles to decide if he is worth hassle, but if he matures a bit, he could be a great weapon.
Joe Adams
Kevin C. Cox/Getty Images
Joe Adams is a talented receiver and return man out of Arkansas whom the Eagles could take in the second or third round of the draft.
Adams is a little bigger than DeSean Jackson, but not by much. According to ESPN's player profiles, Adams checks in at 5'11" and 190 pounds while Jackson comes up at 5'10" and 175 pounds. If the Eagles decided to go with Adams, they would essentially getting another Jackson, just with a little less speed and much fewer antics.
Adams may not be the big red-zone target Philly needs, but after a year or two in the NFL he could turn into what Jackson is right now, just without the incredibly huge ego and stupid unsportsmanlike conduct penalties.
Dwayne Bowe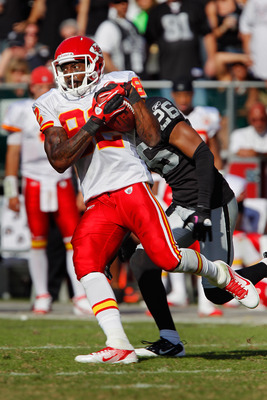 Brian Bahr/Getty Images
A guy that has had proven success in the NFL, Dwayne Bowe will be a free agent this year and would be a great pickup for the Philadelphia Eagles.
Bowe is better than DeSean Jackson in just about every statistical category. Over the last two seasons, Bowe has 153 receptions to Jackson's 105, 2,321 yards to Jackson's 2,017 and, most importantly, 20 touchdown grabs to Jackson's 10.
Even if Jackson didn't come with his antics, Bowe would be an upgrade. The only problem is, he will command a large contract, something the Eagles may not be as willing to give out following last offseason's spending spree.
Marques Colston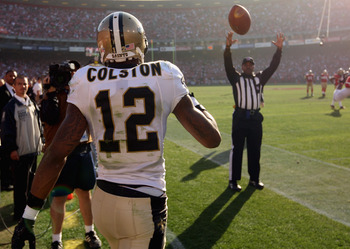 Ezra Shaw/Getty Images
Marques Colston has been a steal for the New Orleans Saints. The seventh-round pick out of Hofstra has thrived catching passes from Drew Brees and hasn't given any indication he couldn't do the same for another quarterback.
He stands at 6'4" and would fit in as a primary red-zone target, just like Alshon Jeffery or Michael Floyd. His statistics are very similar to those of Dwayne Bowe, and his were compiled in an offense where the ball is spread around like no other.
If Colston went to Philadelphia, he would take over the No. 1 receiver role and compete with only Jeremy Maclin, Brent Celek and Jason Avant for catches. He could put together some career-defining statistics and be a huge help to Michael Vick, who can't always rely on DeSean Jackson because of drops and a lack of effort.
Mike Wallace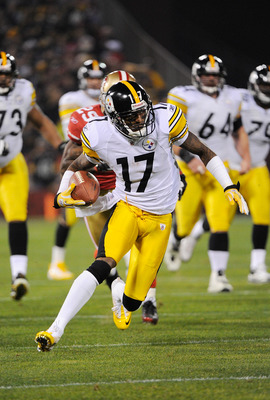 Thearon W. Henderson/Getty Images
Mike Wallace is a restricted free agent this season, which means he can negotiate with other teams, but it is ultimately up to the Pittsburgh Steelers whether to keep him or not.
Wallace has a skill set that is very similar to DeSean Jackson's, and if the Philadelphia Eagles could get their hands on him, they would essentially be getting DJAX II. Wallace, like Jackson, has blazing speed and is a legitimate deep threat. He has actually put up better numbers in three years than Jackson has in four, including 24 career receiving touchdowns to Jackson's 21.
The downside is that Wallace isn't a punt returner, and because of his restricted free agent status, the Eagles might have to offer more than he's worth to take him from the Steelers. But if the front office is comfortable with the offensive style in place and simply doesn't want to deal with Jackson's antics anymore, Wallace is the ideal replacement.
Keep Reading

Philadelphia Eagles: Like this team?