Super Bowl 2012: Patriots and All-Time Worst Super Bowl Defenses
February 4, 2012

Jim Rogash/Getty Images
In one of the weirder developments in recent NFL memory, football's two worst defenses in 2011 belonged to its two best teams. Although the Green Bay Packers are out of the playoffs, the New England Patriots are on the brink of their fourth Super Bowl win of the Tom Brady era.
Here's how New England stacks up with some of the least effective defenses ever to claw their way onto the NFL's biggest stage:
2011 New England Patriots
On the one hand, it's hard to defend a unit that had the worst ranking (31st in the NFL in yards allowed) of any defense in Super Bowl history. However, the Pats' bend-but-don't-break approach meant that they finished a respectable 15th in scoring defense.
They've also put up some solid individual numbers, such as the team high of 10 sacks shared by Andre Carter and Mark Anderson or the six interceptions pulled in by Kyle Arrington. Add in the extra week for Bill Belichick to prepare, and New England has a reasonable chance to avoid making the wrong kind of Super Bowl history.
2008 Arizona Cardinals
Kurt Warner and the Cardinals offense scored 26.7 points per game in 2008, but the team was lucky to finish 9-7 because its defense was giving up 26.6 points a contest. The Cards' ranking of 28th in the league makes them the worst scoring defense ever to appear in the Super Bowl.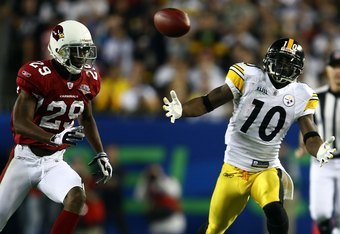 Chris McGrath/Getty Images
Even facing Ben Roethlisberger and the dangerous Steelers, though, Dominique Rodgers-Cromartie and company didn't embarrass themselves in the title game. Big Ben threw for just one TD—the much-replayed game-winner to Santonio Holmes—in a closely-fought 27-23 Pittsburgh victory.
Conversely, the worst scoring defense in the Super Bowl itself was the 1989 Denver Broncos, who allowed 55 points to Joe Montana's 49ers despite having ranked No.1 in the NFL in points allowed in the regular season.
1991 Buffalo Bills
The prospect of truly bad defenses making it to the Super Bowl is a relatively new phenomenon. Of the already small pool of defenses ranked worse than 20th in the league to make it to the game, the only one older than 2007 is the 1991 Bills.
The second of Buffalo's four consecutive Super Bowl losers placed 27th in the league in yards allowed (though, like New England, they were better in keeping points off the board, ranking 19th). Despite boasting such luminaries as Cornelius Bennett and Bruce Smith, the team's lack of elite DBs saw them give up a then-worrisome total of 3,414 passing yards on the year.
The Redskins proceeded to make them look like a second-rate D, gaining 417 yards from scrimmage in a 37-24 victory.