WWE WrestleMania 28 Rumors: ANOTHER Undertaker-Triple H Showdown?
December 23, 2011
It wasn't a phenomenal match compared to the Undertaker-Shawn Michaels matches from the previous two WrestleManias, but the WWE saw a solid bout between two iconic legends last spring in Atlanta when Taker defeated Triple H in a no holds barred match to improve to 19-0 at Mania.
Here's the question now looming on the minds of the WWE creative team: what direction should the company take with the Undertaker on the verge of a perfect 20-0 record?
According to Wrestling Observer (h/t Wrestling Inc), the WWE plans to have another Triple H-Undertaker matchup on the WrestleMania 28 card.
If it is indeed a third Mania showdown between the two superstars, the company will have dropped the ball on what could've been a tremendous opportunity to make the Dead Man shine going for a 20th win.
Here's the logic behind why they would consider it: before last year's WrestleMania match with Triple H, the Undertaker fought Michaels at WrestleMania 25 and had a rematch against him at WrestleMania 26 in a streak vs. career stipulation. Undertaker proved victorious, and Michaels walked away from the ring for good.
Given the history and deep, sincere friendship between Triple H and Michaels, there's a possibility that they could take the angle of "well, Michaels had two shots at Undertaker and couldn't beat him, so why not give Triple H a third shot and include Michaels as a special guest referee and have them jointly screw him on their third try each?"
The only problem with this storyline is that it becomes incredibly predictable. If Triple H does agree to fight Taker for a third time at Mania, he will most likely put his career on the line to do so.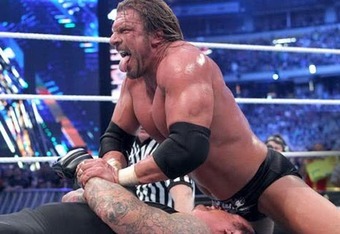 We saw it at WrestleMania 26 and we'd most likely see it at WrestleMania 28, the Undertaker will end the career of a legend and do it at the 11th hour in a comeback fashion.
There are so many other directions the creative team could go with an opponent for the Undertaker. There are a few things to consider though before you just say "have him fight CM Punk!"
First things first—the WWE does not need to put a title belt on the line in order for the match to be interesting. If they book two championship matches and then include the Undertaker against a worthy opponent, that would lead to a heavier top of the card which will only strengthen the pay-per-view.
Undertaker wrestling to defend his streak is much more important than him fighting for another WWE Championship or World Heavyweight Championship reign.
You don't need to book another A+ talent or big name against the Undertaker in order for the match to draw views as well. For this occasion however with 20-0 on the line, you might need to defy that logic.
Also keep in mind that the Undertaker has had the role of career-ender as of late. He took out Shawn Michaels and could very well do the same for Triple H, who may consider a more permanent front office job inside the company.
Does the WWE really want him to do exactly what he did two years ago to another top line talent in a nearly identical format?
So who should the Undertaker face at WrestleMania? Another buried alive match against his brother, Kane? Maybe make a special exception Hell in a Cell match against Mick Foley, who appears to be returning to the company (remember the famous King of the Ring fight they had years ago). Perhaps even a bout against the Miz, Randy Orton, Sheamus or Wade Barrett—assuming none are in championship matches.
There are plenty of directions the creative team could go with finding an opponent for the Dead Man, and they have just over three months to do so.
The Royal Rumble and Elimination Chamber pay-per-views are still to come before all focus shifts to Mania. A lot needs to happen to shape and grow the card between then and now.
Maybe we should include the obvious here, too. The Undertaker still needs to technically return before he can even fight at any PPV event. How he returns to the show will have large implication in deciding his opponent as well.
Follow Brett Lyons on Twitter @BrettLyons670.