Casey Wellman: Californian Player Benefits from NHL's Movement into the Sun Belt
December 8, 2011
Jeff Gross/Getty Images
Casey Wellman is from California. He plays for the Minnesota Wild.
Sean Couturier (Flyers) may be "from" Arizona because he was born there, but he moved from the Copper State to New Brunswick at a young age.
The profile of the Sabres' Tyler Myers may say he's from Katy, Texas, but he was raised in Calgary, Alberta and plays internationally for Canada.
No. Wellman is not like them. He was born-and-raised in the San Francisco Bay Area.
"I used to play in the little mite games at the intermission here," Wellman said following his homecoming game against the San Jose Sharks.
"It was great to get back. I hadn't seen my family for a while and they actually had never seen me play a pro hockey game yet."
They live in California.
If the name Wellman rings a bell for Bay Area residents, it is because his father, Brad, played for the San Francisco Giants from 1982-86.
Baseball was not for Casey, however.
"When I was younger it was a little boring for me," he said, laughing. "I just had too much energy for it."
With the relocation of the Atlanta Thrashers to Winnipeg and the presumed demise of the financial black hole that is the Phoenix Coyotes, people in traditional markets question why there are hockey teams along the Sun Belt.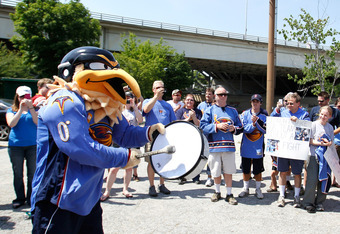 Kevin C. Cox/Getty Images
After all, the Florida Panthers rarely drew crowds before this year, the Anaheim Ducks only get fans in the playoffs and the Dallas Stars (who relocated from Minnesota in 1993) are bankrupt.
Players like Casey Wellman are the reason why. After all, the son of a baseball player probably would not have donned skates and breezers if it were not for the Sharks.
"I know it's definitely growing out here," says Wellman, a former Junior Shark, in reference to hockey in California.
"In Southern California there have definitely been some players coming out of there. It'll be good to get some more people from Northern California and hopefully they can just join the fraternity here."
The first Californian born-and-raised player, Jonathon Blum, was drafted in the first round by Nashville in 2007. The Long Beach native currently is on the Predators' roster.
The Predators have gained recognition in Tennessee after making the playoffs seven of the last eight years and entering the second round last season.
One of Blum's teammates, Blake Geoffrion, is a fourth-generation hockey player, but he did not grow up in Canada, the Midwest or the East Coast. He was born in Florida, raised in Tennessee and attended high school in Indiana.
Without the Predators, Geoffrion may have had to move to the Midwest or the East Coast to play youth hockey.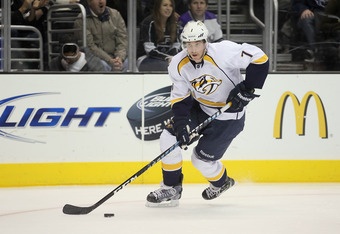 Jeff Gross/Getty Images
Wellman played youth hockey in the Bay Area, but he attended Cranbrook Kingswood high school in Michigan in order to hone his skills.
After high school, players take various routes to the NHL.
Blum chose the Western Hockey League, a Canadian junior league with teams in Seattle, Everett (WA), Spokane and Vancouver that are closer in proximity than American junior and college programs in the Midwest and East Coast.
Wellman took the college route, first playing for the Cedar Rapids Rough Riders of the United States Hockey League (junior) and then the University of Massachusetts-Amherst Minutemen.
"My parents just instilled it from day one that college was the route," said Wellman. "To be honest, growing up I didn't know too much about juniors and things like that."
After his senior year of high school, Wellman was approached by scouts from the East Junior Hockey League, a junior league a tier below the USHL. His coach told him not to worry about the "EJ." He was going to play junior at America's highest level.
"It was a tough transition for me," Wellman said of going from high school to the USHL. All of sudden he was playing against the best 16- to 20-year-old players in the United States.
"My first year I was a healthy scratch a bunch."
As an 18-year-old high school graduate, he was older than most of his teammates. Many of the best high school players around the nation leave home at age 16 or 17 to compete at the junior level. They finish up their schooling in whatever city their junior team is in.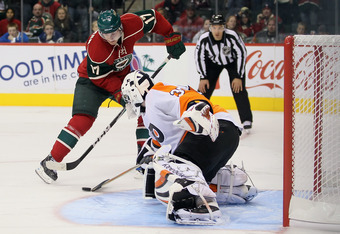 Jeff Gross/Getty Images
While playing in Cedar Rapids, Wellman became friends with David Boehm.
Boehm's hometown was not Madison, Wisconsin or Worcester, Massachusetts. No. He called Naples, Florida home.
"He actually became my roommate in college too," said Wellman of Boehm, who played with him at UMass, but has recently transferred to Bemidji State and is currently a junior at the western Minnesota school.
"He played in Florida and, like me, he also moved away when he was pretty young. He ended up going to a school in Massachusetts for a little bit," he continued. "We were able to compare stories a little bit and…I [still] keep in touch with him."
At UMass, Wellman became close friends with current Shark Justin Braun, a Minnesota native. The two played against each other in Wellman's homecoming game.
"I lived with Justin [Braun] this summer and our buddy James Marcou who is also with the Sharks organization," said Wellman. "It was great to be out there with Justin."
So, to summarize:
Wellman grew up in California.
"It takes a lot of sacrifice because there's not always the ice time and things like that," he says of playing in the Golden State. "It's tough to do, but I think it can be done."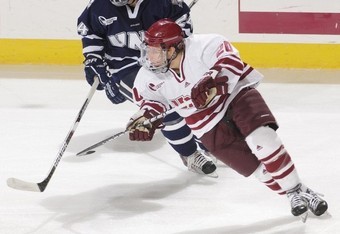 He went to high school in Michigan for four years, meaning he was already two years older than some of his teammates in junior.
"Like I said, I was a healthy scratch for a while," said Wellman of playing in junior, "and I just had to battle through it. It was the right step for me to finish [four years of high school]."
He didn't play much his first year in junior, so he had to play another year in Cedar Rapids before going to UMass.
Undrafted at age 18 (remember that was his last year of high school and most players have a year or two of junior under their belt by then), Wellman signed with the Wild after two years of college hockey as a free agent.
He was 22 and had two years of college eligibility left at the time he signed. Most people graduate college at age 22. A lot of players with professional aspirations leave college at age 20 in order to compete with players from Canadian juniors (age 15-20) for a roster spot.
Wellman had two goals in 27 games entering this year, his third season with the Wild. He currently has two goals in four games for Minnesota this season.
Asked what it was like to play against Braun, a friend and former teammate, in front of friends and family in his native California, Wellman offered a simple answer:
"We had a couple good battles out there," he said, his face glowing. "It was just fun to play against him and just between whistles look at each other and smile and like, you know…"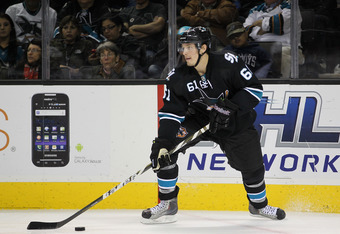 Ezra Shaw/Getty Images
His voice trailed off at the end of the sentence.
It didn't matter what was said.
His smile said it all.
He had made it.
Tom Schreier is a Featured Columnist for Bleacher Report. He covers hockey and baseball.
All quotes were obtained first-hand.
Follow him on Twitter @tschreier3.