Oklahoma Football: Initial Thoughts During and After the Baylor Loss
November 23, 2011
Sarah Glenn/Getty Images
With a loss on the road to then-ranked No. 22 Baylor, the Oklahoma Sooners' title dreams have ended.
On a night where where they could have really taken advantage of their poll position after two higher ranked teams had already lost (No. 2 Oklahoma State and No. 4 Oregon), the Sooners came out flat, made terrible defensive reads and played like a team that had already given up on the season. 
The secondary is the most to blame, as it continuously gave up big play after big play. (I'm looking at you, Javon Harris.) However, in college football, you either win as a team, or you lose as a team.
The Sooners' loss last Saturday night was a team effort. They succumbed to perhaps not a more talented team, but certainly a more prepared, more determined team. 
My hat goes off to Robert Griffin III, who was able to tear apart the Sooners like nobody I've ever seen before. I was actually able to travel to Waco, Texas, to witness the beating up close and personal, so here are my initial reactions throughout the game:
Warm-ups
The Sooners took the field for warm-ups, and the stadium got the loudest it had been since my arrival. The plus-1,000 Sooner fans were on their feet, cheering on their team. 
As usual, the guys weren't going full or even half speed. This wasn't too telling, seeing as how it was warm-ups. However, this was a chance for me to look over our receivers (the main group I was initially worried about with Ryan Broyles out). 
Jaz Reynolds looked great (and played great), Kenny Stills looked surprisingly nervous (and surprisingly played that way) and Dejuan Miller walked everywhere (needless to say, this wasn't surprising). 
The passing drills were starting to scare me, as I sent this text out to all my fellow OU friends and fans:
 Is it a bad sign when the athletic trainer is throwing prettier passes than Landry Jones? 
Then Baylor took the field as a collective unit for the first time. It looked as though they dressed out their entire team and some of the student section. There were likely twice as many guys in uniform on the Baylor sideline than on Oklahoma's sideline. 
That in itself was imposing, but then the music came on, and the team started shouting. They were pumped up and ready to take on the No. 5 team in the nation. They weren't going halfheartedly through warm-ups, either.
What's the first drill they did?
Wind sprints. 
I should have known it was going to be bad. 
First Quarter

Baylor got the ball first, and its first play was a run that went nowhere. There were Sooners in the backfield as soon as Baylor running back Terrance Ganaway got the ball. This was a good projection of what was to come from the Sooners' front four, who played a really great game. 
Then the second play happened. Javon Harris bit on a short route and got beat deep (which was also a good projection of what was to come). RG III hit his open receiver in stride for an 80-yard touchdown pass. Unfortunately for the Bears, a holding call negated the touchdown.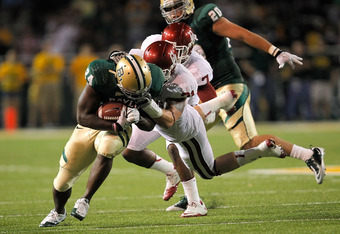 Sarah Glenn/Getty Images
The Sooners were able to string together a decent defensive series after the penalty to force a punt. As the quarter went on, the penalties kept piling up. 
The quarter ended in a 3-3 tie, and although things had looked shaky, I was feeling really good about the Sooners' chances. They had kept RG III completely in check and looked prime to take over the second quarter.
Second Quarter: 
The second quarter began much like the first, with a quick Baylor drive resulting in a punt. The Sooners' defense was actually looking good.
Landry Jones and co. marched down the field on their next possession. They were able to convert two big third downs, and suddenly they were in field-goal range. Unfortunately, Jones took a sack on their last third down of the drive to take them out of field goal range—punt. 
Then the Bears' offense woke up. Griffin III hooked up on a big pass play to wide receiver Kendall Wright, and Ganaway ran the ball in on the next play to put the Bears up 10-3. The entire 83-yard scoring drive took 36 seconds. 
This was the first of Baylor's four under-one-minute touchdown drives. Their second came a bit later in the quarter, when Griffin III hooked up with Tevin Reese for a one-play, 69-yard touchdown: 15 seconds.
The Bears went into halftime leading 17-10 over the Sooners, who were able to get their first touchdown of the game on a three-yard rush by backup QB Blake Bell, whose nickname "The Belldozer" fits very appropriately.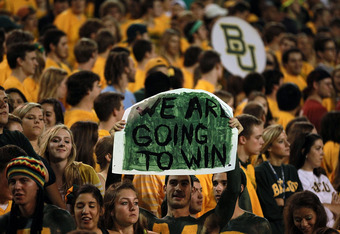 Ronald Martinez/Getty Images
Halftime
I imagine that Bob Stoops and Brent Venerables were laying into their secondary at this moment for allowing so many long pass plays. 
Then this halftime show happened: Baylor and Oklahoma bands' flash mob.
As one of my friends sent me a text of doubt and hatred for how the Sooners were playing, I only had one response: "No worries—we're a second-half team." 
Third Quarter
My optimistic response was proved as the Sooners came out of halftime on fire, tying the game on a quick, four-play drive. 
On Baylor's next drive, Griffin III was dropped for a loss on 4th-and-1. The Sooners got the ball in Baylor territory, and the momentum had officially shifted. On the next play, Jones found Stills for a 31-yard gain, and the Belldozer polished the two-play drive off with a one-yard TD scamper. 
The Bears' fans had been stunned. As I was standing and cheering next to Baylor's student section, you could see it on their faces that they absolutely knew the game was over. They were crushed. 
However, as Lee Corso would say, "Not so fast, my friend!" After a few back-and-forth punts, Baylor was able to tie the game at 24 on what was likely the most unlucky (or lucky if you're a Baylor fan) tip of any pass...ever. Watch it for yourself.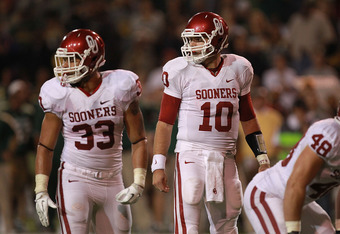 Ronald Martinez/Getty Images
The Baylor fans needed this play to get back into the game. After another OU punt, Griffin III upped the ante. He marched his team down the field on a 10-play drive, including a successful 4th-and-11 play in OU territory. The Bears retook the lead, 31-24, and the quarter came to a close.
Fourth Quarter
The Sooners looked poised to answer, then Jones threw his first (and only) interception of the game as they approached the red zone. The pass was a bit off, but it was mostly a great play by Baylor defensive back K.J. Morton. 
After another huge pass play and a few penalties, the Bears took a commanding 38-24 lead. I sent my friend a reassuring text: "Don't worry—we're a fourth quarter team." 
This time my optimism was not rewarded, as the Sooners failed a fourth-down conversion. This was the first mistake Bob Stoops made in the fourth quarter. The ball was on the 25-yard line, well within field-goal range (AND HE HAD THE WIND). Instead, he elected to go for a 4th-and-14? Uncharacteristic mistake. 
As the quarter dwindled away, the Sooners defense started to clamp down, and the Bears started playing a bit more conservatively. After two more rushing touchdowns from the Belldozer, the Sooners had it all tied up at 38 with under a minute to go in the game.
A few things: How and why does the Belldozer keep scoring touchdowns? I understand that he's big and hard to tackle, but he isn't just powering it into the end zone—he's not even being touched! Defenses have to know what's coming, right? 
Also, I feel the need to highlight the fact that Bob Stoops was actually going to go through with his idea to GO FOR TWO instead of just kicking the extra point to tie the game. Had it not been for a false start, we would have witnessed what could have been the deciding factor in the game.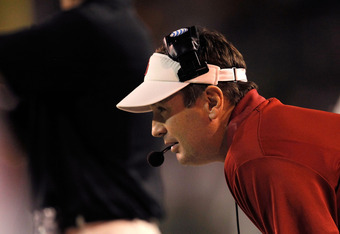 Sarah Glenn/Getty Images
Alas, the penalty was called and the extra point was made. The buildup to the two-point conversion was exhausting, though. Two timeouts and a penalty?
I was clutching at my sides in the crowd. I could barely breathe. My palms were sweating. I didn't know what to do with myself.
It was all for nothing, too!
This brings us to the final 51 seconds of the game, which you're all aware of what went down. This is when Bob Stoops really, really messed up. Baylor used its first play to run the ball four yards. It appeared as though the Bears were conceding to overtime. 
Then Stoops calls a timeout. WHY? Why give your opponent, who has already killed you with long passes and quarterback scrambles, more time to get the ball down the field?
Needless to say, Griffin III came out of the timeout running. He ran for 30 yards over the next two plays. Then a 12-yard pass to Wright put the Bears in (long) field-goal range. 
Then, as the clock ran down to just eight seconds...well, you know what happened. Griffin III was able to escape pressure and hit Terrance Williams in the end zone...between TWO OU defenders. Game over. 
Conclusion
As many OU fans marched out of the stadium after that play with their heads hung low, I couldn't help but stand and applaud for Griffin III and the entire Bears roster. They played with so much heart and determination; they deserved the win. 
I've never been less upset about an OU defeat. They got outplayed by the better team that night, and I was completely OK with that. It was a fantastic game to watch and be a part of.
The Sooners could have played a lot better, sure, but this night wasn't about them. It was about Griffin III and his uphill battle with a less-talented team. 
There's absolutely no doubt who the most talented player on that field was. Griffin III is going to make a quality NFL quarterback.
So what do the Sooners have to do now? If they win out their schedule, they will most likely be Big 12 champions for the eighth time under Bob Stoops. A BCS Bowl isn't out of the question just yet, but their national title dreams will, once again, have to wait until next year.