Jerry Sandusky Scandal: Rioting Penn State Students Lost Sight of Real Bad Guy
November 10, 2011
Patrick Smith/Getty Images
There are no adequate words to describe the lunacy and selfishness of those who rioted in the aftermath of Joe Paterno's firing as the head coach of the Penn State Nittany Lions.
It's not the fact that they rioted that is so horrific, though.
It's the fact that they didn't have the sensibility to realize what this is all about.
When all is said and done, none of this was about Paterno.
He got caught in the wake of a program-wide systemic purge, but to think that any of this had to do with Paterno is idiotic.
Paterno committed his sins and now he has paid the price for them, but the real focus needs to shift back to the monster that created this whole mess in the first place.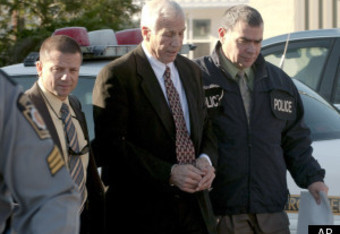 Jerry Sandusky is the villain in this story, and to put the negative attention on anybody else but him is a failure of common sense.
Here is just a little taste of the allegations surrounding Sandusky, as reported by Jeremy Roebuck of Philly.com:
Prosecutors allege that Sandusky molested at least eight boys he met through the Second Mile, his charity for wayward youths, between 1998 and 2008. Many of those alleged encounters purportedly took place on Penn State's campus.

But even while investigators fielded accusations of a decade of impropriety, the man once considered Paterno's heir apparent remained a fixture at the field house.

Well after Sandusky purportedly admitted to university police in 1998 that he had disrobed and hugged a naked 11-year-old in a university shower, he maintained an office on campus and hosted Second Mile football camps with children on at least two satellite campuses.

Paterno's son Scott said Tuesday that his father did not know about the 1998 probe and would have taken decisive action earlier if he had.

But the grand jury report is littered with red flags - high school coaches, maintenance staff, and even other Second Mile boys who either testified to having witnessed sexual assault or found Sandusky's behavior suspicious. Some made note, some reported what they had seen to superiors, but in every case their piece of the puzzle somehow failed to reach law enforcement.

"In bureaucracy, responsibility gets divided. There's always another layer above you," said Tom Barth, professor of public administration at the University of North Carolina-Wilmington. "Everybody is responsible for their little piece of the pie."

In 2002, current assistant coach Mike McQueary - then a graduate assistant - came to Paterno with a specific story of having seen Sandusky in the shower, in a sexual act with a 10-year-old boy.

Paterno, in turn, told Penn State athletic director Tim Curley and a university vice president, Gary Schultz. He never followed up.
Fans of the Nittany Lions should have taken to the streets in outrage over the fact that Sandusky committed these unspeakable acts on their campus in the first place, not because Paterno got caught in the wake of this inferno.
It seems so easy to forget that there were numerous young lives that have been forever changed and even destroyed because of this man, yet all the rioters could think about was their coach?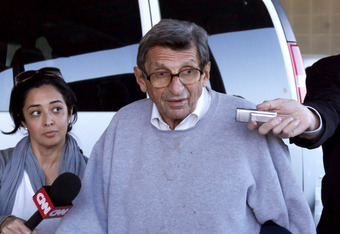 Rob Carr/Getty Images
It was simply a sickening display of unwarranted loyalty, and it will forever go down as a black mark on not only Penn State, but on the sports world as a whole.
These rioters were upset over the fact that their beloved coach was ousted from a position that he held for 46 years at the university, but they seemed to forget why.
He may not be guilty by the letter of the law, but even Paterno himself acknowledged that he could have done more to stop Sandusky.
He could have played a part in stopping the monster when he had a chance, but he chose to do the bare minimum. 
That was his choice, and now his legacy at Penn State suffers because of that. Yet, it is still not the real story.
In the end, Paterno is not the bad guy in all of this, even though he made a bad decision.
If Penn State wants to riot, they should riot that Sandusky has not been brought to total justice.
He's the real bad guy here, and that's something we need to re-focus on in the aftermath of this mess.