Penn State Scandal: When Is College Football Too Important?
November 9, 2011
Rob Carr/Getty Images
For my buddies and me who went to Texas Tech, it seems nothing is more important every fall than the Red Raiders' performance on the football field.
It dominates our conversation and our thoughts, and really, if I were to be completely honest, it actually occupies a fairly significant and constant place in both my mind and heart.
I'm elated when we win (i.e. the 2011 Oklahoma game) and devastated beyond words when we lose (especially ugly, i.e. the 2011 Iowa State game).  If my husband wants to gauge my mood from September through November, really he should look at the latest Tech box score before proceeding.
OK, I'll admit it—Red Raiders football probably has a higher place among my priorities than it should in the bigger scheme of things.
But what happens when college football is heralded as even more important than the fundamental morals we by-and-large live by as a society?
What happens when the love for it and the perception of the heavy magnitude of it blurs the very clear lines of right or wrong?
I'm not talking about forgetting to cook dinner or give your kid a bath because Texas Tech is playing on national TV.
I'm talking about almost obscene, unexplainable and indefensible acts carried out in the name of either protecting a college football program or done because the perception of power is so great, the highest ranking officials don't think they'll get caught.
Really, a wide swath of the most visible scandals of 2011 falls neatly into this explanation.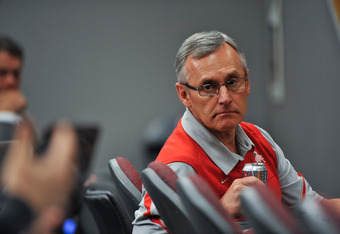 Jamie Sabau/Getty Images
Let's start with Jim Tressel from Ohio State, a guy who was by all accounts an upstanding citizen, who even wrote books about moral and ethical behavior. 
This is a man who unequivocally knew the difference between right and wrong (the dude preached about it) but still he lied at least three times about his knowledge of the violations that occurred at his institution.
He was dishonest when signing the NCAA statement saying he knew nothing about sanction-worthy behavior, he went on TV and admonished the "Tat Five" players as if he knew nothing, and then he tried to blame the whole deceit-ridden affair on "protecting the young people."
Tressel believed he could and would get away with it, and everyone around him who was even somewhat aware believed the Ohio State football program was more important than doing what was right (including President Gordon Gee).
Fast forward to the piling heap of sanction-worthy allegations at Miami FL, where an entire athletic department was ensconced in unscrupulous behavior (and yes, someone from an institutional standpoint logically at least had to be aware of it)—and still, no one did anything about it until the catalyst himself finally admitted what was going on.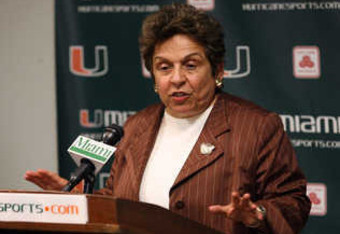 These allegations were horrendous and didn't just stop at illegal benefits but extended to supposed money for prostitutes and an alleged abortion.
The success of the football program, the recruitment and retention of athletes was more important than doing what was right (and in some cases legal).
And now we are faced with the even more heinous issues at Penn State, indictments that make all other "allegations of wrongdoing" seem like wrapping somebody's house with toilet paper.
Even though the gross facts are yet to completely be laid out on the table for us to rubberneck at like on-lookers to a horrific accident, we can logically assume that at some point the institution (run by people) placed the importance of the football program above the emotional, physical and—yes, sexual—safety of an ever-expanding group of young boys.
Throwing out the issue of how much Joe Paterno did know or didn't know and his legal and moral responsibilities, we are fairly sure that high-ranking officials at the school knew about the instances, did nothing to stop them and then lied about them.
Why on Earth did they do it?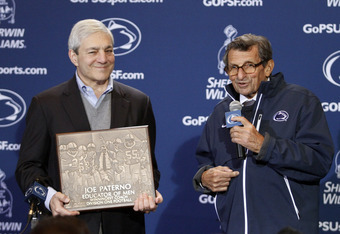 Justin K. Aller/Getty Images
One plausible explanation is that the Penn State football program and its legacy was too important to throw under the bus, too meaningful and critical to save young children from a life of emotional scarring, shame and the unnecessary need for therapy.
And if you want to smugly sit back while witnessing the "shock and awe" of the institutions mentioned here, don't forget that "somebody" is next in line to illustrate the point that the importance placed on college athletics is swirling out of control—and that somebody may be your (or my) beloved program.
Perhaps the problem with college football today is not that it is a professional sport played under the guise of amateurism, possibly it's not the weakness and bizarre foundations of the NCAA, and maybe it's not the ever-expanding media power and the BCS.
No, maybe at its core, college football is too important to each and every one of us.
Don't think so?
Go look for the video of Joe Paterno's brief address to Penn State fans gathered in front of his home in State College on Tuesday evening and listen to them chant "Let's Go State" as the video closes.
These people, who are simply fans like us, are inclined to cheer for their football program even when it is alleged that this same program allowed young boys to be sexually abused and didn't do anything to stop it.