Yankees Talking to Agent for Edwin Jackson: Will Team Spurn C.J. Wilson?
November 7, 2011
Rob Carr/Getty Images
Yankees GM Brian Cashman, either in an effort to clearly state his actual intentions regarding offseason dealings or to provide cover for his true strategy, has repeatedly indicated over the past week or so that the priority for the Yankees this offseason would be supplementing their rotation.
If early reports regarding the discussions he's entertained prove true, and there is no reason to doubt they will, then Cashman is indeed focusing his initial efforts on two of the more intriguing free agent pitching targets: C.J. Wilson and Edwin Jackson.
While it was revealed previously that Cashman had contacted the agent for C.J. Wilson, a report in the 11/7 New York Post by George King (http://www.newyorkpost.com/p/blogs/yankeesblog/yankees_open_talks_with_jackson_WkYplcfqENnGKuoS7w2hYO) reveals that Cashman has opened talks with Jackson's agent as well.
This was not a development that was on the radar of very many Yankee observers, yours truly included, and perhaps the best reason why this is the case is because Jackson is not the sexiest of options, so to speak.
Jackson not being the sexiest option, however, does not by any means indicate that he isn't the best option in terms of filling a near-term Yankee need.
Specifically, the Yankees, with a number of high-ceiling pitching prospects in their organization but with serious questions at the big-league level, require the type of arm in their rotation that can be relied upon to provide productive innings.
As it shapes up now, the Yankees rotation includes C.C. Sabathia, Ivan Nova, A.J. Burnett, Phil Hughes, and no definitive fifth starter. Options for that spot include youngster Hector Noesi and free agent Freddy Garcia, with Garcia perhaps having the inside edge due to a stellar 2011 campaign with the Yankees that saw him win 12 games with a 3.62 ERA.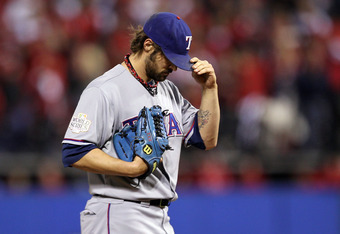 Ezra Shaw/Getty Images
Looking at that roster of names, there is truly just one asset that Yankees' brass can point to with confidence, and that is, of course, Sabathia. Nova, despite pitching brilliantly for much of this past season, is still an unknown commodity in that he has just over one full season at the big-league level to his credit.
The remaining projected rotation, as currently constituted, is simply not ready for prime time. Burnett is coming off his worst professional season to date, which is remarkable to note considering the year he had in 2010, and Hughes has not demonstrated to any degree whatsoever that he can be relied upon for 200-plus innings of productive baseball. Noesi, the youngster, is a complete unknown.
Jackson, if he were to come aboard, would immediately create a desirable logjam in terms of next season's rotation. As any GM would tell you, there is no such thing as too much pitching, and Cashman is no stranger to this mindset.
Between the two free agents so far approached by the Yankees, Wilson and Jackson, there is little argument that Jackson comes in as the more attractive option. This is not an observation based so much on the statistical production of these two pitchers but rather on their respective go-forward capabilities, combined with the contractual realities they each represent.
Wilson, 31 years old and the accepted marquee attraction amongst current free agent pitchers, can be expected to demand a multi-year contract that would take him into his mid-30s. That's the market, and it's a market that the Yankees more than likely will avoid shopping in due to their wealth of young arms combined with a possible organizational reluctance to avoid a repeat of the Burnett signing.
Wilson is essentially the 2011 version of the 2008 Burnett, a hard thrower with a limited resume of success at the big league level. That Wilson is a lefty works in his favor, of course, but the Yankees have little need to lock themselves into another question mark for half a decade or so.
Manny Banuelos and Dellin Betances, two of the highest rated pitching prospects in all of baseball, are waiting in the wings and are perhaps considerations as mid-season call ups for New York. Wilson would need to be penciled into the rotation for many years to come, and this is a scenario that could hamstring the development of several Yankee pitching products over and above Banuelos and Betances.
Jackson, on the other hand, does not project to demand anything more than a three-year deal on the open market, and perhaps two is the best he'll do.
More importantly, he may not have the juice required to insist on a no-trade clause, and this is where Jackson figures to definitively separate himself from Wilson in terms of his attractiveness as a free agent signing, at least as far the Yankees are concerned.
Money is not the issue for the Yankees, and it seldom is. Time, though, has proven to be a major enemy of the organization at the moment as they are locked into a number of ill-advised and/or unfortunate long-term contracts with several key position players.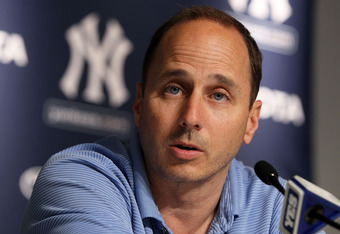 Jim McIsaac/Getty Images
In situations where they can avoid making commitments that extend beyond three years, look for the Yankees to jump.
Edwin Jackson represents such an opportunity. Additionally, he is young, just 27, throws in the mid to upper nineties, and has proven that he can contribute to winning teams despite playing for more organizations than any person should be asked to play for in so short a time.
If the Yankees ultimately decide to make an offer for Jackson, and should he accept, more than likely you'll see the organization also pursue Freddy Garcia in an attempt to ramp up the pressure on Nova, Burnett and Hughes to produce.
All told, not including their top prospects, this gives the Yankees seven viable arms competing for five rotation slots. Brian Cashman, the proud new owner of his own three-year contract extension, has to like those odds.
follow me on Twitter at jbrownesports