WWE Fantasy Booking: Vengeance Preview
October 31, 2011
Every wrestling fan dreams of having creative control over the WWE output. We all think that we have better ideas than the writers and that, if we were in charge of the show, ratings would soar. We, as fans, know what we want—and we do not want to see storylines cut prematurely short just as they are about to gather momentum.
This series, a collaboration between myself and Alex Rivas, attempts to book Raw, Smackdown and all WWE pay-per-views.
Because we were so disgruntled with the end of the "walkout" angle and the appointment of John Laurinaitis as Interim GM, we started our storylines with the Raw after Hell in a Cell with CM Punk as the WWE Champion.
Apart from that, the fallout from the pay-per-view was exactly the same, with the Miz and R-Truth wreaking havoc at the end.
This article will set the scene for Vengeance, to be published Wednesday, by outlining the major feuds and detailing some of the action you may have missed.
So far, we have the debut of the Kings of Wrestling, the formation of a new heel stable for Del Rio, with both Sin Caras and a masked attack on COO, Triple H.
The Miz and R-Truth are still a constant menace—they brutally attacked Daniel Bryan and Ted DiBiase in the backstage area two weeks ago. They are also heavily suspected of having a hand in the assault on Triple H.
All of this begs the question: Who let them into the arena and who gave them a backstage pass?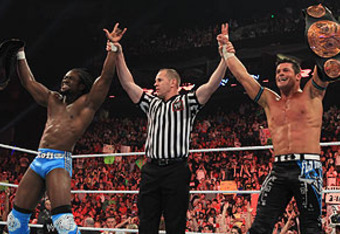 Teddy Long has stepped down as SmackDown GM after Christian led a protest against him, and Triple H has released a statement saying that he has found a replacement who will be appointed next Friday
If you want to go back and look at previous articles in the series, then you will be able to find them in my archive.
WWE Tag Team Championship match: Air Boom (champions) vs Jack Swagger and Dolph Ziggler
Vickie Guerrero's two talented clients earned this match by taking part in a five-on-five match on Raw a few weeks ago. Triple H was trying to prove a point to the disgruntled superstars, including Christian, that actions in the ring spoke louder than words.
In the build-up to Vengeance, the two teams exchanged singles wins, as Ziggler lost to Bourne but defeated Kingston, while Swagger lost to Kingston but beat Bourne.
The added factor of Vickie Guerrero must also be considered in this match.
United States Championship Match: Zack Ryder (Champion) vs Mason Ryan vs Drew McIntyre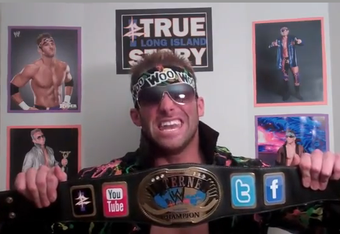 Zack Ryder defeated Dolph Ziggler on SmackDown to win his first singles title with the WWE (not including the Internet title), and this will be his first title defence.
Mason Ryan has been dominant in the build-up, with a singles win over the "Sinister Scotsman." He also teamed with Ryder to defeat McIntyre and Tyson Kidd.
Ryan has said that, although he likes and respects the US Champion, he has his own career to think about.
Alex Riley vs John Morrison
The relationship between these two quickly turned sour a week ago on Monday Night Raw, as Morrison attempted to explain his recent losing streak.
Riley came out and interrupted, making disparaging remarks about Morrison's girlfriend, Melina, and showing the obnoxious element that had made him a prime candidate to pair with the Miz on Season 2 of NXT.
The two began to brawl but the fight was quickly broken up by security, and a PPV match was scheduled for both men to settle their differences.
Daniel Bryan vs ?
Daniel Bryan has issued an open challenge to anyone in the company who thinks he can outwrestle him. Bryan said that this was part of a bigger plan to prove to everyone that he deserved to headline WrestleMania as the Money in the Bank winner. Who will accept the challenge?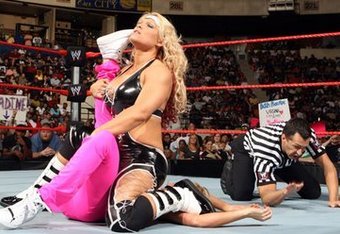 Divas Championship Match: Beth Phoenix (Champion) vs Eve Torres
Beth Phoenix has continued to dominate the Divas division, aided by Natalya. It is not clear yet whether Eve will be able to compete after the brutal GlamSlam on the entrance ramp.
If Torres does make it to the ring, she will look to score the victory and become Divas Champion for the third time.
The Kings of Wrestling vs Los Dos Sin Caras
Sin Cara Azul shocked the wrestling world when he put aside his differences with Sin Cara Negro and aligned himself with Alberto Del Rio to form the "La Familia" stable.
In the course of Del Rio's feud with CM Punk, the WWE Champion found himself in a three-on-one situation. He was assisted by his former friends from ROH, the Kings of Wrestling.
Widely considered the premier tag team in professional wrestling today, Chris Hero and Claudio Castagnoli will be making their WWE pay-per-view debut at Vengeance against the luchador tag team of the two Sin Caras.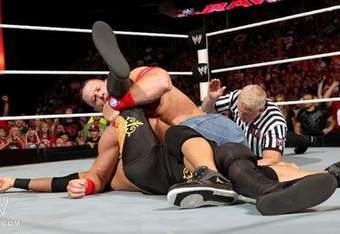 Steel Cage Match: John Cena vs Christian
This is the decider in a Best-of-Three series between the two that came about after Cena interrupted Christian mid-promo this past Monday on Raw.
Cena then went on to beat "Captain Charisma" on Raw, but Christian tied the series at 1-1 on SmackDown after help from his legal counsel, David Otunga.
This act of interference caused Triple H to determine that the deciding bout would take place inside a Steel Cage. 
World Heavyweight Championship Six Pack Elimination Match: Mark Henry (Champion) vs Big Show vs Randy Orton vs Sheamus vs Wade Barrett vs Cody Rhodes 
When the Big Show returned to action, he immediately made a beeline for the man that put him and his World Heavyweight Championship on the shelf. 
But Henry refused to face Big Show one-on-one for the title, so Teddy Long, in his last major decision as SmackDown GM, booked a Six Man Elimination match for the title.
Sheamus beat Heath Slater to qualify, Orton beat Jinder Mahal, Barrett overcame Ezekiel Jackson, while the Intercontinental Champion, Cody Rhodes defeated Justin Gabriel.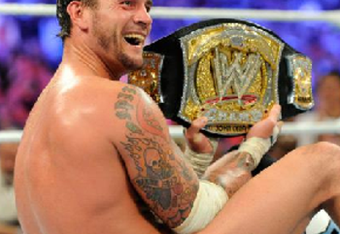 Submissions Count Anywhere WWE Title Match: CM Punk (Champion) vs Alberto Del Rio
After successfully defending his title against John Cena in a singles match the night after Hell in a Cell, Del Rio claimed that he was the next-in-line for a title shot.
Triple H agreed, and a six-man tag team match was determined to decide the situation: ADR and the two Sin Caras against Punk and two partners of his choice.
Punk chose Daniel Bryan and Ted Dibiase but they were brutally taken out backstage by the Miz and R-Truth.
Punk decided the match would be a Submissions Count Anywhere bout, which has whet the appetites of many fans who believe that Del Rio and Punk could be on the verge of a classic.
Feel free to comment with your opinions and predictions and don't forget to catch the Vengeance show which, as I said, will be published Wednesday evening!