2012 MLB Offseason: General Manager Rankings 26-30
October 18, 2011
Brian Kersey/Getty Images
Bob Levey/Getty Images
I know many of you must have waited with bated breath for these rankings. I finished with my statistical analysis series some time ago. These rankings are largely based on them, but I have done some switching around based on common sense as well.
With each general manager, I will look at a few overriding factors. We'll look at their best move, worst move and any mitigating factors that could change the rankings.
30. Jim Hendry, Chicago Cubs (since fired)
Best Move
At this point, the trade to bring in Matt Garza has to be seen as a success. Garza had his best year last year when fielding is taken into account. He sported an ERA under 4.00 despite being on one of the worst fielding teams in baseball according to Defense Efficiency Rating. With better fielding he could easily challenge for a Cy Young award.
Worst Move
You could argue between Carlos Zambrano and Alfonso Soriano, but Soriano gets the pick here due to the length of the contract. He was paid a huge sum partially because speed was a part of his game. The key word there is was. Soriano can still slug, but he has virtually no value outside of that.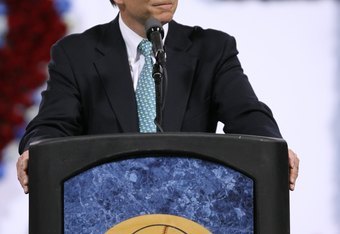 David Sherman/Getty Images
Mitigating Factors
There are none to speak of. All of the players are his and he had a good budget to work with.
Known For
Hendry was fired because the Cubs have become a mess. They had a team with numerous players making more than $10 million a season and they still came in fifth. The new GM (Theo Epstein?) will get some of those contracts off the books, but a moribund farm system won't help in the short term.
29. Ed Wade, Houston Astros
Best Move
In the future, it will end up being the Hunter Pence trade. Getting Jonathan Singleton and Jarred Cosart was a steal. Getting Domingo Santana thrown in is highway robbery. For the moment, trading an inconsistent Brad Lidge for Michael Bourn will get that honor.
Worst Move
In blogosphere it will be giving Brandon Lyon a three-year $15 million contract. However, that's child play compared to the long-term damage of trading six players for Miguel Tejada. In the grand scheme of things, Tejada was solid for two seasons, but when you trade that kind of haul you need a superstar.
Tejada was implicated in the Mitchell Report, charged with lying to investigators and magically aged two years. Ouch.
Mitigating Factors
Drayton McLane completely decimated the farm system by failing to acknowledge the obvious. He pushed his underlings to sign veterans and trade young players for temporary competitiveness. So, Wade came into a bad situation.
Until this year, he made a bad situation worse. The Hunter Pence and Michael Bourn deals will hopefully change that.
Known For
Ed Wade is an old-school baseball guy that often gets made fun of. He doesn't have a grasp for sabermetrics or its principals. In spite of that, he is a credible farm builder, but he often gets bested in trades and his free-agent signings leave a lot to be desired.
28. Andy MacPhail, Baltimore Orioles
Best Move
It's hard to find one, but the Miguel Tejada trade has to qualify. Luke Scott by himself has been better than Tejada and he was only one of the six players. Unfortunately, many of the young players didn't pan out, but that's bad luck. Troy Patten made a comeback this season and still might end up becoming a decent major league pitcher.
Worst Move
MacPhail went for broke this season and brought in a collection of veterans to become competitive. J.J. Hardy and Mark Reynolds paid some dividends offensively, but Derrek Lee and Vladimir Guerrero were disappointing. Either way, none of those players did anything for a horrible pitching staff.
Mitigating Factors
An organization that once prided itself on developing young players hasn't done it in awhile. MacPhail came into a horrible farm system and made it better with prospects like Matt Wieters. Still, there isn't quite enough to write home about.
Known For
Unfortunately, he will be known as a guy that has failed to get the Orioles out of the basement. Even in the AL East you should be able to do that once in a five-year period at least on accident.
27. Brian Sabean, San Francisco Giants
Best Move
Sabean deserves some credit for developing some good pitching prospects. The combination of Matt Cain, Tim Lincecum and Madison Bumgarner are the envy of the entire industry. Of course, how much Sabean has to do with drafting those guys is unknown. Teams have scouting directors that help with the draft and only those on the inside know how much power each person has.
Worst Move
Signing Barry Zito to the biggest contract for a pitcher in human history is beyond bad; it was idiotic. Everyone knew Zito wasn't the best pitcher in baseball, but Zito has been worse than that. This year he was in witness protection. Maybe he knows who really killed Jimmy Hoffa.
Mitigating Factors
I can't say as there really is a mitigating factor. We are talking about a man that has lived the good life thanks to Barry Bonds and Tim Lincecum.
Known For
Having the best luck in baseball. Barry Bonds and Tim Lincecum have single-handedley saved this guy's job. You'd think he'd have enough self-awareness to realize this.
26. Tony Reagins, LA Angels of Anaheim (since resigned)
Best Move
The deal to acquire Dan Haren didn't help in 2010, but the combination of Haren and Jered Weaver kept the Angels' playoff hopes alive despite a bad offense.
Worst Move
It is rare for one trade to sink a general manager, but the Vernon Wells trade is one of those. For one thing, Mike Napoli went nuts this season and would have been worlds better than Wells. Secondly, Wells is making so much money for so long that the Angels are effectively barred from making any significant moves.
Mitigating Factors
Reagins worked for one of the best owners in sports. Arte Moreno has never shied away from spending money and he doesn't impose his will on the baseball operations staff.
Known For
For Reagins' sake, you hope he doesn't get saddled with the Wells trade forever. He did a lot of good things in Anaheim and hopefully he will get another chance somewhere down the line.
Addendum
If you want to see how the other GMs were rated, you can check those rankings out here. 21-25, 16-20, 11-15, 6-10, 1-5.