2011 CFB Scheduling: FCS Teams and Searching for That Automatic "W"
September 2, 2011
Streeter Lecka/Getty Images
On the heels of the first games of the college football season, and on the cusp of the full-fledged start of the season, fans begin to look forward to a year where their favorite team can make "this year" be "their year." A team's schedule will determine how likely success will be for that team.
Certainly fans will circle marquee games such as Oregon versus LSU in Week 1, or Oklahoma at Florida State in Week 3. However, the games that bring the most grief are those "gimme" games; games that simply do not cause fans to become excited despite the automatic "W" on the schedule.
While BCS-conference teams will schedule opponents from the Sun Belt, MAC or the lower-tier of Conference USA and WAC in order to secure an easy victory, a recent trend emerged towards scheduling teams from the Football Championship Subdivision (FCS). That "W" in the record books might be nice, but fans will roll their eyes when they see Wofford or Youngstown State on their team's schedule. And while it gives coaches an opportunity to get younger players experience, there is always a fear of injury of a star player in a seemingly meaningless game.
Nevertheless, with a 12-game schedule to fill, scheduling FCS opponents is becoming more and more common for Football Bowl Subdivision (FBS) schools. Below is a list of the number of games between FBS and FCS schools by year. The percentage in parenthesis reflects the percent of all FBS games that involve FCS teams.
2006: 76 (10-percent)
2007: 80 (10.44-percent)
2008: 87 (11.3-percent)
2009: 93 (12.03-percent)
2010: 90 (11.64-percent)
2011: 97 (12.39-percent)
In terms of total games, that is a 27.6-percent increase between 2006 and 2011 in the number of FCS-games. This trend has paid off in a big way as FBS schools are 396-30 against FCS schools in 426 games played between 2006 and 2010. That translates into a 0.930 winning percentage.
2006: 69-7 (0.908 winning percentage)
2007: 71-9 (0.888)
2008: 85-2 (0.977)
2009: 88-5 (0.946)
2010: 83-7 (0.922)
It is important to keep in mind that it is not just one conference in the FBS that is scheduling FCS opponents; every conference does this. However, the ACC is the most notorious, doing so 70 times since 2006 (including this season). That accounts for 13.4 percent of all FCS-scheduled games. In terms of conferences, the Pac-10/12 has the lowest amount of games with FCS teams (27 games).
ACC: 70 (13.4-percent)
Big 12: 52 (9.9-percent)
Big East: 46 (8.8-percent)
Big Ten: 54 (10.3-percent)
Conference USA: 44 (8.4-percent)
Independents: 13 (2.5-percent)
MAC: 49 (9.4-percent)
Mountain West: 37 (7.1-percent)
Pac-10/12: 27 (5.2-percent)
SEC: 59 (11.3-percent)
Sun Belt: 28 (5.4-percent)
WAC: 44 (8.4-percent)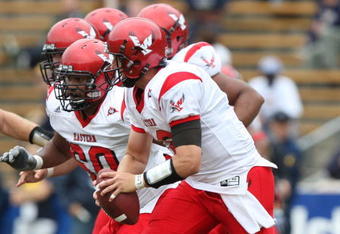 Jed Jacobsohn/Getty Images
Given the arguments between fans of either the SEC or Pac-12, the numbers presented above might allow one to argue that the latter conference generally avoids FCS teams while the former fluffs their schedule. However, one thing to keep in mind is that there are generally fewer FCS schools in the western part of the country, leading to fewer opportunities to play such teams. Hence the reason why a team like Air Force brings in teams such as Tennessee State and South Carolina State.
Another thing to consider is that more teams in the Pac-12 are beginning to schedule FCS opponents. First, take a look at the number of games involving FCS opponents in the 2011 season, organized by conference.
ACC: 13 (13.4-percent)
Big 12: 6 (6.19-percent)
Big East: 8 (8.25-percent)
Big Ten: 10 (10.31-percent)
Conference USA: 7 (7.22-percent)
Independents: 3 (3.09-percent)
MAC: 12 (12.37-percent)
Mountain West: 9 (9.28-percent)
Pac-12: 8 (8.25-percent)
SEC: 12 (12.37-percent)
Sun Belt: 4 (4.12-percent)
WAC: 5 (5.15-percent)
For the 2011 season, the Pac-12 is endearing itself to the FCS-scheduling trend with the fifth-most games against such schools. Eventhough not every school in the Pac-12 is scheduling FCS teams this season, as is the case in the ACC or SEC, the conference is moving more towards that type of scheduling.
2006: 4 Pac-10 games involving FCS schools
2007: 2 Pac-10 games involving FCS schools
2008: 2 Pac-10 games involving FCS schools
2009: 4 Pac-10 games involving FCS schools
2010: 7 Pac-10 games involving FCS schools
2011: 8 Pac-10 games involving FCS schools
At least for this season, give teams like Colorado, Oregon, Southern California and UCLA credit for avoiding the trend.
Speaking of teams, there are certain one that are completely enamored with FCS schools. North Carolina State has scheduled two FCS schools (Liberty and first-year FCS-member South Alabama), while Arizona State scheduled two such teams last year (Portland State and Northern Arizona). In fact, North Carolina State leads all FBS teams in FCS-scheduling with eight such games since 2006 (they double-dipped in 2009 by scheduling Murray State and Gardner-Webb). The Wolfpack are followed by eight other teams with seven games against FCS opponents—Georgia Tech, Hawai'i, Kansas State, Mississippi, North Carolina, Rutgers, South Florida and Texas Tech.
There are five FBS schools to have never scheduled an FCS opponent, at least over the last six seasons. These teams are Florida International, North Texas, Notre Dame, Southern California and UCLA. Bowling Green and Washington both fell from this group this season with the scheduling of Morgan State and FCS National Champion Eastern Washington respectively.
In terms of FCS schools, there are certain teams that seem to enjoy the beating, or at least the nice payday. Southeastern Louisiana is the leader with 13 games against FBS foes, including two this season (Tulane and Southern Miss). Three teams—Idaho State, Nicholls State and Northwestern State—follow Southeastern Louisiana with 11 games, while Cal Poly, Indiana State and Weber State have each scheduled 10 games versus FBS opponents. Three teams venture into the FBS universe this season—Bethune-Cookman (versus Miami), Fordham (Connecticut and Army) and South Alabama (North Carolina State and Kent State).
Finally, while scheduling FCS opponents might cause fans to take a permanent marker and write in that automatic "W," there have been 30 occasions where the automatic "W" turned into a shocking "L." The most well-known of these shockers is Appalachian State over Michigan in 2007, but James Madison knocking off Virginia Tech, as well as Kansas falling to North Dakota State, are also memorable. However, most FCS wins come against what are regarded by some as the weaker teams in the FBS.
Nevertheless, whether it is Central Arkansas defeating Western Kentucky or UC-Davis taking down San Jose State, it is still considered a major upset. So, which FCS team has the best record versus FBS schools? Going into this season, it is New Hampshire, although the Wildcats did lose to Toledo on September 1. Still, New Hampshire has the best winning percentage among FCS teams.
| | | | |
| --- | --- | --- | --- |
| TEAM | WINS | LOSSES | WIN % |
| New Hampshire |    4 |      1 | .800 |
| North Dakota State  |    4 |      3 | .571 |
| South Dakota |    1 |      1 | .500 |
| Richmond |    2 |      3 | .400 |
| Southern Illinois |    2 |      3 | .400 |
All told, 21 different FCS teams have defeated an FBS squad.
What about the opposite side; which teams in the FBS have fared the worst against FCS teams? Both Akron (Gardner-Webb in 2010) and Rice (Nicholls State in 2007) are winless against FCS teams since 2006. However, both teams have only one game against an FCS team during the time frame, with Akron possessing an opportunity to get in the win column this season versus VMI. In terms of teams that have played multiple games against FCS opponents, Ball State has the worst record.
| | | | |
| --- | --- | --- | --- |
| TEAM | WINS | LOSSES | WIN % |
| Ball State |    2 |      3 | .400 |
| New Mexico  |    1 |      1 | .500 |
| Temple |    1 |      1 | .500 |
| Colorado |    1 |      1 | .500 |
| Duke |    3 |      2 | .600 |
| Minnesota |    3 |      2 | .600 |
| San Diego State  |    3 |      2 | .600 |
To be sure, losing to an FCS team is rare and akin to a 15-seed upsetting a 2-seed in the NCAA Men's Basketball Tournament. Indeed, 88 of the 113 FBS teams to have played an FCS team since 2006 sport a perfect record against such teams. But the possibility for an upset is certainly present, as history indicates that it happens every year. And given that North Dakota State faces Minnesota in Week 4, it could be a foregone conclusion.
So, as you kick back and enjoy the first full day of college football action, many of you will already celebrate your team's "W" even before the game kicks off.
Although, if you are a Duke fan, I'd be a bit worried if I were you.
NOTE: Some of the stats presented here originally appeared in an article written at Uncle Popov's Drunken Sports Rant.