Jesus Montero Finally Called Up for Yankees, What Kind of Impact Will He Have?
September 1, 2011
Leon Halip/Getty Images
The long wait is over.
Tomorrow, we will finally see if it's all hype, or if he is for real.
Jesus Montero, the top catching prospect in the Yankees minor league system will be called up on September 1, the first day the MLB rosters can expand to 40, according to Bryan Hoch of MLB.com
http://newyork.yankees.mlb.com/news/article.jsp?ymd=20110831&content_id=24013902¬ebook_id=24013904&vkey=notebook_nyy&c_id=nyy
Montero has been highly regarded as a can't miss prospect because of his potential with the bat, but a lot of people have questioned his catching skills and even wonder if he will stick as a long-term catcher.
When called up, Montero could likely see a lot of time at the designated hitter spot, while spelling Russell Martin and Francisco Cervelli at catcher.
With Jorge Posada's playing time diminishing increasingly, if Montero can produce well enough to hit and stay in the lineup, he could take over as the DH for the remainder of the season.
Montero, 21, hit .288 with 18 home runs and 67 RBI in 109 games for the Yankees AAA team in Scranton/Wilks-Barre.
While being the top prospect in the Yankees system, he is also the sixth ranked prospect in all of the minor leagues, so a lot is being expected of Montero when he does get the call.
Some have said his batting ability is similar to former Dodgers and Mets catcher Mike Piazza.
Piazza was a monster hitter during his career and was one of the most popular and loved Mets when he played in Queens, so if Montero can be anything like Piazza, that can only mean great things going forward.
He was so highly regarded, he was nearly the centerpiece one year ago in a deal for Cliff Lee from the Seattle Mariners and the Colorado Rockies would have asked for Montero in a deal  for Ubaldo Jimenez before he was dealt to the Cleveland Indians.
His catching skills are still in question and many feel he could eventually transition to another position if he can't hack it as a major league catcher.
The Yankees also have prospects Austin Romine and Gary Sanchez developing in the minors, so again, if Montero sticks with the Yankees, who knows if he stays at catcher.
But that's thinking long-term, right now, we need to think about the short-term for Montero.
What kind of impact will he have for the team in September?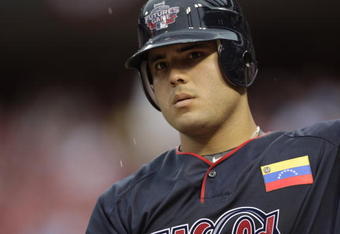 Jamie Squire/Getty Images
Are the bright lights of New York and playing on the big stage of Yankee Stadium in September during a pennant race going to be too much for Montero?
Or, is Montero so naive and so young, that he doesn't get fazed by the pressure and simply mashes the ball?
The Yankees offense is already loaded up enough with Alex Rodriguez, Mark Teixeira, Curtis Granderson, Robinson Cano, Derek Jeter and even the hot-hitting Nick Swisher.
If Montero can bring his power to a lineup that is already strong and playoff-bound, it can only help the Yankees chances in making a run for the A.L. East division crown.
Everyone remembers when Shane Spencer was called up for the Yankees back in September of 1998 and hit 10 home runs in 67 at-bats.
His powerful month earned Spencer a spot on the Yankees playoff roster that year; the same year the Yankees won 125 total games en route to the World Series.
Can Montero have so much of an impact, similar to what Spencer had in 1998, that the Yankees have to put him on the playoff roster?
If he does, it only benefits the Yankees, both short-term and long-term.
If Montero does get to play in the final game of the Yankees-Red Sox series on Thursday night, all eyes will be on Montero to see what he can do.