Alabama Football: Top 10 Alabama Quarterback Seasons Since 1980
August 1, 2011
The debate about which recent Alabama quarterbacks have reached true offensive-weapon status began as a conversation around the office water cooler. In this case, with my co-worker, Chris Addiss—a huge football fan.
For my analysis, I'll stick to quarterbacks I personally have seen play. Alabama had some legendary quarterbacks in years gone by. Joe Namath, for instance, might have been the best pro quarterback I ever saw play on film. Imagine what he could have done if he were not playing on a bad knee. I'll start with the 1980s and move forward.
No. 10: Gary Hollingsworth, 1989
Gary didn't pass the eye test, unless you were looking for a stork. When injuries forced him onto the field, many Alabama fans were worried—but folks from Hamilton, Alabama knew otherwise. 
Gary Hollingsworth lit up secondaries all over the SEC and led Alabama to a Sugar Bowl berth. Gary also had an uncanny knack for side-stepping oncoming rushers, though no one would mistake him for mobile.
His weakness may have been interceptions; he threw two more interceptions than touchdowns (14). He played in a pass-oriented offense, so he only had a seven-yard-per-attempt average.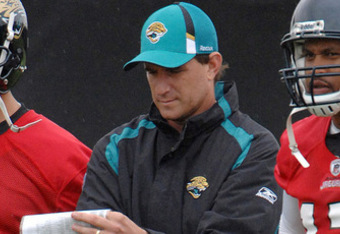 No.9: Freddie Kitchens, 1996
The Kitchens legacy as an Alabama quarterback seems to suffer on public message boards. I believe this is mostly because he was rather large for a quarterback, though today he wouldn't stick out so much due to his size.
His numbers say otherwise.
During his 1996 season, he compiled 2,124 yards passing and 14 touchdowns, though he also threw 14 picks.
No. 8: Andrew Zow, 1999
Andrew Zow played perhaps his best in the final games of his career, but during his '99 season, for the first time in a long time, opposing safeties truly had to be concerned. 
Andrew Zow had a cannon for an arm—and he wasn't afraid to use it. His '99 numbers were not overwhelming at 1,799 yards, but he had Shaun Alexander to hand off to.
Still, with his arm, Zow could take over a game at any moment.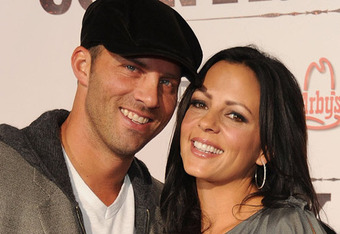 No. 7: Brodie Croyle, 2005
Until more recently, no quarterback arrived at Alabama with more expectation and promise than Brody Croyle. 
His well-documented injuries kept him from developing as a great quarterback, but his 2005 season proved the tools were there.
Croyle's arm was a true weapon; he was a threat to go deep for six on any given play. In '05, Croyle threw for 2,499 yards and 14 touchdowns to only four interceptions.
No. 6: John Parker Wilson, 2006
John Parker Wilson is all over the Alabama record books. He played during a time that Alabama was often behind and out-manned. He compiled a record three 2,000-plus-yard seasons. Possibly the best of those came in 2006, when he threw for 2,707 yards and 17 touchdowns. 
Wilson wasn't overly mobile, but probably took and survived more hits in his Alabama career than any other in school history. If Wilson had a better supporting cast, his career likely would have included some more hardware.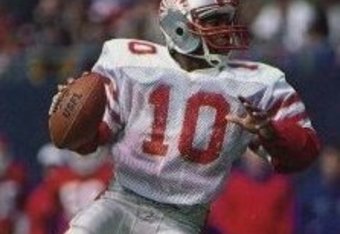 Wilson was a quarterback most opposing defenses didn't want to underestimate because he would make them pay.
No. 5: Mike Shula, 1985
People forget how good Mike Shula was. He had zero athletic skills and a weak arm, but in 1985 he compiled a staggering 8.8-yards per attempt. 
1985 was a transitional time for Shula, during which he was not surrounded by the best cast of offensive talent. He only made 229 attempts that year, but he made them count. If Shula had had a body for the game, he would likely have been a Hall-of-Fame NFL quarterback. 
As it stands, he will retire from the NFL as one of the better quarterback coaches. His current assignment is to take some rookie by the name of Cam Newton and turn him into an NFL star quarterback.
No. 4: Tyler Watts, 2001
Many will balk at this high placement, but in 2001 Watts was a major threat at quarterback. 
He passed for a very respectable 7.9 yards per attempt. He only threw the ball 172 times, splitting time with Andrew Zow. He also amassed 564 yards rushing and is one of only two truly mobile quarterbacks on this list. 
Auburn was so obsessed with stopping Watts' running ability that they were completely unprepared for the aerial bombardment Andrew Zow would bring after a Tyler Watts injury.
No. 3: Jay Barker, 1994
Many people remember Jay Barker as the game manager who led Alabama to a national title during 1992. Under then-coach Gene Stallings it just wasn't in the cards to put the ball in the air that often. 
In 1994, however, with a new offensive coordinator, Barker put up 8.8-yards per attempt and scored 14 touchdowns against only five interceptions. 
If Jay Barker had played for someone not named Stallings he might be further up on this list. His season was so good, in fact, that he was a finalist for the Heisman trophy that year—a distinction he alone holds on this list.
No. 2: Greg McElroy, 2010
McElroy is also a quarterback that is mislabeled as a game manager. His statistics prove that he was a true offensive weapon. He did struggle badly in the middle of his first season as a starter, but finished up by absolutely wiping out one of the best defenses in America in the SEC title game.
His 2,987 yards in 313 attempts averages out to a record 9.5 yards per attempt. He also threw for 20 touchdowns to only five interceptions.  
The one caveat I have to add is that he had Julio Jones, a target unlike any the other quarterbacks on this list enjoyed. He also had better pass protection than any others on this list.  
No. 1: Walter Lewis, 1983
Coming in at the top of the list is Walter Lewis. He was, without a doubt, the most dangerous man to take a snap on any given play that I have seen in Crimson. His skill-set most resembled Michael Vick, during a time when mobility was not considered a particularly important trait. Today, Lewis would be considered one of the top quarterbacks in the nation. 
Lewis played much of his career in the wishbone, which did not feature his passing ability. After Bear retired, new coach Ray Perkins brought the pro offense to Alabama and his 1983 season showed how good he could be. 
His 1,991 yards on 256 attempts gives him a near-the-top 7.8-yards per attempt; he added 338 yards rushing on top of that. When a defense faced Alabama in 1983, the first, second, last and all the meetings in between started and ended with: "How do we stop Walter Lewis?" No other quarterback on this list was more universally feared by Alabama's opponents. 
So, there you have it—let the debates begin!